Toncoin (TON) is up more than 13.74% today, and compared to last week, the cryptocurrency is now up an impressive 26.88%.
Since the $0.75 bottom on June 18, 2022, Toncoin is still up 146% and trading at $1.85 at the time of this writing.
Will the Toncoin cryptocurrency continue to pump throughout the bear market?
Toncoin cryptocurrency price prediction 2022
Since the end of July, the cryptocurrency Toncoin (TON) has maintained a steady pace in a strong uptrend. Only recently has Toncoin received significant traction and achieved large trading volumes.
Yesterday, the Price of Toncoin skyrocketed to $2.14 and has since seen a retracement of 14.2%. At the time of this writing, Toncoin is in a descending channel and may see another breakout to the upside.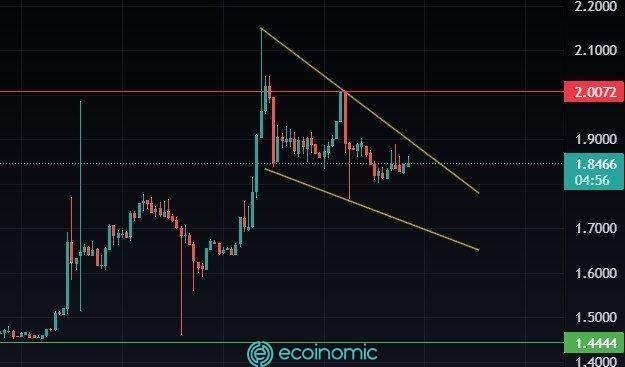 If Toncoin can retest the resistance trendline of $1.86 and break out, the coin price could reach $2.00.
It is important that Toncoin is able to hold the support trendline of $1.71 to prevent a loss of price structure and the possibility of a further downward spiral.
It should also be noted that following the recent bullish momentum, Toncoin is currently overbought according to the relative strength index, which could mean that the bulls are running out of spirits and a bearish reversal may take place.
The results of Toncoin breaking through the $2.00 resistance level may reflect that Toncoin may retest the $2.14 high from yesterday.
If this level is broken, the Fibonacci extension indicates that the pragmatic technical price target will be $2.25 for the Toncoin cryptocurrency by Q4 2022.
A recent price catalyst may be the attraction associated with Global's partnership with TON. This is the official Tweet about the big event that will end on 2022-09-17, 12:00 UTC.
#HuobiEarn × $TON Flash Deals ️⚡️

😍$1.5 Million mega prize pool

10-day —300% APY
30-day —100% APY
90-day —70% APY

✅Follow @HuobiGlobal @ton_blockchain + RT

🎁10 * 5 $USDT to be randomly pickedhttps://t.co/I9f1X4OIU9 pic.twitter.com/RhftamUp1i

— Huobi (@HuobiGlobal) September 7, 2022
Huobi Global is launching a TON deposit event where traders can deposit money to enjoy high-interest rates.
To be eligible, users must complete a spot TON trade to obtain a TON deposit limit.

In addition, there are rumors that Toncoin may also launch on the Binance exchange soon, which will create greater exposure and make price action more positive.