USDD, Justin Sun's stablecoin and blockchain Tron, lost its peg, bottoming out since the Terra ecosystem collapsed.
According to Coingecko, the USDD plunged and touched close to the $0.9695 mark in the early hours of December 12. This is the most serious peg loss of the "Justin Sun house" coin since the historic LUNA-UST crash.
🤑 #USDD Collateral Ratio is OVER 200% now! Assets with a combined value of over $1.45 billion are safeguarding the #USDD peg!

🧐You can check our collateral assets at all times on https://t.co/CZjLJsQHQW and https://t.co/qOAE7gYIaA. Keep #BUIDLing! 💪 pic.twitter.com/ihIThpZzVF — USDD (@usddio) December 12, 2022
This is not the first time USDD has "encountered a variable". 1 month ago, right in the heart of the FTX disaster, stablecoins that dominated the market such as USDT, USDC were also wobbly, but quickly regained their positions. USDD was no exception, deviating from the anchor to $0.98.
While USDD is out of price balance, the stablecoin ratio in the USDD/3CRV Liquidity Pool on the Curve continues to rise. USDD now accounts for 86% of total pool liquidity of $34.5 million, up from 80% measured on November 10. The loss of peg reflects that users are tending to swap USDD for other stablecoins such as DAI, USDC and USDT.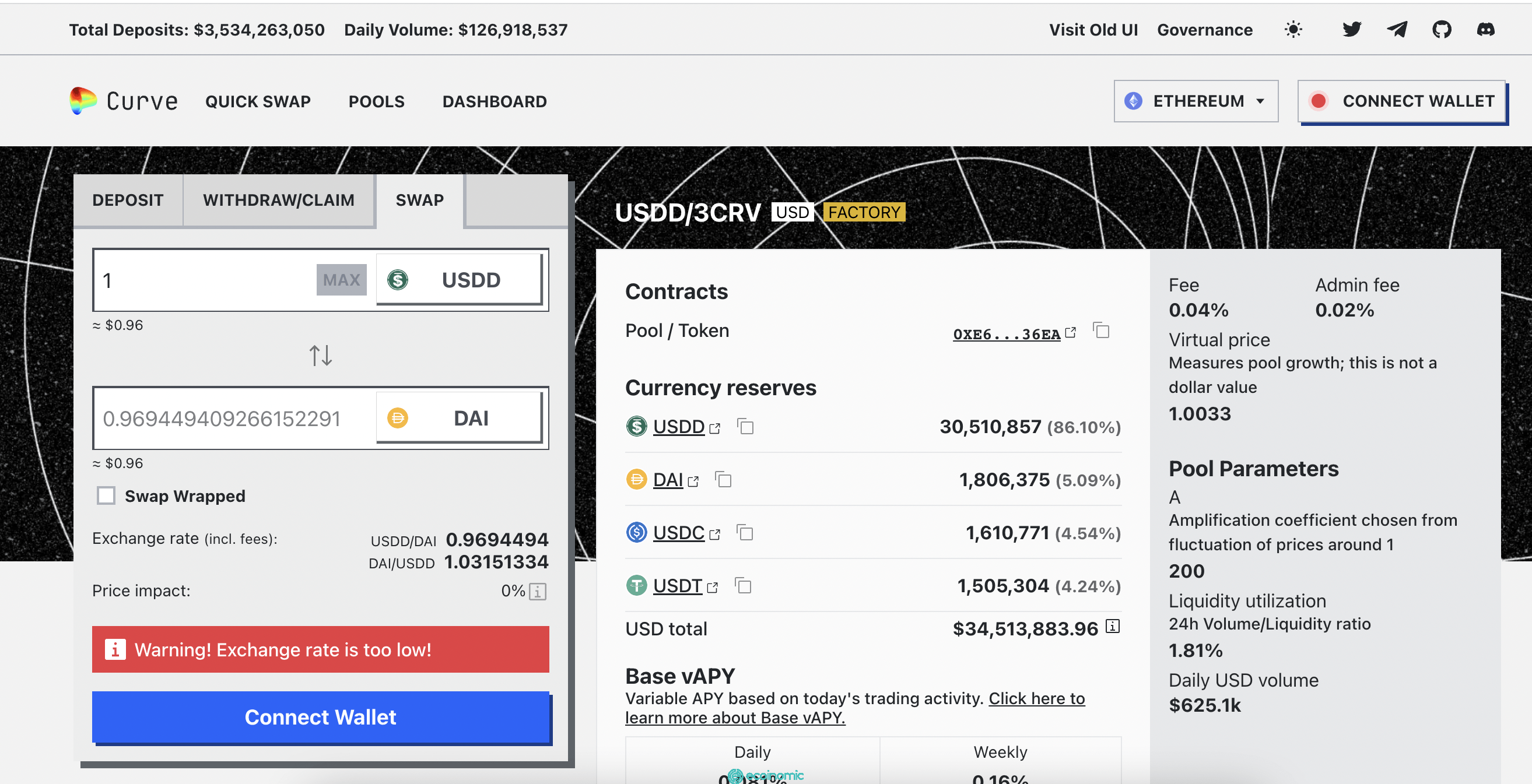 USDD (Decentralized USD) is an algorithmic stablecoin issued by TRON (TRX) with the ambition to become a 3.0 stablecoin. TRON launched USDD in May 2022, just days before LUNA-UST evaporated. USDD works similarly to UST, 1 USDD corresponds to 1 USD. Therefore, it has created panic in the investor community, fearing that USDD will be the second UST to break up.  
4/ $USDD (@justinsuntron's Terra/👉🏻 LUNA clone) just dipped below the $0.97 depeg threshold they set, while the reserve collateral and Curve pools are being drained. pic.twitter.com/qeM3ZbvHSo

— Eloisa Marchesoni (@eloisamarcheson) December 11, 2022
In an attempt to appease the market, Justin Sun posted a statement claiming to be raising funds to protect USDD and re-emphasized that this algorithmic stablecoin has a collateral ratio of up to 200%.
Deploying more capital – steady lads https://t.co/55pra5wQMihttps://t.co/CexyaBy2hx

— H.E. Justin Sun🌞🇬🇩🇩🇲🔥 (@justinsuntron) December 12, 2022
So far, USDD is hovering around the $0.98 mark, has risen slightly but has not yet recovered from the $1 peg. Meanwhile, the TRX price is still red and shows no signs of stopping.