Binance.US reached an agreement to acquire the assets of Voyager, the cryptocurrency lending company that went bankrupt in July and also agreed to sell itself to FTX.
On December 19, cryptocurrency lender Voyager, which was forced to declare bankruptcy in July 2022 because of the liquidity crisis stemming from Three Arrows Capital, said it had reached an agreement to sell assets to Binance.US, the US subsidiary of the world's largest cryptocurrency exchange Binance.
The asset buyback agreement Binance.US claims "will pave the way to unlock Voyager users' assets as soon as possible, while returning funds to users in the form of crypto they already hold in Voyager accounts."
1/ Today, @BinanceUS was selected highest and best bid in Voyager's reopened bankruptcy asset auction. Once the deal is completed, Voyager users will finally be able to access their digital assets on the https://t.co/Wc26vMosC4 platform.

Read: https://t.co/gBK5m3kcYn — Brian Shroder (@BrianShroder) December 19, 2022
CEO and President of Binance.US Brian Shroder said:
"Our decision to acquire assets reflects the principle of putting users first. We have a simple goal: to return the money to users as soon as possible. We hope to end the long bankruptcy process that has dragged voyager users to their will. Once the deal is finalized, users will be able to access their crypto assets through the Binance.US platform, where they will continue to receive compensation from Voyager in the future."
The value of the asset acquisition will be $1.022 billion. Binance will have to deposit $10 million in advance to secure, and may send Voyager an additional $15 million to cover other costs.
As such, it can be seen that what Binance.US achieved with Voyager is almost exactly the same as the previous agreement with FTX. In September 2022, FTX won an auction with Binance.US to buy assets from Voyager for up to $ 1.4 billion. FTX CEO Sam Bankman-Fried said at the time that he would also return money to users if they opened FTX accounts.
However, after FTX collapsed and went bankrupt in early November, Voyager announced the void of its agreement with FTX and sought a new buyer, with the confirmed name being Binance.US.
Binance has also made many notable acquisitions, including Japan's Sakura Exchange BitCoin and Indonesia's Tokocrypto.
The price of Voyager's VGX token jumped nearly 40% after the news, having previously jumped 55% when it was revealed that Binance.US was still interested in acquiring the company's assets.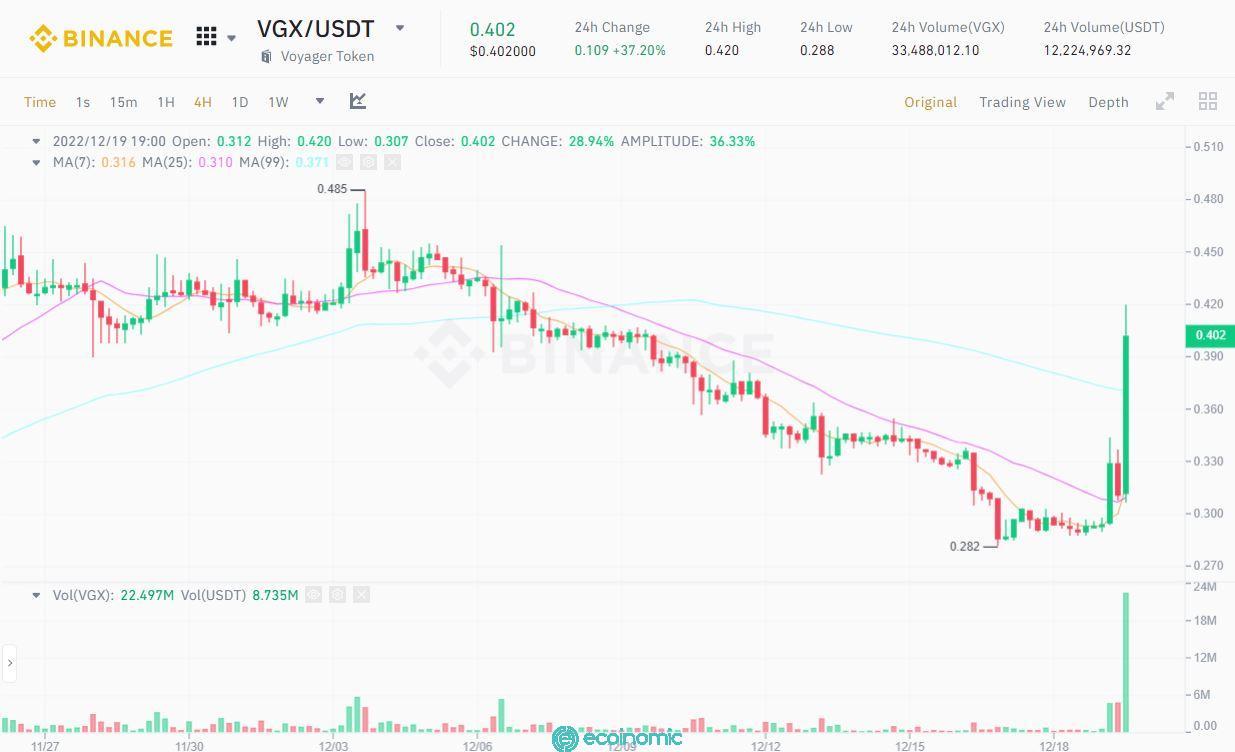 Source: Coin68