Many athletes around the world have begun to apply Bitcoin rewards despite the strong downturn in the cryptocurrency market, leading companies in the industry at risk of bankruptcy and small individuals investing in cryptocurrencies suffering heavy losses. Brazilian UFC fighter Luana Pinheiro, known for her remarkable 10-1-0 record, has accepted the conversion of part of her salary into Bitcoin through cryptocurrency payroll service company Bitwage. In addition, the New York Yankees have begun partnering with New York-based Bitcoin startup NYDIG to adopt Bitcoin paychecks for players, franchisees, and accountants. Following in the footsteps of NFL player Alex Barrett and WWE Superstar Summer Rae, Pinheiro and the Yankees both announced they would be receiving Bitcoin rewards.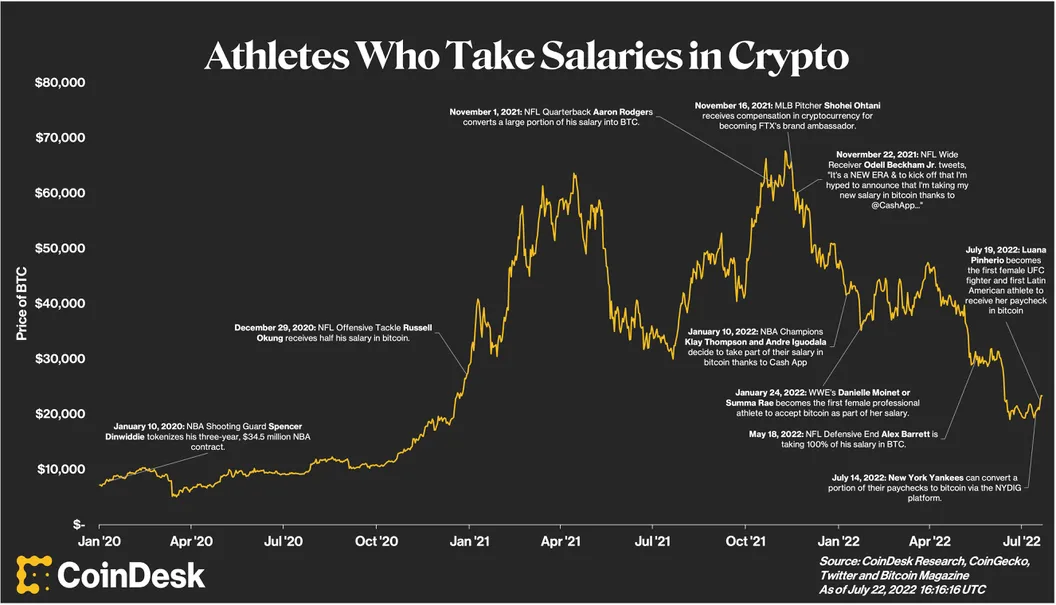 In the face of the strong influence of cryptocurrencies in global financial markets, most sports athletes accept the use of Bitcoin as a method of receiving rewards. However, that caused them to face a lot of criticism from the public because Venture Capital investments should not be made public as such. As of January 23, 2021, when the Bitcoin price equates to $36,000, sports reporter Darren Rovell, NFL star Odell Beckham Jr., the 2021 Super Bowl champion Los Angeles Rams, has earned $35,000 from a $750,000 (after tax) contract when paid in bitcoin. However, this Bitcoin payment is mainly aimed at holding Bitcoin. Brazilian fighter Matheus Nicolau, who is ranked No. 7 in the UFC flyweight rankings, said: "I believe that more and more athletes and workers around the world will start receiving bonuses, at least part of them, in Bitcoin." Nicolau's claims have been vindicated by Bitwage's indicators. Co-founder and CEO Jonathan Chester thinks that athletes receiving salaries in Bitcoin or cryptocurrency or stablecoins will not become a trend at the moment. That makes Bitwage's trading volume never higher. However, consultant Fred Whittlesey, founder of Compensation Venture Group predicts that this trend will be more prevalent in two years, similar to how an employee is paid directly in cash. The question is why would these athletes accept to convert the revenue into an asset whose value was almost one-third of ATH in November 2021? >>> See Also: Easiest Bittrex How to Use & Sign Up for Newbies 2022
Long-term vision with Bitcoin
The athletes are not focused on the recent drop in BTC falling from $69,000 to around $24,000 at the time of this writing but put their faith in bitcoin's future with a long-term view.
Pinheiro says, "Think about this: It takes an average of 10 to 15 years for an individual to earn a black belt in Brazilian Jiu Jitsu, so the taste conception of my time here is just as long, if not longer. I call it the taste over time to achieve a black belt. "
Beckham shared when buying at a high price in November 2021:
"It's a NEW ERA to start with, I'm excited to announce that I'm getting a new salary in bitcoin thanks to @CashApp."
Since athletes have a short career, especially MMA fighters and football players, BTC is a long-term investment for the future when sports careers end. By converting part of their salaries into BTC, athletes have joined the Web3 ecosystem.
"That gave athletes and teams a way to stand out and a way to show how forward-thinking they are." Marketing director at NYDIG, Kelly Brewster.
In addition, Whittlesey said that this is considered a form of professional insurance that helps athletes build their brand in a new way, maintaining and securing lifelong income.
"Bitcoin makes our voice stronger." Nicolau shared.
Attractive Benefits of Bitcoin
Bitcoin's attractive benefits with instant access to funds, faster transaction times, and hedging against Inflation attracted Pinheiro and Nicolau.
A typical example is the former president of Brazil – Fernando Collor de Mello. He has emphasized that no one can seize BTC in noncustodial wallets by seizing balances from people's savings accounts in 1990.
"If anything happens in the world, our money will be saved to our wallets." Nicolau shared.
In his first appearance at the UFC, Pinheiro had difficulty dealing with a bank in Brazil. It took her more than a month to receive the money, but now it is extremely easy and fast to receive her salary in BTC in just a few hours after bitwage cooperation.
"I was born around 1994. At that time, the Brazilian real was introduced and pegged at a 1:1 rate with the US dollar. Now it's 5 BRL for 1 USD." Pinheiro talks about inflation risks
In Pinheiro and Nicolau's view, Bitcoin is a hedge against inflation.
Talent retention
According to the NYDIG's 2022 user survey, the underlying impetus for why the Yankees decided to partner with NYDIG and offer BTC to employees stems from how "employers are in the fight to find and keep talented employees." In the form collected from more than 2,500 full-time employees, "one in four workers prefers a company that offers bitcoin pay benefits." 20% of workers who participated in the survey shared their reasons for leaving their current jobs when they received an offer in an equivalent position but paid in Bitcoin. According to Bloomberg, since 1950, the U.S. labor market has been extremely competitive, and one of the ways the Yankees have enhanced their hiring advantage is by paying salaries in BTC. The Yankees have received global recognition with 27 World Series titles in attracting and retaining the best talent.
Sports are a means of improving understanding of Bitcoin
The sports industry plays an important role in improving public understanding and recognition of Bitcoin globally. In terms of market cap, Bitcoin is the oldest and largest cryptocurrency with widespread public reception. However, according to the developers, raising awareness of Bitcoin remains a major obstacle.
"I see partnering with Matteus [Nicolau] and Luana [Pinheiro] as part of a larger educational effort to help educate people who are thinking about this or have never heard of this." Chester shared.
The knowledge isn't necessarily as complete as how developers understand Bitcoin, but it's important to help everyone understand the most basic concepts like what a noncustodial wallet is — and what the technology is trying to accomplish. The growing list of sportspeople earning btc salaries is a big driver for raising awareness about Bitcoin. >>> See also: Latest Binance subscription guide updated 2022