WOOF Coin Overview
Woof Coin acts as a token representing the Woof Dao community, it has a total market cap of $1,754,357, an all-time high (ATH) value of $0.00545763, and an all-time low of $0.00000101.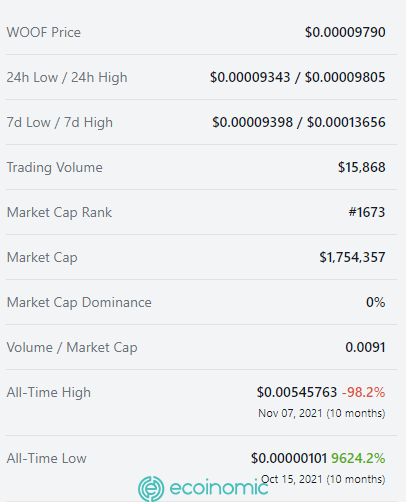 WOOF Price Prediction 2022
While WOOF reached an average price of 0.00010253 in August this year, woof's average price for 2022 is expected to increase for the rest of the year, to $0.00011427. It could even reach $0.00012836 by the end of the year.
The WOOF DAO community is growing rapidly and the price of WOOF is expected to follow this growth momentum. In this way, the development of the community will be reflected in the increase in the value of cryptocurrencies.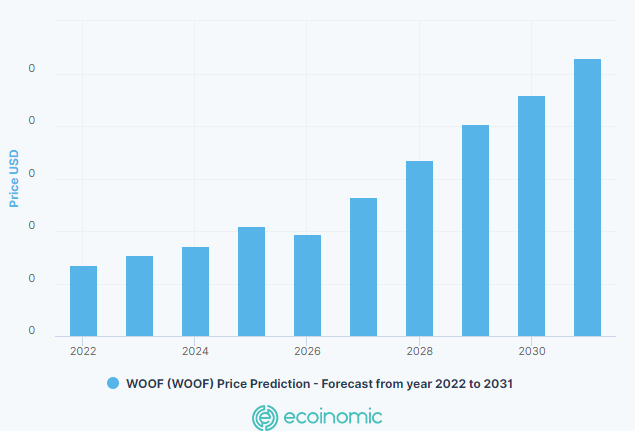 WOOF Price Prediction 2023
The price increase of WOOF will depend on the success of the WOOF DAO project. If the WOOF DAO community continues to grow, it is expected that WOOF will reach a maximum average price of $0.00019151. Conversely, if the community fails and maintains steady growth, the price of WOOF is estimated to reach an average minimum price of $0.00016143.
WOOF Price Prediction 2024
The DAO community model is growing rapidly. Following this momentum, it is expected that young crypto communities that are using this governance structure will grow rapidly, attracting new crypto enthusiasts worldwide. After this expansion line, the price of WOOF is expected to reach an average maximum of $0.00028234, with an average transaction price of $0.00025073.