Along with the launch of new layer 2 blockchains on Ethereum, StarkNet has made great strides and attracted a lot of attention from the crypto community.
What are significant features of StarkNet ecosystem? Let's find out in the article below!
What is StarkNet?
StarkNet is a decentralized layer 2 blockchain based on zk-rollups cryptographic technology that allows users or developers to deploy smart contracts developed in the Cairo language.
>> Related: What is zero-knowledge proof (ZKP)?
StarkNet offers a solution that scales Ethereum through the Stark protocols but still has core values of decentralization, transparency, inclusivity, and security.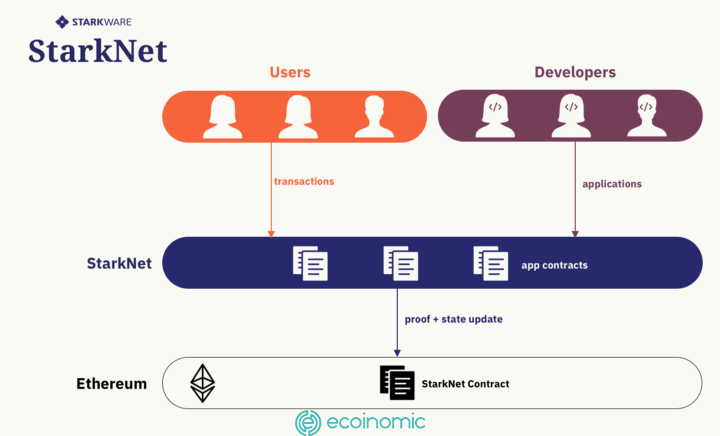 Outstanding features of the StarkNet ecosystem
STARK technology
STARK created off-chain will verify all transactions on StarkNet, and only valid ones will be accepted on Ethereum. The new balance state will be updated and stored on-chain.
STARK uses cryptographic technology to verify the integrity of computational data efficiently and transparently, while preserving its privacy. STARK requires little algorithmic power to verify transactions, allowing StarkNet to scale exponentially.
Cairo programming language
StarkNet is built on the Cairo programming language, which provides computational, transmission and storage capabilities. Cairo makes it easier and faster to develop, review and secure code.
Developers, users, and node operators can interact with the network similarly to that on Ethereum. Developers can create their own applications and deploy them on StarkNet. Meanwhile, users send transactions and interact with smart contracts.
Founding team and advisors
StarkNet was co-founded by:
Eli Ben-Sasson – President
Uri Kolodny – CEO
Michael Riabzev – Chief Architect
Alessandro Chiesa – Chief Scientist
Besides, StarkNet's advisory board includes Avi Wigderson, Shubhangi Saraf, Swastik Kopparty, Madhu Sudan. The members contributing to the development of the project are all engineers with experience in the field of blockchain.
Roadmap
Phase 1: Foundation
Phase 2: Planets – Single-app rollups
Phase 3: Constellations – Multi-app rollups
Phase 4: Universe – A decentralized Rollup
Project investors and partners
Starkware receives investment from funds in the market through many investment rounds. Since inception, StarkWare has raised $111 million in equity. Additionally, with the aim of expanding the Ethereum network, the Ethereum Foundation has funded Starkware with $12 million. Starkware has gone through rounds of capital raising:
Seed Round (1/2018): Raised $6 million in equity from Naval Ravikant, MetaStable, Pantera, Elad Gil, Floodgate, Fred Ehrsam, Polychain, Vitalik Buterin, Zcash Co-founder, Da Hongfei, Bitmain, Arthur Breitman, Linda Xie,..
Series A (10/2018): Raised $30 million from Scalar Capital, Paradigm (Led), Atomico, Coinbase Ventures, Intel Capital, Sequoia, DCVC, Wing, Consensys, Semantic Ventures, Multicoin Capital, Collaborative Fund.
Series B (3/2021): Raised $75 million in equity from Paradigm (Led) and other investors.
Series C (11/2021): Raised $50 million from Sequoia Capital at a valuation of $2 billion.
Series D (5/2022): Raised $100 million from investment firms Coatue, Greenoaks Capital and Tiger Global at a valuation of $8 billion.
Tokenomic
The StarkNet token is set to operate and secure the ecosystem, determining the values towards and strategic goals of the network. The token is used in:
Governance
Payment of transaction fees on StarkNet
Participation in StarkNet's consensus mechanism.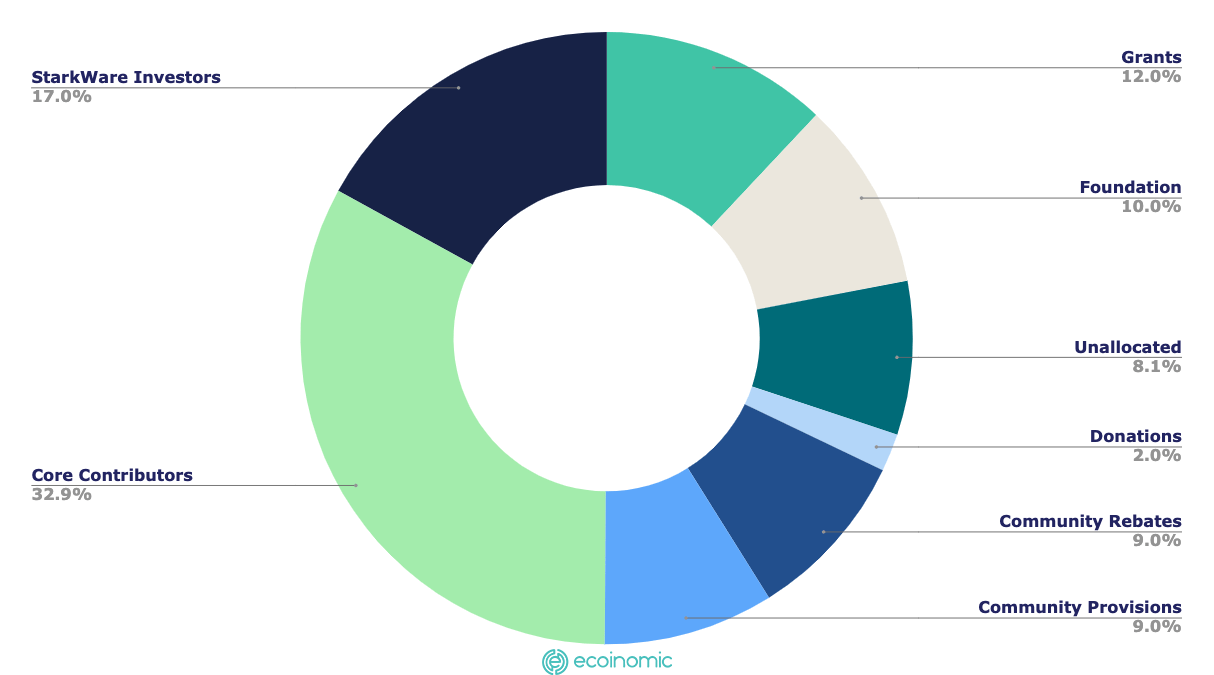 The total supply of StarkNet is 10 billion tokens mined off-chain by StarkWare. Tokens allocated to StarkWare investors (17%), core contributors (32.9%) will be locked for 1 year and released in installments for the next 4 years.
In addition, StarkWare will establish the StarkNet Foundation, allocating 10% of the total token supply to the fund to pay for activities to promote the development of the entire ecosystem. Besides, tokens are allocated to grants (12%), airdrop/retroactive (9%), community provisions (9%), donations (2%), and the rest (8.1%).
The circulating supply of token will increase over time with new token minting plan and the schedule will be announced by the development team in the community.
See also: What Is Wrapped Tokens?
Conclusion
With its scalability and superior technology, StarkNet has development potential in the future and been expected to create a revolution in the field of blockchain.
The above article has provided an overview of the StarkNet ecosystem to help traders seize investment opportunities. If you have any questions, don't forget to leave comments below!