When you want to trade derivatives contracts, Bybit is a great choice. In the cryptocurrency community, Bybit is one of the familiar and well-known trading platforms with two professional margin trading platforms, Bybit Futures and Bybit Margin. Large leverage and fast execution speed are significant advantages of this exchange.
To start Margin and Futures trading, you need a Bybit account. If you do not know how to sign up for Bybit account and want to learn more information about this exchange, please read this article.
>>> Detailed instructions on how to register Bybit for newbies update 2022
Sign up for Bybit – Best derivatives exchange all around the world!

What is Bybit Margin Trading?
Bybit Margin is the use of leverage (borrowing funds from Bybit) to raise capital when trading and the use asset as collateral to secure a loan.
Margin depends on leverage, the higher the leverage, the lower the margin. Currently Bybit offers 3x leverage with two mode: Cross and Isolated.
Bybit Cross Margin
The default margin mode on Bybit is cross margin.
To avoid liquidation, cross margin uses the entire available balance of a trader.
If the equity of the trading pair falls below the maintenance margin, the position will be liquidated.
If the trading pair is liquidated, all equity in that trading pair will be lost.
The initial margin of a position and the trader's available balance are kept separate.
If a position is liquidated, the maximum amount a trader lose is the initial margin of the position.
Cross mode has lower liquidation risk and margin requirements than Isolated, but it does not allow leverage customization.
Bybit Isolated Margin
When a trader takes a speculative position, they use Isolated mode. Isolated makes it easier for traders to adjust positions if the market goes against their predictions.
Traders can enable the Auto-Margin-Replenishment (AMR) function in their position section in isolated margin mode (in USDT contracts).
To avoid liquidation, AMR allows traders to automatically add margin to their positions. When AMR is enabled, the margin level will decrease to the maintenance margin level.
When holding an active position, traders can switch between cross-margin and isolated margin modes. However, it is impossible to switch between Cross and Isolated when traders are holding hedged positions of USDT contracts.
What is Bybit Futures Trading?
Bybit Futures is a Derivative tool that allows users to buy and sell futures or perpetual contracts. Currently, Bybit has perpetual contracts using USDT/USDC as margin assets and inverse contracts (perpetual contract and futures contract using margin asset coins).
Individual traders often trade perpetual contracts because:
No time limit, no contract payment date
Perpetual contracts are similar to margin markets. The market price is close to the reference index price (the price of the Spot trading pair)
In addition to the principle of margin trading, traders should keep in mind when trading perpetual contracts on Bybit:
Mark Price: determine profit and loss and liquidation price.
Initial margin and maintenance margin: The initial margin amount determines the maximum leverage, while the maintenance margin amount determines the liquidation price.
Assume that funding rate payments are made every 8 hours. This is a fee that is exchanged directly between the buyer and the seller.
Positive funding rate:  Long position holders will pay to short position holders.
Negative funding rate: Short position holders will pay to long position holders.
Funding fees are charged when you are opening or holding 1 position at the time of charging.
Advantages and Disadvantages of Bybit Margin and Bybit Futures
Advantages of Bybit Margin and Bybit Futures
Reasonable trading fees
Enthusiastic customer service team
Quick problem solving
There is Vietnamese support on the trading interface
Copy Trading support for inexperienced traders and allows experts to open Copy Trading
Disadvantages of Bybit Margin and Bybit Futures
At any exchange, both of these trading forms have high risk. The leverage ratio of the position is the main reason for the level of risk that a trader can face.
Related: What is Futures? What is margin? Compare Margin and Future.
Bybit Margin Trading Guide
At Bybit homepage, select "Trade".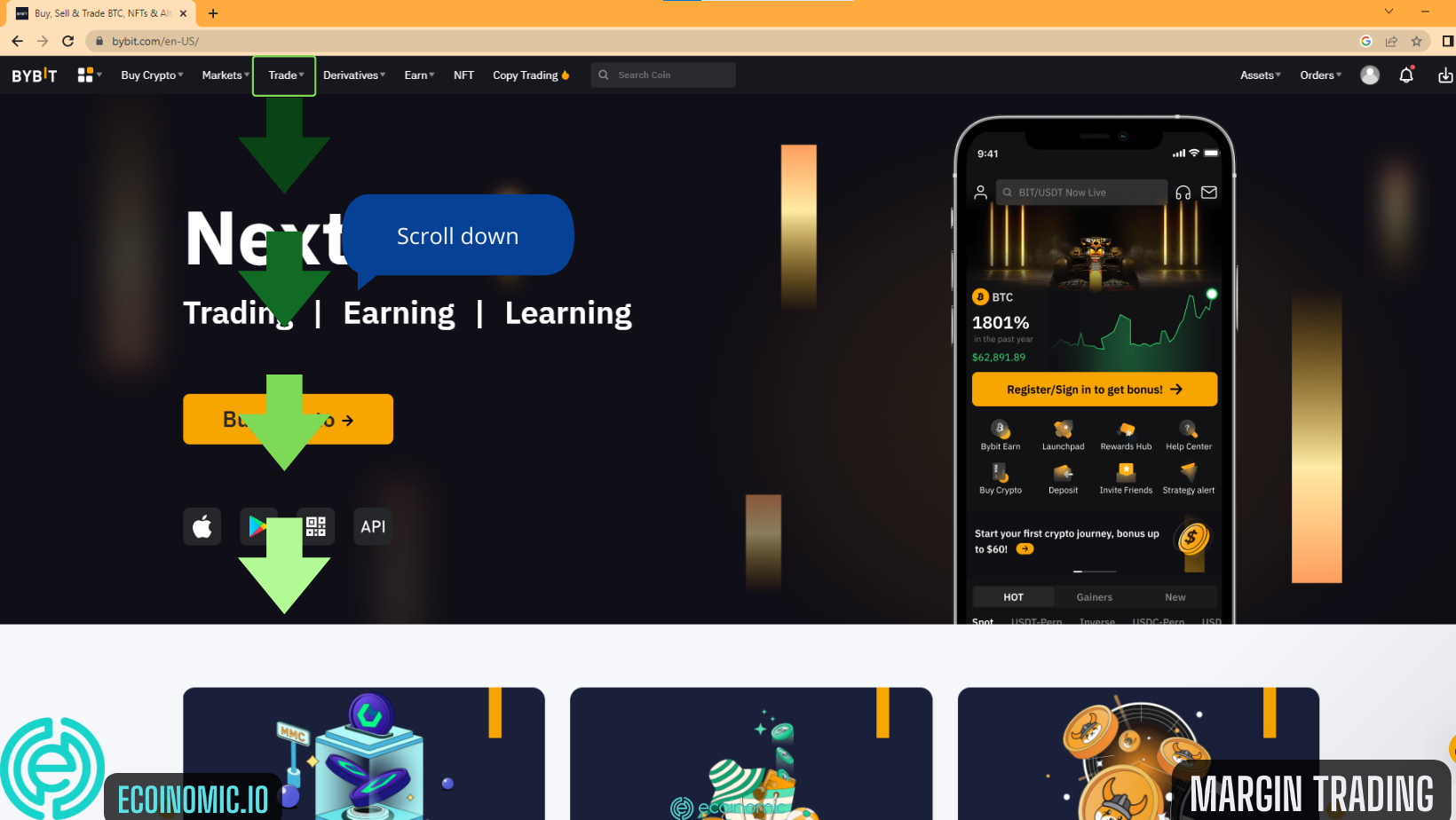 Select "Margin Trading"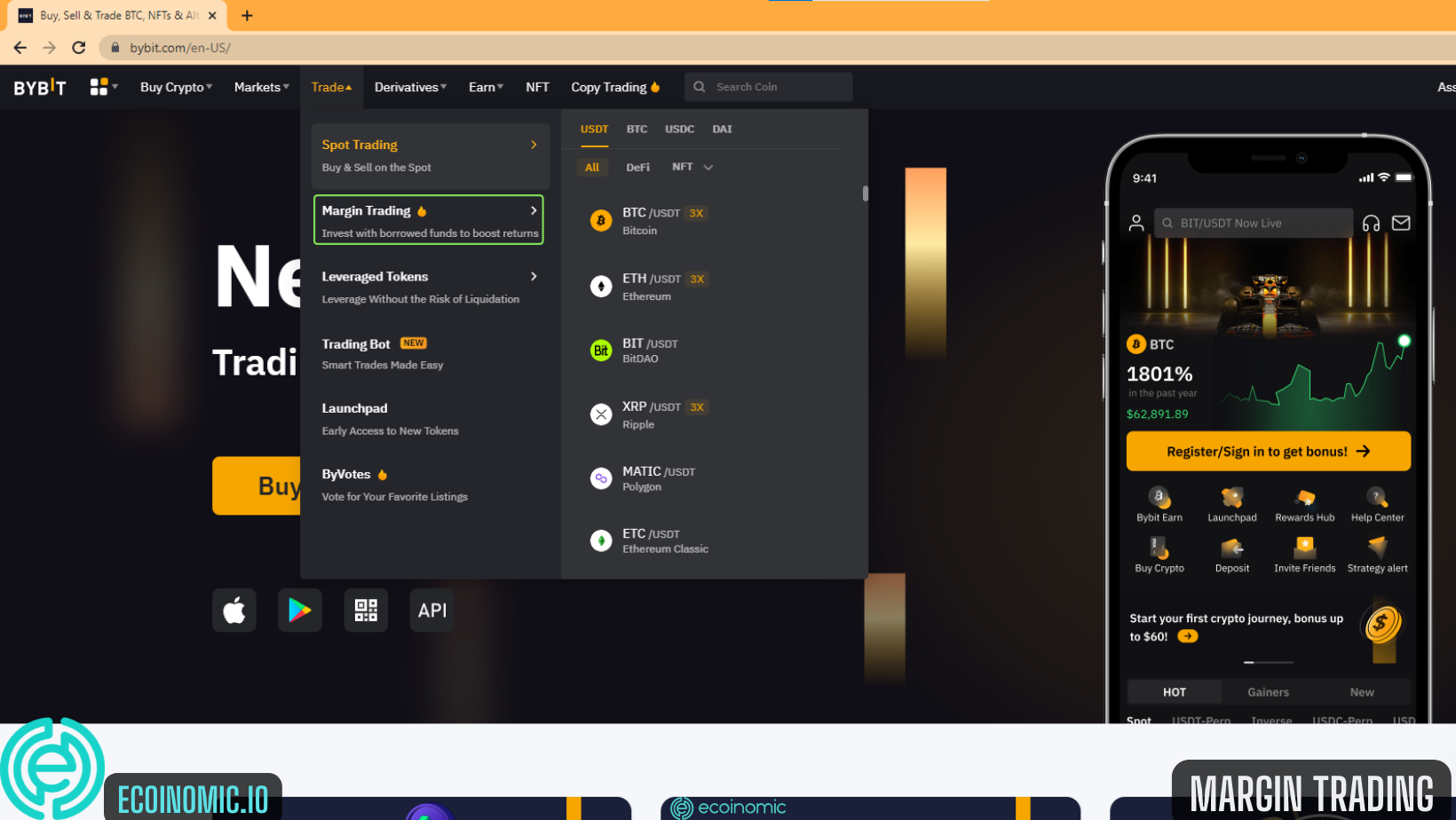 The Bybit Margin trading interface will appear as shown below.
Select "Long", search for the name of the trading pair you want to buy, select the price you want to trade, enter the amount of coins you want to buy and click "Buy/Long BTC".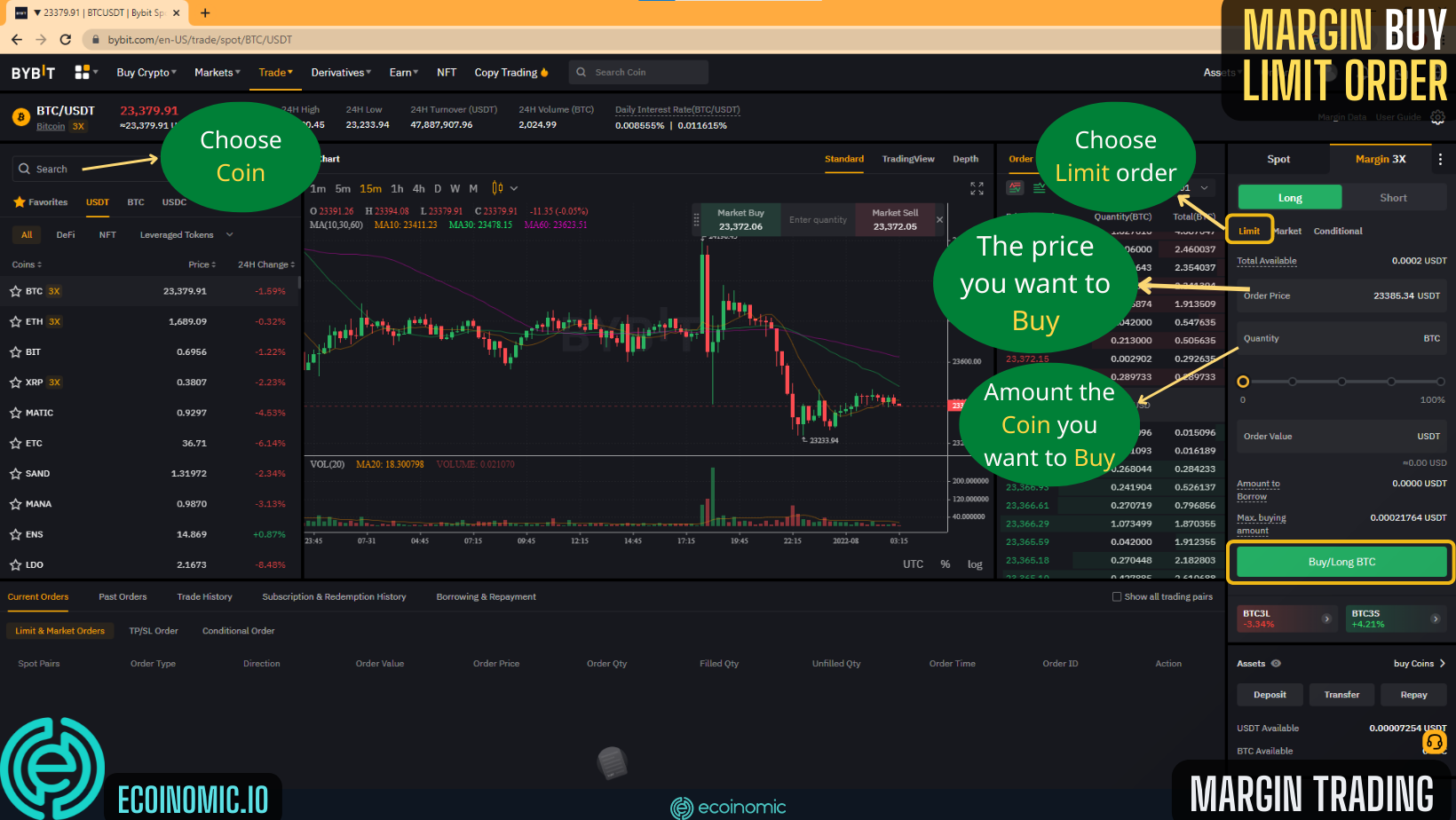 Similar to buying, select "Short", search for the name of the trading pair you want to sell, enter the amount, check the limit price and click "Sell/Short BTC"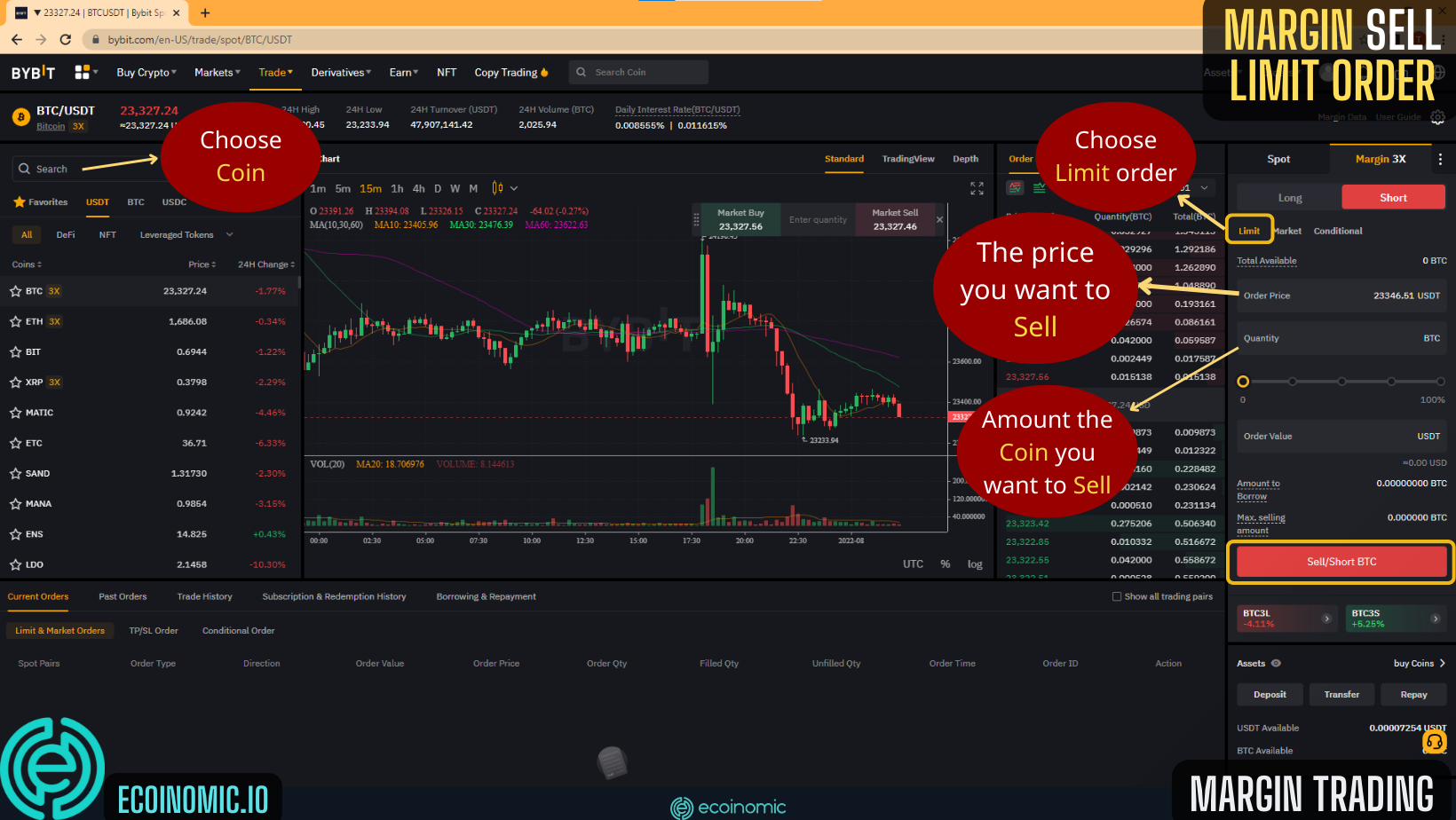 Bybit Futures Trading Guide
Select "Derivatives" on the Bybit homepage.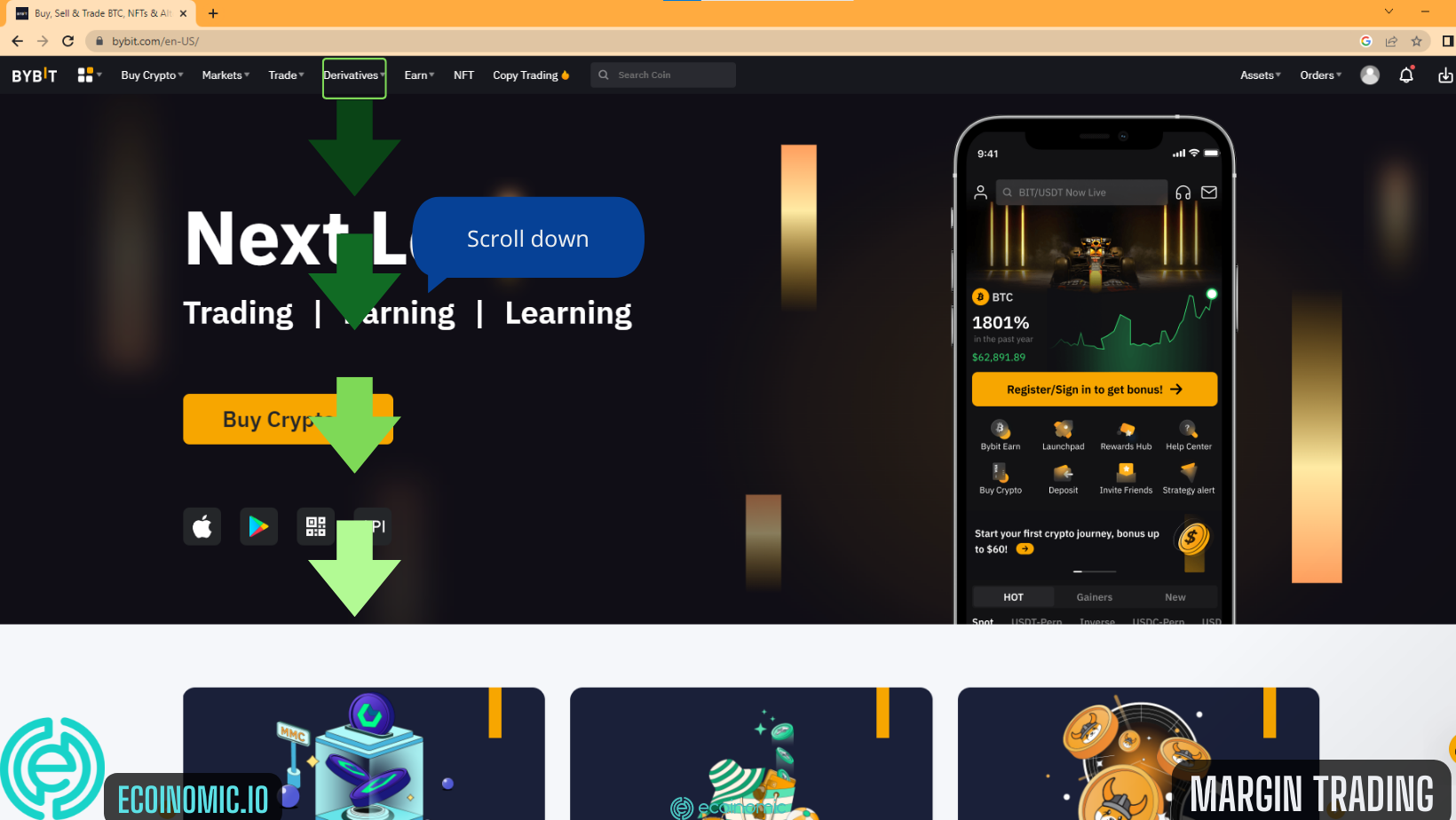 Select "USDT Perpetual"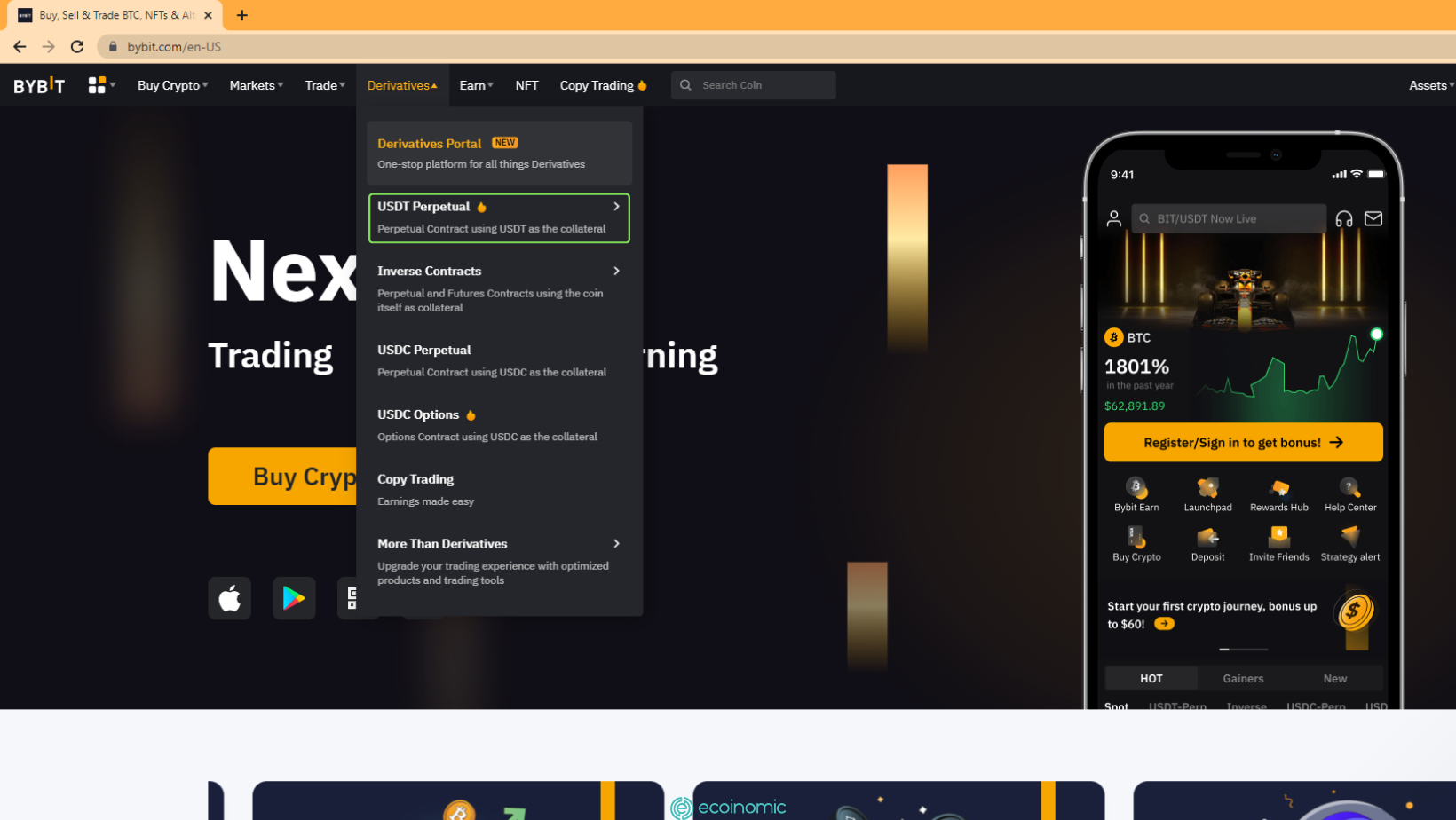 Open Limit order with Bybit Futures
The Bybit Futures interface will appear, search for the name of the coin you want to trade in the search bar.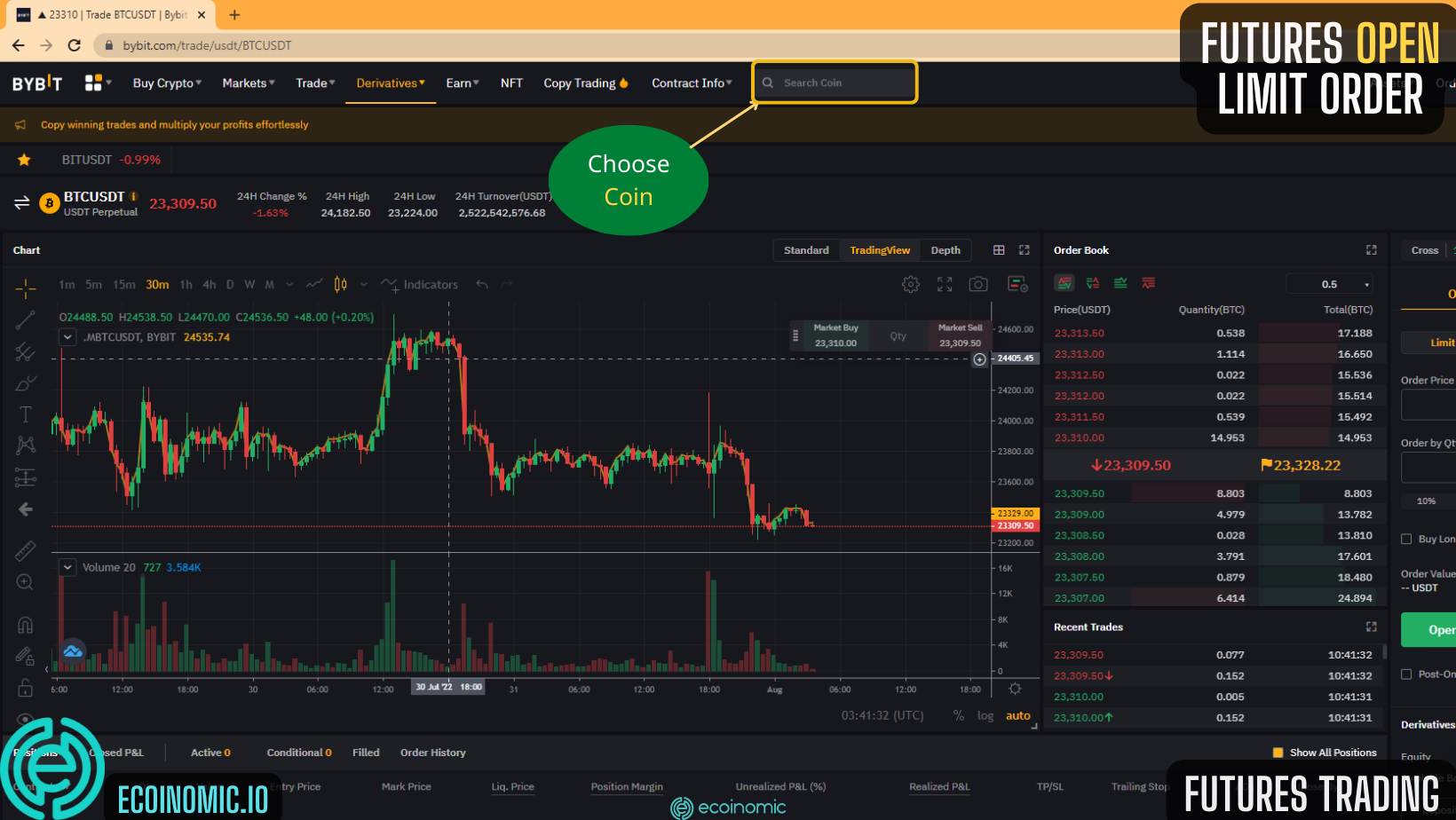 Now, you have to choose the margin mode (Cross or Isolated) and leverage after being sure of this information.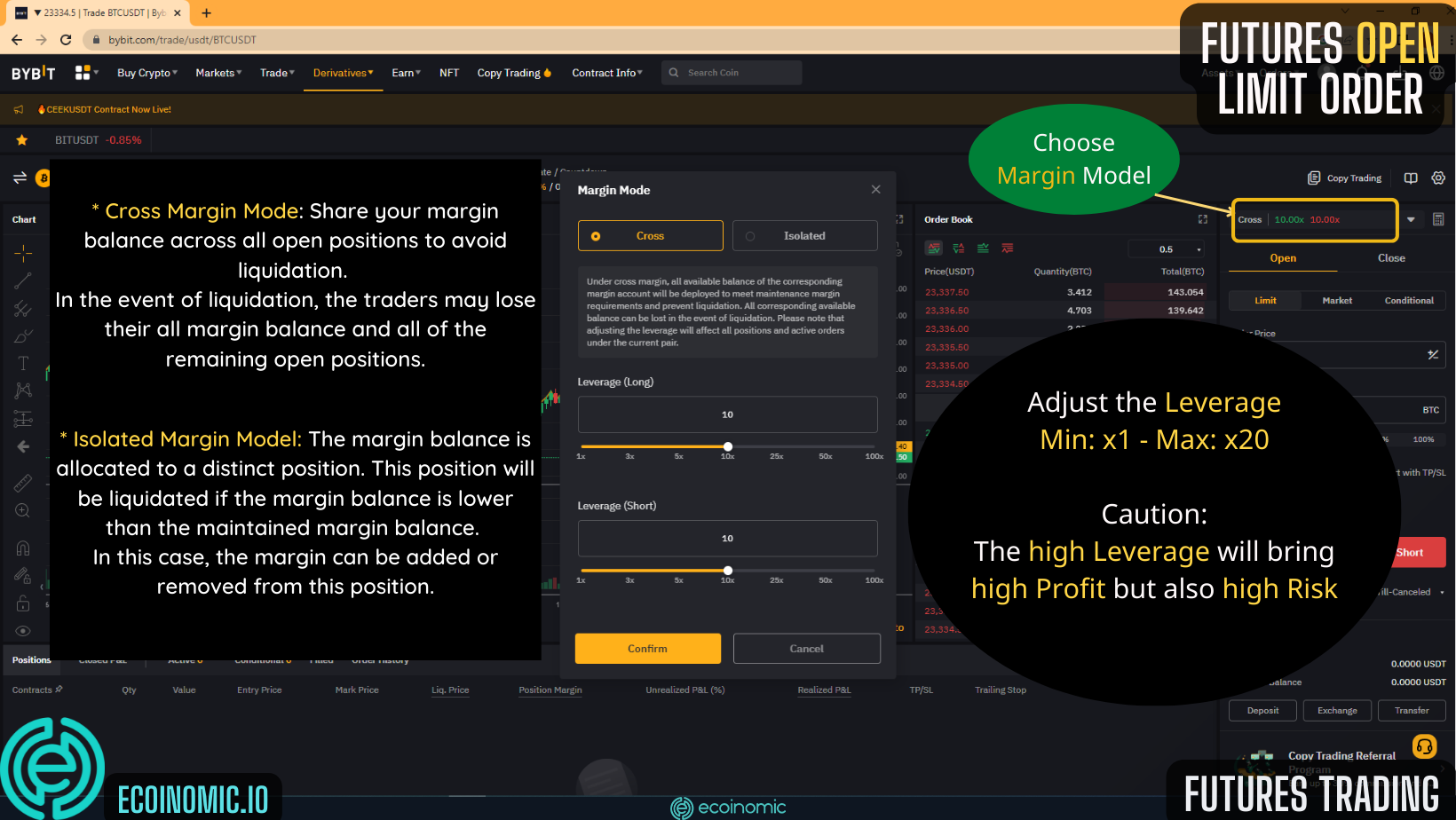 Next, select the "Limit" order, the price you want to buy, the amount of coins you want and click "Open Long".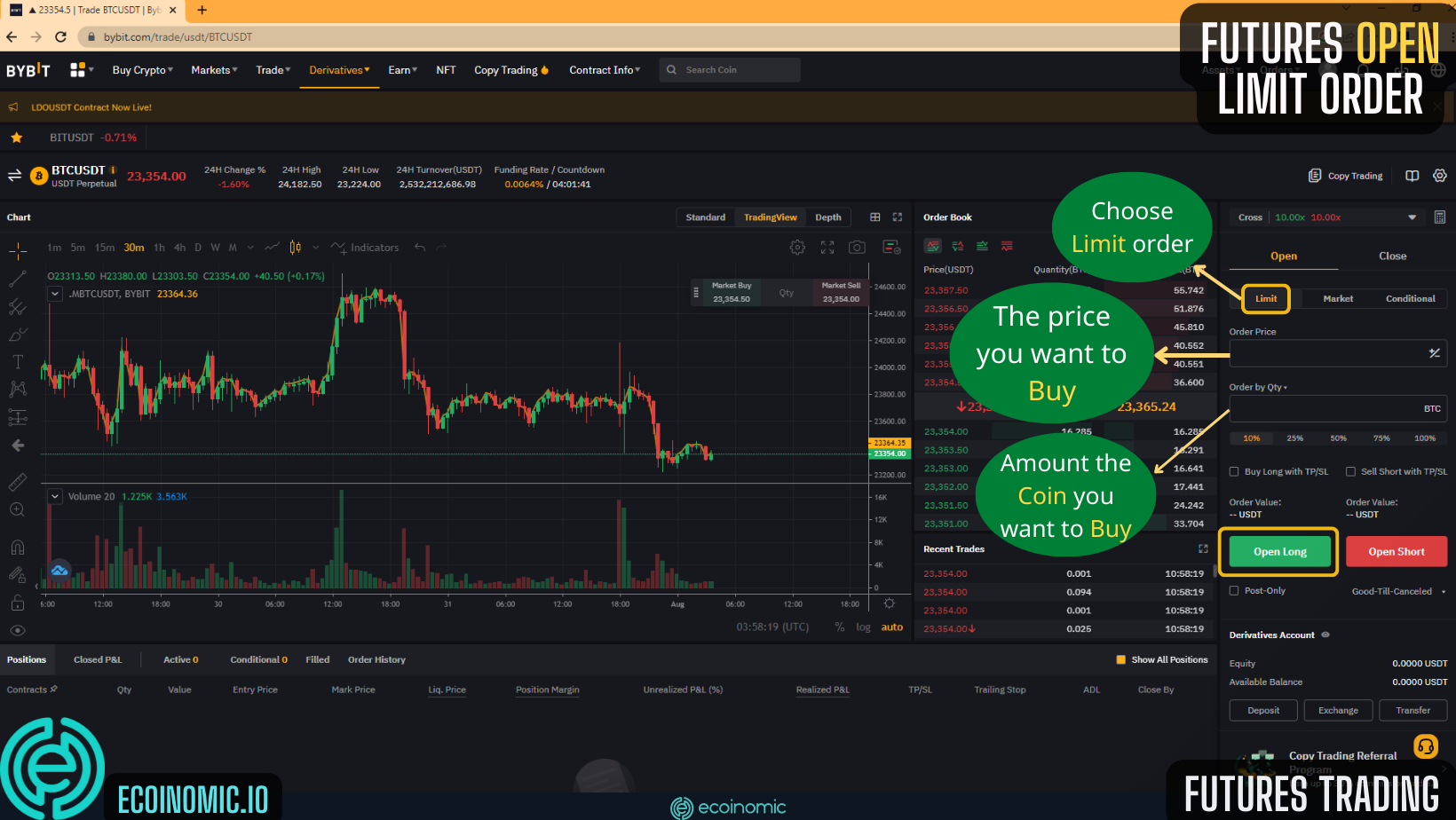 A window with all the information about your trade will appear. Check all the information carefully and click "Confirm".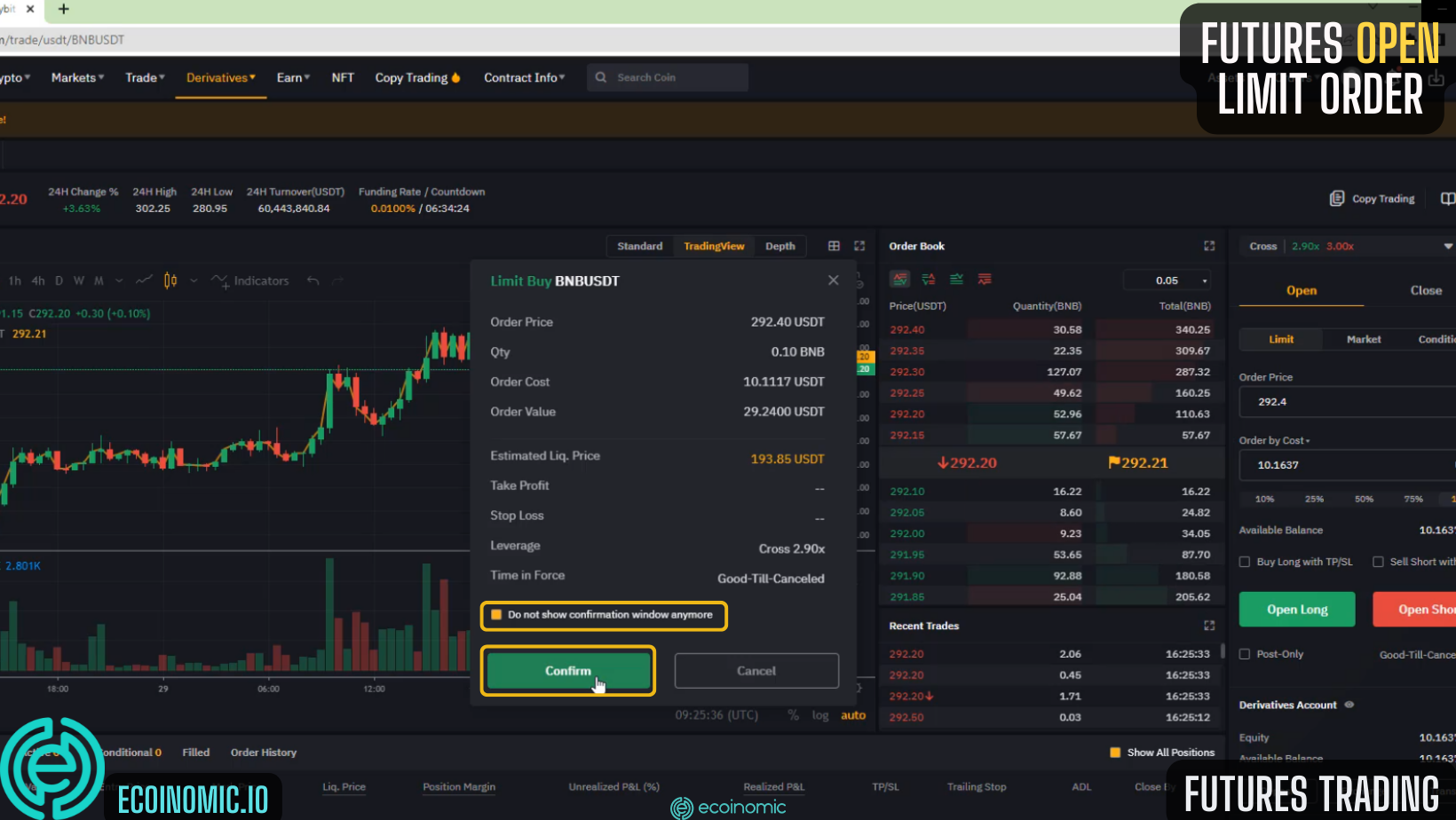 For safer trading, you should set up Take Profit and Stop Loss. In the TP/SL section, click "Add" to proceed.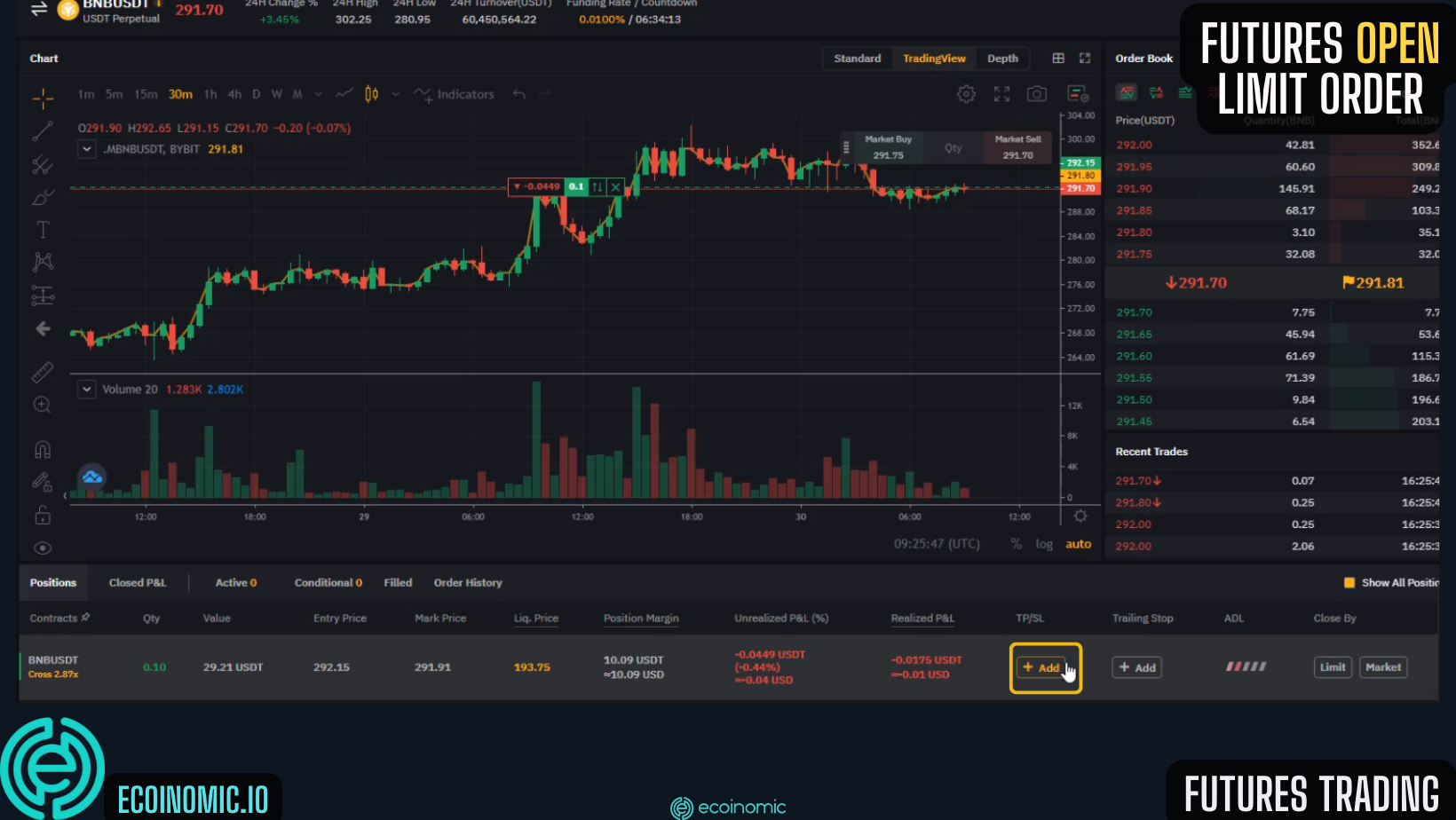 The TP/SL setup window will appear. Then, set the take profit and stop loss prices. Then click "Confirm".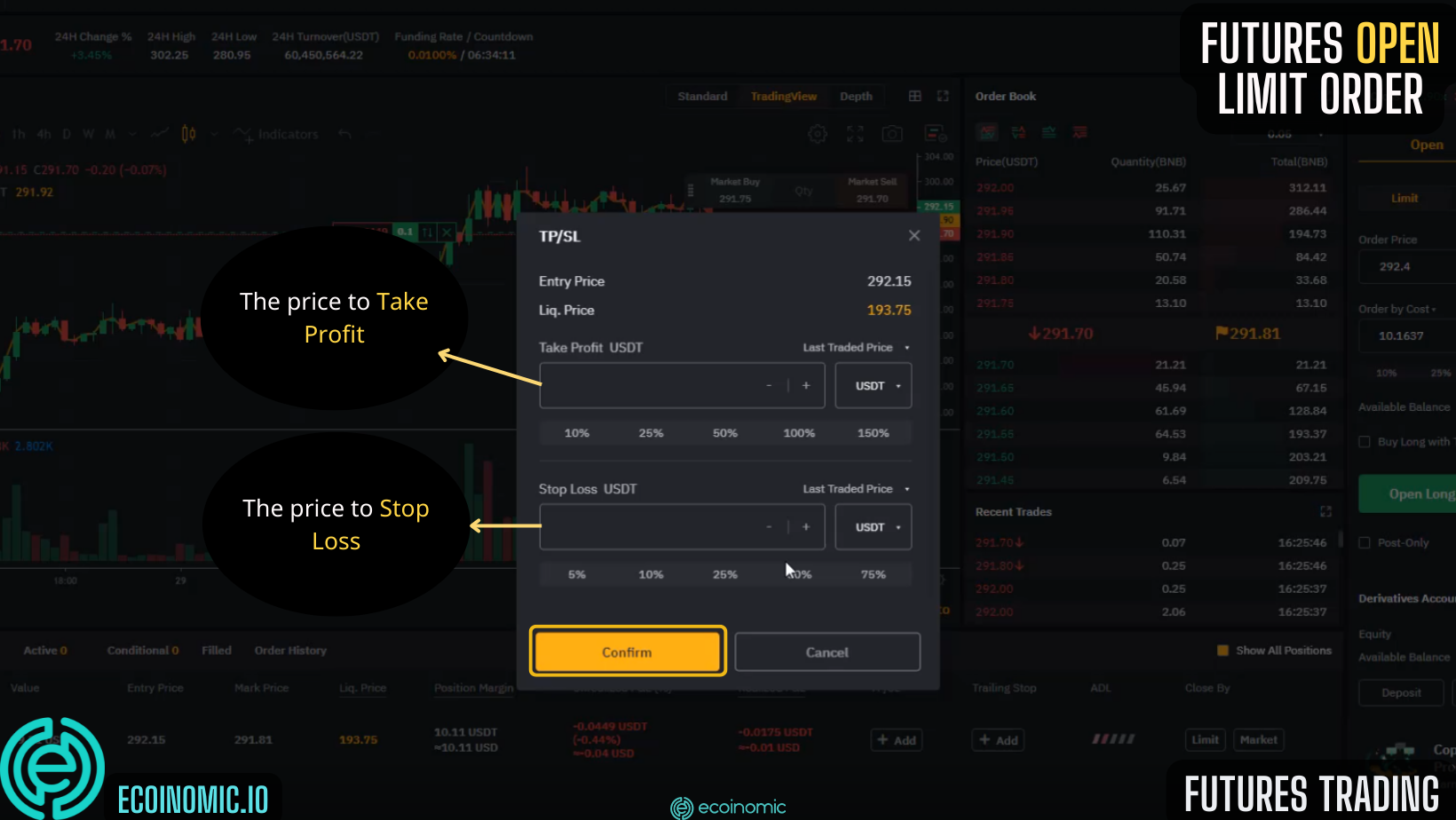 Close Limit orders with Bybit Futures
Click on the trade you want to close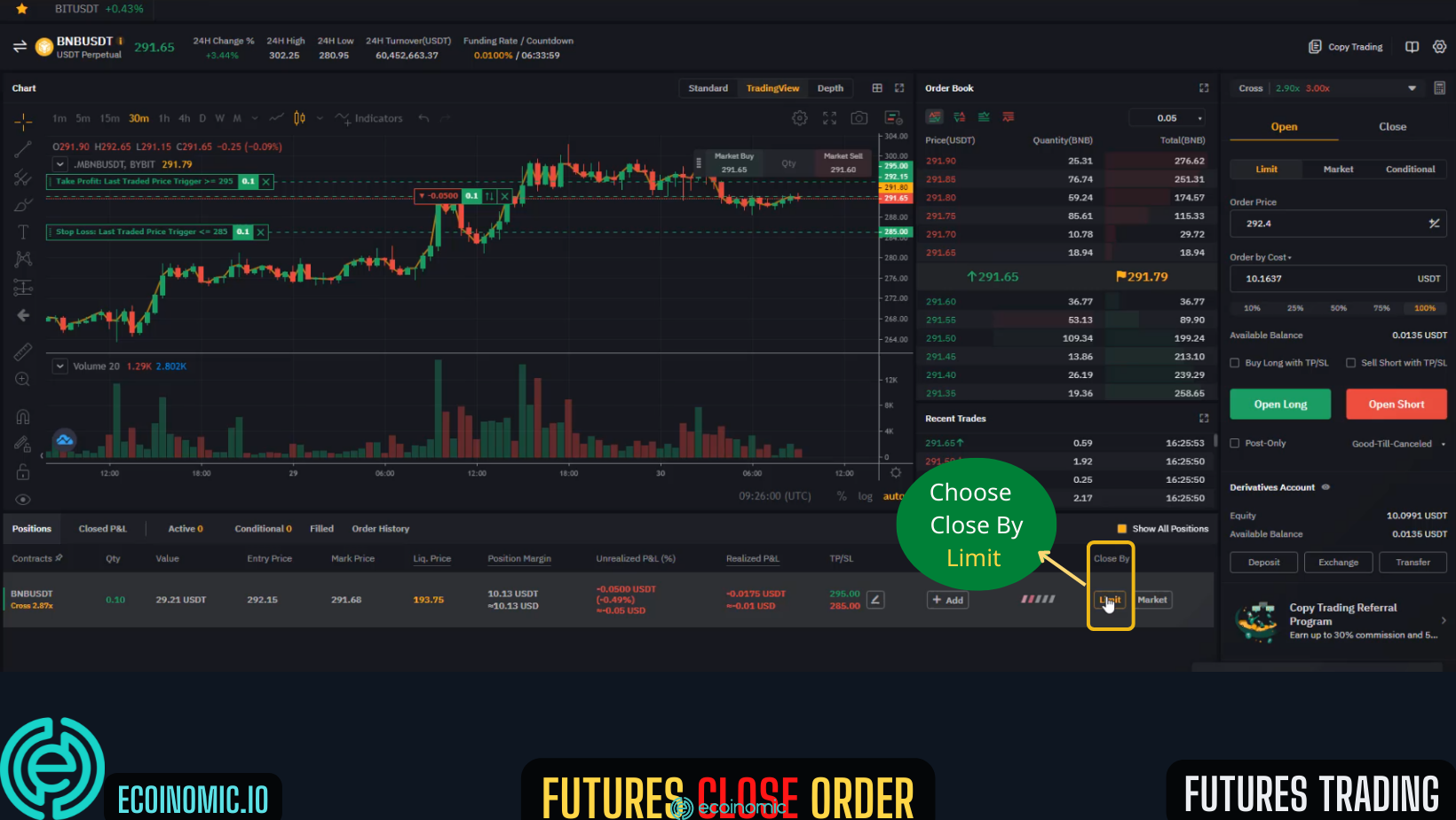 Now, on the Limit Close window, enter the closing price and desired amount and click "Confirm".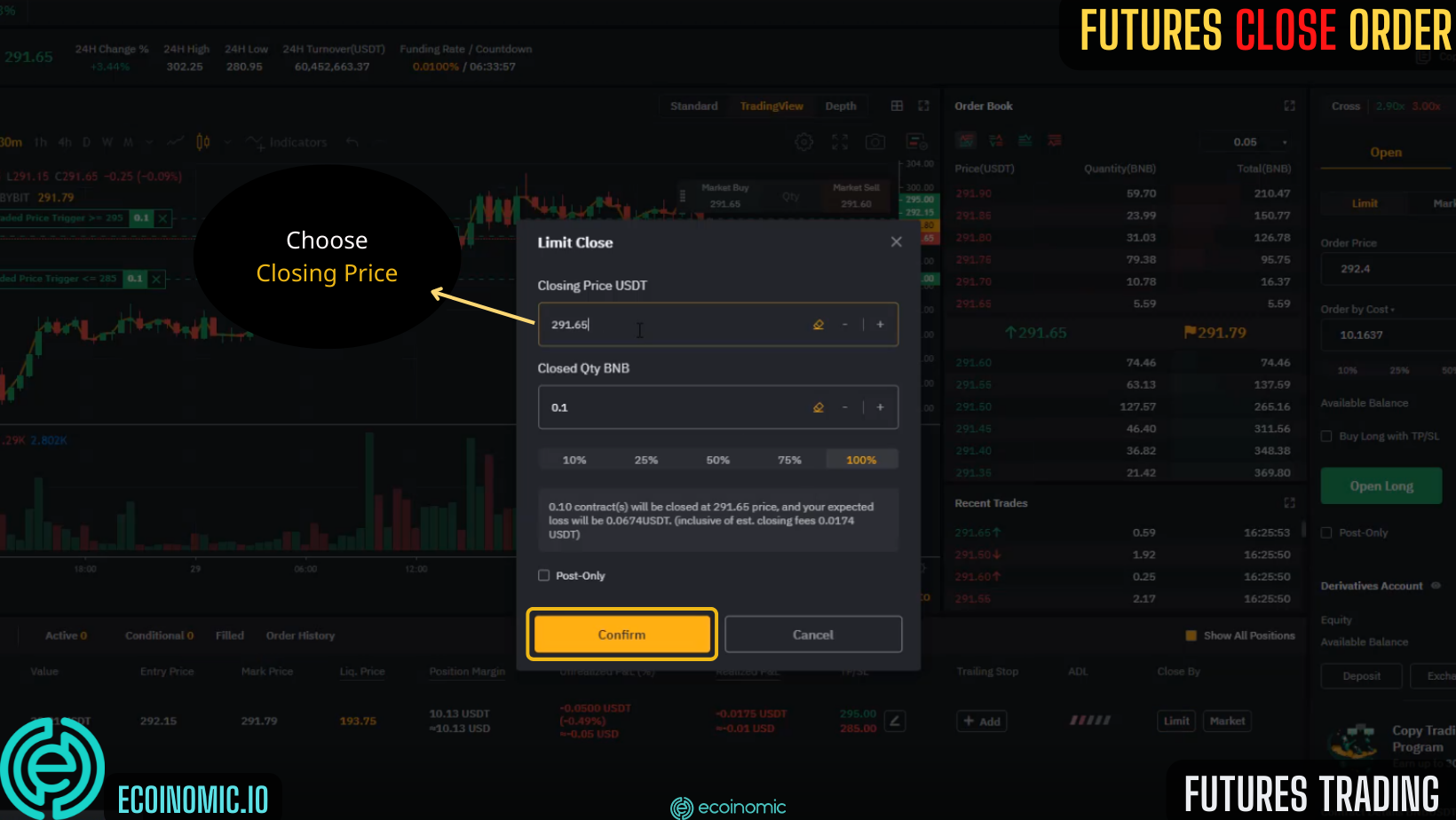 Related: What is Futures? What is margin? Compare Margin and Future
Conclusion
For those who are new to cryptocurrency derivatives trading, it is necessary to get a firm grasp of margin mechanisms and leverage ratio to trade effectively and avoid unnecessary risks. In the above article, Ecoinomic.io has provided you with the most complete information about Bybit Margin and Bybit Futures.
Hopefully you will make the right investment decisions and have a great experience with the Bybit exchange.
>>> Related: Guide to register Binance update 2022