In stock trading and cryptocurrency, there are always two classes of people: Maker – Taker. These individuals play an important role in changes in the market.  
What are Maker – Taker?
The term maker comes from the concept of market creator. These individuals are the providers, creating liquidity for the market. Maker does not place buy or sell orders made immediately. Instead, some milestones will be installed and the order will automatically match when the price hits the line (for example, selling ETH when the price hits $2000). In some markets, Maker enjoys lower fees to provide liquidity to the market (in the form of a buy-and-sell limit order).
Takers (market takers) are recipients of liquidity. That is, those who place and execute a buy order immediately in the market. In some markets, the transaction fees of these people are higher than those of the Makers. In other words, Takers are the ones who fill the commands that makers create.
Why maker – Taker models are used
In today's platforms, the trading activities that take place are recorded. This helps the user to monitor the trading volume, the market situation from which to predict the trend. In order to create and increase the liquidity of the market, the Maker – Taker model is adopted by the brokers.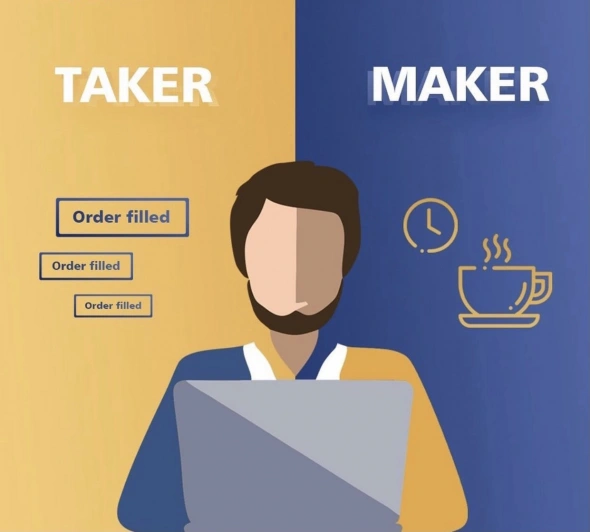 Markets with a high frequency of transactions can be affected by instant transactions that affect price and liquidity. This is detrimental to long-term investors. Therefore, taker trading can be charged higher to compensate for unwanted restrictions. In contrast, Maker trading (pre-limit trading) increases liquidity and helps the price of the coin stabilize should be more preferential in terms of fees. 
See also: What Are The Differences Between Investment And Speculation?
Conclusion
Maker and Taker are two components that contribute to creating and maintaining a smooth and vibrant market activity. Maker is creating great appeal for exchanges that use this model. Thanks to the liquidity provided, the receiver (Taker) makes transactions more quickly. However, the transaction fee to be paid is higher. Currently, exchanges that have adopted this model include Binance, Coinbase, Huobi,….