The term "Proof of Burn" refers to the locking of a number of cryptocurrencies (usually Bitcoin or other digital assets), i.e. sending them to an unaffordable address in exchange for tokens on some other blockchain. Burn is the process of permanently removing cryptocurrencies from circulation.
Decentralized platforms use the PoB method to ensure miners reach a consensus by burning cryptocurrencies. In other words, to create new tokens, someone must first destroy some existing tokens. This makes it more difficult to create new tokens, as it requires the investment of real resources. This helps protect the value of new tokens and prevents them from being devalued by excessive inflation. It also encourages users to keep their tokens instead of selling them, as they can only be acquired by destroying other cryptocurrencies.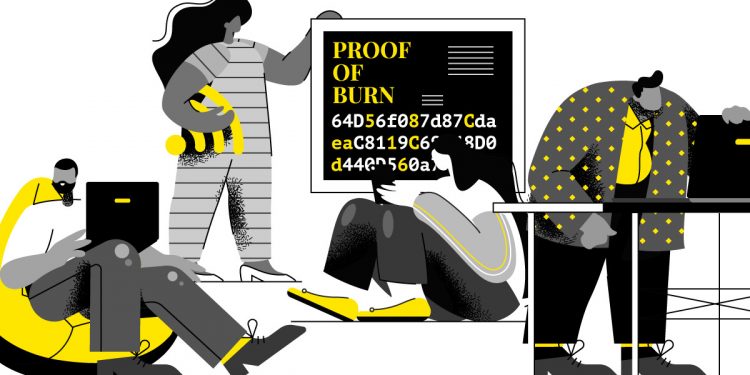 How PoB works
However, unlike in PoW-based decentralized platforms like Bitcoin, Proof-of-burn uses virtual mining rigs instead of physical mining rigs to authenticate transactions. Simply put, PoB miners started burning cryptocurrencies as a way to show their participation in the network and were allowed to mine.
Therefore, the more cryptocurrencies the more cryptocurrencies show higher mining power. Just like in Proof-of-Work (PoW) systems, higher mining power improves the speed of searching for new blocks. Therefore, miners earn more rewards.
Proof-of-burn is similar to Proof-of-Stake (PoS) in the sense that both consensus mechanisms involve interacting with cryptocurrencies for network security. However, unlike PoB, coins locked in the PoS system are not permanently deleted; Their owners can still access and sell them in case they want to leave.
See also: What Is NFT? How To Create, Buy And Sell Binance NFT
Advantages and disadvantages of PoB
Advantages
Enhanced anti-censorship and security capabilities. Proof-of-Burn is safer than other mechanisms because it's harder to control the system or attack it. In addition, it is much more difficult to censor transactions or block nodes from joining the network.
Reduce energy consumption. One of the main criticisms of Proof-of-Work is that it requires a lot of energy to function. Proof-of-Burn can limit this problem, making it more environmentally friendly.
No matter the concentration. In other consensus mechanisms, miners have become influential online because they control so much. This allows them to attack the network 51%, censor transactions and even change the rules for authenticating new blocks.
Fair distribution of currency. Another problem with many alternative currencies is that early participants can own a higher percentage of cryptocurrencies. This can lead to instability and unfairness. Proof-of-Burn helps prevent this by ensuring only new money is distributed to resource-ready people.
The barrier to entry is low. Unlike other consensus mechanisms, PoB does not require expensive hardware or high skill levels to participate. The only thing that is needed is computing power. This makes it easier for people to get started, especially when the currencies are still in their infancy.
Disadvantages
Big initial investment. One of the major criticisms is that PoB requires a large initial investment to participate. Because you have to burn cryptocurrencies, your only option is to buy them in exchange. This means you'll likely need thousands or millions of dollars just to get started.
Going against the decentralized nature of cryptocurrencies. The main reason why cryptocurrencies attract people is decentralization. In other words, there is no central authority that controls it. Proof-of-Burn goes against this by controlling who holds the most money.
Speculative risk. One potential problem with PoB is that it can be used for speculation. This means that people can buy cryptocurrencies, wait until they have a large supply, and then use them to create blocks. This will allow them to control the network and can lead to instability.
The risk of hoarding. Another potential problem is that people can use PoB to hoard cryptocurrencies. This will limit available supply and can lead to an increase in value. While this is good for cryptocurrency holders, it's not good for the overall value of the currency.
Attacking other currencies. This means that someone can buy a large supply of a certain currency, use it to create blocks, and then dump the coins on the open market. This will lead to the devaluation of the currency and is very harmful.