What is Automata Network?
Automata Network is a decentralized protocol that provides security middleware solutions for dApps, supporting multi-chain. Automata Network's core products include 1RPC, 2FA Guru, NFTFair, AnyDAO, and XATA.
Leveraging state-of-the-art encryption and privacy protection algorithms, Automata Network enables anonymous voting, minimized Miner Extractable Value (MEV), and many other security features.
The basics of Automata Network
Website: https://www.ata.network/
Supported Chains: Ethereum, Polygon, Klaytn, BNB Chain, Polkadot…
Supported Wallets: Metamask, PolkdotJS, Wallet Connect,…
Feature: Vote aggregation across chains, NFT Fair Launch, 2FA, RPC relay, Fair Liquidity
Availabilities: Website
Highlights of Automata Network
Minimize MEV values with anti-front-running. Accordingly, the order of transactions is undisclosed and completely confidential, automata's approach does not rely on any bribes or modifications by miners to settle MEVs.
Ensure fairness when launching NFTs on the market, prevent leaks about NFT information and its rarity.
Supports multi-chain administration and privacy customization
Neutralize Phishing attacks, which help protect access to accounts and users.
Mechanism of action of Automata Network
Automata Network initially focused on Conveyor, a service that imports and exports transactions in a defined order, and Witness, an off-chain governance voting solution that prioritizes user privacy. When a person sends a transaction on the blockchain, there is a certain latency, and during this period, the transactions are in the mempool.
Arbitrage brokers and miners can monitor the Mempool and find opportunities to maximize their own profits, for example with pre-run trades. For that reason, MEVs can harm users as an intangible tax, and if the block reward is small enough compared to MEVs, then miners are likely to destabilize consensus by reordering or censoring transactions.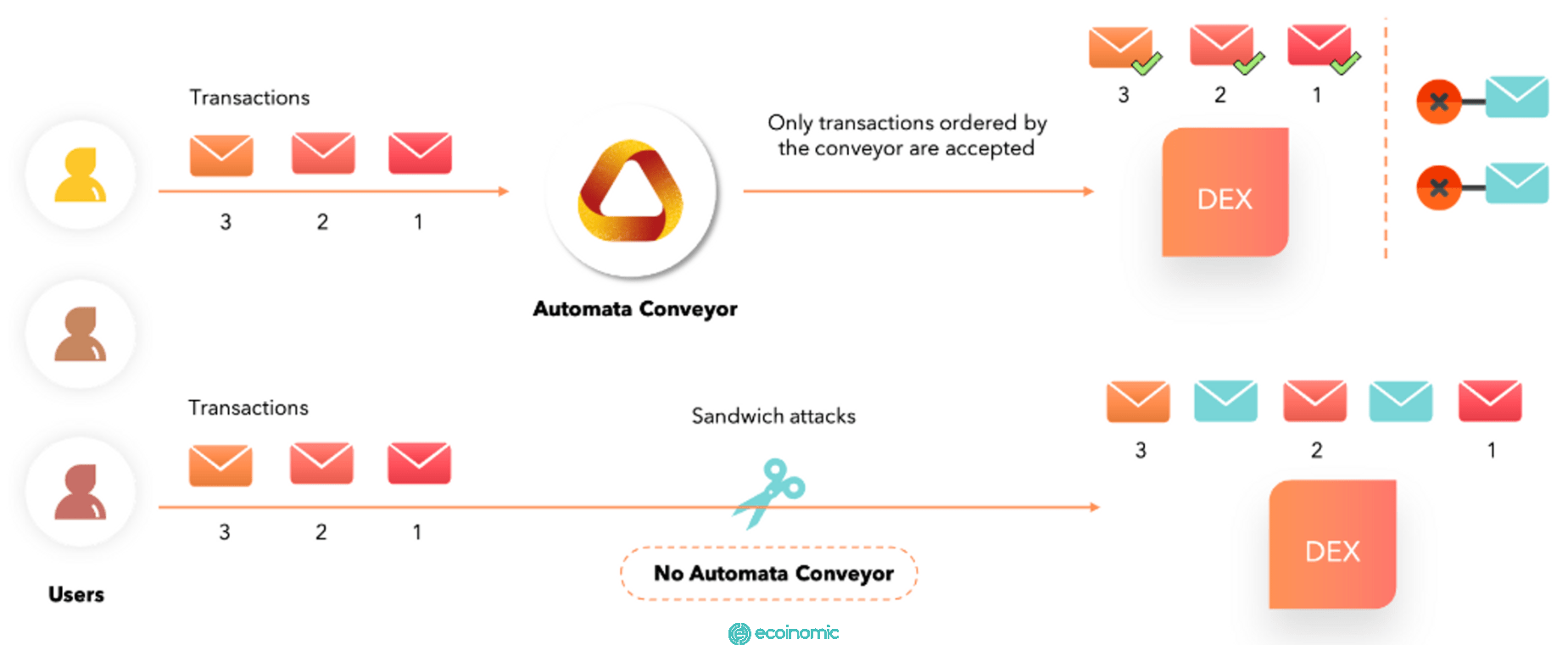 Conveyor's mechanism was born to solve that problem. When transactions are included in Conveyor, it determines the order of incoming transactions and prevents the following operations:
Include new transactions in conveyor output: Anyone can detect inserted transactions that ignore Conveyor due to signature mismatch.
Delete transactions: Transactions accepted by Conveyor are broadcast everywhere, so transactions cannot be deleted.
Witness Witness supports the DAO in managing user privacy when voting on the blockchain. Witness' options as a solution make voting easier and encourage the community of projects to get involved.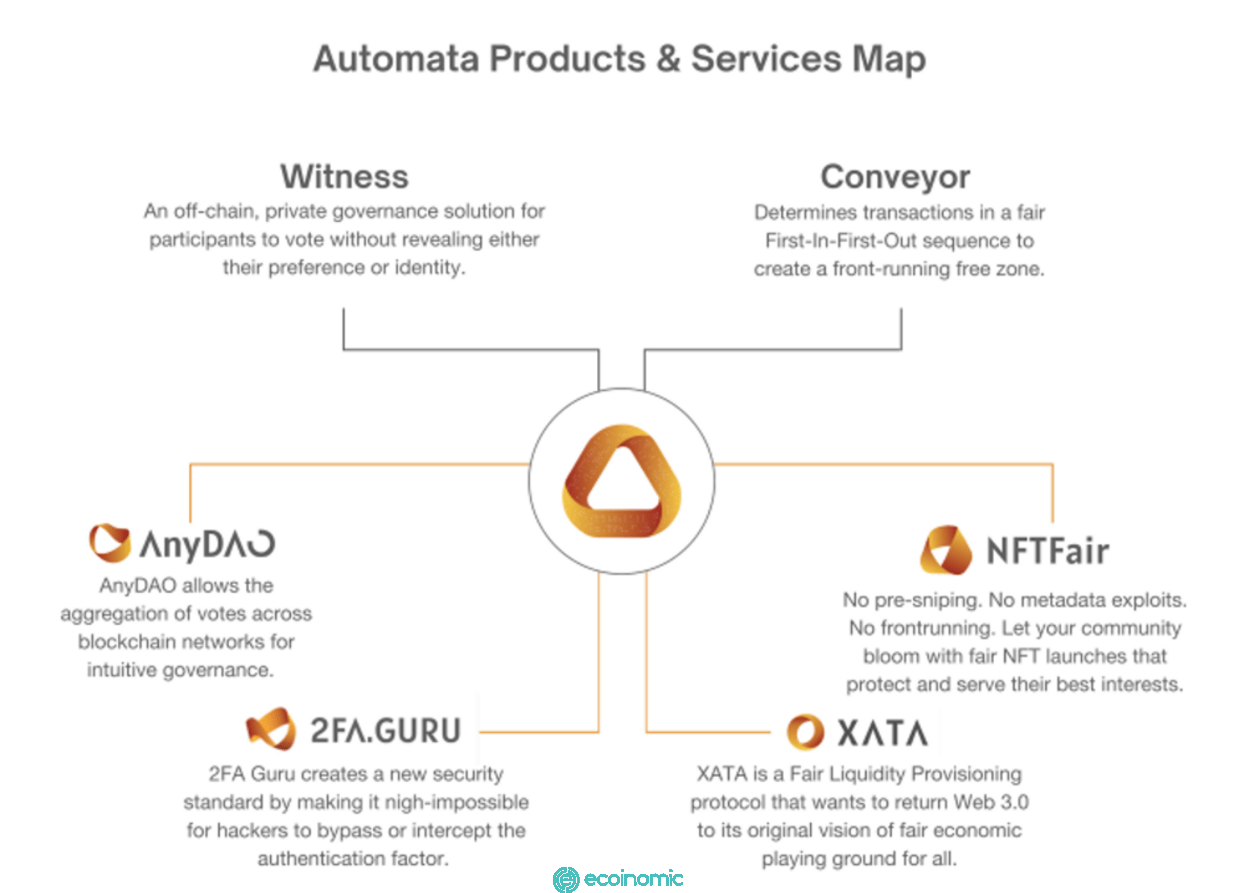 From the original Witness and Conveyor products, Automata Network evolved into specific services that support a diverse range of users in terms of security and fairness on the web3. Tools include: 1RPC, 2FA Guru, NFTFair, AnyDAO, and XATA.
Automata Network Product User Guide
NFTFair
NFTFair is a fair launch NFT platform that helps the project interact with the community without exposing product data. NFTFair currently supports BSC and Polygon. Instructions for use:
Visit https://home.nftfair.app/
Select the right project and select "Explore Launch"
Connect your wallet and start mint NFTs
AnyDAO
AnyDAO supports projects in DAO administration through a wide selection of features.
Go to https://the.anydao.app/ and select "Sign up" to connect the wallet
Select an existing project or create a new one with full information
Select "New Proposal" to create a new proposal for the DAO
Fill in the information about the Proposal and voting options
Select "Publish my proposal" to publish the proposal
1RPC
1RPC is a forwarding proxy that shields user data before it reaches existing RPC endpoints. It is a tool that provides technical solutions used to ensure user data is not tracked and collected, namely hiding metadata, sending randomly, separating multiple calls,…
Access https://www.1rpc.io/
Select "Add 1RPC to Wallet"
Select blockchain and view network information
Choose to add blokchain on Metamask wallet
Copy Chain ID parameters, 1RPC URL to wallet
2FA
Access https://app.2fa.guru/
Connect your Metamask wallet
If this is your first time using 2FA Guru, click on Wallet Actions to sign up
Confirm on Metamask to prove your identity before creating a unique 2FA secret Note: Your primary wallet and 2FA device must be on two separate devices
XATA
XATA is a protocol that provides fair liquidity that reduces the influence of MEVs to the smallest level.
Visit XATA at app.xata.fi.
Click "Connect Wallet" in the top right corner
Wallet connection confirmation and wallet address and balance will appear in the top right corner
Use the Swap feature and add liquidity.
Sumthe
Automata Network (ATA) is a potential project in the field of security and privacy from DeFi, with many applications for users and web3 projects. Stay tuned Ecoinomic.io for the latest information and knowledge on blockchain projects on the market!