Cosmos' native cryptocurrency continued its upward momentum with 40% while other cryptocurrencies fell. NEAR followed by multi-week highs.
The Cosmos protocol's native atom continues to rise, reaching new highs every day. At the time of writing, the coin is trading at $14 after hitting $16 earlier today. It hit a 4-month high of $13.92 on Thursday amid signs of recovery in the cryptocurrency market.
It was after Wednesday's drop that the ATOM price dropped to just under $12. Since falling by $6 in mid-June, the Cosmos token (ATOM) has been on an upward triangular pattern. Notably, ATOM broke the resistance level. Relative Strength Index (RSI) and briefly touched $16.
On Thursday, cryptocurrency websites are still speculating whether ATOM will hit the $15 mark as it continues to rise. Most of these sites claim that ATOM will have to break the Relative Strength Index (RSI) barrier to get there. According to them, this barrier will appear with a ceiling of 63.30.
However, ATOM cleared the barrier early this morning, trading at $16 before dropping to its current price, $14. This price surge caused it to increase by 40% ($10) within 3 months.
See More: ATOM Price And Cosmos Analysis (26/8/2022). Why ATOM Price Is Flying To The Cosmos.
Other crypto rallies
In addition, this event took place at the same time that the market suffered from major cryptocurrency sell-offs. The increase in the strength of the dollar has negatively impacted the value of cryptocurrencies, causing a significant sell-off in the market. This has caused the price of tokens, such as Ethereum Classic and Aave, to drop significantly. ETC is down 12%, while Aave is down 7% on Tuesday. Another cryptocurrency also fell by 11%.
However, on Wednesday afternoon, the affected currencies rebounded again. In fact, Aave was trading higher than it was before the drop. Analysts have confirmed this recovery is due to a sharp fall in the US dollar index.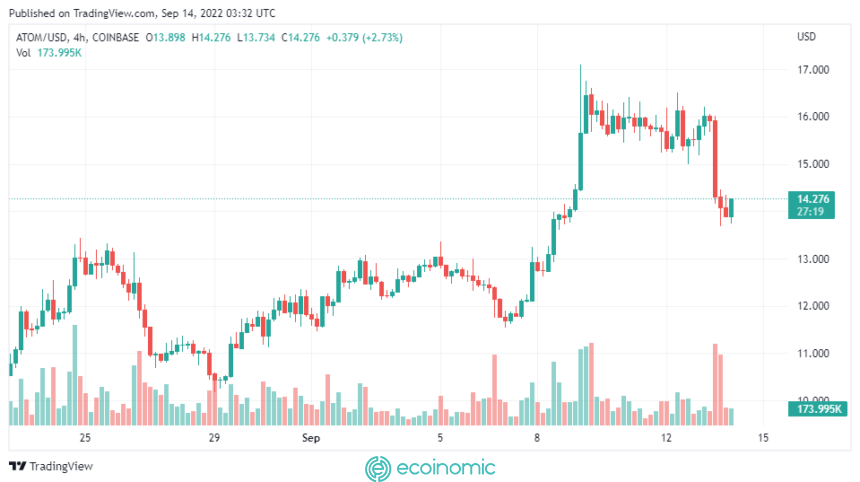 NEAR is no exception
Another notable protocol amid these market movements is that the NEAR network reached its highest level in weeks coinciding with the ATOM surge. However, the NEAR token did not break the resistance level and remained in the $5 range. The token is currently trading at $4.55, according to data from Tradingview.
However, COSMOS' ATOM remains the "Biggest Driver" on the market at the moment. Amid market volatility, the token continues to make significant strides. While other cryptocurrencies struggled with volatility from the rising US dollar index, the cryptocurrency hit a 4-month high. As a result, ATOM has received applause from many cryptocurrency websites.