An ongoing crisis at lending platform BendDAO is increasing the risk that the NFT bubble will burst.
OpenSea, the world's largest NFT market has just experienced a significant drop in daily volume and is concerned about a market bubble bursting.
OpenSea volume drops to 1-year low
Notably, the market processed NFT transactions worth nearly $5 million on August 28, which is about 99% lower than the record high of $405.75 million on May 1.

The large drop in daily volume, the number of OpenSea users, and their transactions show that the value and interest in blockchain-based collections have declined in recent months.
That can be seen more clearly as the floor prices of leading digital collectibles projects have dropped significantly.
For example, the floor price of Bored Ape Yacht Club fell 53% to 72.5 Ether (ETH) on August 28 from 153.7 ETH on May 1.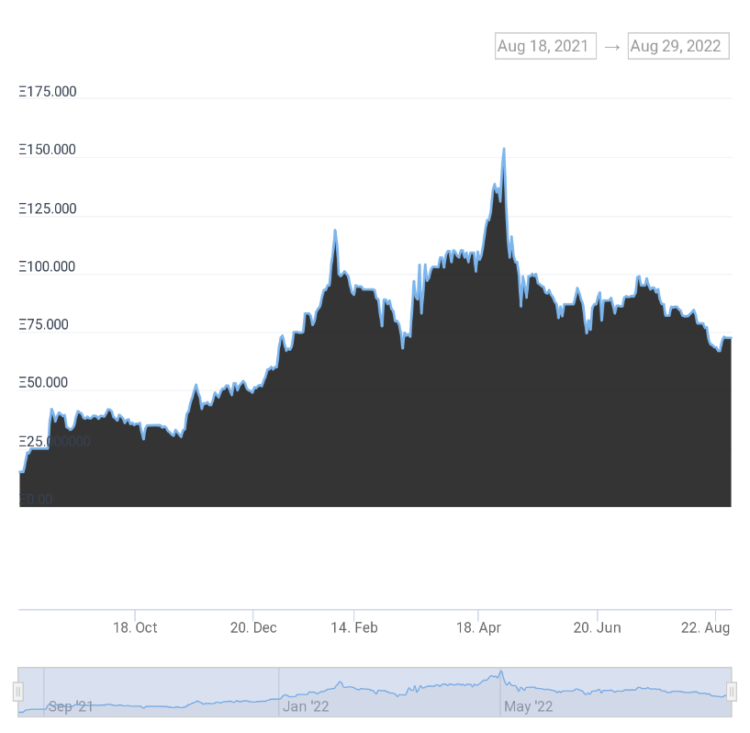 Similarly, the floor price of CryptoPunks, another leading NFT collection, is down nearly 20% from its July high of 83.72 ETH.
NFT bubble may burst
NFT prices are quoted in the currency of the blockchain on which they are launched. So, a digital collection created on Ethereum purchased with Ether, this also means that the NFT price will fall if eth's market valuation plummets.
The bearish ETH market seems to be one of the main reasons behind poor NFT statistics. Notably, the price of 1 ETH dropped from $4,950 in November 2021 to below $1,500 in August 2022.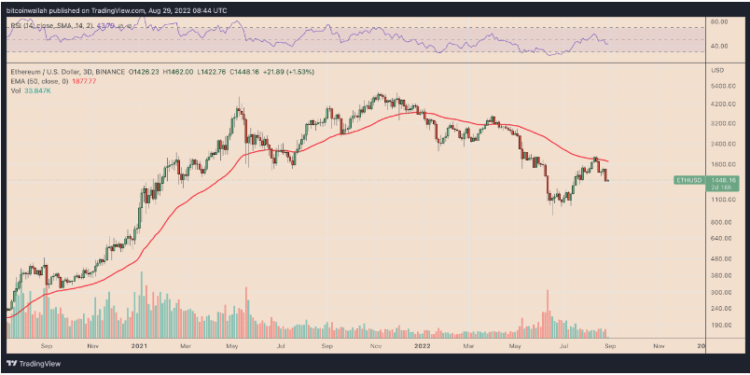 BendDAO votes to improve NFT liquidity
Last week, BendDAO, a decentralized autonomous organization that allows NFT owners to mortgage their digital collections to Borrow ETH worth 30% to 40% of the NFT's floor price. The unit voted to change its protocol code to make NFT's collateral more liquid.
The vote took place after the rising price of Ether increased the value of eth-denominated loans in dollars. Meanwhile, the sharp drop in NFT prices reduces the value of the collateral that BendDAO is holding. This vote changed the NFT liquidation threshold from 95% to 70%.
As a result, BendDAO is now facing a time of its own debt crisis, where borrowers are unable to repay loans in dollars due to falling ETH prices, while lenders have difficulty recovering the amount already lent due to falling collateral valuations.
In other words, the floor price of NFTs, including BAYC, risks falling further if the market's liquidity continues to dry up.
agreed, 2020-2021 was crazy get-rich-in-months & the DeFi-NFT-Web3 bubble is going bust now, turns out founders & VCs were scammers only in for the $$$.

But pipl said its over in 2018 too after ICOs.

The next bubble will come 100%, you just need to survive.
play the long game. https://t.co/5f17JfdFfY

— doncrypto (@DonCryptoDraper) August 29, 2022