Dot price fell to $7.55, Polkadot price analysis (DOT) showed that the trend is still bearish. Previously, DOT traded at around $7.74, Polkadot is now looking for support at around $7.49.
Around these levels, Polkadot has some selling pressure, but if the DOT tries to hold above $7.49, the DOT may start to see some buying momentum.
The fact is that DOT has countless parachains as the foundation for its decentralized web goals. These parachains help DOT stay relevant within the cryptocurrency ecosystem.
According to Coingecko data, DOT is trading at $6.93, down 5.5% over the past seven days.
Santiment's data shows that after Aug. 20, DOT development activities spiked. However, its price was not held so firmly, down 11.31% over the past week.
Polkadot Announces New Parachains Rollout
The Polkadot structure is not as restrictive as many people think. Furthermore, Polkadot recently announced the implementation of many new blockchains with ParityTech.
If these parachains are successfully activated, the Polkadot community will be able to manage itself without approval from other parties.
So has DOT's position improved?
While the short-term outlook for the DOT/USD market is bearish, a break with the current consolidation range could cause the market to soon move in a bullish direction to the $8.00 level.
The signal line is moving above the candlestick, which means that the MACD indicator is currently in the bearish zone.
At 47.75, the RSI indicator for DOT/USD is approaching the oversold zone, indicating that the bulls may soon recover.
The market is currently in consolidation conditions as the upper Bollinger Band is at $8.19 and the lower Bollinger Band is at $7.51.
DOT/USD price continues the bearish streak
Looking at the DOT/USD 4-hour price chart, the price is predicted to continue falling.
According to the DOT price study's 4-hour price chart, the market has been in a bearish trend for the past 4 hours.
The DOT price advanced to $8.00, but it was quickly rejected at approximately $7.85.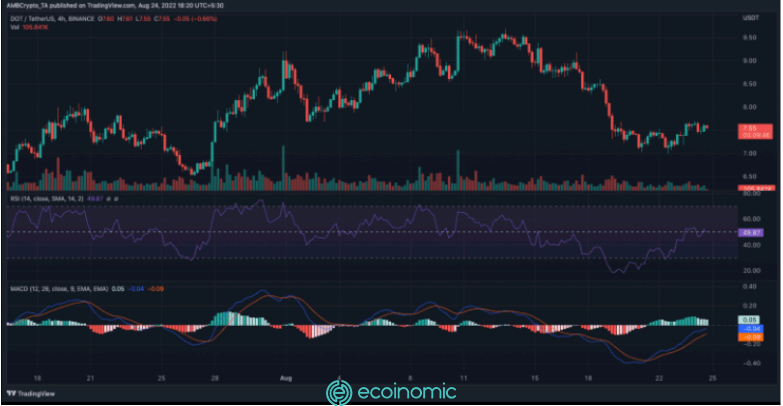 DOT is currently consolidating and if it breaks out of the current range, it could soon go in one of two directions: up towards $8.00 or down to $7.32.
The likelihood is that DOT will surpass current levels and increase as long as the buyer's momentum maintains its advantage over the seller.
The current parachains of the Polkadot network appear to be at their best, despite the lack of clear recovery indicators. According to PolkadotInsider, this has caught the attention of investors.
As a result, investors may speculate that DOT is receiving increased interest and momentum.