MATIC price drops
Even if Polygon becomes one of the most acquired tokens by ETH whales, the future of MATIC is not looking very bright.
From September 13 onwards, MATIC was down. The 7-12 September rally rise was ultimately denied by the bears at the $0.9403 resistance zone.
With the same 5-day time frame since then, the value of the token has plummeted by 20.65%. At the time of writing, the token's price is hovering around the 78.60 Fibonacci retracement level, between $0.6898 and $0.7770.
Traders should keep an eye on both the 61.80 Fib level (currently at $0.6989) and the support level of 0.7185.These two factors countered the downtrend and gave the hourly rally some much-needed support.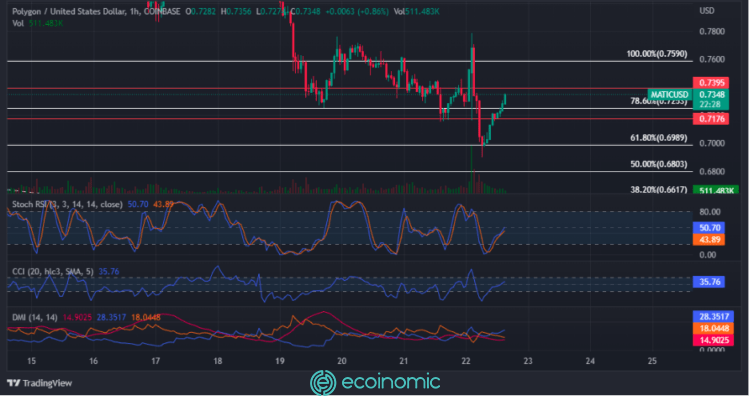 Polygon bullish momentum hints at demand
Also, the bullish momentum seems to be building around the 1 hour time frame. The rising Value of Stoch RSI indicates that the demand for cryptocurrencies is growing.
In addition, the momentum indicator indicates that the trend is rising. However, a large amount of momentum generated can have a big impact on the next overall trend.
This small increase can be attributed to extensive development activities in the Polygon chain. The team is integrating new features and upgrading existing ones. That further increases investor and trader confidence.
However, as the cryptocurrency market recovers from the September 13 sell-off, the partnership between Polygon and Flipkart could accelerate adoption of MATIC and contribute to the expansion of the Polygon ecosystem.
MATIC: Potential buying pressure
Polygon's growth has boosted potential buying pressure. However, recent gains are not the main reason for the price increase.
When the price falls, the signs also indicate a strong buy signal. The bullish indicator reveals similar information. As the bulls gain momentum, the Stoch RSI will also rise, indicating increased buying pressure.
This can affect the resilience of MATIC. If the bulls can stabilize at the 71.80 Fibonacci level, it could lead to another rally to support the rally.
The price range of $0.7395 represents the main resistance on this chart. If the bulls accelerate and break through this resistance level, then the MATIC token may be on the rebound.