Former FTX CEO Sam Bankman-Fried has been released on $250 million bail by a New York court.
In his first appearance in a New York court after being extradited from the Bahamas to the United States, former FTX CEO Sam Bankman-Fried accepted a $250 million bail request so he could be released on bail at his parents' home in Palo Alto, California, pending trial.
Previously, the CEO was extradited from the Bahamas to New York (USA), where he faced three separate fraud charges from the US Department of Justice, the US Securities Commission (SEC) and the Asset Futures Trading Commission (CFTC The total penalty for Sam Bankman-Fried if charged is up to 115 years in prison.
WATCH: Sam Bankman-Fried departs courthouse in New York amidst a surging crowd of reporters and photographers pic.twitter.com/T6tkr0HjwO

— Bloomberg TV (@BloombergTV) December 22 , 2022
After hearing the indictment read and setting bail at up to $250 million, Sam Bankman-Fried agreed to the condition to seek bail. However, the former FTX CEO will not directly pay $ 250 million in cash, but will instead mortgage the assets for the guarantee. Sam Bankman-Fried's parents will mortgage their Palo Alto home in California to meet the court's request. The petition will need to be signed by two other people "with significant assets", one of whom is not a relative, by the deadline of 05/01/2023.
In the event that Sam Bankman-Fried flees or fails to comply with a court summons, authorities have the power to foreclose the home and demand $250 million from those who signed Sam Bankman-Fried's bail.
In a media interview in early December, Sam Bankman-Fried claimed that after the FTX crash, he himself had only $100,000 left in his bank account, far behind the combined fortune of more than $22 billion that he had at the height of the FTX empire – Alameda Research.
By comparison, Sam Bankman-Fried's bail is the highest in the history of the U.S. judiciary, far ahead of the bails of other "super donkeys" in the past such as Bernie Madoff ($ 10 million), Jordan Belfort ($ 18.3 million) or Elizabeth Holmes ($ 500 thousand). Another person who was asked by the court for $250 million bail was Michael Milken, a former manager at investment bank Drexel Burnham Lambert in the late '80s, who was accused of securities fraud. However, if Inflation is taken into account, Milken's bail is now worth nearly $570 million.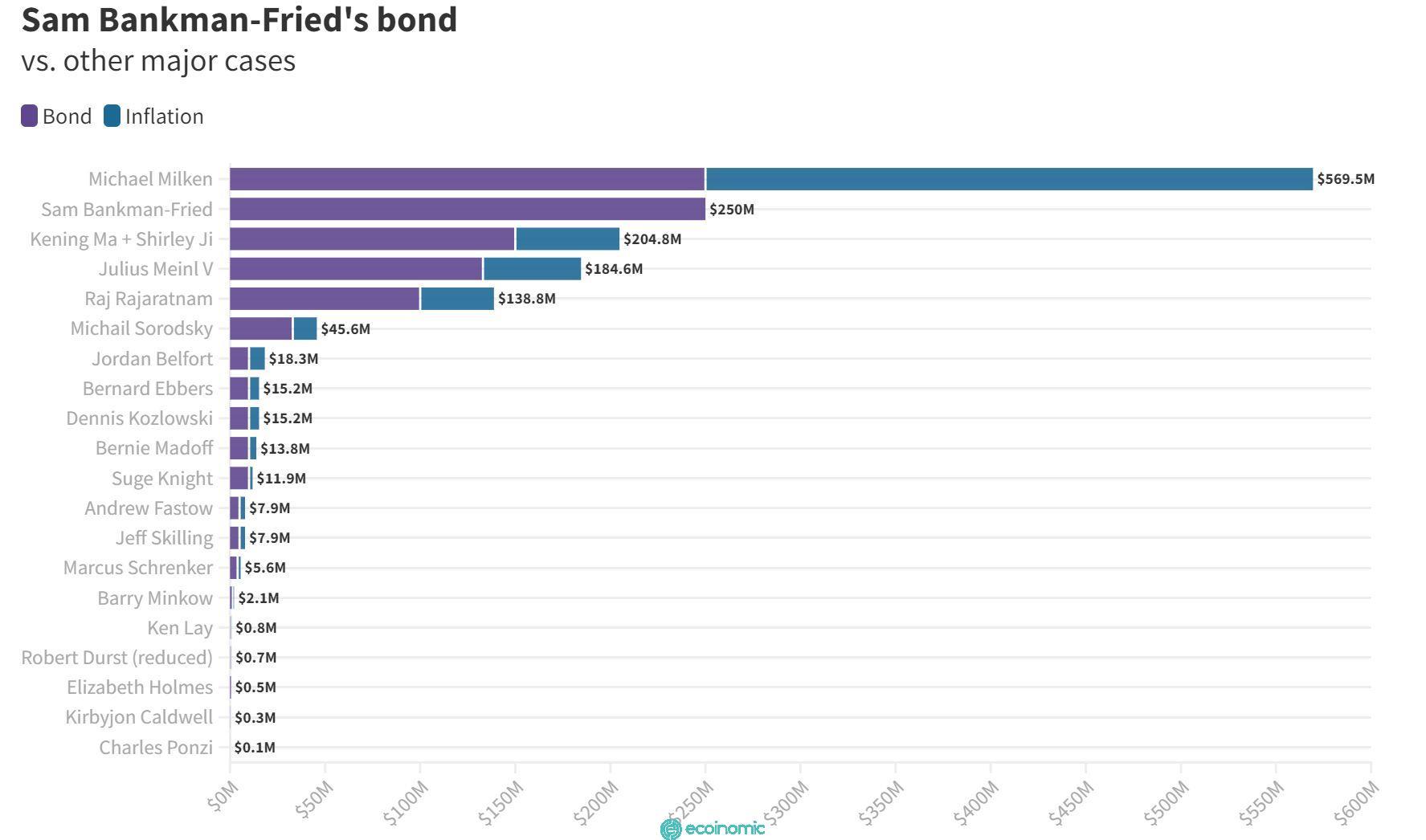 Judge Gabriel Gorenstein said the reason for allowing Sam Bankman-Fried to be released on bail, despite being accused of masterminding one of the most serious scams in U.S. history, was because he had reached a certain level of "notoriety" so that it was difficult to escape undetected or engage in other financial activities.
Sam Bankman-Fried's bail terms also include:
Must hand over passports to U.S. authorities;
Accepted house arrest at his parents' home in Palo Alto, except in cases of going out for exercise;
Undergo health evaluations in preparation for further trials;
Must wear a position tracking ring on the legs;
Do not make transactions of 1,000 USD or more, do not Borrow money from banks or establish new companies.
On January 3, 2023, Sam Bankman-Fried will return to New York for his next trial, where he will be given the opportunity to plead guilty or begin the legal process.
In a related development, Sam Bankman-Fried's two confidants, former Alameda Research CEO Caroline Ellison and former FTX Chief Technology Officer Gary Wang, have pleaded guilty and vowed to cooperate with the investigation with U.S. authorities to seek clemency.
Source: Coin68