Venture Capital (VCs) poured $14.2 billion into cryptocurrencies through 725 transactions in the first half of 2022, but big four accounting firm KPMG predicts investments are likely to slow for the rest of the year.
According to a new KPMG report published on September 6, the largest investments in the first half of 2022 came from German-based cryptocurrency trading platform Trade Republic ($1.1 billion), digital asset custody platform Fireblocks ($550 million), cryptocurrency exchange FTX ($500 million), and Ethereum software company ConsenSys ($450 million).
KPMG's Global Fintech Leader Anton Ruddenklau also noted that investment figures in the first half of 2022 alone have more than doubled compared to all years prior to 2021, which underscores the growing market of technology and solutions to attract investment.
However, Ruddenklau said that overinvestment in 2021 and the first half of 2022, along with a potential recession, rising inflation, interest rates, and the Russia-Ukraine conflict will cause investment to decline this year.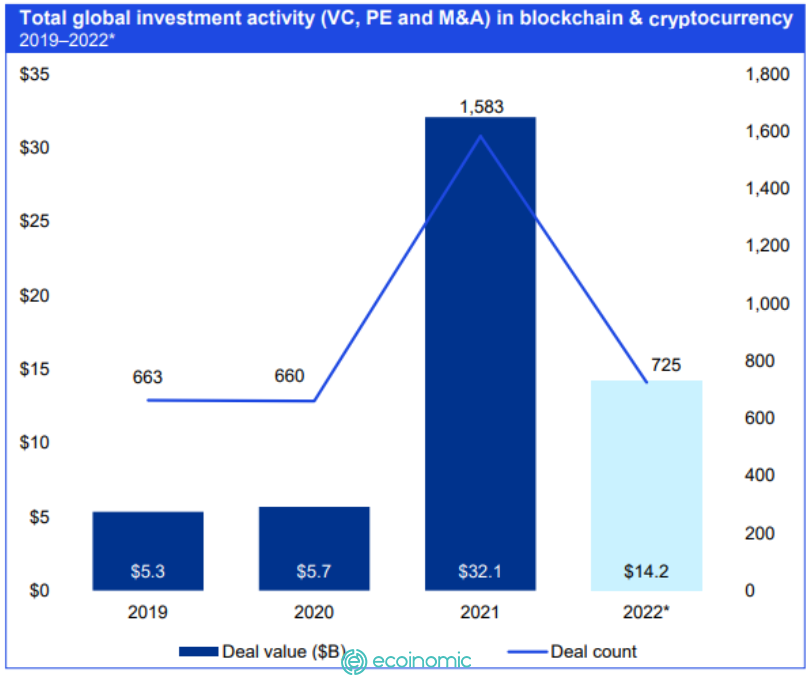 KPMG's predictions for a crypto investment downturn have been made in data since July with monthly capital inflows down 43% for the month, according to Cointelegraph Research.
Ruddenklau expects the decline in interest rates and crypto investments to be an opportunity for retail companies to offer cryptocurrencies, tokens and NFTs.
Alexandre Stachtchenko, KPMG France Director for Blockchain Assets & Cryptocurrencies pointed out in the report that well-managed crypto companies with sound risk management policies, a long-term vision, and a strong approach to risk and cost management will position themselves well to survive the current bear market.
Stachtchenko added that financial institutions are increasingly interested in blockchain infrastructure solutions and stablecoins to take advantage of the operation of decentralized ledger technology.
KPMG also expects further investment efforts in underdeveloped fintech markets, particularly in Africa.
These market efforts have been made by cryptocurrency exchange Binance. The exchange recently engaged in early-stage negotiations with the Nigerian government to build a crypto-friendly economic zone that aims to generate long-term economic growth through digital innovation.