Walmart entered the Metaverse, AC Milan partnered with Solana's blockchain soccer game, MonkeyLeague, while Pixelmon attempted a comeback from a fiasco from its NFT collection in February.
Walmart enters metaverse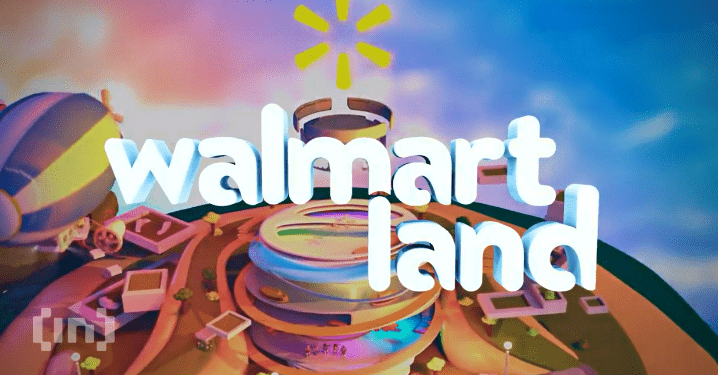 American retail giant Walmart has taken its first steps into the Metaverse with the launch of Walmart Land and Walmart's Universe of Play on Roblox. According to the company's Sept. 26 announcement, Walmart Land focuses on "immersive experiences," with key features including non-physical Ferris wheels, unlockable tokens and badges, interactive piano gameplay, and DJ booths for users.
See Walmart like never before 😎

Walmart Land is our new world on #ROBLOX with fun & games for all. From film to fashion — whatever you're into, let's have some fun with it. Come for the inspo, stay for the verch & live performances.

Let's go! https://t.co/leZ4CITCjN pic.twitter.com/4r26MHHk5i

— Walmart (@Walmart) September 26, 2022
Lottie London products, Bubble, Sharon C's UOMA and other brands will also appear in the virtual world, along with a virtual merchandise store, or "verch" to create user avatars.
In October, Walmart Land will add a motion capture concert called Electric Fest, featuring music artists YUNGBLUD, Madison Beer and Kane Brown. Meanwhile, Walmart's Universe of Play includes games with products and characters from Jurassic World, Paw Patrol, Magic Mixies, and Razor Scooters, and users have the opportunity to explore the world of toys, earn coins and exchange them for virtual goods.
The first retail group intends to join Metaverse after filing a patent with the U.S. Patent and Trademark Office on Dec. 30, covering its own "digital currency" and "token," while a separate application includes trademarks for the Walmart brand in virtual reality and augmented reality.
Founder "@NFT" account got hacked
Leverage Game Media co-founder Jason Falovitch fell victim to a hack over the weekend when his account on NFT exchange OpenSea was robbed of Mutant NFTs, Bored Ape, and two NFT Doodles.
Falovitch has stated that the hack cost him over $1 million Ether (ETH) and NFTs. Falovitch is also the founder of Instagram and Twitter "@NFT," both of which have been suspended after repeated violations of the platform's community guidelines and emerged after allegations that it promoted NFT projects without proper disclosure.
In a Twitter post to his more than 170,000 followers on Oct. 25, Falovitch, known as jfx on Twitter, said he had been hacked the night before, urging the public not to buy any items or anything else from his wallet.
I got hacked last night on @opensea. Apes, doodles, eth. It's not pretty.

Please do not buy any of these items or anything else from my wallets. Thanks pic.twitter.com/ynSTypo7EC

— jf❌ (@jfx) September 25, 2022
Falovitch is known in the community as the founder of the "@NFT" account on Twitter and Instagram.
He is also the co-founder of Leverage Game Media, with American billionaire entrepreneur Mark Cuban that owns NFT assets and claims to help promote NFT projects through major sports social networking sites.
However, his earlier involvement with disabled social media accounts did not escape some community members with a grudge, with some calling the recent hack "karma."
Pixelmon rises from the ashes
After a poor response to the launch of its NFT collection in February, Pixelmon is back with a new plan under the leadership of LiquidX, a Web3 Venture Capital studio.
According to the company's statement, LiquidX has acquired a 60% stake in the project, and LiquidX co-founder Giulio Xiloyannis will serve as CEO of Pixelmon.
It's been 213 days since the creator of Pixelmon (Syberer) tweeted that he's not going anywhere.
As OKHotshot (@NFTherder) shared on September 26, 2022.
Earlier this year, many first-generation Pixelmon NFT collection owners were disappointed after the project revealed the finished work in February, with an unexpected ending.
However, under the new leadership, the updated Pixelmon roadmap now turns mighty monsters from the original NFT collection into 3D characters that can be used in the massively multiplayer online role-playing game (MMORPG) that Pixelmon is coming to.
Pixelmon was originally expected to roll out the alpha version of the MMORPG before the end of 2022, but now alpha testing for the game will begin in Q1 2023, and the game will be released by the end of 2023.
LiquidX's new roadmap also includes the launch of future virtual land NFTs along with separate utility and governance tokens to boost Pixelmon's economy.
AC Milan partnered with MonkeyLeague on Solana
Professional football club AC Milan (Rossoneri) has signed a new deal with MonkeyLeague, a Web3 football game built on the Solana blockchain – becoming another sports brand leveraging technology to engage fans.
We always said we weren't messin' around…

We are proud to announce a strategic partnership with @acmilan 🚀🔥

Forza Milan. Sempre MonkeyLeague!

We rafflin' 1 LE AC Milan NFT! Follow, rt, tg 3 friends to be eligible!

Check it: https://t.co/GC8xWxonfh$MBS #MonkeyTrain pic.twitter.com/9dHe4p2lPy

— MonkeyLeague 🐵⚽♟️ (@TheMonkeyLeague) September 23, 2022
The partnership will see the creation of exclusive AC Milan-branded NFT game assets, including attracting new players, skins, in-game clothing, and stadiums.
Casper Stylsvig, AC Milan's chief revenue officer, said the club was "delighted" and called the partnership "allowing us to strengthen our position in the field of digital innovation."
MonkeyLeague is a Web3-based esports game that will allow users to build and manage a dream team of at least six MonkeyPlayer NFTs, compete with other players, and increase rankings in the league.
AC Milan was founded in 1899 and is currently the defending champions of Serie A, Italy's top football league.