According to BluePepper, the agency behind the development of DOGE has stated that the Dogecoin-Ethereum bridge could be operational before the end of 2022.
Interestingly, this is not the first time DOGE has been linked to Ethereum [ETH]. In September 2021, DOGE creator Billy Markus tweeted about the bridge's capabilities amid the vibrant market for NFTs.
He noted that the development of the bridge will help increase the utility and demand of DOGE.
Two things I believe would help Dogecoin:

1) Completion of DOGE-ETH bridge
2) NFT platforms (e.g. Opensea) allowing for the DOGE-ETH token to be used for purchases

NFTs purchasing is high demand with crypto. Allowing for DOGE purchases of NFTs greatly increases its utility.

— Shibetoshi Nakamoto (@BillyM2k) September 29, 2021
2021 is not the beginning of development as BluePepper notes that it has been in operation since 2017. Bridge lab DOGE-ETH added that the bridge will interest the DOGE community by granting them access to the protocols available on Ethereum.
In addition, it will be transparent with TheDogeFoundation, BluePepper, and several other companies acting as regulators. So where has DOGE landed since development became public?
At the time of writing, DOGE is trading at $0.06 after a rally that almost resulted in $0.10. Memecoin has fallen 1.35% in the last 24 hours of August 23.
Moreover, the DOGE daily chart does not seem to forecast further price increases due to the momentum displayed by the
Relative Strength Index
(RSI). With the
RSI
value just below the neutral 50 line standing at 45.27, the buying momentum may not be solid enough for DOGE to sustain its upward momentum.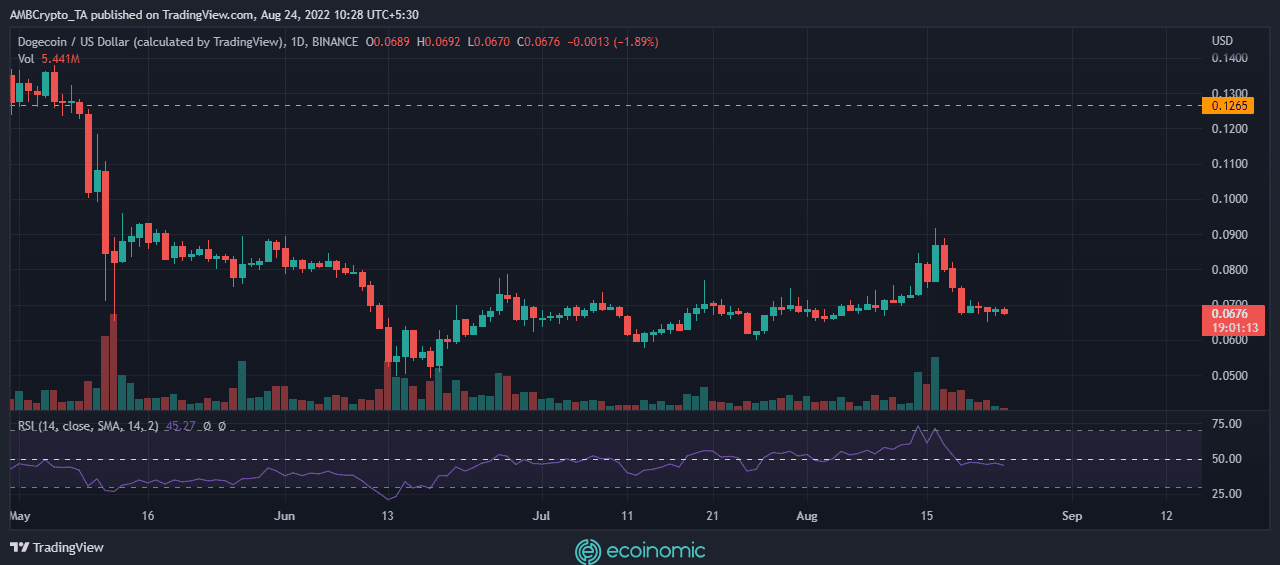 With eth consolidation coming up, the consequences of the launch of bridge live could also attract more attention and positively affect DOGE momentum. However, the DOGE community may need to stick with the solution provided rather than focus on price expectations.