Cardano has had a relatively productive week even if the market has not been very positive. Although the market recorded a slight recovery a day ago, most digital assets remain in the red. Bitcoin has lost 14% of its value in a week. However, experienced crypto traders don't need to worry too much about these seemingly unfavorable numbers.
In contrast to Bitcoin, Cardano gain traction
The price performance of one of the most notable assets on the market (Cardano) compared to Bitcoin has been better both over the past few weeks and even months. The main reason behind it is Vasil's upcoming hard fork and Ethereum's uncertain future with the PoW mechanism shut down.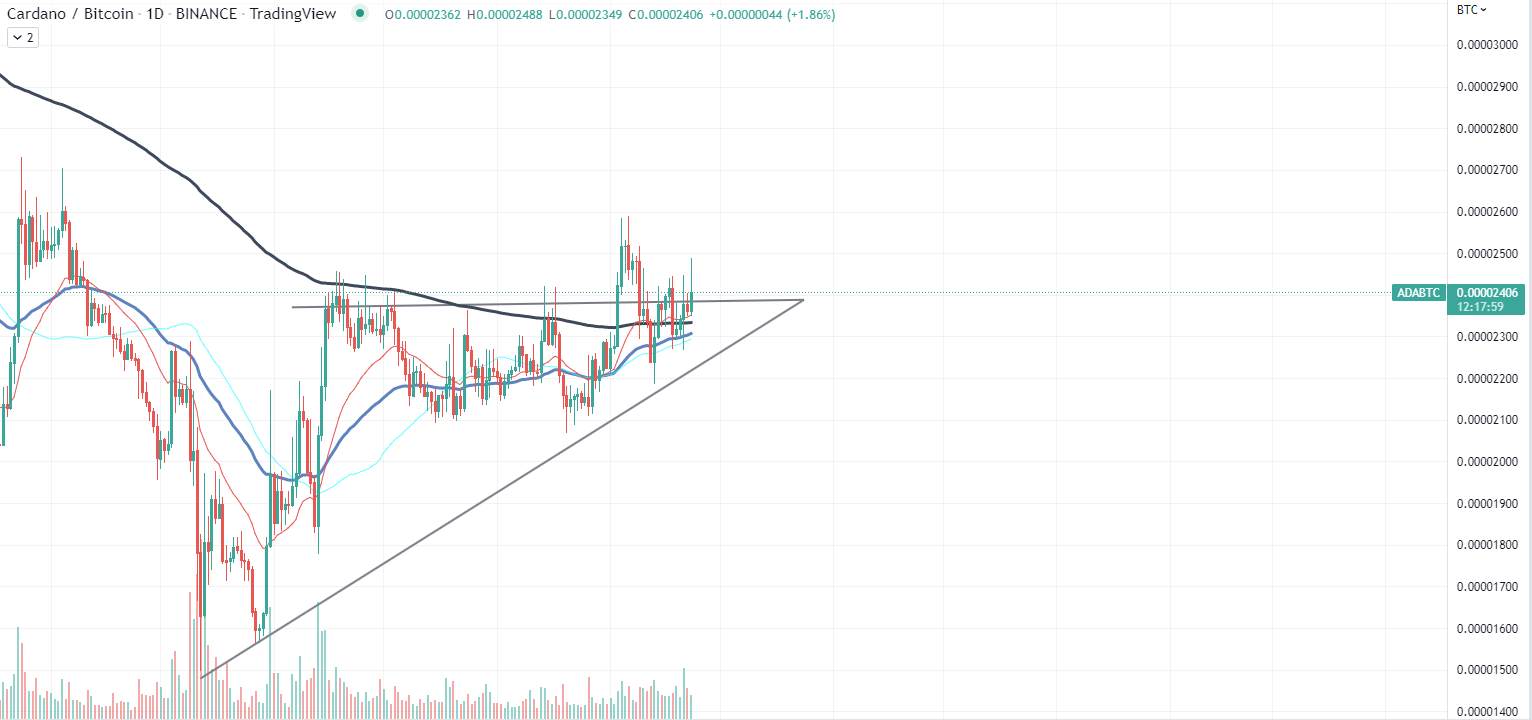 From a technical point of view, Cardano is also showing outstanding price performance, up more than 8% over the past seven days. At the time of writing, it is breaking the upper border of the ascending triangle for the third time this month.
The breakout is an important step towards a trend reversal on the ADA. The cryptocurrency has lost more than 60% of its value since ATH and has no chance of recovering, especially given the conditions the market has experienced over the past months.
Cardano also showed that it is not only the opposite of Bitcoin but also shows better-than-average performance against the US Dollar even though it is being consolidated under a foreign currency framework.
Regulators Create Toxic Environment Around Ether
Another important factor is the lack of clarity surrounding Ethereum, especially the security issue. That is why regulations can affect investors and cause many problems for projects that start operating on the network.
If new regulatory policies are released for Ethereum, the value of the asset could begin to decline rapidly. The reason for this is because of the decrease in usage on the network, as well as the low performance of the DeFi and NFT industry.
Unless construction on the network becomes hectic again, both Ethereum's current profitability and revenue remain extremely low, which is why selling pressure on ETH has increased exponentially over the past few days despite the positive effects of The Merge.
Bitcoin is looking forward to the easing of monetary policy
Despite the slight decline in the cryptocurrency market, Bitcoin is still in the process of moving through correction cycles after another rate hike was initiated at the FOMC meeting on September 21.
However, Inflation cannot be controlled, the regulator will still increase the important exchange rate in the country despite the conditions in the stock market. And that determines the volatility of the cryptocurrency market.
At the time of writing, Bitcoin is changing hands at $18,900 and is still moving around this year's lows. However, another incident will take the cryptocurrency to the next level of support at approximately $16,000.
See also: Bitcoin drops below $19,000 – important trading levels to watch out for