LBank is a cryptocurrency exchange established in 2015, specializing in providing services, products, and investments in the field of Cryptocurrency. Find out with Ecoinomic.io what is LBank. How to use and LBank sign up in the writing below.
What is LBank Exchange?
LBank is a cryptocurrency exchange founded in December 2015 and headquartered in Hong Kong. Because of the good management policy of the leadership team, LBank has now entered the top 20 exchanges according to CoinMarketCap statistics.
Having existed for 7 years in the crypto market, older than the famous exchange Binance, LBank has become one of the trusted and popular trading platforms. LBank is considered a highly liquid exchange, where to list tokens of potential projects before they are put on other exchanges. This trading platform has grown exponentially and has become one of the most popular places in the world to buy, sell and store Bitcoin (BTC), Ethereum (ETH), and other cryptocurrencies.
The exchange has money services business licenses from NFA, MSB, Canada MSB, and Australia AUSTRAC and is working with other regulatory authorities to obtain new licenses. These are all reputable organizations in the financial market, it is extremely difficult to get permission and certification to do business with them.
That shows LBank's efforts to compete with other exchanges such as FTX, Huobi, Coinex, or Kucoin. This is also a way to recognize the legitimacy of this trading platform and users in the above jurisdictions will be protected by the law and financial supervisory authorities.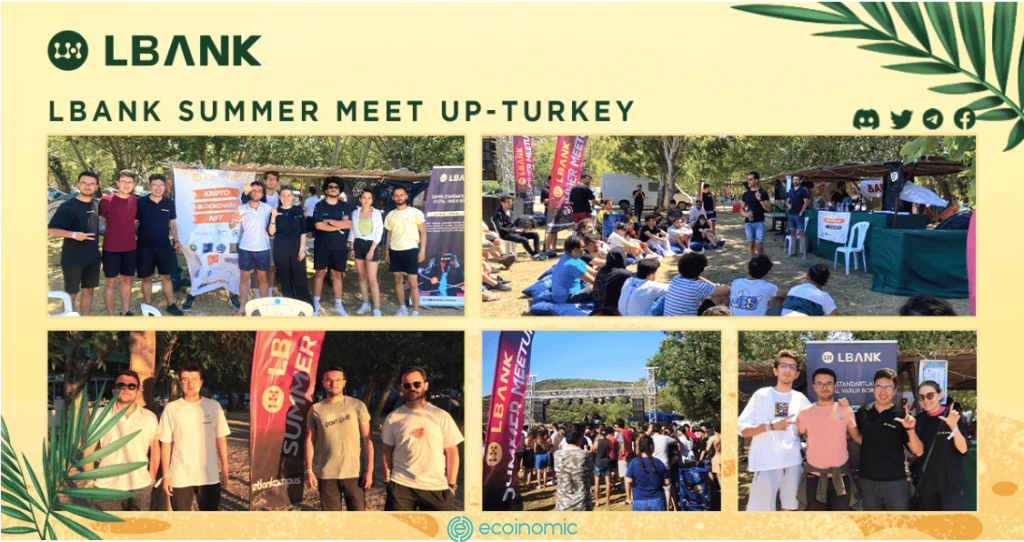 To expand its business, LBank is working with partners from Europe, India, and Africa to promote the development of cryptocurrencies in these regions.
Recently, the exchange also partnered with a company in Africa to help them build community, invest in education and share useful resources for people across the continent.
LBank organized a Hackathon called the "Crypto Accelerator Program" for developers from South Africa, Kenya, and Nigeria. This contest looks for builders with potential start-up ideas but is in its infancy. LBank will invest an amount in exchange for shares or tokens to support the budget of projects for them to develop.
At the "Crypto Expo Dubai" event in March 2022, some members of the crypto community in India said they came here for LBank. That said, LBank is gradually becoming the best cryptocurrency exchange for Indian users.

The scale of LBank exchange
LBank provides services to more than 6 million customers globally in more than 200 countries and territories. Its mission is to be a safe, professional, and secure cryptocurrency exchange. Users participating in the exchange will have access to a wide range of products including LBank NFT, LBank Labs investment, Staking, derivatives, and asset management services.
Currently, it supports more than 500 Spot trading pairs including GameFi, Defi, Stablecoin, Polkadot, NFT, and Metaverse tokens, and supports over 100 fiat currencies like EUR, USD, CAD, JPY, RUB…
The exchange has undergone several improvements to the server system and trading tools, updated new features to improve order matching speed, and better secure LBank accounts for users, in order to avoid loss of property when attacked by hackers.
According to data from Coinmarketcap, LBank is in 15th place in the ranking of top exchanges by trading volume and market value, accounting for more than $1 billion in average daily trading value (metrics) noted at the time of writing)
LBank ecosystem
LBank Spot Market
LBank designed a simple and easy-to-understand spot trading interface (Spot) that even novices can easily manipulate to place buy and sell orders without assistance. Spot trading is one of the popular and simple trading products in the cryptocurrency market. This is a transaction based on the supply and demand of buyers and sellers, at the market rate known as the spot price. Trading objects in Spot are classified into Altcoins, ETH, BTC, ETF, USD, and GameFi trading pairs. By market capitalization, these coins and tokens are divided into the low cap, mid-cap, and top coin.
LBank Grid Trading
As an automated trading system, the bot is installed to buy and sell at a predetermined price to make a profit when the market is sideways. Grid trading is based on price movement around support or resistance levels. At this point, the market is in a sideways accumulation state, and the trades are automated. Although the profit is small, this method gives a high success rate.
The advantages of using Grid Trading:
Trading bot 24/7
Friendly to everyone even if you are not a financial expert
No need to forecast the trend of the market
Stable profit when the market fluctuates
No need to see the chart
Readers should read and fully understand Grid Trading trading instructions and control risks to protect accounts from unnecessary losses.
LBank Derivatives
LBank offers a wide range of derivatives trading tools, allowing investors to trade futures and perpetual contracts through financial products such as Futures, Options, and Leveraged ETF.
LBank Futures Contracts
By using leverage to Long/Short a contract, users can earn much higher profits if the market moves according to the trend you analyzed when entering the order.
With LBank Futures Contracts, you can use leverage up to 125 times through two trading modes, Cross and Isolated when creating an LBank account.
Many people prefer Futures because it helps to make many times the account quickly. However, financial leverage is a double-edged sword. You may lose all your assets (often called account burnout) or may lose part of your money if the market goes against your prediction. This is a risky financial product, crypto newbies should not try.
LBank floor has a tool to calculate profit, and liquidation price when you enter the number of coins, choose the leverage and enter the order. The machine will automatically calculate the ROE level and convert it to PNL with the corresponding amount of USDT.
See more: What is Futures? What is margin? Distinguish between Margin and Futures
LBank ETF – Leveraged ETF
This is a financial derivatives trading product, derived from the traditional stock market. It is traded by tracking the number of increases/decreases of the underlying asset at certain times. In this article, Ecoinomic will give an example when BTC increases 1%, ETF products with 3x and 5x leverage will increase 3% and 5% respectively; -1x and -2x products will reduce -1% and -2%.
During the transaction, you will encounter the symbols: 3L, 3S
3L is that the price of the trading pair has increased by 1% and the net value of the product has increased by 3%.
3S means that the price of the trading pair has decreased by 1% and the net value of the product has increased by 3%.
Before participating in an ETF you must carefully read the instructions, understand how to trade, and calculate the risks associated with its losses. If you still use ETF products after reading the above, it means that you agree with the exchange's policies. The exchange disclaims liability and losses you experience in the course of trading.
LBank Options
Options trading is a form of asset speculation with low risk and relatively high returns. This is a very popular and attractive financial derivative for investors. This is a transaction that gives the holder the right to buy or sell an asset at a predetermined price in the future.
LBank NFT
As an intermediary trading platform for users to trade NFTs. Everyone can upload their NFTs and other users can buy them by auction or by buying at the seller's fixed price.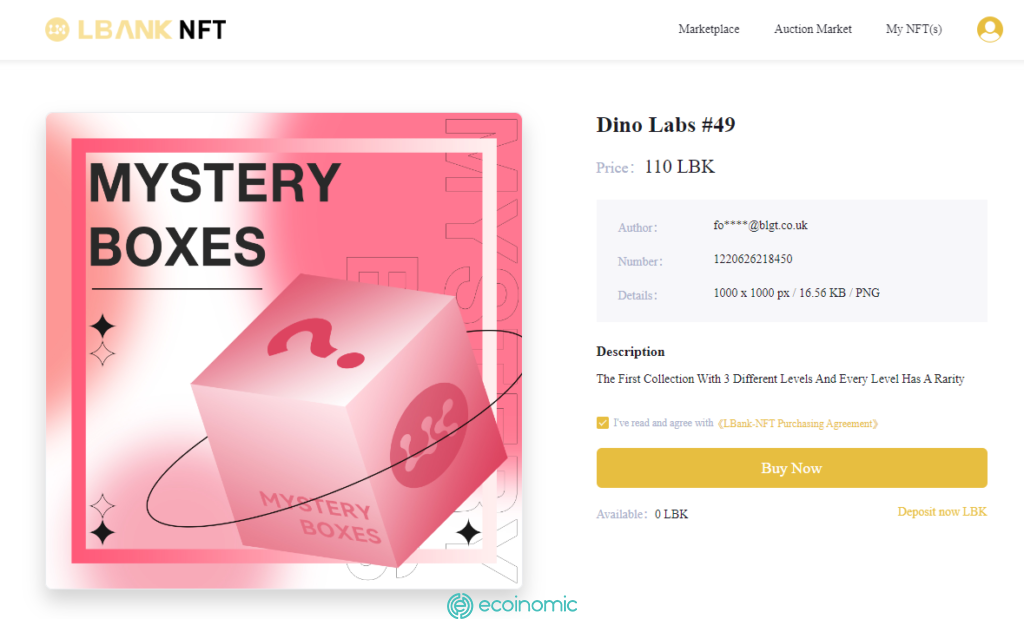 Currently, LBank only supports NFTs in PNG, JPG, and JEGE formats. Readers should note this issue if they want their NFTs to be successfully posted on the exchange. Once uploaded and approved, it will be immediately put on the marketplace for anyone to buy and sell.
The default currencies on this exchange are USDT and LBK. The buyer must pay the seller in these two cryptocurrencies, not accepting payments in others.
LBank Labs
Founded in 2019, the organization has so far invested in more than 100 crypto projects from ecosystems such as Polkadot, NFT, DeFi, and Solana. The purpose of this investment fund is to find potential projects from startups, providing capital and resources for development projects.
LBank P2P
P2P (Peer-to-peer) is an exchange of purchases between users and payments through bank transfers. The buyer will pay the seller directly with a domestic bank account, through the seller's personal information and the reference number of that transaction.
After the buyer transfers money and the seller receives the money, the seller's tokens will be unlocked and sent directly to the buyer's wallet. The buyer must confirm payment within 30 minutes of placing the order, otherwise, the order will be canceled. You will be banned from trading if the order is canceled 3 times/day. Based on your country and geographical area, the exchange will recommend reputable merchants with a high success rate of transactions to show up at the top.
LBank Credit/Debit Card
LBank supports buying and selling cryptocurrencies through more than 100 payment methods. A few popular payment methods are Google Pay, Apple Pay, VISA, Master Card, Bank Transfer, and Maestro Card.
You can choose to buy cryptocurrency from reputable, recognized merchants such as Simplex, MoonPay, Canada, PitbullChain, etc. to ensure a fast and successful transaction.
LBank API
The market data API is publicly updated for all users wishing to learn about historical trading pairs information. LBank supports both RSA and HmacSHA256 signatures. The exchange also provides WebSocket and REST APIs to support market data, withdrawals and trading. To gain access to the API, the user must generate an API key. LBank's API service is divided into 3 groups: market trends, transactions, and accounts.
The founding team of LBank
Below are the names of a few key leadership members of LBank, you can click on each one to find out their information through social networking platforms.
Eric He – Chairman&Co – Founder
Review before LBank sign up
Advantages
A simple, user-friendly, and easy-to-use interface that simplifies the cryptocurrency trading process. Users enjoy fast, uncomplicated deposit and withdrawal processes
High level of security and trust, never been hacked
High liquidity, no problem making large trades
Competitive transaction fees, no withdrawal fees
Good customer care, support in many languages
Disadvantages
Trading utilities and ecosystems are still poor compared to other exchanges such as Binance, FTX, MEXC, etc.

P2P transactions via VND are not supported. To transact, you must use Zalo Pay or MoMo e-wallets. If you want to trade P2P you can use the Binance exchange
Instructions for LBank sign up for newbies
LBank sign up by phone
To get started, download the LBank application on your phone to LBank sign up.
After opening the application, you choose Login / Register. Go to the Sign Up section and choose to register an account by email or phone number. In this article, Ecoinomic will guide you to LBank sign up with an email account.
You have to fill in your email address and add a password.
Don't forget to enter 1CIPT in the "Invitation code" box to get the welcome bonus. Then tick the box "I have read and agree to LBank user agreement" to agree to the terms and conditions when using the products and services of the exchange. Select Sign Up to LBank sign up for an account.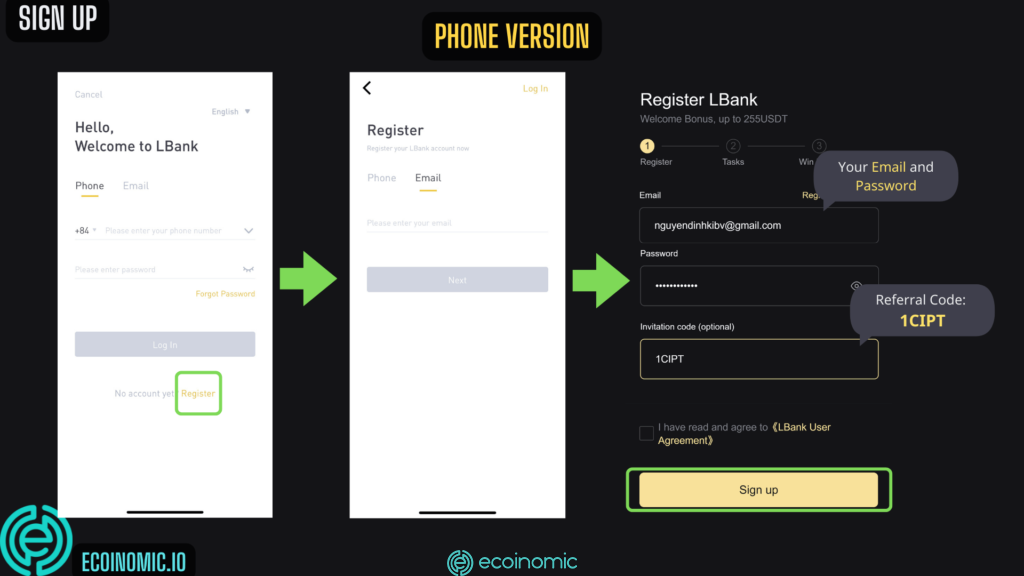 LBank sign up on the website
In addition, you can LBank sign up by computer via the website version and follow the instructions below to complete the account creation.


When LBank sign up, enter the referral code 1CIPT to receive a free $255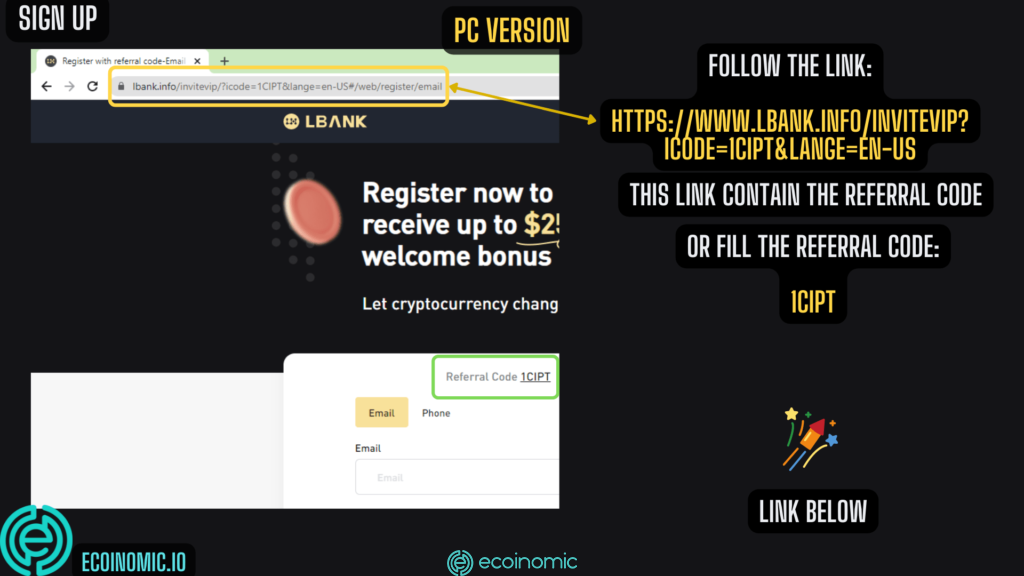 Step 1: Enter the full contact email information and password, then click on the box "Claim $255 welcome bonus"
Step 2: Tick "I'm not a robot" for captcha validation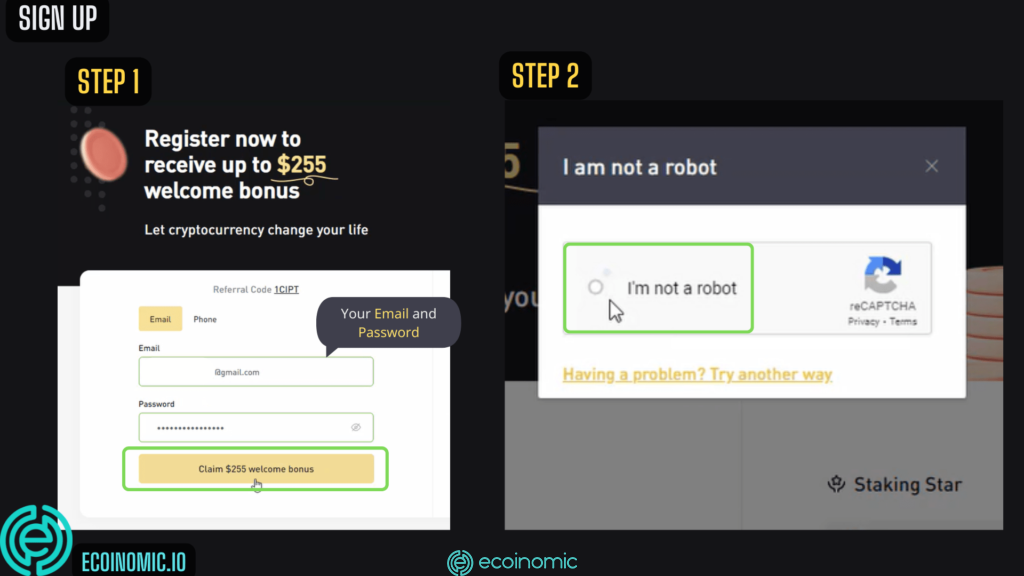 Step 3: You wait about 30 seconds, and the platform will send 6 digits Verification Code to verify your email account
Step 4: Fill in the 6 digits above in the code box, then select "Claim $255 welcome bonus"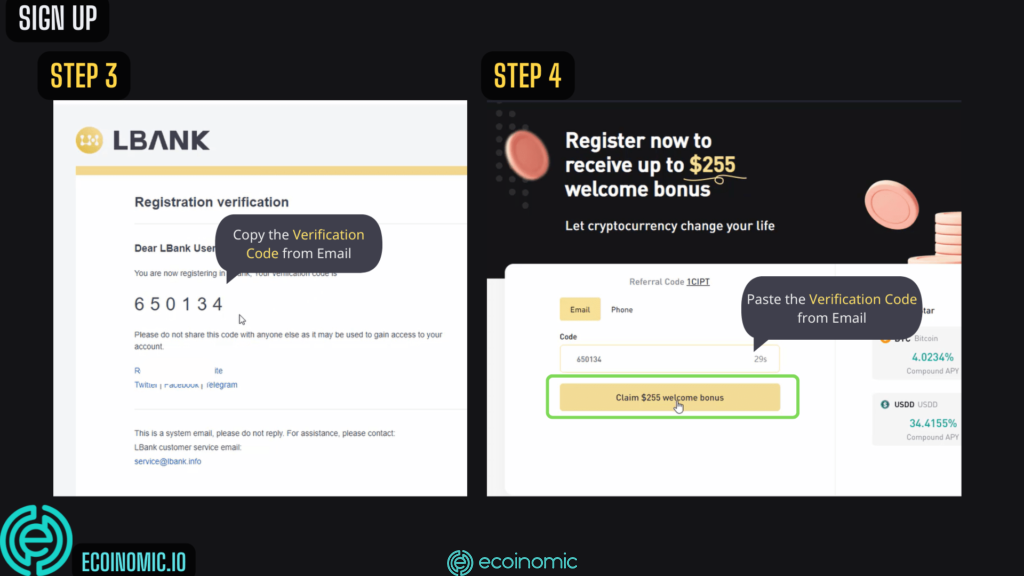 When registering LBank successfully you will receive a notification as below. So your account has been created, if you want to keep it secure from hackers, follow the next sections of this article.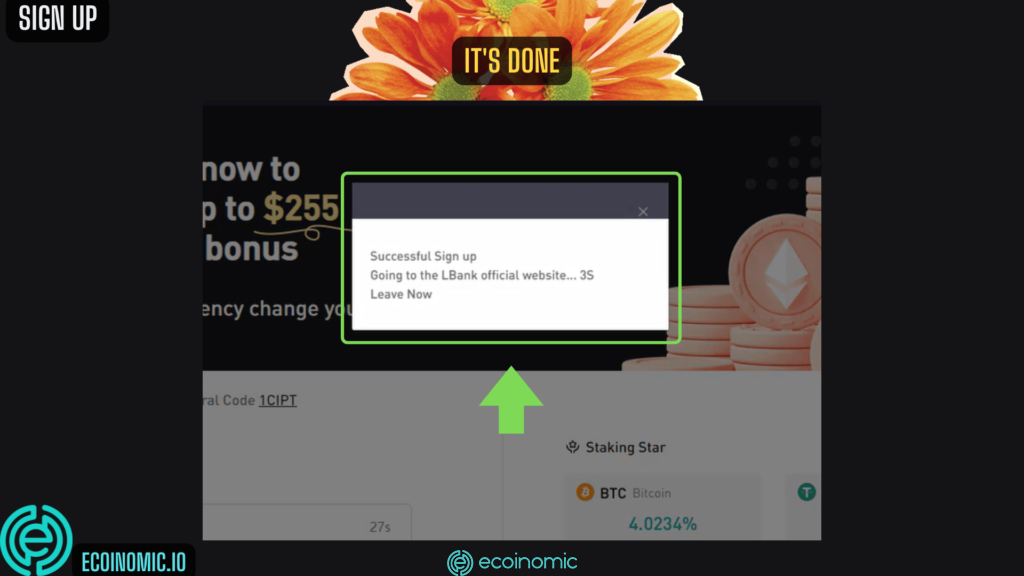 Instructions for Account security when LBank sign up

Identity Verification (KYC) when LBank sign up
Step 1: At the profile symbol in the upper right corner, select "Security"
Step 2: In the Security Setting section, choose the KYC section and select "Verification". If KYC successfully you can increase the withdrawal limit.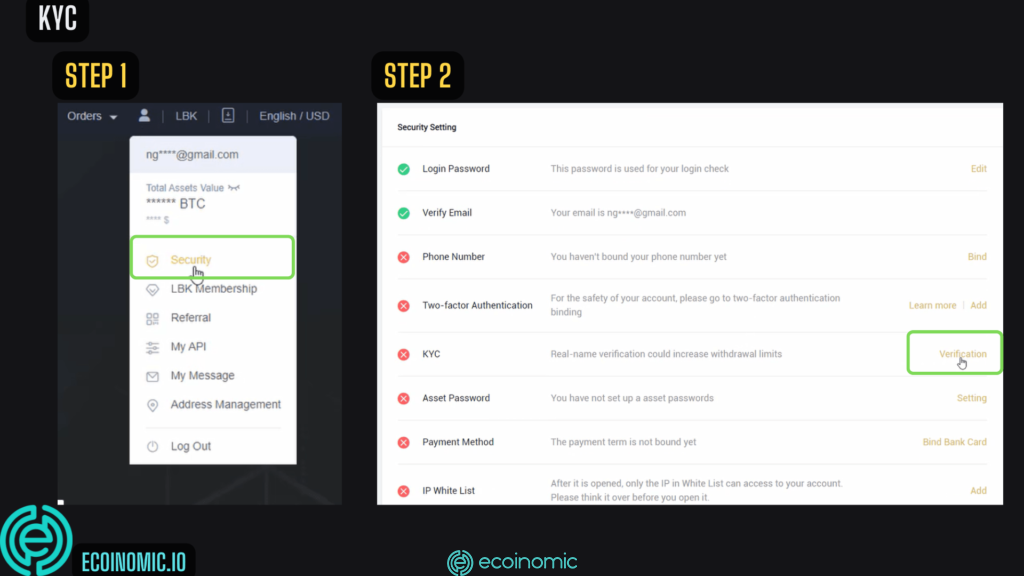 Step 3: Fill in your full name. In the Credentials section, you can select 1 of the following 3 documents for verification:
ID Card – Citizen ID/Identity Card

Driver's license

Passport – Passport
Ecoinomic chooses to verify by ID Card. Enter your ID number in the "ID Number" box and select "Next"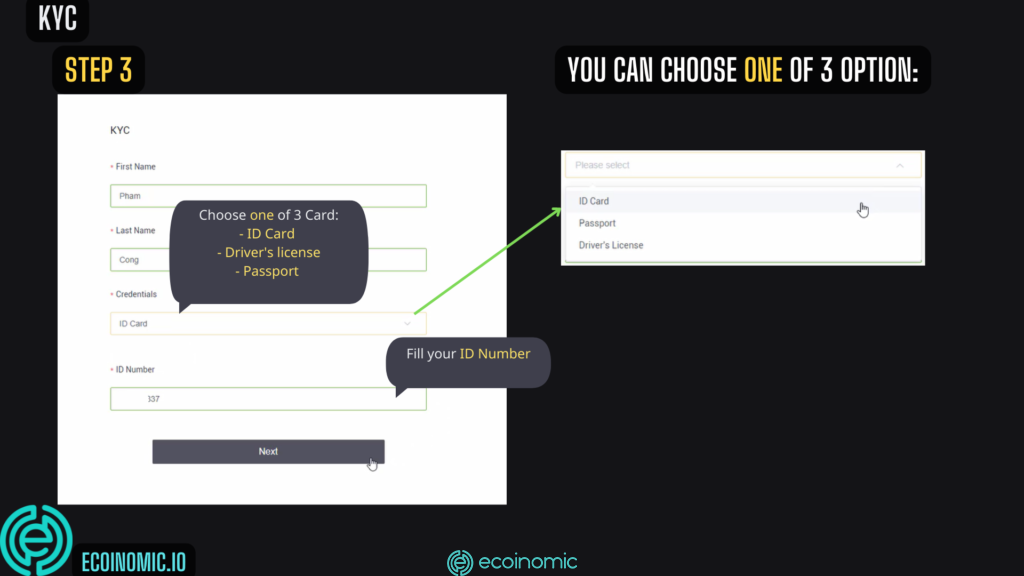 Step 4: Upload a photo of the front and back of your ID card. Then take a selfie photo with your ID. The system will compare your face and the photo taken on the ID card.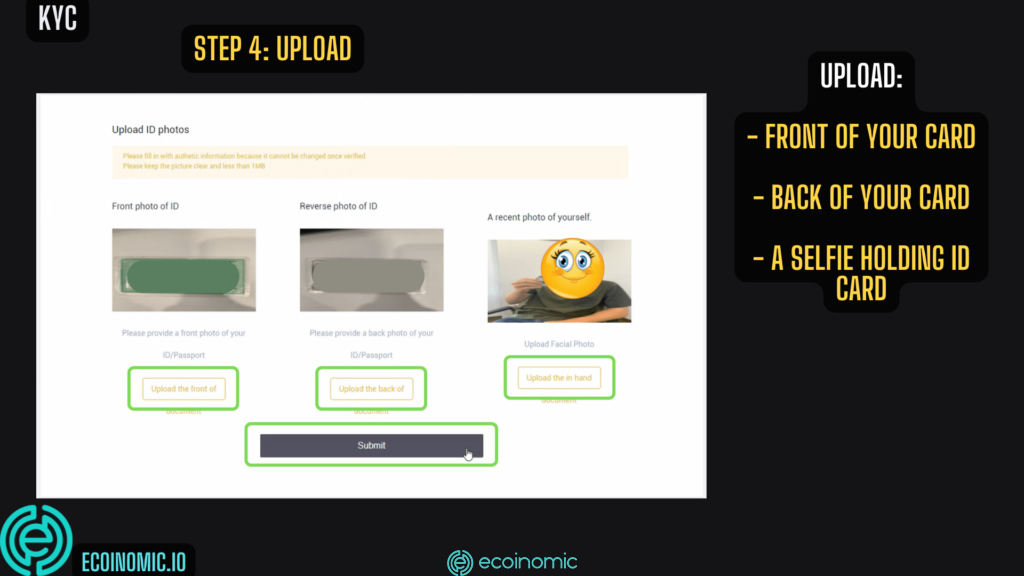 You have to wait for the system to handle your request, if successfully your withdrawal limit will increase to 2 BTC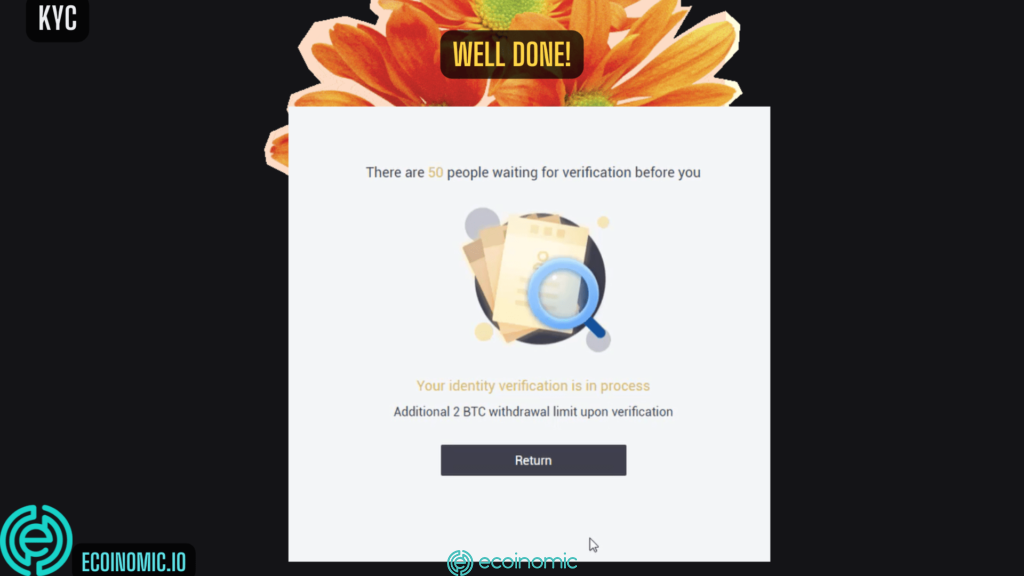 How to 2FA set up when LBank sign up
Step 1: At the home interface, click "Security" in the account section (profile symbol)
Step 2: Click "Add" in the Two-factor Authentication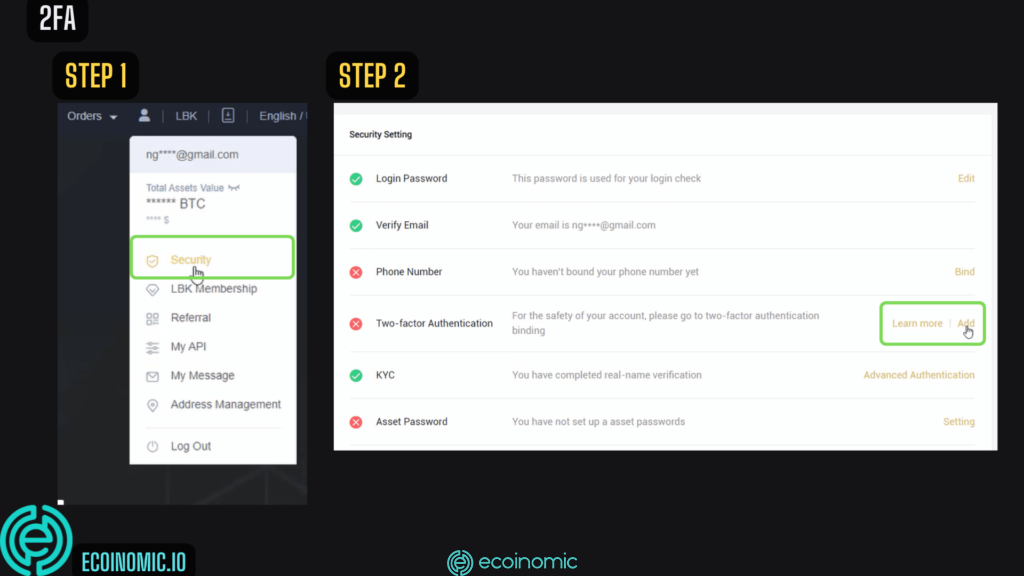 Step 3: There are 2 applications that can be used to verify 2FA security, Google Authenticator and Authy. You can read the introduction below to get more information about these apps.
In this step, Ecoinomic selects the Google Authenticator to continue the account security process. 
Step 4: Copy the security key in the "Key" or scan the QR code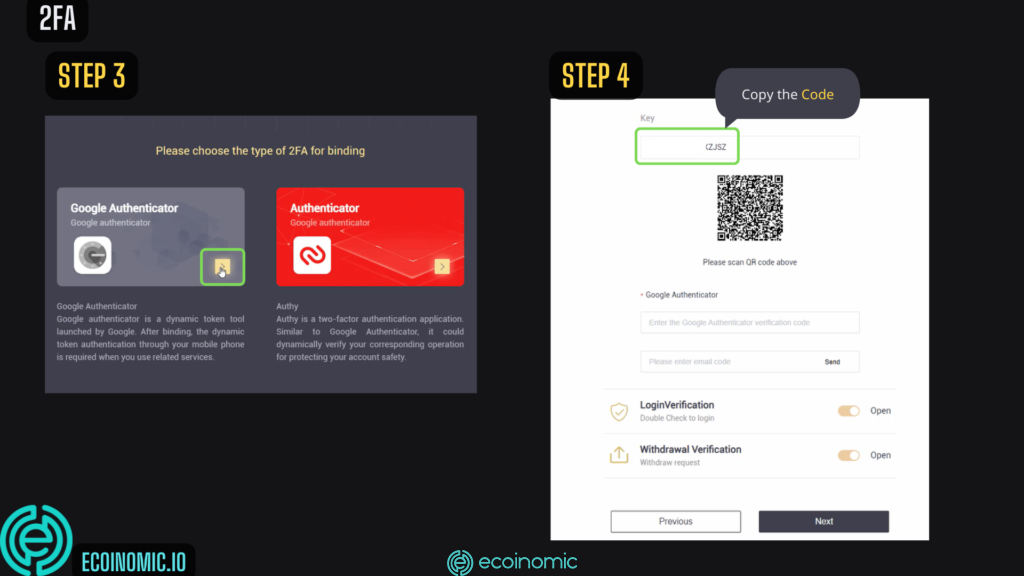 Step 5: Download the Google Authenticator app to your phone.
Click on the pen icon in the top right corner, next click on the "+" sign.
In the next step, name this Google Authenticator account and paste the security key code copied in step 4 into the "Secret" box. Click "OK" to continue.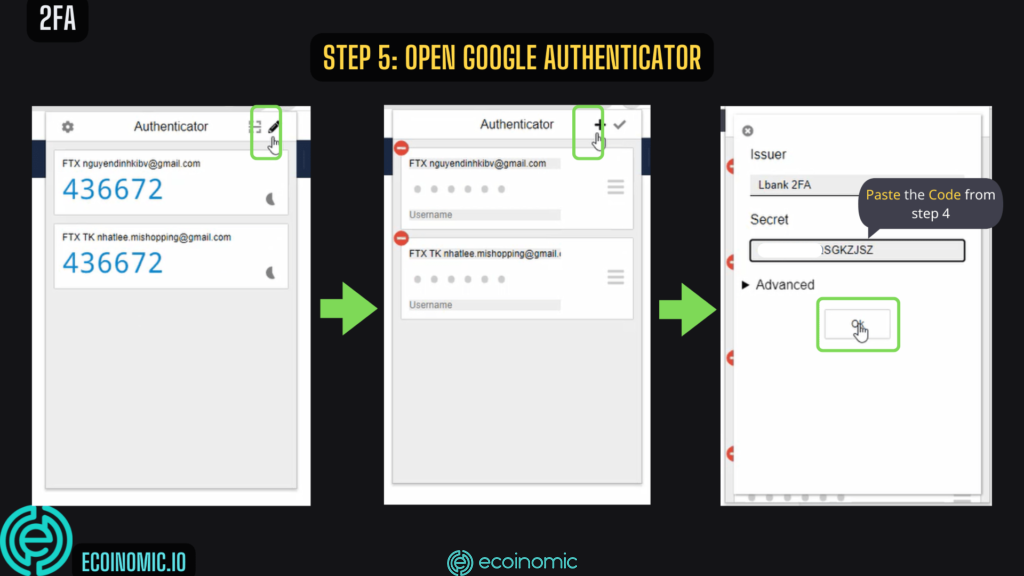 Step 6: Enter the 6-digit email verification number and 2FA. Then select "Next" to go to the next step.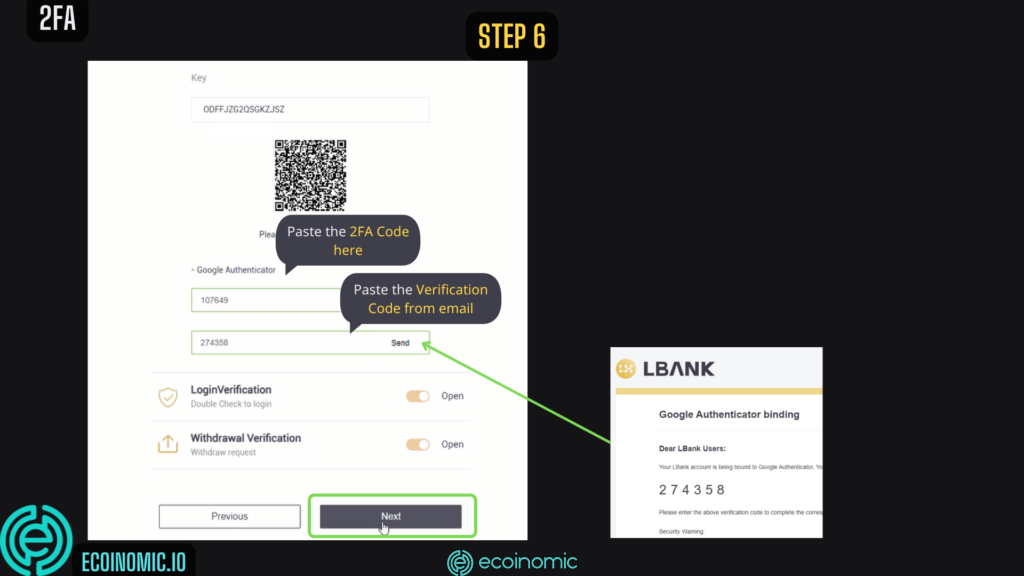 Step 7: Select "Confirm" to complete the two-layer security for the LBank account.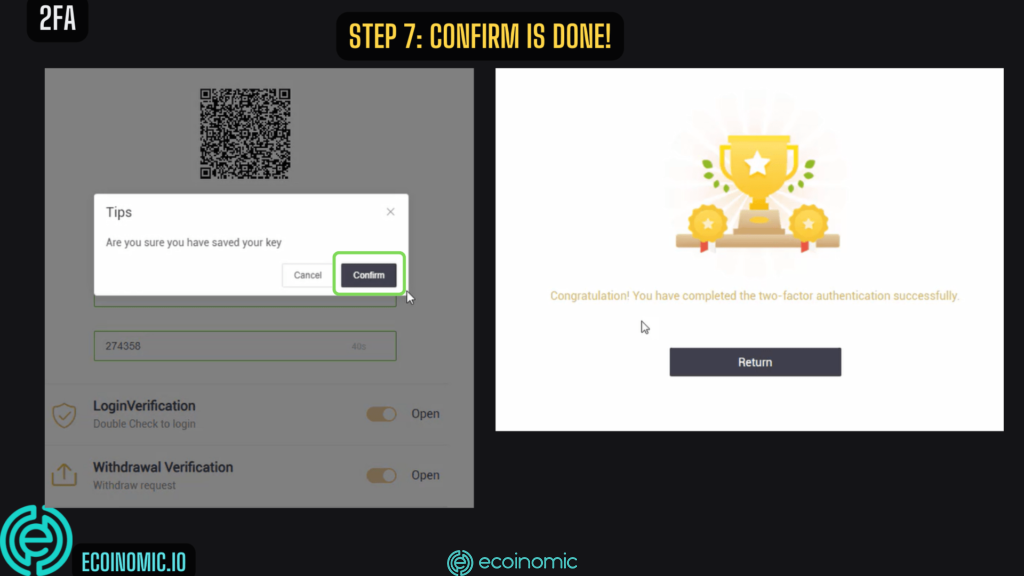 Instructions for depositing and withdrawing money after LBank sign up

How to deposit money when LBank sign up
Step 1: At wallet, select "Spot"
Step 2: Select "Deposit"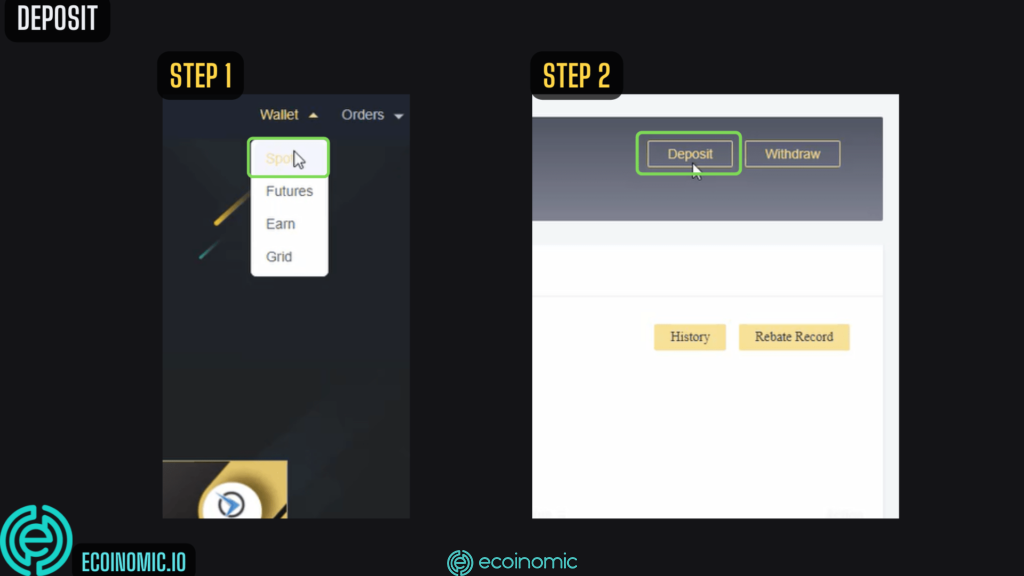 Step 3: Enter the name of the coin or token you want to deposit in the search box. For example, if you want to deposit USDT, type USDT in the search bar, then click "Agree"
Step 4: Select the network that matches the coin/token you want to deposit. Each network will have different minimum charges and limits. The time it takes to receive coins will depend on the operation of that network. Then, copy the wallet address.
How to withdraw money when LBank sign up
Step 1: Go to the Wallet, and select "Spot"
Step 2: Select "Withdraw"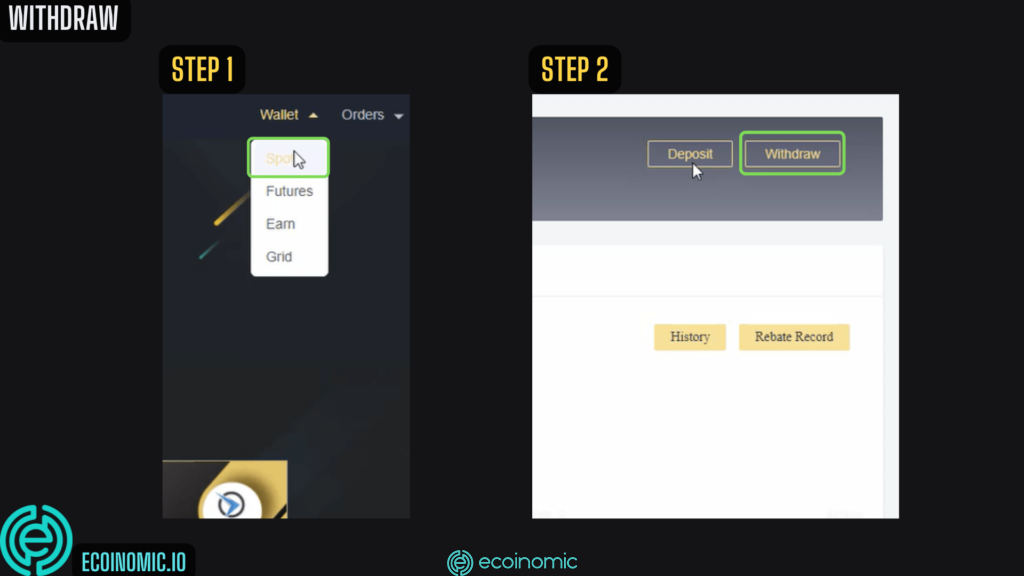 Step 3: Paste the wallet address you want to withdraw into the Withdrawal address box.
Select the transfer network in the Network box. Enter the amount you want to withdraw and click "Withdrawal confirmed".
The fee is calculated based on the number of coins that you withdraw along with the network's fees. Therefore, you should consider choosing the right network to economize and deposit quickly.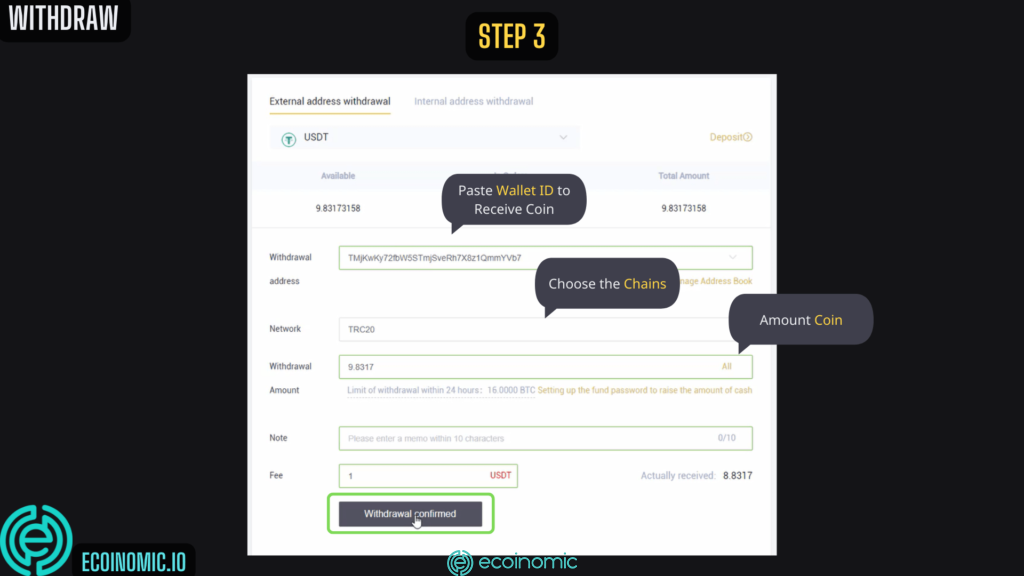 Instructions for buying and selling coins after LBank sign up

How to buy coins with Limit order when LBank sign up
Step 1: Go to Trade, and select "Spot"
Step 2: Enter the coin you want to buy in the search box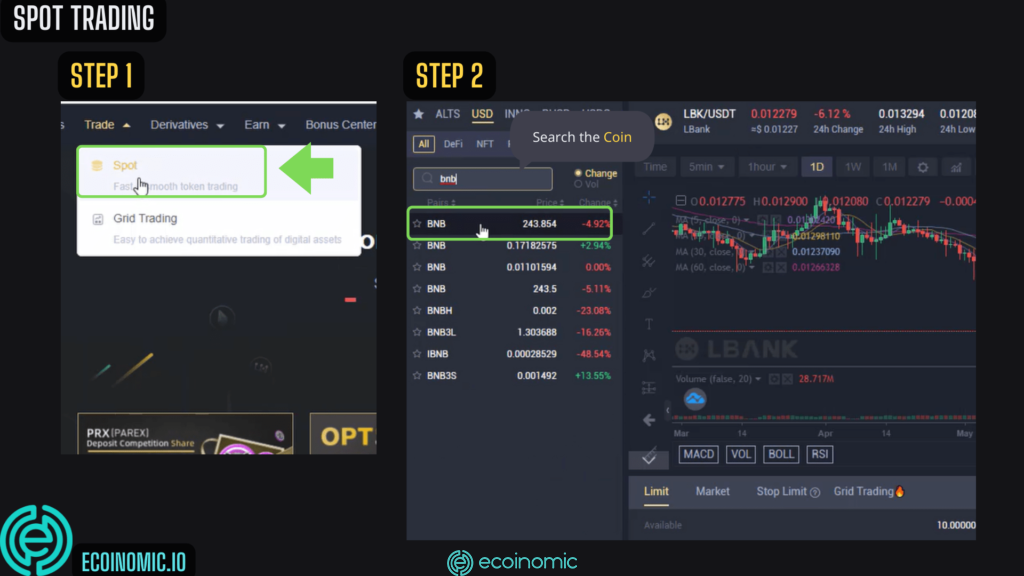 Step 3: At this step, Ecoinomic will make a purchase using a Limit order. Enter the price and quantity of coins you want to buy, then select "Buy BNB"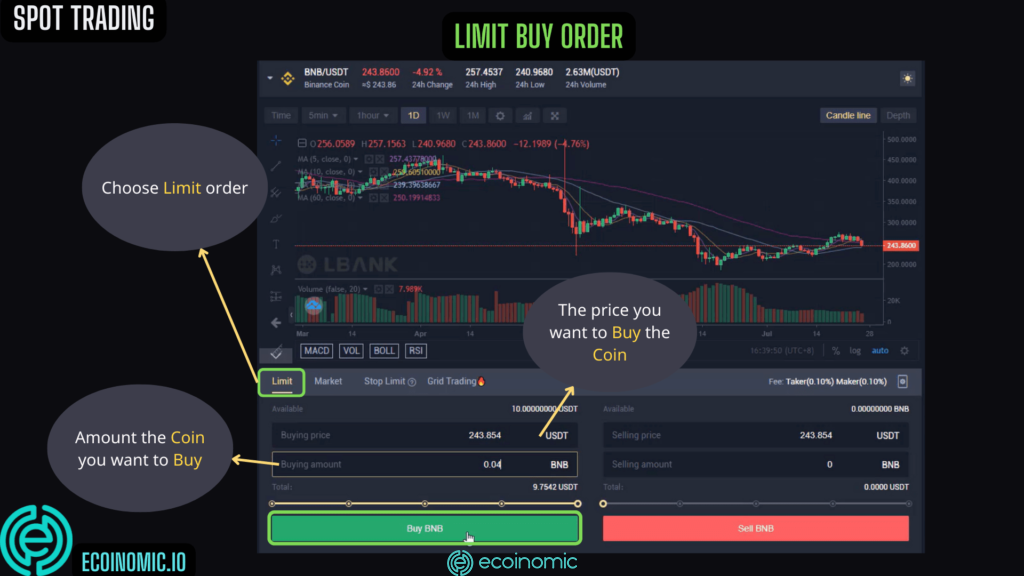 How to sell coins with Limit order when LBank sign up
The implementation is similar to buy, except that the Buy order is instead of the Sell order. Select Limit in the options bar. Enter the price and quantity you want to sell through the percentage bar below. Then select "Sell BNB" to place a sell order.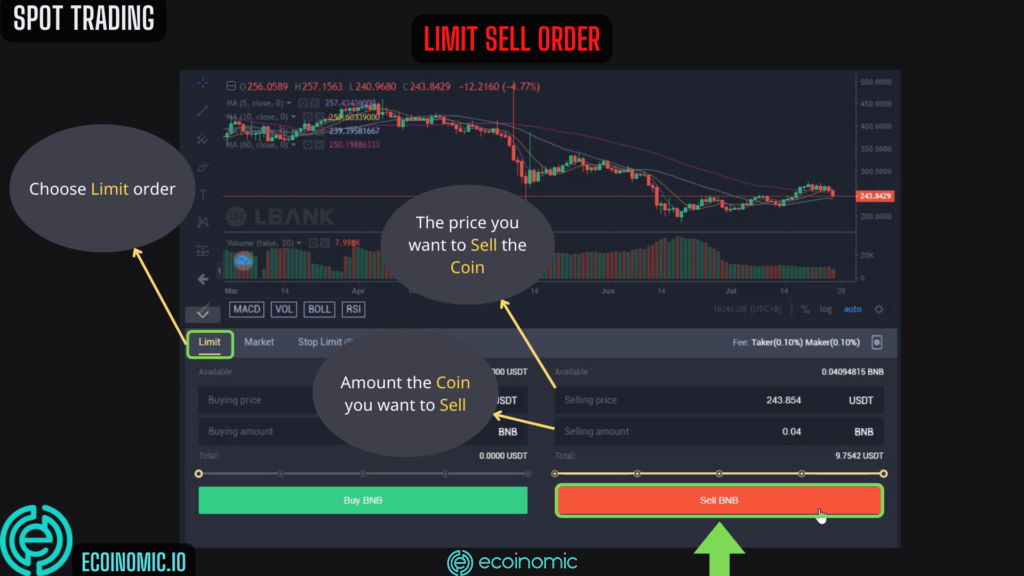 Frequently Asked Questions When LBank sign up
Has LBank been hacked before?
Since its establishment, LBank has never been hacked. Security issues are always put on top by this platform, the platform always updates its security system regularly to prevent hackers from attacking. Requiring users to authenticate with 2FA gives them an extra layer of security to protect their accounts.
Does LBank exchange often have maintenance errors?
The maintenance frequency of LBank is very little, but in order to upgrade the trading system and prevent security holes, sometimes the LBank floor will have to stop depositing, withdrawing and trading activities for a certain period. The floor will notify users in advance when maintaining the system, through the phone number and email address you registered with LBank.
Which country's LBank exchange? Does it support Vietnam?
LBank has an address in Hong Kong and was founded by a team of leaders from Asia. The platform has language support in Vietnamese, so users from Vietnam can join and use LBank's products and services easily. If you encounter difficulties during the transaction, you can contact LBank's customer care department for resolution.
Is LBank a scam? Should I trade on LBank?
Currently, no official information about accusing LBank of fraud. Here are some positive comments from customers who have used LBank: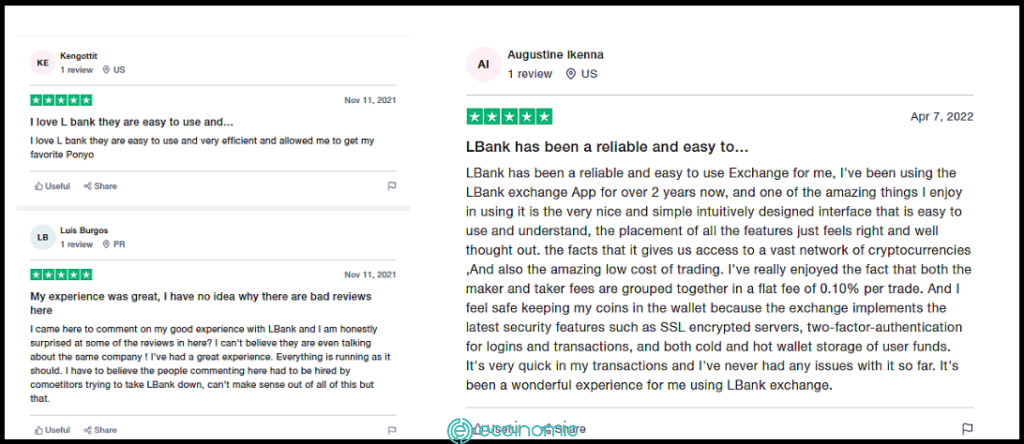 In general, LBank is a long-standing and reputable exchange, so you can rest assured to trade on this exchange.
What is Lbank Coin Exchange? Token LBK
On August 1, 2019, LBank issued LBK tokens with a total supply of 2 billion. LBK is a decentralized blockchain token on Ethereum, based on the ERC-20 protocol. It was released in 3 stages for a total of 1.2 billion LBK. 
Allocation mechanism:
Key mechanism:
During the initial token release, the project development team is not entitled to any incentives. The issuance condition is that after two years, 25% for each quarter, must buy back LBK tokens worth more than 54 million USDT within two years.
If the conditions are not met, the pool's holdings will be forfeited directly and never released to the market. This shows the determination of the LBank development team in fulfilling the commitment & keeping the promise to the token holders.
Is it necessary for KYC to withdraw money?
You can still withdraw money without KYC, however, if you successfully KYC you will be able to raise the withdrawal limit when you want to make large transactions.
What is the deposit and withdrawal limit when LBank sign up?
LBank exchange does not limit the deposit, the minimum amount of deposit for one time is based on the regulations of the exchange. The maximum withdrawal amount after completing level 1 identity verification is 16 BTC/day.
What types of fees are there on LBank?
The transaction fee of Taker and Maker on LBank is 0.1%. Transferring money internally between trading accounts on LBank is free. Withdrawal fees will be calculated based on the exchange's regulations for each coin and token.
Deposit fee: completely free.
What is LBank App on Android, IOS?
On the Google Play app on Android or the App Store on iOS, type LBank in the search bar. Search for the exact LBank app and download it.
Conclusion
LBank is a growing cryptocurrency exchange, gaining the trust of a large number of users from India and the African region. Currently, the exchange is trying to expand its market share to other regions around the world. In this article, Ecoinomic introduced details about the trading platform as well as instructions on how to use and LBank sign up for newcomers.


See more: LBank Futures Trading Guide 2022