LBank is a cryptocurrency exchange established in 2015, specializing in providing services, products, and investments in Cryptocurrencies. In this LBank review, lets find out LBank advantages, how to create LBank account and start trading.
You can update more infomation about LBank news, data, trading volume and crypto listing on LBank here

LBank Review:
Advantages
A simple, user-friendly, and easy-to-use interface that simplifies the cryptocurrency trading process. Users enjoy fast, uncomplicated deposit and withdrawal processes
High level of security and trust, never been hacked
High liquidity, no problem making large trades
Competitive transaction fees, no withdrawal fees
Good customer care, support in many languages
Disadvantages
Trading utilities and ecosystems are still poor compared to other exchanges such as Binance, FTX, MEXC, etc.

P2P transactions via VND are not supported. To transact, you must use Zalo Pay or MoMo e-wallets. If you want to trade P2P you can use the Binance exchange
How to create LBank account
First, you can go to LBank sign up page by via this link or press the button below


If you are registering LBank account on your smart phone, you can download LBank app on Android or LBank app on IOS before LBank sign up step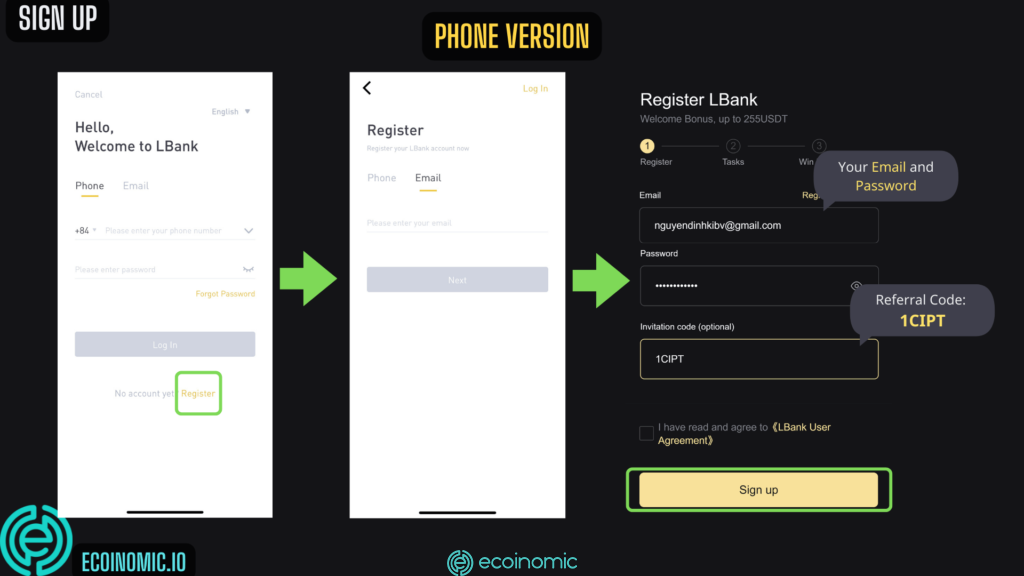 Step 1: Enter the full contact email information and password, then click on the box "Claim $255 welcome bonus"
How to receive LBank sign up bonus? Enter the LBank invitation code 1CIPT to receive a free $255 LBank sign up bonus
Step 2: Tick "I'm not a robot" for captcha validation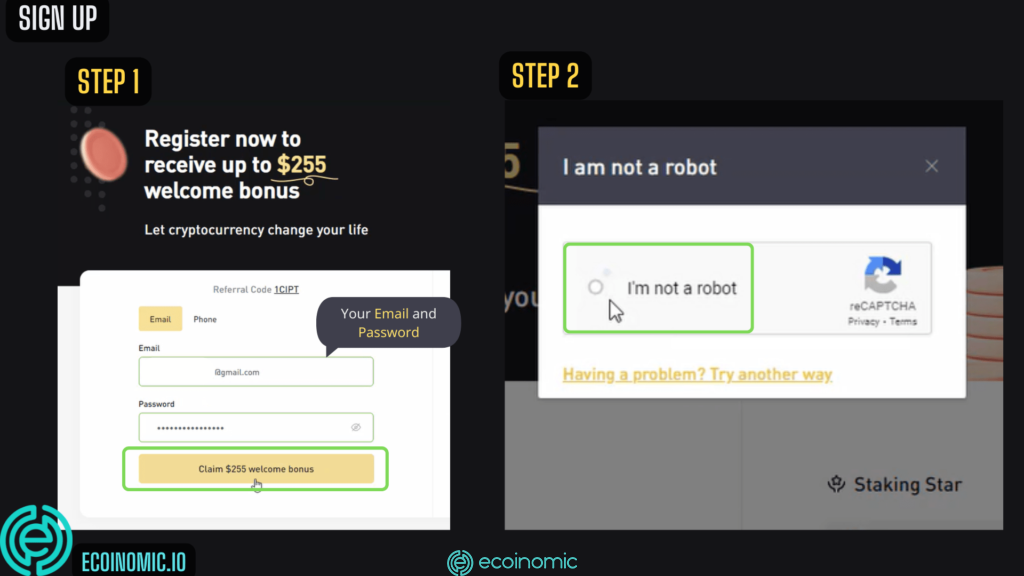 Step 3: Wait about 30 seconds, and the platform will send 6 digits Verification Code to verify your email account
Step 4: Fill in the 6 digits in the code box, then select "Claim $255 welcome bonus"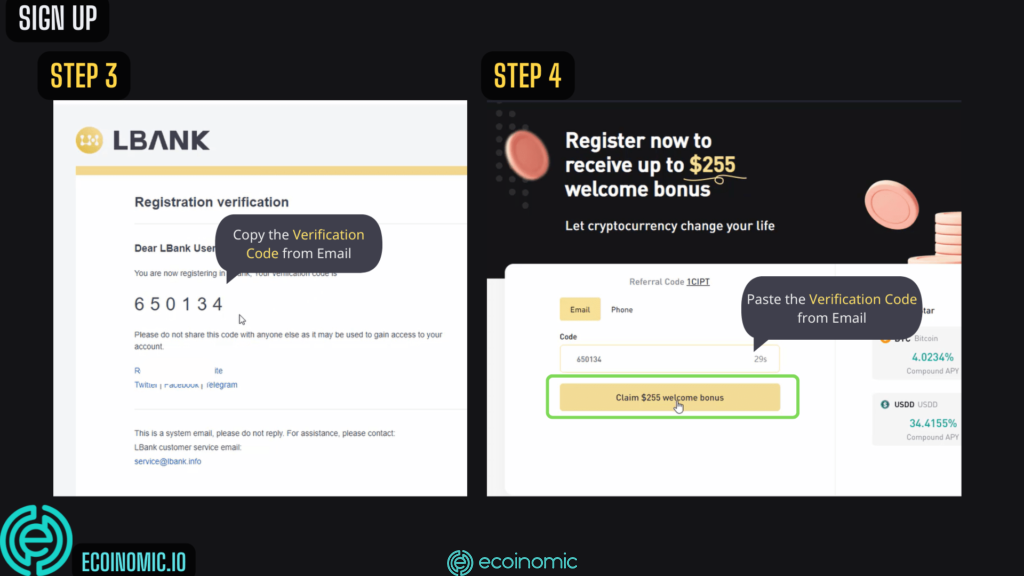 When registering LBank successfully you will receive a notification as below. So your account has been created, if you want to keep it secure from hackers, follow the next sections of this article.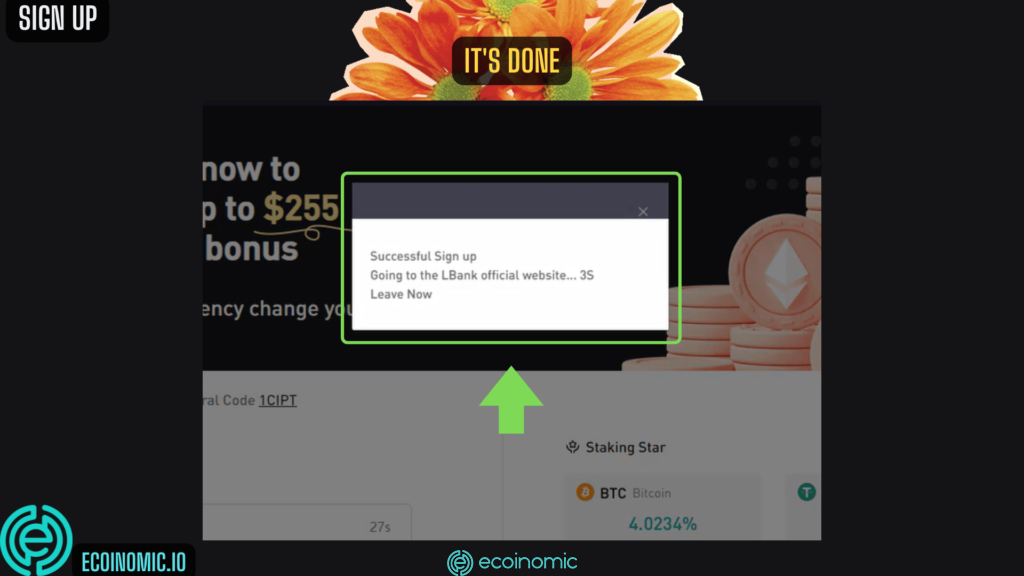 Instructions for Account security when LBank sign up

Identity Verification (KYC) when LBank sign up
Step 1: At the profile symbol in the upper right corner, select "Security"
Step 2: In the Security Setting section, choose the KYC section and select "Verification". If KYC successfully you can increase the withdrawal limit.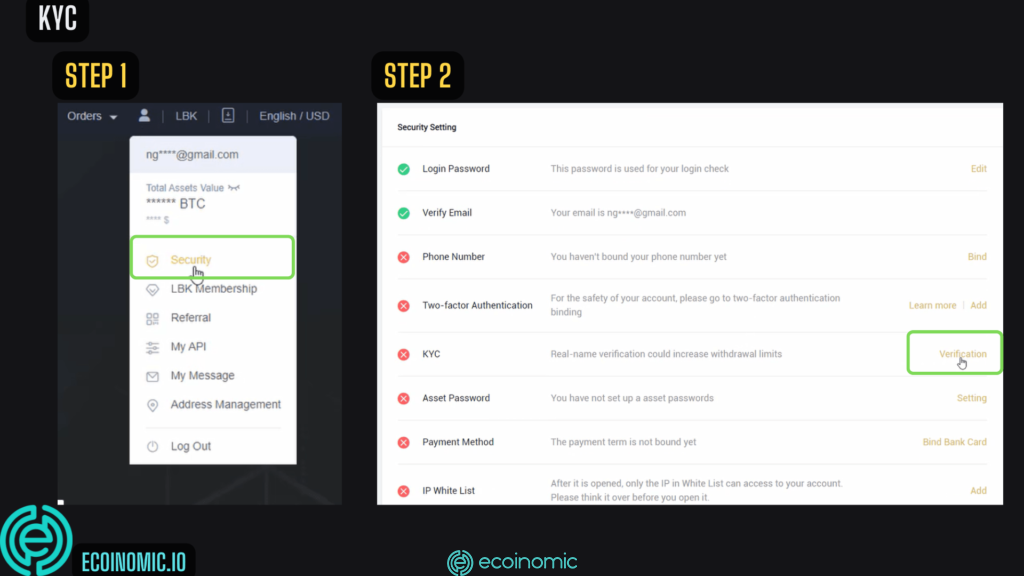 Step 3: Fill in your full name. In the Credentials section, you can select 1 of the following 3 documents for verification:
ID Card – Citizen ID/Identity Card

Driver's license

Passport – Passport
Ecoinomic chooses to verify by ID Card. Enter your ID number in the "ID Number" box and select "Next"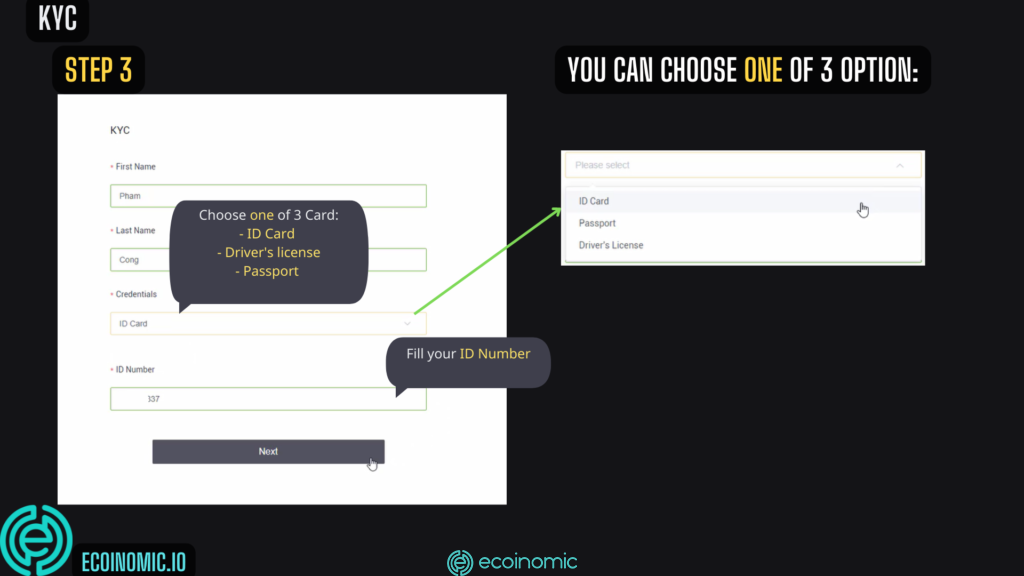 Step 4: Upload a photo of the front and back of your ID card. Then take a selfie photo with your ID. The system will compare your face and the photo taken on the ID card.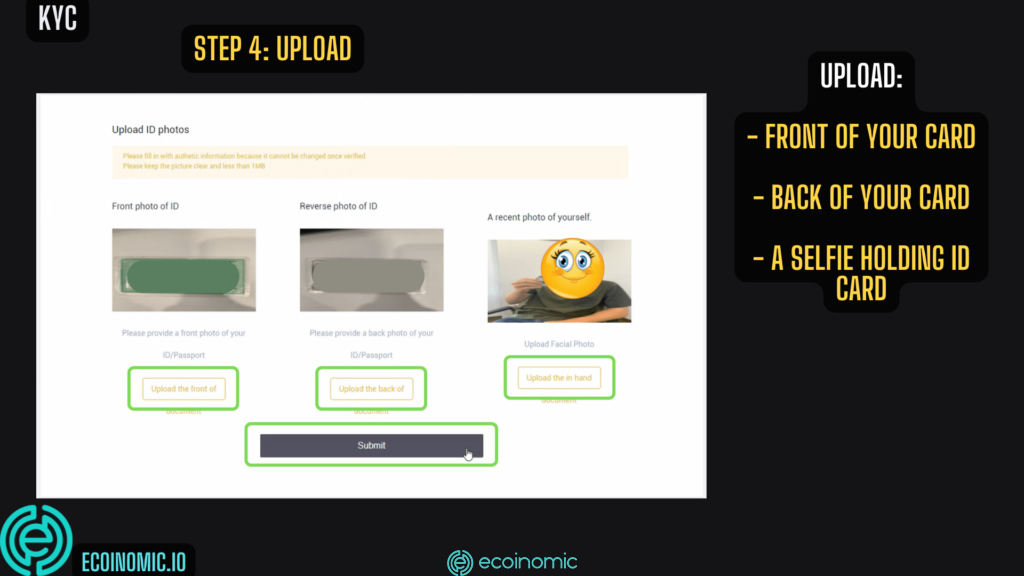 You have to wait for the system to handle your request, if successfully your withdrawal limit will increase to 2 BTC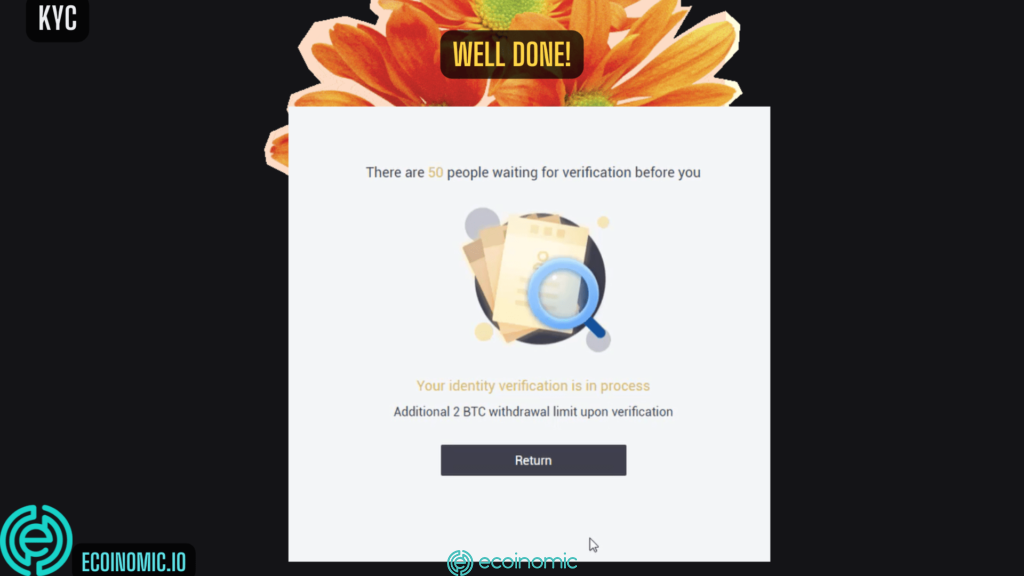 How to 2FA set up when LBank sign up
Step 1: At the home interface, click "Security" in the account section (profile symbol)
Step 2: Click "Add" in the Two-factor Authentication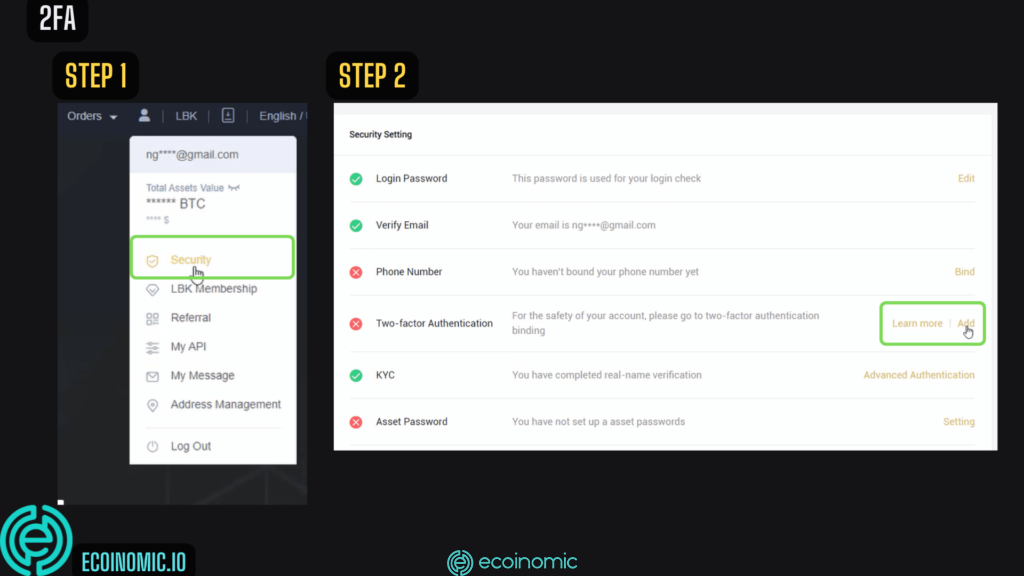 Step 3: There are 2 applications that can be used to verify 2FA security, Google Authenticator and Authy. You can read the introduction below to get more information about these apps.
In this step, Ecoinomic selects the Google Authenticator to continue the account security process. 
Step 4: Copy the security key in the "Key" or scan the QR code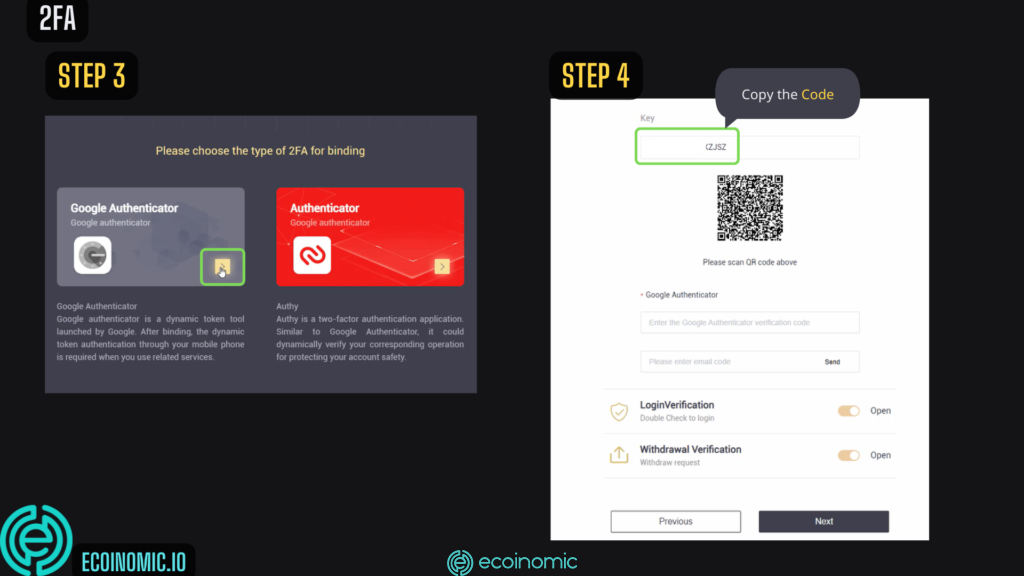 Step 5: Download the Google Authenticator app to your phone.
Click on the pen icon in the top right corner, next click on the "+" sign.
In the next step, name this Google Authenticator account and paste the security key code copied in step 4 into the "Secret" box. Click "OK" to continue.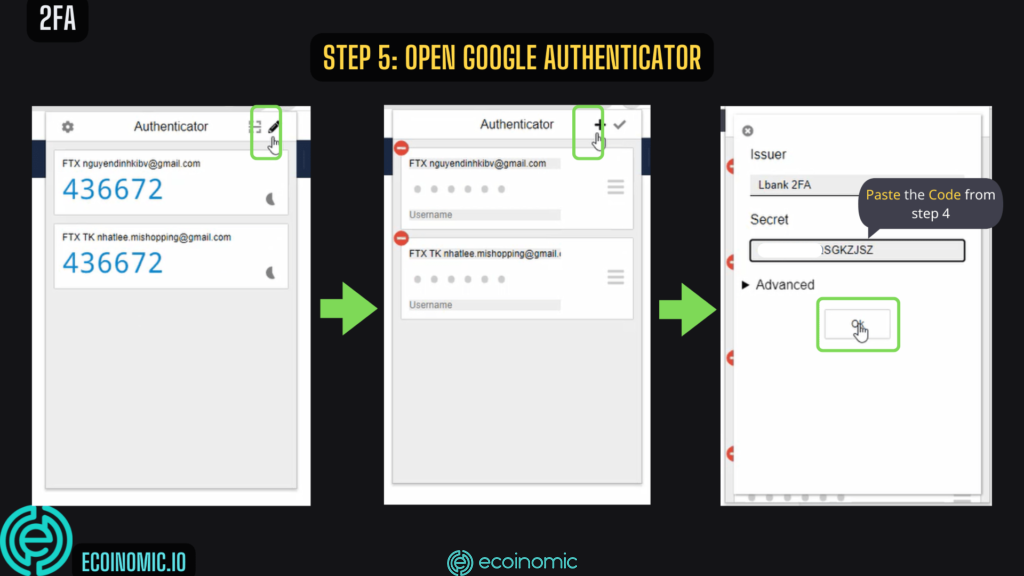 Step 6: Enter the 6-digit email verification number and 2FA. Then select "Next" to go to the next step.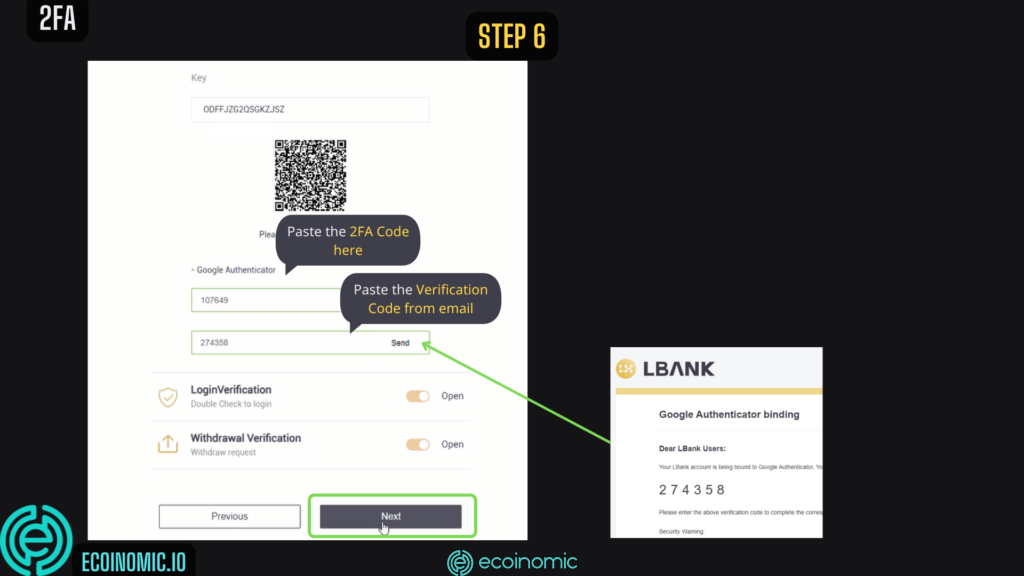 Step 7: Select "Confirm" to complete the two-layer security for the LBank account.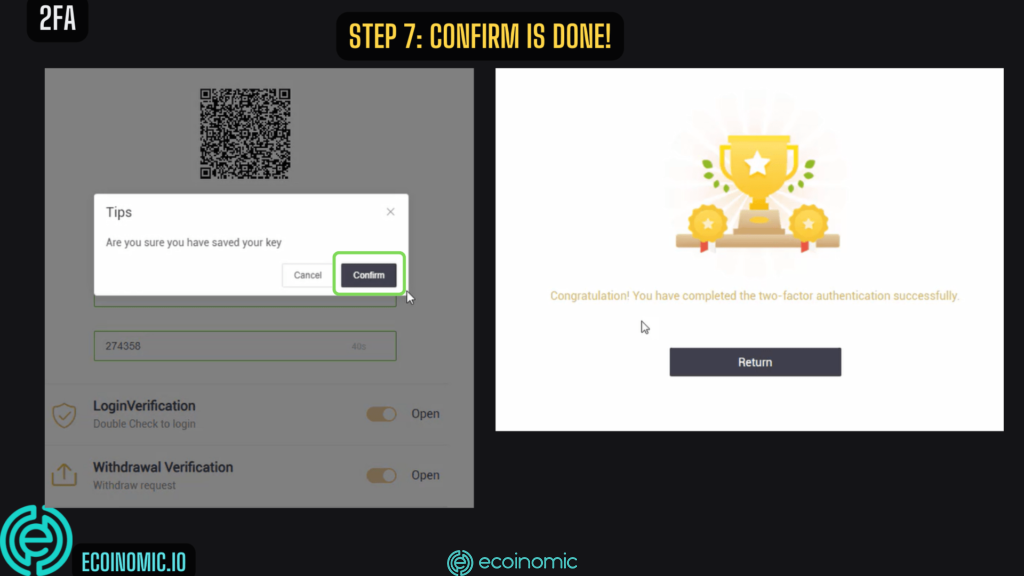 Instructions for depositing and withdrawing money after LBank sign up

How to deposit money when LBank sign up
Step 1: At wallet, select "Spot"
Step 2: Select "Deposit"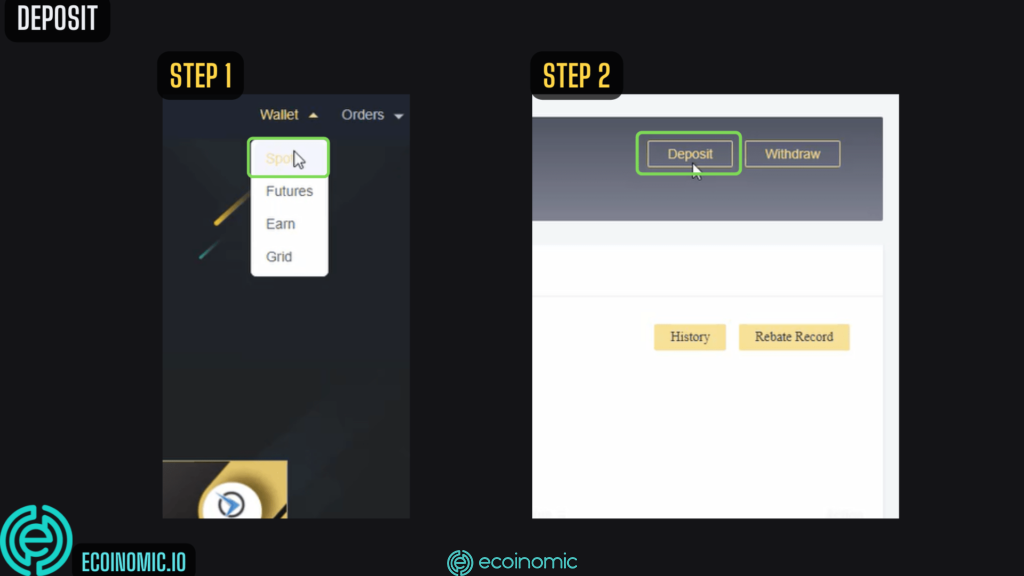 Step 3: Enter the name of the coin or token you want to deposit in the search box. For example, if you want to deposit USDT, type USDT in the search bar, then click "Agree"
Step 4: Select the network that matches the coin/token you want to deposit. Each network will have different minimum charges and limits. The time it takes to receive coins will depend on the operation of that network. Then, copy the wallet address.
How to withdraw money when LBank sign up
Step 1: Go to the Wallet, and select "Spot"
Step 2: Select "Withdraw"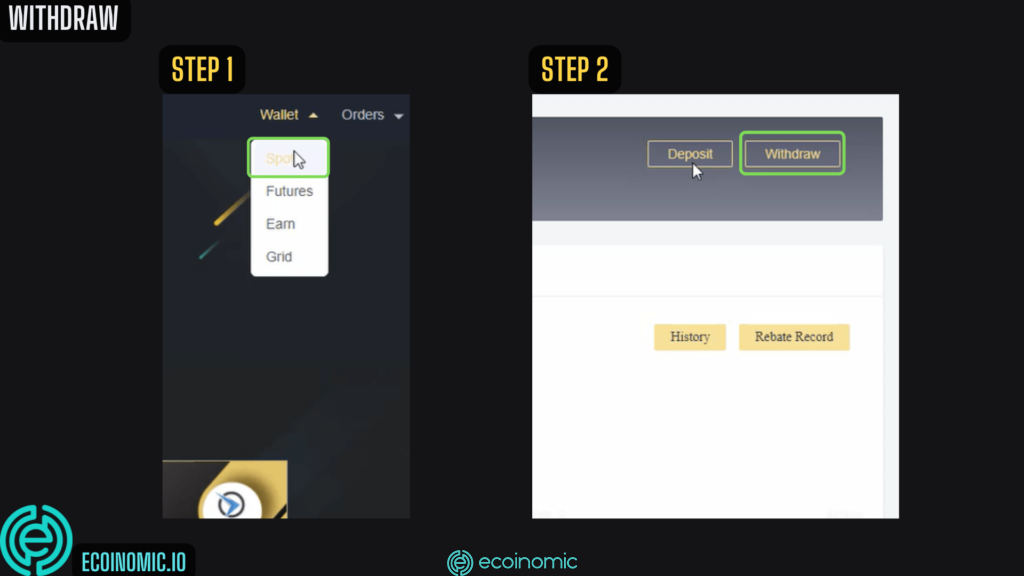 Step 3: Paste the wallet address you want to withdraw into the Withdrawal address box.
Select the transfer network in the Network box. Enter the amount you want to withdraw and click "Withdrawal confirmed".
The fee is calculated based on the number of coins that you withdraw along with the network's fees. Therefore, you should consider choosing the right network to economize and deposit quickly.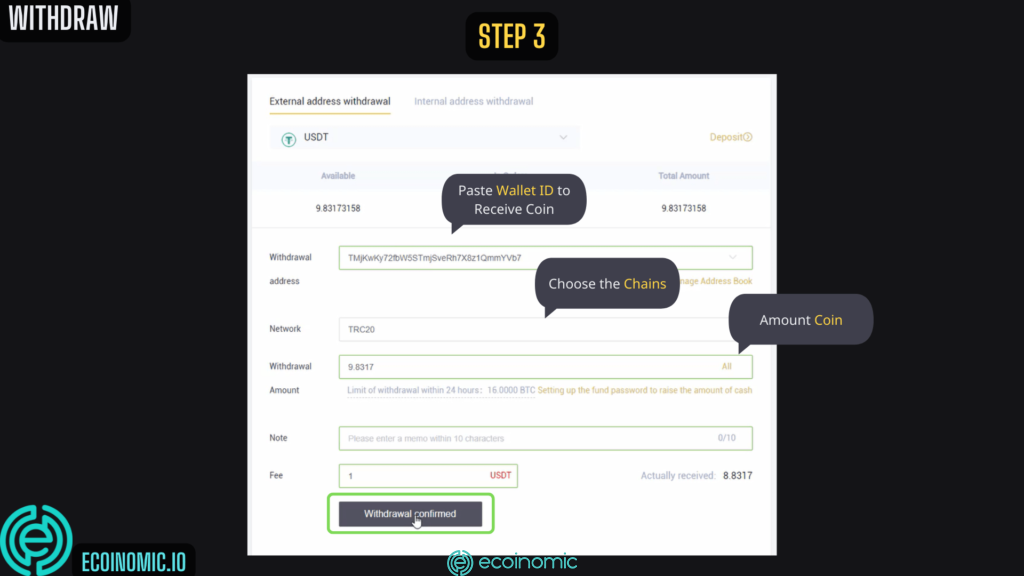 Instructions for buying and selling coins after LBank sign up

How to buy coins with Limit order when LBank sign up
Step 1: Go to Trade, and select "Spot"
Step 2: Enter the coin you want to buy in the search box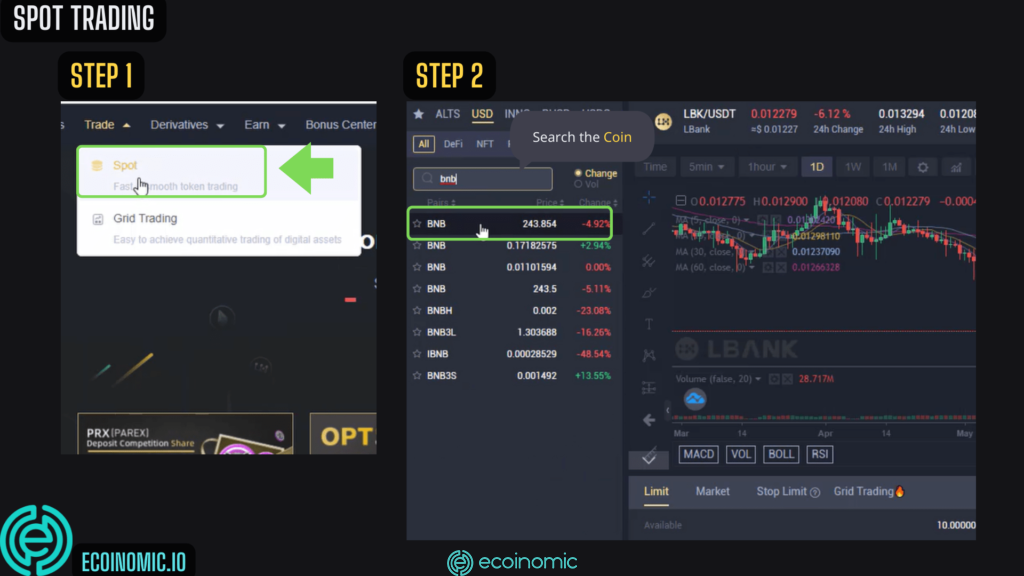 Step 3: At this step, Ecoinomic will make a purchase using a Limit order. Enter the price and quantity of coins you want to buy, then select "Buy BNB"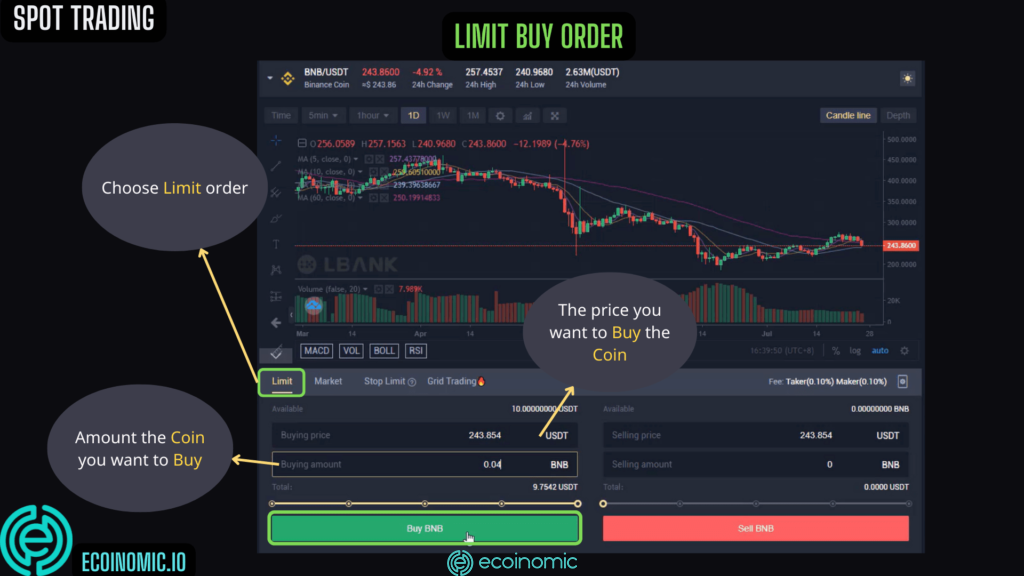 How to sell coins with Limit order when LBank sign up
The implementation is similar to buy, except that the Buy order is instead of the Sell order. Select Limit in the options bar. Enter the price and quantity you want to sell through the percentage bar below. Then select "Sell BNB" to place a sell order.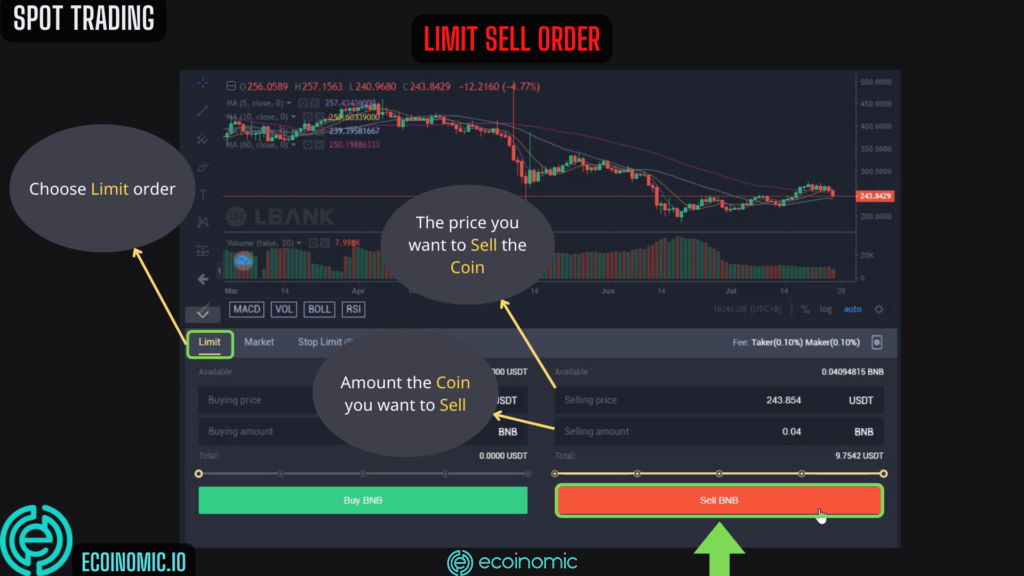 Frequently Asked Questions – F.A.Q LBank review 
Has LBank been hacked before? Is lbank safe?
Since its establishment, LBank has never been hacked. Security issues are always put on top by this platform, the platform always updates its security system regularly to prevent hackers from attacking. Requiring users to authenticate with 2FA gives them an extra layer of security to protect their accounts.
Does LBank exchange often have maintenance errors?
The maintenance frequency of LBank is very little, but in order to upgrade the trading system and prevent security holes, sometimes the LBank floor will have to stop depositing, withdrawing and trading activities for a certain period. The floor will notify users in advance when maintaining the system, through the phone number and email address you registered with LBank.
Where is lbank exchange located? 
LBank has an address in Hong Kong and was founded by a team of leaders from Asia.
If you encounter difficulties during the transaction, you can contact LBank's customer care department for resolution.
Is LBank legit? Should I trade on LBank?
In general, LBank is a long-standing and reputable exchange.
Currently, no official information about accusing LBank of fraud. Here are some positive comments from customers who have used LBank: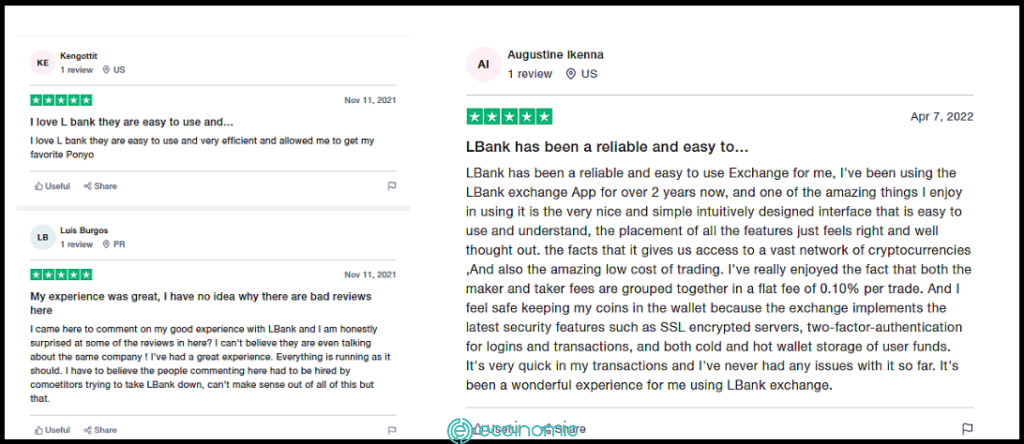 What is Lbank Coin Exchange? Token LBK 
On August 1, 2019, LBank issued LBK tokens with a Total Supply of 2 billion. LBK is a decentralized blockchain token on Ethereum, based on the ERC-20 protocol. It was released in 3 stages for a total of 1.2 billion LBK. 
Allocation mechanism:
Key mechanism:
During the initial token release, the project development team is not entitled to any incentives. The issuance condition is that after two years, 25% for each quarter, must buy back LBK tokens worth more than 54 million USDT within two years.
If the conditions are not met, the pool's holdings will be forfeited directly and never released to the market. This shows the determination of the LBank development team in fulfilling the commitment & keeping the promise to the token holders.
Is it necessary for KYC to withdraw money?
You can still withdraw money without KYC, however, if you successfully KYC you will be able to raise the withdrawal limit when you want to make large transactions.
What is the deposit and withdrawal limit when LBank sign up?
LBank exchange does not limit the deposit, the minimum amount of deposit for one time is based on the regulations of the exchange. The maximum withdrawal amount after completing level 1 identity verification is 16 BTC/day.
What types of fees are there on LBank?
The transaction fee of Taker and Maker on LBank is 0.1%. Transferring money internally between trading accounts on LBank is free. Withdrawal fees will be calculated based on the exchange's regulations for each coin and token.
Deposit fee: completely free.
What is LBank App on Android, IOS?
On the Google Play app on Android or the App Store on iOS, type LBank in the search bar. Search for the exact LBank app and download it.
Conclusion
LBank is a growing cryptocurrency exchange, gaining the trust of a large number of users from India and the African region. Currently, the exchange is trying to expand its market share to other regions around the world.

Thank you for reading this LBank review, see more: LBank Futures Trading Guide