If in the stock market we need to trade to be able to buy and sell securities, so in the crypto market. Users need to use the exchange to trade cryptocurrencies with each other. There are two types of flooring: centralized exchange (CEX) and Decentralized exchange (DEX).
In this article, we will learn about the differences between decentralized exchanges (DEX) and centralized exchanges (CEX).
What is a decentralized exchange?
Good decentralized exchanges DEX (Decentralized exchange), simply understood as an application, built on the Blockchain, helps all transactions be made directly between users. 
If you don't already know about DEX, you can learn more in Ecoinomic's article earlier introduces the whole thing about DEX and its role in the crypto market. 
What is a centralized exchange?
Centralized exchange, also known as CEX exchange, is an intermediary organization that provides trading and trading services for cryptocurrencies. Users can buy and sell cryptocurrencies through Fiat money. Because it is a centralized exchange, when participating in the exchange, users are required to verify their KYC identity with identification documents to protect their accounts and comply with the law in case the trading account is involved. money laundering activities.
Some famous CEX exchanges for top safety today are Binance, FTX, OKX….
Related:
Compare centralized exchanges and decentralized exchanges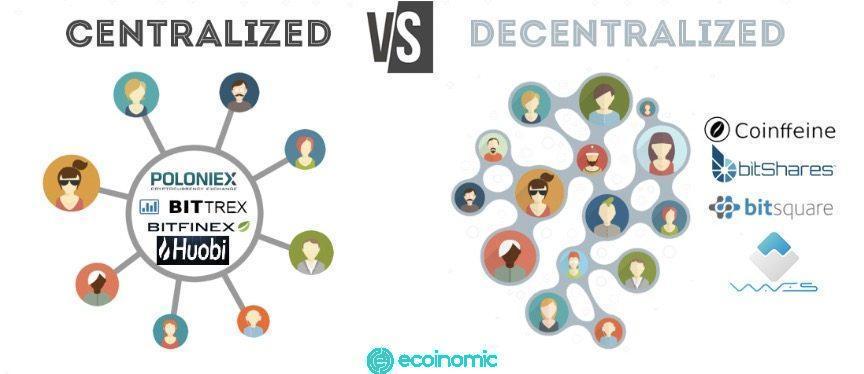 Criteria

Decentralized exchanges

Centralized exchange

Administer

Users will be able to control all accounts from trading to storing assets.

Most control of your account belongs to the third person who runs the exchange.

Security and safety

The security system is secure because it does not have a specific fulcrum to create opportunities for hackers to attack. Therefore, being attacked by hackers is impossible and a floor collapse is highly unlikely.

Although it works in a centralized form with a variety of optimal solutions, serious hacks can still occur.

You may have your information hacked and you will lose all your assets.

Transaction fees

Order execution on the Decentralized Exchange Blockchain (DEX) does not charge fees.

CEX will impose fees on each transaction. Between different exchanges, there will be different fees.

Anonymity

Users can trade anonymously without identity verification

Requires users to conduct KYC, which holds information about their identity

Authenticity

Blockchain-based operations with openness and transparency. The DEX floor is unlikely to manipulate the user's assets.

Because of the control of the user's account and personal information, the exchange can forge transactions and redeem itself.

Custody

When a user transfers his or her cryptocurrency to the floor, he or she can take complete control of his assets because he holds the wallet's private key.

When a user tops up the property, they can make a transaction and the exchange takes control of their assets.

Liquidity

There is not much liquidity as they take time to execute orders, and this exchange's popularity is also lower than the centralized exchange (CEX).

It is more liquid than DEX because many users execute specific orders according to market trends.

Speed

The speed is slower than that of CEX, which takes a minimum of 15 seconds to match and execute a trade.

Faster than DEX, it takes an average of 10 seconds to make a trade.
Conclusion
In short, DEX offers all the same services as centralized exchanges, but they allow us to do this anonymously and without intermediaries. Before DEX appeared, traders were forced to use a centralized system to trade and exchange assets. 
DEX allows transactions to take place outside of any regulated industry, creating financial justice for all, regardless of war, sanctions or financial sanctions by major powers. If used correctly, this system will bring many economic benefits to all participants. The only thing that is not fair here is probably the knowledge and daily economic life of the different circumstances on earth.