The adoption of cryptocurrencies in the global market and the scalability of the blockchain ecosystem have paved the way for the strong development of Web 3.0 technology. In particular, the launch of social tokens is a breakthrough that demonstrates the vision and future prospects for Web 3.0.
What is social token ? In the following article, Ecoinomic.io will give you an overview and evaluate the development potential of this token.
What is a social token?
Social token is token issued by individual creators, influencers, organizations or communities, allowing members to contribute and share ownership of value in the blockchain space.
Social tokens are secured by blockchain and built on the same model as BTC or ETH. The value of these tokens will depend on the development of the token issuing community.
For example, a gamer – Allestrasza has released social token ALLIE which gives owners access to an exclusive Discord group and allows chatting with Allestrasza at any time.
>>> Related: What is soulbound token (SBT)
How do social tokens work?
Social token is a separate and independent economy based on digital ownership. An artist, musician, writer or celebrity who has a community of followers on social media can release their own social token.
Social token also allows brands and influencers in the public to build decentralized ecosystem that serves their loyal customers and fans. Social token is used to grant access to exclusive content, limited experiences or vote in the community. Fans can buy tokens as an investment method to receive rewards in the form of social tokens for contributing to the community.
If you believe that an artist's work will attract more followers in the future, you can buy its social token early. The value of these tokens will increase as the community grows and more tokens are released.
For example, Roll platform has allowed 160 artists and influencers to create their social token.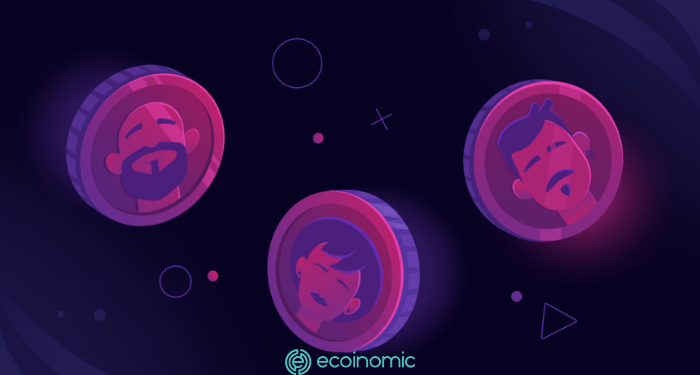 Social token classification
Personal token: released by individual celebrities or creators. For example, Rapper Lil Pump released PUMPCOIN which allows owners to play game with him.
Community token: released by a community or organizations, used to regulate membership, community access. For example: Whale, Friends With Benefits (FWB), Cherry token,…
Social platform token: released and administered by platforms. For example: Bitclout (CLOUT), TryRoll(-), Rally (RLY)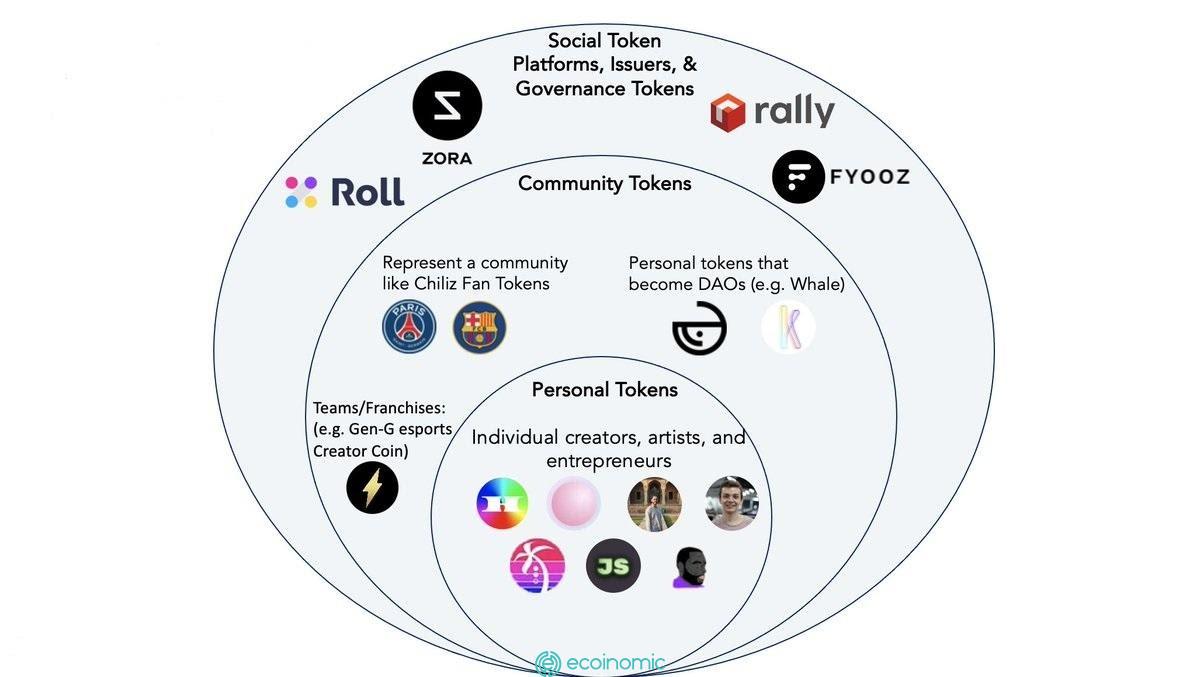 Benefits of social token
Monetization
Payment method: Social token can represent vouchers or become method of payment that help fans exchange for accessories, an item of idol or brand.

Flexibility: Creators can sell a large amount of social tokens to raise investment capital for personal purposes, instead of waiting for selling the work to receive money. That will give them greater control over the revenue from their work.

Eliminate third party: Individual and organization can raise capital directly from community by releasing social token.
Network effect development
Social token plays a significant role in the development of network effect:
Scalability: The more valuable social token, the stronger the community. When fans or customers trust the influence of celebrities/brands, they expect tokens to be valuable and increase in price in the future. Therefore, each owner tends to contribute and build a more and more developed community.
Unlock privileges: Social token gives owners access to exclusive content, limited experiences, or voting in the community. That attracts more people to participate and promotes the development of the community.
Symbolism: Social token offers better incentives than traditional reward programs, creates more spiritual value, and foster a close relationship between celebrities and fans or brands and customers.
>>> Related: Network effect in the cryptocurrency market
Risks of social token
Value risk
The value of social token will depend on the growth of the community and the content creation process of influencers. In essence, creators build their own economy, and social token reflects the enthusiastic support of fans.
However, when celebrities lose their influence on the public, the individual economy collapses, social token loses value, participants' investment will suffer great losses.
Trust in the community
Social tokens give participants access to limited content and experiences. However, when the actual privilege is not as fans expected, they will lose faith in the community.
Difference between NFT and social token
The fundamental difference between NFT and social token is the possibility of substitution.
Social token is fungible digital assets. For example, a celebrity can release a limited number of tokens, and all of these tokens are the same and the value will be directly correlated with influence of celebrity.
Meanwhile, NFT is digital asset that are encrypted and secured on the blockchain, ensuring the uniqueness and ownership of each token. This means an NFT cannot be altered or tampered with.
>> Related: Getting started with the Binance NFT marketplace
To put it simply, social token offers the same benefits, privilege for all investors. NFT holder, on the other hand, have unique privilege over a piece of art or collection.
When combined with social token, NFT can give content creators sole proprietorship over platform, image, and intellectual property.
For example, an artist creates NFT to monetize works of art. But he will be able to profit more from his personal brand by releasing social token, which give owners access to related artworks or art courses.
The growth potential of social token
As social tokens become popular, more and more content creators can release these tokens on platform to build their own communities.
Social token plays an important role in the ecosystem of creators with widespread adoption. Rap star Lil Yachty has made a profit of $276,000 through the release of YACHTYCOIN providing fans with souvenirs and online encounters with her.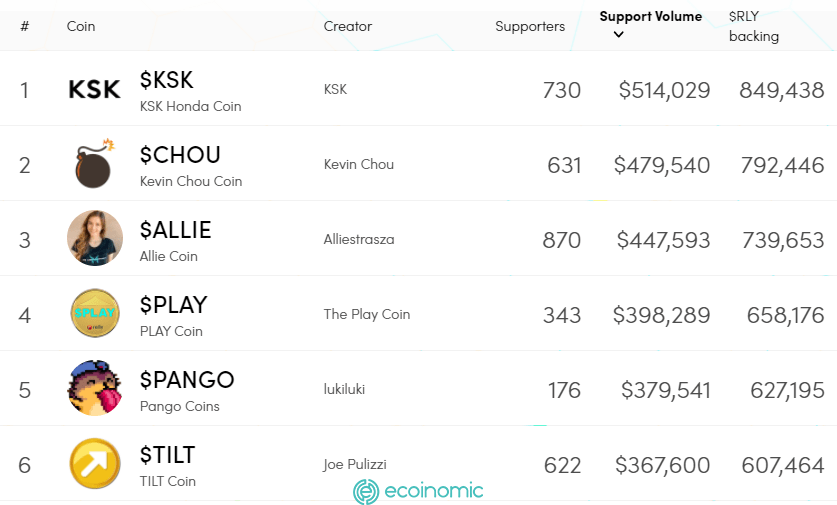 Besides, social token projects have received large investment capital from venture capital. Rally, Showtime, Calaxy, Coinvise were funded with $22 million, $7.6 million, $7.5 million, and $2.5 million, respectively.
As blockchain technology evolves, these tokens will attract more artists and create larger communities such as large publishers or online communities of products or brands.
Conclusion
Social tokens will be the engine of Web 3.0, enabling the personal economy of influencers to be built on digital platforms and blockchain ecosystems.
Through the above article, Ecoinomic.io hopes to help investors have an overview of social tokens to grasp future investment trends and opportunities, building appropriate investment strategies.