AMA is a term that is mentioned quite a lot in the cryptocurrency market. So what is AMA? What are the benefits of joining the AMA? Let's Ecoinomic.io answer all your questions about AMA and help you find quality AMA sources in this article!
What does AMA mean?
AMA (Aѕk Me Anуthing) is a Q&A event in which representatives of projects share via online calls or livestream sessions to answer questions from the community. 
Most of these AMAs are organized as a way for projects to better interact with the community as well as strengthen trust in the community and attract new members.
Currently, AMAs are expanded to be not limited to voice or visual AMAs, but also use text to implement AMA, helping users get more complete information about the project.
Structure an AMA session
AMA usually takes place in a question and answer structure, there are 2 main parts in an AMA session, including pre-scripted questions and questions directly from the community.
Pre-scripted questions
The opening of an AMA is usually an introduction to the project and there are scripted or pre-selected questions from the community. There will be an AMA host asking questions to project team members. 
In this section, other community members will not be granted permission to send messages or speak within the AMA to ensure no message drift and clarity of the information provided.
Direct questions
The second part of the AMA will be more interesting with direct questions from the community. Host will unlock the media and grant permission to community members so they can ask random questions.
Members representing the project will select a number of questions to answer, usually 3-5 questions due to the AMA's limited duration.  
Forms of AMA organization
AMA on Twitter Space
Twitter Space currently dominates the organization of the AMA due to its popularity and record mode of re-recording the entire AMA. The recording will be made public on twitter allowing anyone to join in and listen back, helping to increase the project's popularity. 
In addition, Twitter Space also integrates features such as automatic display of dialogue. This is a big plus that helps listeners to better understand the AMA content and be able to copy the dialogue and use the translation feature.
However, currently, the twitter space conversation request feature is only available on phones, computer users are limited to asking questions in the AMA. Along with that, Twitter Space only supports voice, not sharing images.
AMA on Discord
Discord stands out for its mode of performing AMA by voice as well as screen sharing. However, screen sharing is limited in the number of viewers. 
The advantage of discord is that it supports users on both phones and computers, along with being able to send questions in discord's message section to make it more convenient for users.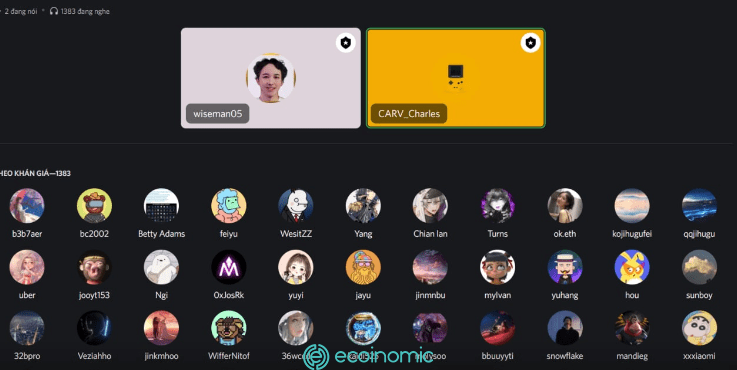 AMA on Telegram
Telegram is popular with written AMA due to their ease of providing information and due to language differences, text APAs make it easier to translate content. There are also many voice AMA sessions on Telegram groups, but often apply as calls in a small community.
Livestream on Youtube or Facebook
Livestreaming on youtube or facebook is a familiar form of AMA organization, but this form will be limited in terms of only being asked through commenting without asking directly. For the same reason, not many projects do livestream on Youtube and Facebook.
The benefits of participating in AMA 
Connect with the project development team
In the crypto market, projects often do not publicize the actual development team for personal security reasons. However, this is also a space for some scam projects to take advantage of users' trust. 
AMA acts as a bridge to help you connect with the project team, improving trust when choosing a long-term investment. When the representative clarifies the identity in the AMA, the fraud rate is quite low and strengthens believe in the project.
Answer questions about the project
AMA is an opportunity for you to ask questions about every aspect you don't understand, especially about the upcoming roadmap of the project.
Projects will have regular updates and interact with the community during the AMA session to present the project's upcoming strategy and representatives are available to answer participants' questions.
From the information obtained will help you gain more knowledge about the project as well as make an investment strategy in the future.
Get a giveaway when participating in the AMA
Most AMA have rewards to attract participants, including project tokens, NFTs, testing slots, whitelist, and more. Prize value ranges from $100-$500.
These rewards are usually available to those who ask good questions during the AMA or in the form of a giveaway among AMA participants.
Attractive rewards also make AMA becoming increasingly popular and becoming the main source of monetization for many investors in the cryptocurrency market.
Sources for searching AMA
Social media channels of projects
The social media channels of cryptocurrency projects are the fastest source of information to update community AMA. Community events are usually updated on Twitter, Telegram, or Discord.
If you are an in-depth researcher and want to learn about projects in particular in the cryptocurrency market, then the project's communication channels will be an indispensable tool to help you gain more knowledge about projects.  
CoinMarketCap
CoinMarketCap is a platform that allows tracking the price of cryptocurrencies with many other advanced features. CoinMarketCap develops a tool to update the event schedule of projects, including AMA events of those listed on the platform, so it is highly reliable.
However, depending on the project, the AMA has giveaway rewards or not.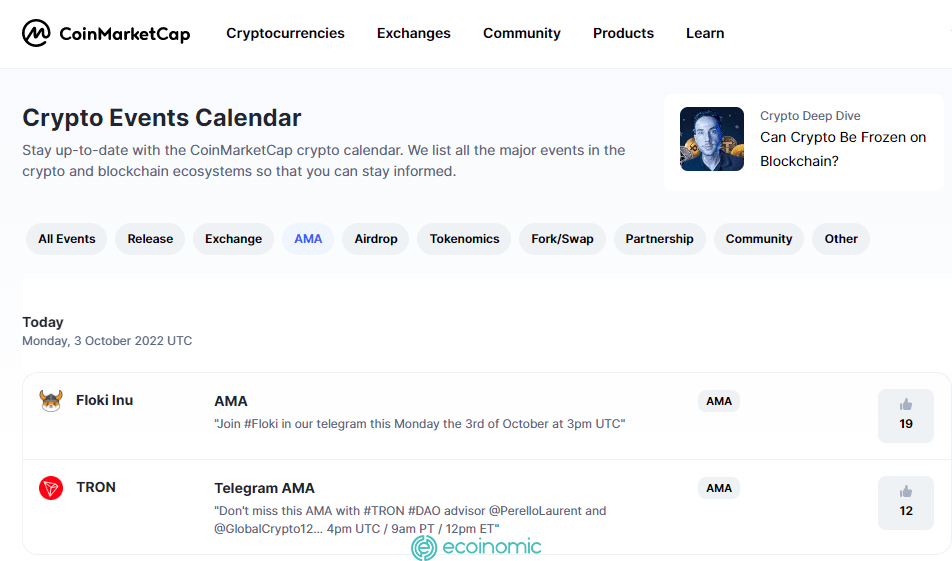 Galxe
Galxe is a recently developed Web3 data credential authentication platform, featuring badges to record events that users participate in. This platform gathers a lot of information with a variety of AMA's of many projects.
One point to note is that it is necessary to be selective about events to participate in, only some projects with blue ticks are verified projects, the rest you need to research more.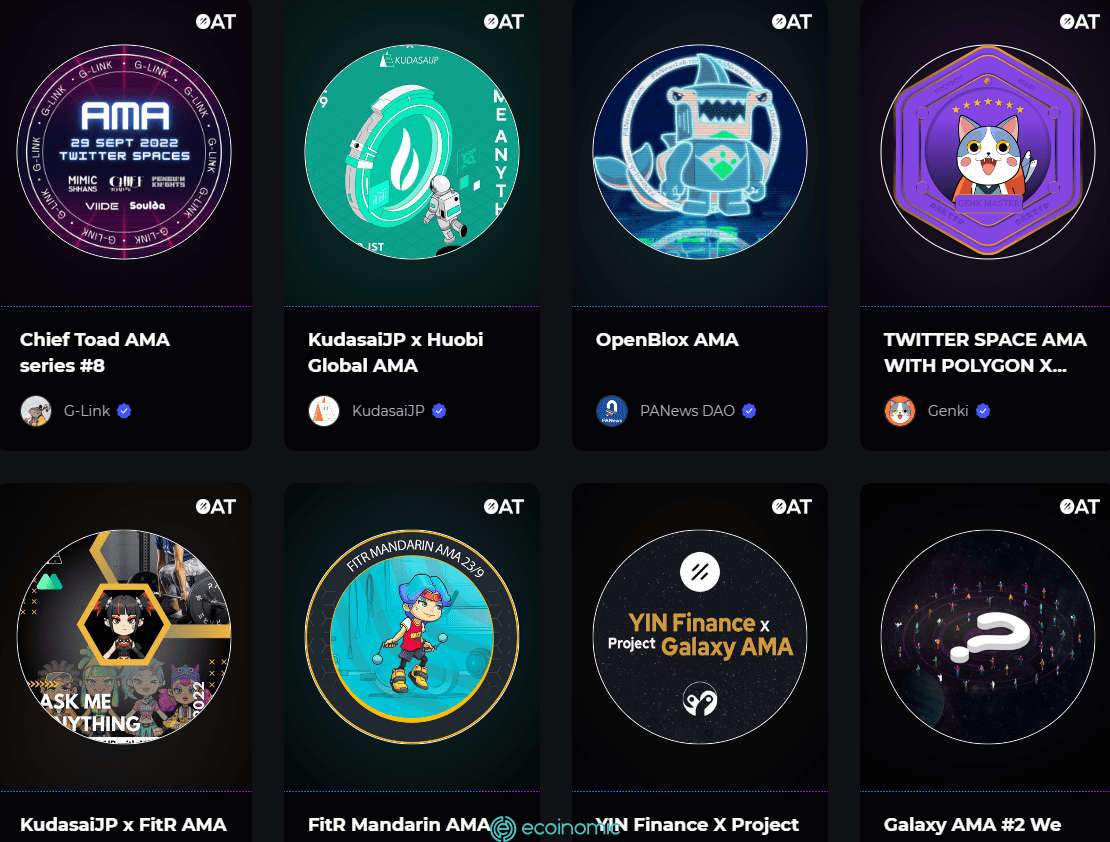 Carv
Carv is a Web3 platform that builds a Soulbound Token (SBT) system that recognizes gaming achievements and collaborates with more than 100 gamefi projects to implement AMA.
This platform is suitable when you are interested and want to learn more about NFT projects and web3 games.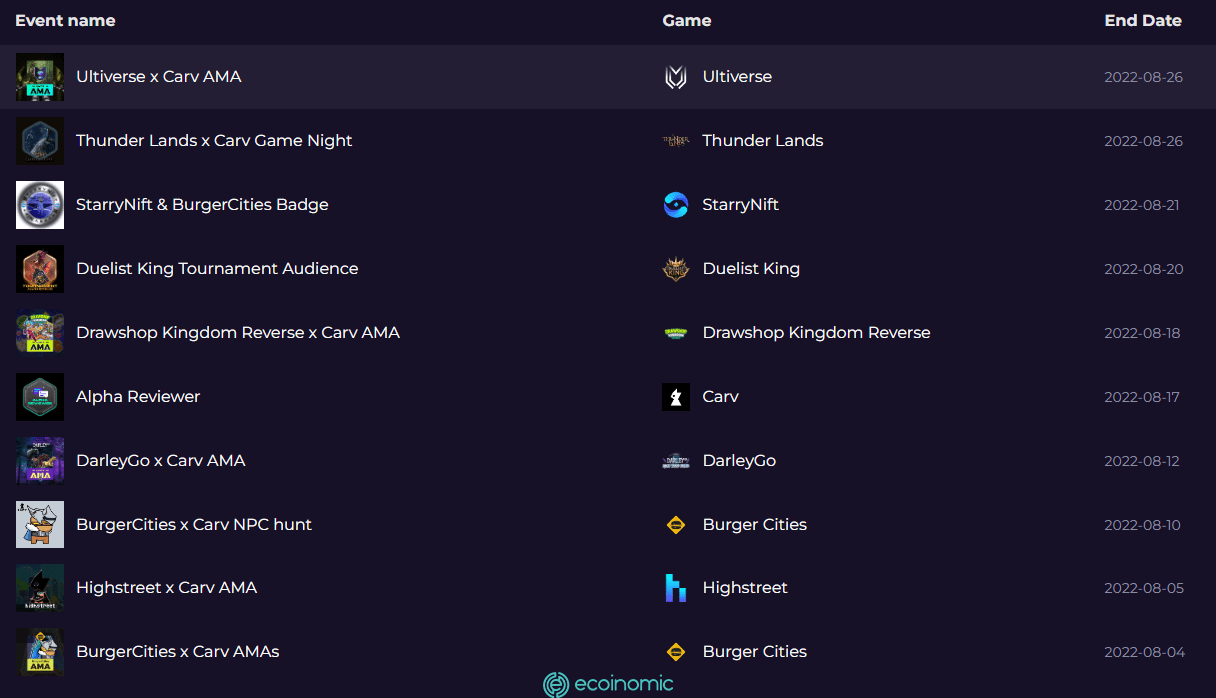 When participating in AMA events, you will receive SBT and receive giveaways from partner projects. The majority of AMA are held on Twitter Space and Discord.
Cyber Connect
Cyber Connect with its product Link3 helps build your own profile page on Web3 and compile an event calendar for you. Once added to the calendar, all upcoming AMA events will be visible and email invitations are available when it's time for the event.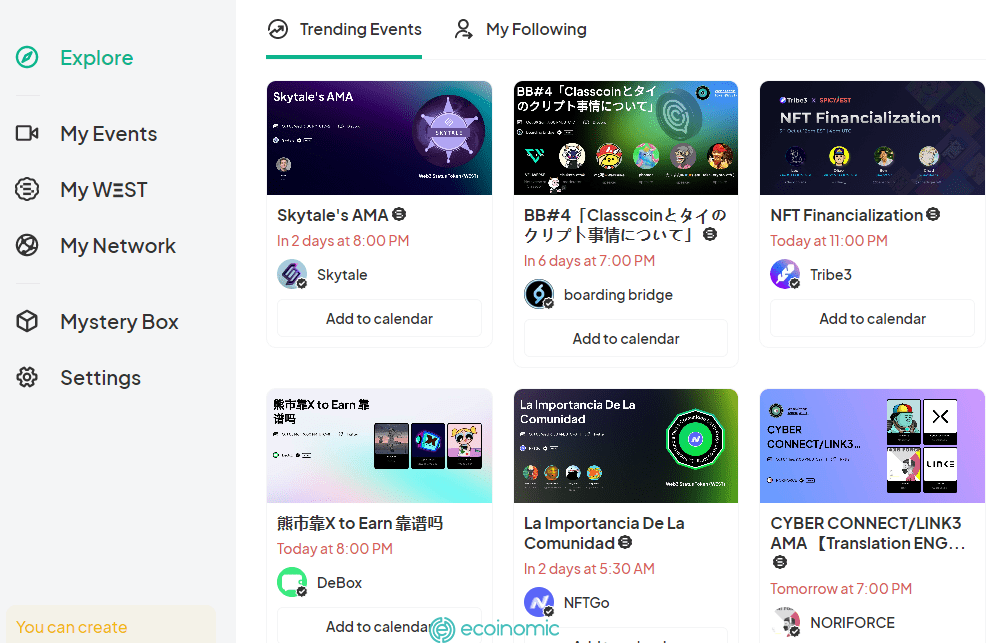 Projects on this platform are quite rich, however there are some AMA's that are only for the local community and do not use the English language so you need to keep in mind when choosing.
Conclusion
AMA plays an important role in projects, contributing to connecting project developers with the community. Joining the AMA helps to increase knowledge about the project and moreover, the opportunity to receive gifts from the project.
Through this article, Ecoinomic.io wish to send readers useful information about AMA and instructions on how to find quality AMA to participate in the electronic market.
>>> Related: Guide To Hotbit Sign Up For Newbies 2022