What is VET?
VeChain was founded in 2015, providing blockchain-based solutions for businesses by taking advantage of the VeChainThor blockchain's power. The company has a close tie with the Chinese industry and government.
Launched as part of blockchain-as-a-service (BaaS) company base on Shanghai, BitSE, VeChain is a distributed business ecosystem using blockchain technology, focusing on businesses. It aims to enhance the supply chain management system by connecting blockchain technology to the real world. VeChain's public blockchain is called VeChainThor.
The Vechain was established in Singapore with the aim of overseeing the development, governance and progress of the VeChain ecosystem.
VeChain is considered a mature company, with many real-world business applications built on the VeChainThor blockchain. VeChain Whitepaper 2.0 states: "These solutions are not just theoretical, they are solutions tested and discussed with over 700 enterprises and implemented for over 100+ fortune level enterprises."
VeChain's headquarters have been awarded a 5-star rated blockchain Service Certificate from TÜV Saarland, a European certification body.
What are VET and VTHO?
VeChain has 2 separate tokens: VET and VTHO
VET is the cryptocurrency of the VeChain blockchain. Initially, VeChain (VET) was built on Ethereum's ERC-20 standard. Until July 30, 2018, VeChain (VET) was run on the VeChainThor blockchain platform after they successfully launched Mainnet.

VTHO (VeThor Token) is an "energy token" used to make transactions on VeChainThor. VET owners can create VTHO to use on the VeChainThor blockchain.
In the Vechain blockchain design, with 10000 VET tokens, 4.32 VTHOs will be created every 8,640 blocks (24 hours) corresponding to 0.000000005VTHO created for each VET per block. 70% of transaction fees are paid by VTHO in each burned block and the remaining 30% are rewarded to Authority Masternode for block production.
Basic information of VTHO token
Name: Vethor

Ticker: VTHO

Token Standard: VIP18

Blockchain: VechainThor

Contract Address: 0x0000000000000000000000000000456E65726779

Circulating supply: 35.79B VTHO

Max supply: 35,790,195,546 VTHO
VeChain team
Vechain was developed by a team of experts from various industries including the blockchain technology, business and finance. The main members of the team are: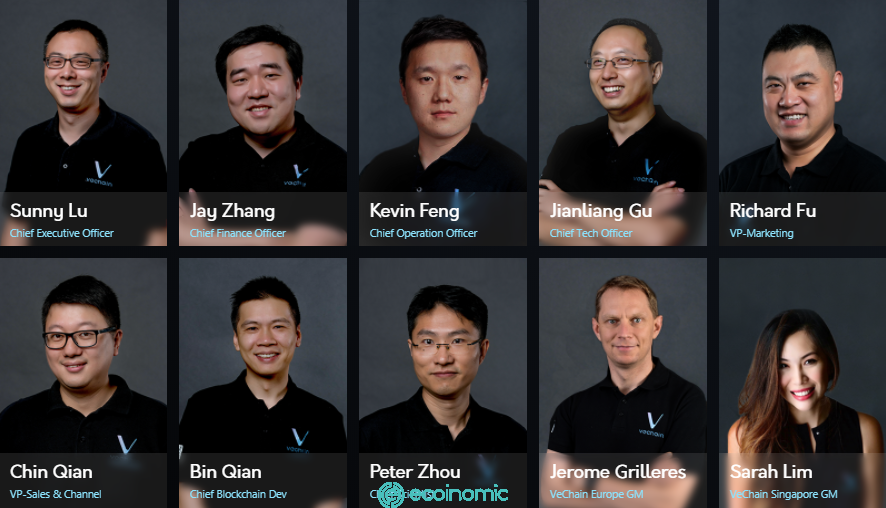 Sunny Lu: CEO, formerly co-founder of BitSE (a Chinese software company that has created other well-known projects such as QTUM). Previously Sunny was the CTO and CIO (Chief Technology Officer) of a well-known fashion Louis Vuitton in its Chinese subsidiary.

Kevin Feng is the COO of VeChain. He joined VeChain in early 2018. Kevin was a consultant in cybersecurity and security at PwC, in both its New York and Shanghai.

Richard Fu, Chief Marketing Officer (CMO)

Chin Qian: Sales Manager (CSO)

Jay Zhang: Chief Financial Officer (CFO)

Scott Brisbin: General Counsel

Jerome Grilleres: Business Development
Basic information of VET coin
Coin name: VechainThor

Ticker: VET

Algorithm: VeChainThor Authority

Proof of type: Proof of Authority (PoA)

Token standard: VIP180, VIP181

Block generation time: 10s

Transaction speed: 10,000 TPS

Circulating supply: 64.32B VET

Max supply: 86,712,634,466 VET

Serverless Explorer: https://insight.vecha.in/#/main/
Tokenomics VET
VET was issued during the ICO with the amount of 1 billion coins distributed at the following rate: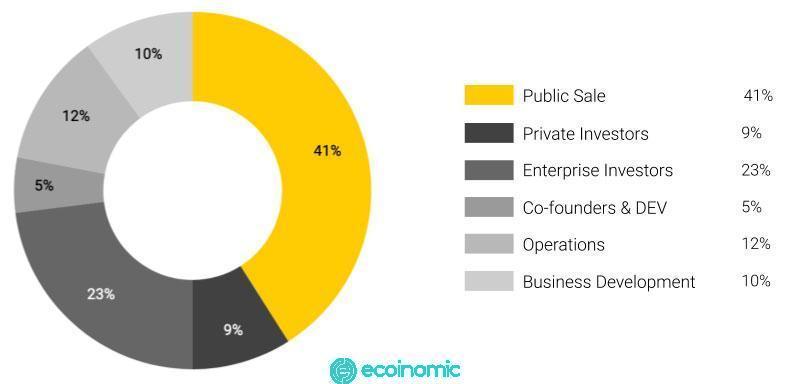 ICO: 41%.

Private investors: 9%

Enterprise investors: 23%

Co-founders and DEV: 5%

Operations: 12%

Business Development: 10%
VeChain platform structure
Enterprise solution structure based on VeChain ToolChain

Technology stacks and enterprise solutions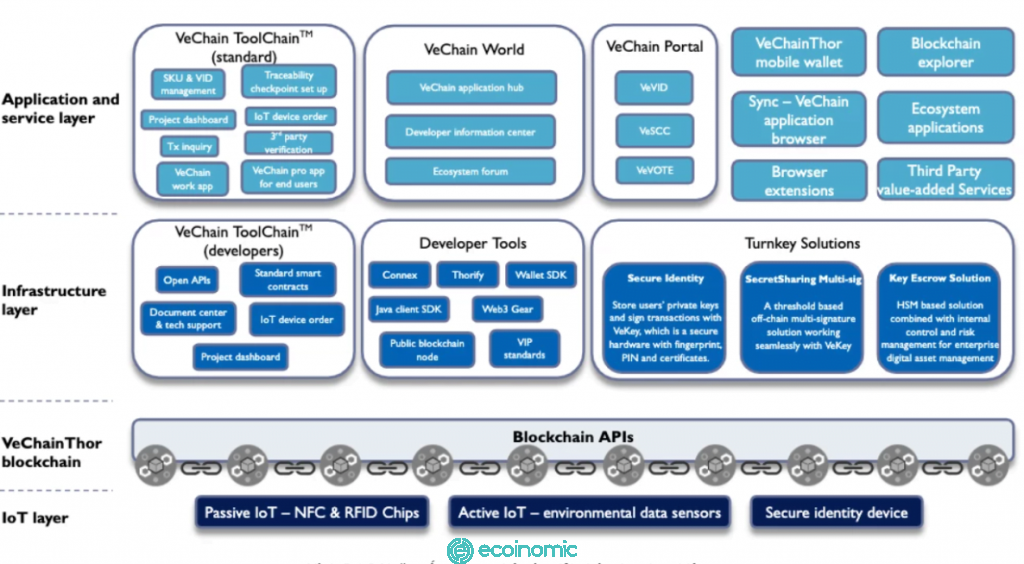 Application and service layer: Develop Smart Contracts and applications.

Infrastructure layer: Is the foundation structure layer, especially ToolChain.

VeChain Blokcchain: Connect nodes of VeChain's network.

IoT layer: An IoT system consisting of devices, database infrastructure, data analyzers and processors serving the Internet of Things (IoT)
VeChain's blockchain-as-a-Service ("BaaS") platform is called ToolChain. To put it simply, ToolChain is a comprehensive blockchain platform that can provide a wide range of services including: product lifecycle management, supply chain process control, data custody, data certification, and process certification. With ToolChain, all business can use blockchain technology to further enhance brand awareness and value as well as expand into new business models.
How does VeChain (VET) work?
VeChain implements a comprehensive governance structure which is a strong economic model integrating with the advanced Internet of Things (IoT) to enhance the supply chain management system. 
VeChain allows manufacturers to paste unique identifiers for each product. Therefore, users easily track the origin and status of the product in the supply chain. 
VeChain is considered as a pioneer of real-world applications using public blockchain technology. They have international operations in Singapore, Luxembourg, Tokyo, Shanghai, Paris, Hong Kong and San Francisco.
The VeChainThor blockchain works similarly to other blockchain platforms used for businesses. Businesses use ToolChain, a blockchain-as-a-Service (BaaS) with the full functionality and blockchain-based solution that VeChain offers. VeChainThor also supports smart contracts.
Single transactions on the VeChainThor blockchain can perform multiple tasks. In addition, it improve user experience. Instead of owing cryptocurrencies, users of the VeChain app simply own these app to make transactions. 
VeChainThor Blockchain uses the Proof of Authority (PoA) consensus algorithm, which authorizes certain nodes in the VeChainThor Blockchain to validate transactions. It only transfers transaction blocks through Authority Masternodes, which need to hold at least 25,000,000 VET.
Why does VeChain use PoA instead of PoS?
According to the team, the POA protocol will help this project attract more businesses during this period.
In addition, PoA also has some advantages:
PoA does not require large energy consumption and maintaining the network is inexpensive.

PoA helps networks scale up better.

PoA is suitable for commercial purposes.
VeChain (VET) use cases
Food Safety
Blockchain solutions can drive a more transparent food economy around the world.
Internet of Things (IoT) devices will make it possible for Vechain's application to be deployed across the supply chain, including warehouses, vehicles, and products. After that, environmental and location-based data from these devices can be uploaded, verified, and stored in a decentralized, anti-tampering way on the VeChainThor blockchain. These solutions have been applied to a number of companies such as Shenzhen Yuhongtai Foods.
Anti-counterfeiting
Counterfeiting in the luxury market is a serious problem. By attaching an encrypted chip and then using it to record and track logistics, warehousing, maintenance and resale, owners can rest assured of authenticity. This has been used by Shanghai Waigaoqiao Direct Imports company to trace luxury wines and used during testing of parts of Renault luxury cars.
Health records
The well-known health care record system is outdated. Instead of using inefficient and unsafe recording systems for laboratory results, this valuable data can be stored on the blockchain, with only patients and other authorized parties gaining access. The VeChain-based E-HCert app will be rolled out to patients of both Mediterranean Hospital in Cyprus and Aretaeio Hospital in 2021.
Monitor carbon emissions
By tracking carbon emissions activities, VeChain's blockchain can promote carbon reduction. This solution allows consumers to participate in a plan to reduce carbon emissions. 
If users use cars or carbon load-reducing devices, blockchain helps record data, and users have ability to receive credits to use energy services. BYD, a Chinese electric vehicle brand, used Vechain's solution.
How to store VeChain (VET)
You can store VET and VTHO as well as some other crypto assets in VeChainThor's official wallet on iOS or Android. The official wallet on the desktop is VeChain Sync. In addition, VeChain tokens can also be stored with Ledger wallets and cold storage devices.
Third-party wallets that can store VET and VTHO include Trust Wallet, Cobo Wallet, Atomic Wallet, Arkane Wallet, MySafeWallet, Guarda Wallet, Ellipal, and Exodus.
How many businesses have registered to use VeChain's supply chain technology in real production?
The VeChain project has been developed since 2017. So far there are at least 30 projects running on VeChain.
A few major brands have been using VeChain since 2017. VeChain solution plays an important role in their day-to-day business operations. Companies are constantly creating transactions on the VeChain public blockchain.
For example: DIG (the largest wine importer in China). Their sales increased by 10% after using the VeChain blockchain to track wine and let their customers experience this technology.

See also: What Is Dogecoin?
The future of Vechain, should we invest in VET coins?
VeChain is one of the most successful forks of Ethereum. While many projects still develop DeFi features to build an ecosystem of application platforms, VeChain focuses on technology solutions that apply directly to businesses. VeChain is one of the blockchain platforms that has undergone a long development process. Initially, it focuses on Internet of Things (IoT) technology and supply chain management, but now VeChain has transformed multi-purpose with customizable support for a variety of business purpose. Vechain paves the way for the scalable solution, with extremely fast transactions and low transaction fees.
Besides, one of the main factors that contribute to the success of VeChain is customer network. Currently, the partners and customers who are using the project's technology are global corporations. Moreover, VeChain can take advantage of Chinese market to plan product deployment. From the perspective of the success of the project, we have the opportunity to refer to similar platforms.
Conclusion
The launch of the VeChain project has attracted the attention and trust of the crypto community. However, in the face of the constant fluctuations of the cryptocurrency market, investors should carefully consider the opportunities and risks before making investments to come up with effective and wise strategies.