Bitcoin Halving is a four-year-old block rewards event.
So, how does Bitcoin Halving work? The miners were paid 50 BTC per block when the cryptocurrency was originally established. Early users may be enticed to exploit the network in this way, even if it's not clear how successful it will be. The rate at which new Bitcoin is created halves after every 210,000 blocks mined or about every four years until all 21 million Bitcoins are mined.
According to the history of Bitcoin Halving, the last three halving declines took place in 2012, 2016, and 2020. The first bitcoin split, also known as the Bitcoin split, occurred in 2012 when the reward for mining a block dropped from 50 to 25 BTC.
The Bitcoin Halving event in 2016 reduced the offer to 12.5 BTC per block mined, and as of May 11, 2020, each newly mined block generated only 6.25 new BTC. In 2024, the next round of Bitcoin Halving is expected to take place. This system will continue until about 2140.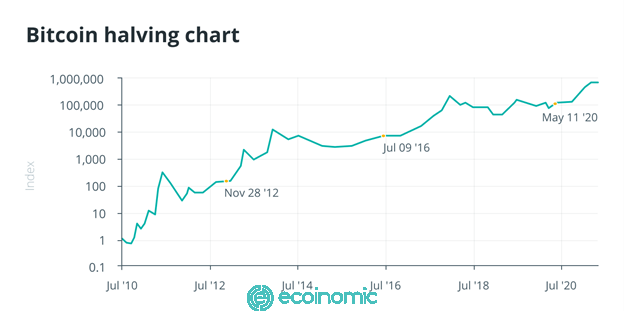 Why does Bitcoin Halving happen?
The Bitcoin Mining algorithm is programmed to search for new blocks every ten minutes. The time it takes to find blocks will decrease as more miners join the network and more hash power. To accomplish the 10-minute goal, the mining difficulty is reset every two weeks or so. The average time it takes to locate a continuous block remains less than 10 minutes (about 9.5 minutes) as the Bitcoin network has grown significantly over the past decade.
Bitcoin's supply is limited to 21 million units. The creation of the new BTC will stop when the total reaches 21 million. Bitcoin Halving ensures that the amount of Bitcoin that can be mined per Block decreases over time, making BTC rarer and more valuable.
Logically, the bitcoin mining engine will decrease as each having is completed. Bitcoin Halving, on the other hand, has been linked to a massive rise in the price of BTC, giving miners more incentive even though their payouts have been halved.
Bitcoin miners are encouraged to continue mining as prices rise. Miners, on the other hand, could lose the incentive to create more Bitcoin if the price of the digital currency does not rise and the block rewards are reduced. This is because Bitcoin mining is a time-consuming and expensive operation that requires a lot of computer power and electricity.
Why is Bitcoin Halving important?
Bitcoin Halving often comes with a lot of turmoil for cryptocurrencies. As a result of the halving cycle, the supply of available Bitcoin decreases, increasing the value of untapped Bitcoin. With such changes, there is an opportunity to make a profit.
On November 28, 2012, when the price of BTC was around $12, the first round of Bitcoin Halving took place. A year later, Bitcoin rose to nearly $1,000, the second price drop occurred on July 9, 2016, and the Bitcoin price plummeted to $670 at the time but rose to $2,550 in July 2017. Bitcoin hit an all-time high of around $19,700 in December of that year. The price of Bitcoin was $8,787 at the time of bitcoin Halving most recently, in May 2020, and it exploded in the following months.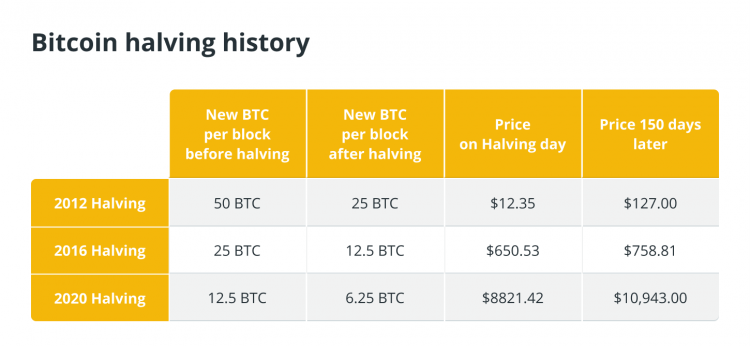 Other factors to consider when analyzing the post-Bitcoin Halving boom:
The press reported more on cryptocurrencies and Bitcoin.

A fascination with the anonymity of digital assets.

The number of real-world currency use cases is increasing.
However, if you believe in the value of history, then Bitcoin halving in the past has been a long-term bullish driver for cryptocurrency prices. Basically, when the economic benefits of mining become less attractive for underperforming, unprofitable miners, the number of Bitcoin miners is predicted to decline.
Bitcoin Halving symbolizes the deflationary trend of bitcoin regularly. This has been at the core of the bullish case for Bitcoin since its inception. That is, Bitcoin is a decentralized cryptocurrency that cannot be forgotten by the government or central bank, and the Total Supply is completely known.
The meaning of the Bitcoin Halving event
In terms of broad implications, the low bitcoin mining rewards will reduce the amount of money miners can earn by adding new transactions to the blockchain. The miner's reward decides the new Bitcoin flow is circulating. Therefore, halving these payments will reduce the flow of new Bitcoin coins. In the economic sense, while supply decreases, demand fluctuates (up or down), and as a result prices change.
Bitcoin's Inflation rate has also declined. Inflation is a loss of purchasing power for anything, in this case currency. However, Bitcoin's underlying infrastructure is designed to become a deflationary asset. To achieve this, Bitcoin Halving plays an important role.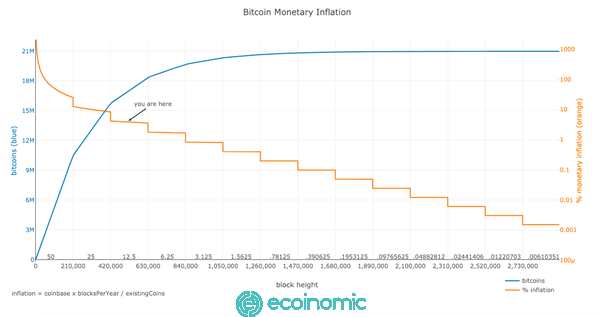 Bitcoin's inflation rate was 50% in 2011, but after halving in 2012, it plummeted to 12% in 2012 and 4-5% in 2016. Currently, the inflation rate is 1.77%. This means that after each halving, the value of Bitcoin will increase. Every Bitcoin Halving event in history has resulted in a rally in the price for Bitcoin. Prices rise when supply decreases, causing demand to increase. However, this upward trend will not take place immediately.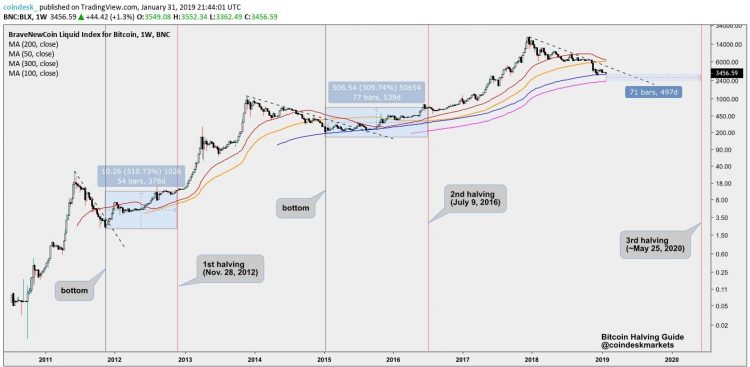 Due to the high electricity costs used to power computers that solve mathematical puzzles, the price of BTC will have to rise significantly for miners to receive half the amount. Miners will have difficulty maintaining competitiveness and trading if prices do not rise along with a drop in rewards.
Miners will need to be as efficient as possible. Therefore, a new technology that can generate more hash per second while consuming less energy and reducing costs will be in demand.
What happens if the digger joins in?
For Bitcoin mining, hashrate is defined as the amount of SHA-256 computing activity performed per second. This value increases as the number of miners increases.
If multiple miners decide to depart simultaneously, the network may experience momentary bottlenecks as users move to faster chains, making it easier for fraudulent users to take over much of the network.
However, historical evidence suggests that Bitcoin Halving events do not cause this situation.
When the first Bitcoin Halving event occurred in 2012, Bitcoin's Hash rate fell somewhat from December 2012 to mid-February 2013. 
Bitcoin Having for the first time:
Bitcoin price rises sharply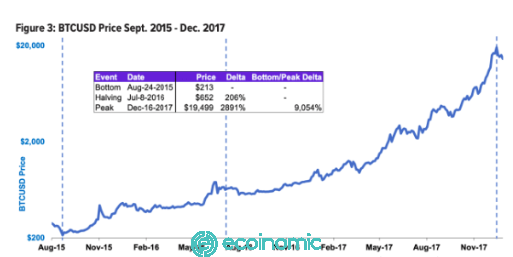 The above price chart shows that Bitcoin started a Bull Market (strong growth) before the halving event one year (November 2011) and lasted until one year after Halving (November 2013).
With a strong growth of +50.162%, from a value of $2.29, Bitcoin reached $1,114 in early December 2013.
Soon after, Bitcoin entered a downtrend with an 80% drop in its true value a year later.
Hashrate plummets

Two weeks after Halving, Bitcoin's hashrate dropped sharply ~37.86% from 29.145T to 18.11T.
This shows that the number of miners has decreased quite a bit after halving occurs.
Mining profits fall sharply

Immediately after Halving took place, bitcoin mining profits immediately dropped by more than 60% and it took two months to recover to their original levels.
A similar scenario occurred during bitcoin's second halving, but the beneficial effects took longer to manifest. Hash rates continue to rise steadily, but mining profits have not recovered in nearly a year after the day halved. If this pattern continues in the next event, mining profits may be reduced in the long run.
The second Bitcoin Having event
Bitcoin price rises sharply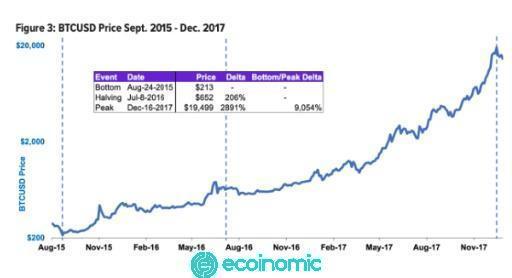 The chart above shows that the bitcoin price entered the bull market before the nine-month Halving event, which lasted until a year after Halving.
The bull market's earlier arrival could be affected by bitcoin halving time 150 days earlier than the first.
At the end of the bull market, the price of Bitcoin surged 9000% from $213 to $19,500. After that, Bitcoin immediately entered the downtrend cycle, causing the value to drop by 80% from the top.
Hashrate decreases

After Halving, bitcoin's hashrate levels this time only decreased, appearing to fluctuate slightly as if nothing had happened.
This proves that the number of miners involved in the network has been expanded quite large and still retains the belief to mine Bitcoin.
Mining profits fall

Bitcoin mining profits fell by ~51.2% after Halving took place and it took nearly 10 months for this profit to be restored.
See also: What Is Market Cap? Explain Crypto Market Capitalization In 2 Minutes
When is the next Bitcoin Halving event?
More than 18.5 million, or nearly 89%, of the 21 million BTC that once existed have been mined and are in circulation. Every day, about 900 new Bitcoins are mined and put into digital circulation, while faster mining speeds lead to higher mining speeds, so possibly more.
As Halving continues, the pace of bitcoin supply growth will slow down until all 21 million BTC has been mined. It is predicted that the last segments of Bitcoin will be mined by 2140.
The payment for the extraction of a block will again be halved in the future, but no date has been set. When the 210,000th block is mined since the last halving, the answer will be revealed.
As new Bitcoin is mined every 10 minutes, the next halving is likely to occur in early 2024 – at that point, the miner's payout will drop to B3,125 B.