Many people know the cryptocurrency space for the first time through the concept of "mining", "Bitcoin", and "Bitcoin mining". And with the development of the cryptocurrency market in general, besides regular cryptocurrency trading, many people choose Bitcoin mining as their main job to directly own BTC and trade for profit. In this article, Ecoinomic.io will discuss Bitcoin Mining and the surrounding issues.
What is Bitcoin Mining?
Bitcoin mining is the process of creating valid blocks to add transaction information to the Bitcoin ledger (Bitcoin blockchain). In other words, Bitcoin mining is the process of decrypting algorithms and confirming transactions on the Bitcoin blockchain thanks to the use of miners (computers with powerful configurations and supporting software). Bitcoin miners (miners) will receive a reward of BTC, called a block reward.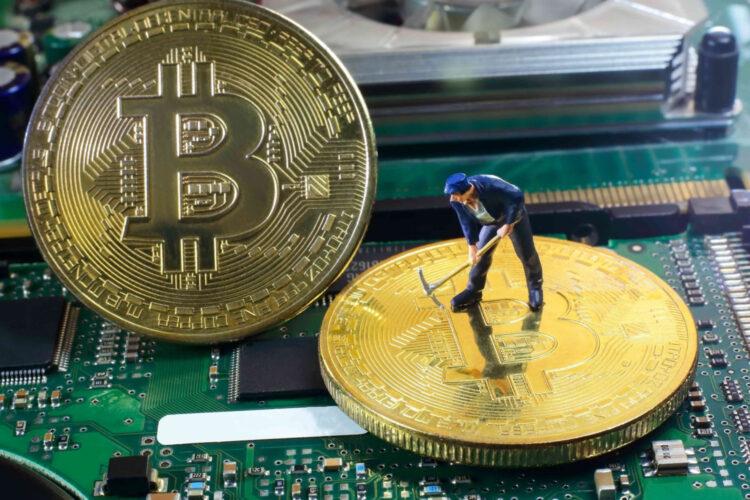 How to mine Bitcoin?
To add a successful block, Bitcoin miners compete to solve extremely complex problems that require the use of expensive computers and constant amounts of power. To complete the mining process, the miner must be the first to come to the correct or closest answer to the question. The process of guessing the correct number (hash) is called Proof of Work. Miners guess the target hash by randomly executing as many guesses as quickly as possible, which requires great computing power. The difficulty of doing so increases as more miners join the network.
The required computer hardware is called an application-specific integrated circuit or ASIC and can cost up to $10,000. The power consumption of ASICs is quite high compared to conventional equipment, which is often targeted by those who do not like this job and claim that it adversely affects the environment.
If a miner can successfully add a block to the blockchain, they will receive 6.25 Bitcoins as a reward. The prize money is cut in half every four years or every 210,000 blocks. As of October 2022, Bitcoin is trading at around $20,000, generating 6.25 Bitcoins worth $125,000.
By 2040, the block reward will fall below 0.2 BTC, with 21 million BTC leaving only 80,000. After 2140, the BTC block will finally be mined and bitcoin mining will end.
Why mine Bitcoin?
In a way, Bitcoin mining is comparable to gold mining. Because both of these activities consume energy and can generate significant financial rewards.
Therefore, you can mine Bitcoin for profits and rewards. Some Bitcoin miners form mining pools through collaboration with several other miners. Compared to single mining, mining Bitcoin in groups has a significantly better chance of making a profit. However, participants need to pay a fee to become a member of the mining team.
Is Bitcoin mining really profitable or not?
To answer the above question, the miner needs to conduct a cost-profit analysis to see if Bitcoin mining is really worth the effort. This analysis makes it possible for operators to determine which actions to take and which ones to avoid.
Before starting Bitcoin mining, miners need to identify some of the following issues to see if this mining operation is profitable:
The amount of capital invested in the initial hardening equipment.
The future of Bitcoin's value.
Bitcoin mining difficulty.
As mining difficulty decreases, there are fewer Active Bitcoin miners and BTC mining becomes easier. Conversely, when there are more active miners, the mining difficulty increases.
How do Bitcoin miners profit?
The network rewards Bitcoin miners for creating new blocks. There are two types of rewards: new Bitcoins are created with each block and user fees are paid for each transaction on the network.
Currently, the Bitcoin block reward is 6.25 BTC/block. This is the majority of Bitcoin miners' revenue. This value is set to halve periodically after about 4 years.
When Bitcoin is fully or insignificantly mined, the reward for miners will be based solely on transaction fees paid by those using the network
Although the block reward decreases, this is offset by the increase in BTC price. While this does not guarantee future results, it does guarantee a level of certainty about the outlook for miners. The Bitcoin mining community is very supportive of the current mining arrangements and has no plans to change it. Individual Bitcoin miners believe that partnering with other miners can result in higher profits. While Bitcoin mining is a competitive field, getting started is relatively easy. Years ago, mining Bitcoin was quite easy, miners just started some software on their computers and got started. But at the moment, Bitcoin mining requires relatively expensive specialized mining equipment.
How to start Bitcoin mining?
Here are the basics that you need to mine Bitcoin
BTC Storage Cryptocurrency Wallet: This is an encrypted online account that allows users to store, transfer, and receive BTC and other cryptocurrencies.
Mining software: There are many different mining software providers, even offering software that is free to download and can run on Windows and IOS operating systems. Bitcoin mining can be conducted after the software is connected to the appropriate hardware device.
Computer equipment: This is the most expensive part. Bitcoin mining requires a powerful computer and uses a huge amount of electricity. Hardware costs can reach $10,000 or more.
Risks of Bitcoin Mining
Bitcoin Price Movements
BTC price has changed significantly since its launch in 2009. At one point, BTC traded at as low as $20,000 and as high as $69,000. However, it is difficult for Bitcoin miners to determine if their mining rewards will increase as mining costs rise.
Bitcoin Mining Regulations
Few countries accept cryptocurrencies, and many doubt how this asset class operates outside of government control. Therefore, there is always the possibility that the government could completely ban the mining of cryptocurrencies in general and Bitcoin in particular citing financial risks and the skyrocketing increase of speculative transactions (for example, China banned cryptocurrency mining in 2021).
Conclusion
While Bitcoin mining may sound tempting, the reality is that it is difficult and expensive to be truly profitable. The sharp volatility of Bitcoin's price adds uncertainty to this activity.
Currently, Bitcoin mining is almost only suitable for large mining studios because they have long-term funding and support from suitable locations and equipment.
However, regardless of the form of joining the cryptocurrency space, Ecoinomic.io wish you the right decisions and high profits from this potential market.