What is a Bitcoin ATM?
Bitcoin ATMs are understood as locations that give users the option to buy or sell cryptocurrencies in cash. The big difference with regular ATMs is that Bitcoin ATMs create cryptocurrency transactions sent to users' digital wallets based on the BlockChain platform and through QR codes.
The concept of Bitcoin ATM is now generally quite alien to Asian people, as the main distribution density of 90% is in Western countries with specific numbers such as in the US (29,801), followed by Canada (2,133), Europe (1,384), Spain (168), Austria (144), Switzerland (137) and the UK (101). (According to data collected by coinatmradar.com December 2021)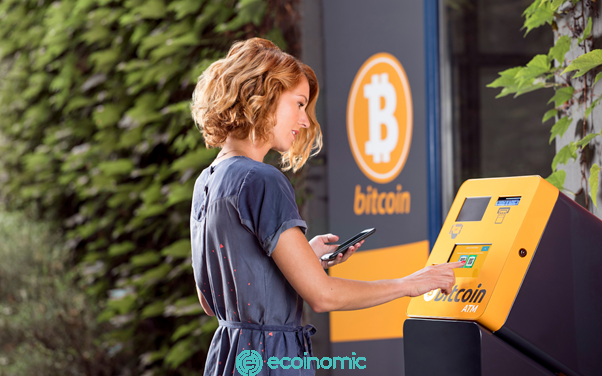 Advantages and disadvantages of Bitcoin ATMs
The emergence of Bitcoin ATMs received great support from the cryptocurrency community, so after 3 years of launch, by the end of 2016, the number of Bitcoin ATMs worldwide exceeded 800 machines globally, of which in the US it is the majority (more than 500 Bitcoin ATMs).
And Vietnam at that time also had 3 Bitcoin ATM locations located in Ho Chi Minh City.
So what are the advantages and disadvantages of Bitcoin ATM to being able to develop such a large and powerful network?
Advantages:
Nowadays when it comes to Bitcoin ATM people often think of their outstanding characteristics.
We've all used or used cash ATMs regularly, either in one form or another. In fact, Bitcoin ATMs are not much different from traditional ATMs used to send cash, so when using Bitcoin ATMs, most holders do not have much difficulty in using them.
The special feature of Bitcoin ATMs today is that even if you don't have any bitcoin-related cards, you can still take out cash and transact at will thanks to the QR code on the smartphone app issued by the Bitcoin ATM operator.
In addition, QR codes can also be used to verify user identities, activate e-wallet status, and provide you with the appropriate options available.
All of these processes usually take only a minute or less to complete, which is equivalent to a regular ATM,
Pioneering new technology leads the way
The cryptocurrency industry is growing at a tremendous rate, which could accelerate more than 10 times over the next few years, so these forms of currency trading and exchange are also being strengthened, through further research and development, and Bitcoin ATM is an example.
Shortcoming 
Along with the series of advantages above, Bitcoin ATM also encounters some limitations that make it difficult and confusing for many people to decide to use this form of transaction.
Availability and coverage are not wide
Because the technology is quite new, the current Bitcoin ATM network has not covered the number of major cities, airports, hotels, and train stations such as traditional ATMs. This can cause difficult problems for people who live far and offline from the scope of these Bitcoin ATMs.
However, in the context of the expanding technology and the increasing level of development of cryptocurrency transactions as it is today, the number of ATMs is expected to only continue to increase over time.
Although this Bitcoin ATM system works outside the banking network, to operate, they also Borrow a lot from its own system, so transaction fees always occur no matter which Bitcoin ATM operator you choose.
According to current estimates, the average transaction fee at these ATMs is about 8% per transaction, but there are still companies that charge up to more than 30% per transaction.
On the current momentum, the technology is still evolving until the number of users accepting the service reaches the average number, this number is absolutely not a strong point for Bitcoin ATM.
Therefore, companies and factories that are providing Bitcoin ATM services are trying to increase working hours to expand their reach and reduce transaction fees with a lot of additional options that come with their services.
While the current rate of transaction fees is not ideal, the belief and concept of being able to withdraw Bitcoin also partially offset this limitation.
Bitcoin ATMs are basically the same as traditional ATMs, so it's inevitable that incidents such as software glitching, cash outages, and some other form of error.
In this case, the user needs to contact the cryptocurrency company that is operating the ATM as soon as possible, however, the troubleshooting usually does not have quick results to ensure the transaction is conducted as soon as intended.
The reason given is that Bitcoin ATMs are still in the early stages of development, and the infrastructure is still being improved, so when these problems occur, the processing can take several weeks or more for employees to appear to repair the machine or refill cash into the warehouse.
However, if you have or regularly used traditional ATMs, you can also assess the quality of their operations and reliability, and so do Bitcoin ATMs. This means that although there is a possibility, the rate of incidents versus transactions is negligible.
In the United Kingdom on March 11, the Monetary Authority (FCA) announced the closure of bitcoin ATMs due to legal charges. 
Conclusion
Currently, this form is still not popular in Vietnam in general and Asia in particular, however, there is no denying that cryptocurrencies are increasingly recognized, popular, and widely adopted and Bitcoin ATM is also a big step forward in bringing cryptocurrencies closer to people.
Although there are many ways to trade and this is a new form, with the above information, hopefully, you also have more perspective to consider using Bitcoin ATM when the need arises. Thank you for reading the article.