Reddit user Joe Greene started experimenting with the Top 10 cryptocurrencies in 2018 when he bought $1,000 of DASH, NEM, and IOTA, among others, and only observed when it dropped to $150. However, after 5 years, his experiment yielded great results.
Greene's Test Rule: Buy $100 for each of the top 10 cryptocurrencies on January 1, 2018, 2019, 2020, and 2021. Besides, Greene only keeps, does not sell, does not trade, and has monthly reports.
Every January since 2018, Greene has reviewed the list of the top 10 cryptocurrencies by market capitalization. He buys $100 into each coin, tracks performance every four months or so, and publishes the findings on his website and on Reddit.
When he started, crypto indices were few and rare, so there wasn't an easier alternative. Having been involved in investing in stocks for years before turning to cryptocurrencies, Greene has predicted that chasing tokens during a hot streak is dangerous – unless this is done consistently – and this has actually been proven by his experiment with the top 10 Crypto Index Fund.
Bitcoin in 2017
Like most others that year, Greene was attracted by bitcoin's sudden rise in the Bull Market in 2017. "I remember I was looking to buy a rig to mine, but it all sold out. So I thought, whatever happens, I'm just going to buy some coins." The combination of the underlying technology, financial factors, and future direction of this asset class has kept Greene in the cryptocurrency sector. He has been blogging about the project ever since.
At first, cryptocurrency was fairly new to Greene. He explains:
"I've looked through Reddit and some online articles, and everyone is getting pretty thin returns, even though they're capable but not yet promising big success."
Faced with uncertainty, Greene decided to stick to his investment philosophy of holding what he bought and limiting over-trading. "Apart from cryptocurrencies, I am not a trader and I believe that very few people/(only a fraction of people) entering the crypto market are traders. Greene says that "only 0.5% of traders are profitable in the long run and I am not a crypto trader. I've learned my lesson a long time ago." Greene's basic philosophy is that investing in ultra-diversified, low-cost index funds is the safest — which is Warren Buffett's advice to the majority of investors. But there wasn't anything like it at the end of 2017. So Greene decided to do it alone.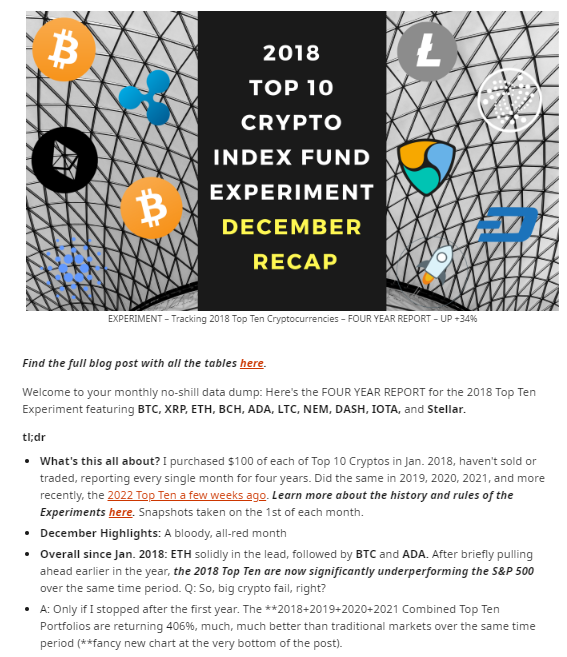 Winners have it all
Greene thinks that, like stocks, cryptocurrencies also show signs of "winner takes all." In it for a long time, the winner continues to win and the loser continues to fail on the investment. After all, the best-performing cryptocurrencies attract all the media attention, Google searches, institutional interest, the euphoria of retailers, etc. So Greene hypothesizes that for individuals who don't know much about the crypto space, the best thing they should do is just follow the top players and be consistent about doing so.
And so, from 2018 onwards, Greene compiled a list of the top 10 cryptocurrencies on CoinMarketCap at the beginning of each January of each year and tracked their performance over time.
Greene said that the best lesson he learned during this period was the power of Dollar-Cost Averaging (DCA) – regularly buying a cryptocurrency and not considering its market price. This calms the volatility of the purchase price and brings it closer to the average price for the period in which it was purchased.
"Things that go up don't always just go up, but the risk can be minimized with monthly rebalancing," he said. My initial portfolio in 2018 included tokens like Dash, NEM, Iota, and more. But there were protests after that, and if you had trouble rebalancing, you would have done the same thing I did."
Crypto Winter OG version
In fact, when Greene placed $1,000 on each of the top 10 cryptocurrencies in January 2018, his portfolio dropped to just under $150 worth just 12 months later.
However, patience pays off, and for those who consistently invest $1,000 in the top 10 cryptocurrencies by Market Cap every January from 2018 onwards, that portfolio recovers 87% of the assets it has accumulated. Over the same period, the S&P 500 benchmark recovered 24%.
Greene points out that the strategy of sticking to the big hitters — if implemented consistently — will work in the long run. So far, his portfolio of the top 10 cryptocurrencies of 2019, 2020, 2021, and 2022 has recovered to +126%, 338%, +177%, and -69% respectively (unsurprisingly), and they make up for each other during the Bear market period.
"It's not something weird, in the same way, Twitter shills claim you can make 10,000% in a week by putting your life savings into cryptocurrency," he said. "For any type of index, you'll never get the best returns, but it will protect you from the worst possible outcomes,"
Greene explained that his method would work better if the index could track the entire market and not just the top cryptocurrencies. "Over the same time period, a market-wide cryptocurrency index will bring 224% growth," he said.
"That's the strength of index investing. I have a normal job and a family to take care of. Therefore, I can't spend 10 hours a day on Twitter and Discord and try to figure out which cryptocurrency will go up the most. I also like NFTs. So we need an investment method for ordinary people whose lives are not for cryptocurrencies."
Greene's experiments and methods have attracted a lot of interest from crypto enthusiasts on social media. When asked about any interesting investment behaviors or trading patterns he's observed among his followers over the years, Greene said that there are plenty of people who observe price movements with the benefit of hindsight: "It's like saying, 'Hey, I bought DOGE because it went up, you should buy it too. I can't answer that, and they're right. But the trick is that they anticipate it."
There are also a lot of surprises: "A lot of Bitcoin fans have turned to Ethereum over the years. Then there's BNB Coin, no one really expects that coin to be big, and I think even Binance CEO Changpeng Zhao didn't expect that."
On his blog, Greene also has a section dedicated to sharing financial insights, pointing out that retail investors should keep track of their bills and ensure finances are in satisfactory condition and never risk more than they could afford to lose. He is used to people with a cautious mindset.
"Those are people who don't trade cryptocurrencies every day. And I tell them, don't throw everything you have into cryptocurrency — it's a bad idea."
The decade of the Top 10 Cryptocurrencies
Greene plans to continue the Top 10 Crypto Index Fund until it reaches a decade or so. "After all, I have a family… and a full-time committed job, which can be quite stressful at times."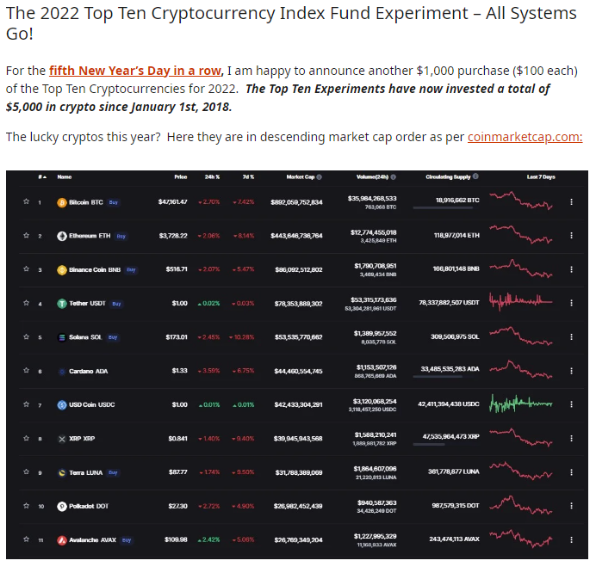 But Greene warns that while the cumulative performance of the test is still good, it's important to be wary of serious price drops: "Consider this year: There are currently four stablecoins on the list of the top ten cryptocurrencies. It's a little boring, so I'm going to have to change things around a little bit," he said, adding, "But I should probably follow what I already know best. This year, I've also been trying to get bonuses on DeFi. It was $130 USD Coin, which I exchanged for TerraUSD, just for fun, and then I sent it to LUNA, which dropped dramatically."
See also: What Ethereum developers did to the network after The Merge