An admin proposal on Aave was considered to halt ETH borrowing prior to The Merge event following users trying to maximize ETHPoW airdrops. The vote received 77.87% of the vote in favor.
"The proposal to halt ETH borrowing in the run-up to The Merge Ethereum…

On the eve of Ethereum's milestone, the Aave protocol faces the risk of overcapacity in the ETH market. Pausing ETH borrowing will minimize the risks posed by this."
The proposal states that the motive for this move is to protect against the overuse of capacity in the ETH market. The reason for this is that users are likely to benefit from forked ETH PoW (ETHW) by borrowing ETH before The Merge event.
Interestingly, Aave did not vote to completely halt operations on the Ethereum network, simply to halt ETH borrowing.
The proposal also explains how high borrowing rates can lead to unprofitable stETH/ETH positions, increasing the likelihood of users loosening their positions and causing further arbitrage in stETH/ETH prices, causing additional liquidations and insolvency. More information about the proposal can be found on the admin forum.
According to the chart, the 15% dependency will not be able to cause large liquidations on the Aave platform. However, if this rate establishes a deviation of 50%, there may be a liquidation of more than $ 500 million.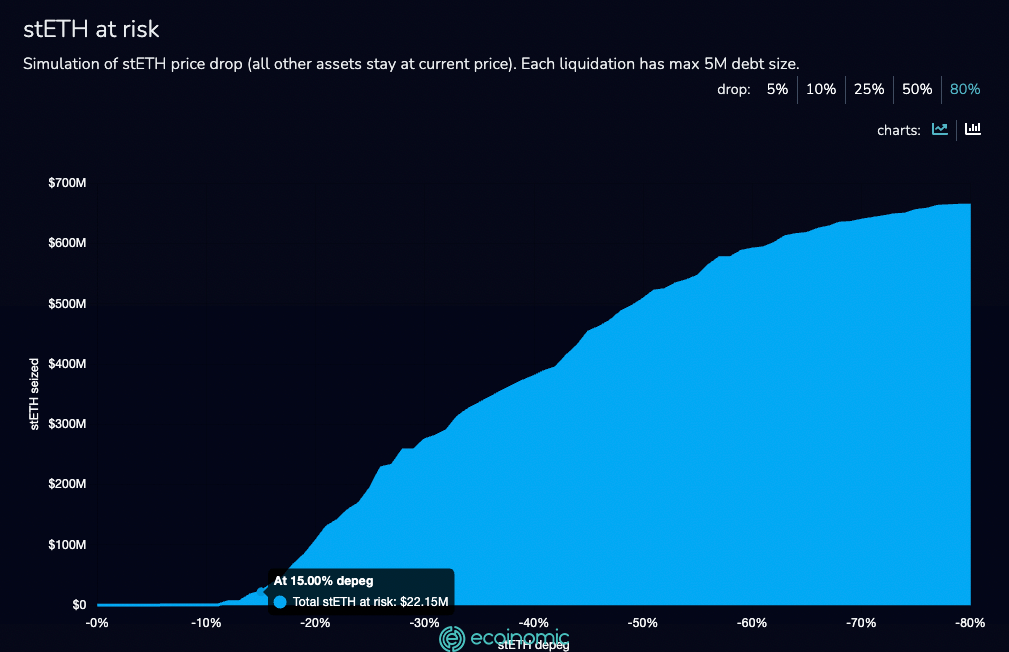 Furthermore, the analysis of wallets using the Aave platform uncovered some unusual user behavior when building ETH/ETH positions. The rationale for such a strategy is to maximize the visibility of ETH to take advantage of any ETHPoW fork.
The additional risks and scenarios that led to the call for governance proposals to halt ETH borrowing were detailed on the governance forum. However, it seems that THE DAO is doing well in protecting this Defi and self-governing platform.
Governance token holders raised a potential concern and the community voted to protect the best interests of the market. The proposal is available for rollout from 1 a.m. BST on Wednesday.