According to Scamwatch's latest data, Australians are duped by investment and cryptocurrency-related scams and lost A$242.5 million in 2022.
From January to July this year, the majority of the money lost by scams of all kinds were investment scams, including classic Ponzi schemes and cryptocurrency scams.
This is already 36% higher than the figure for the whole of 2021, which suggests that Australians lost AUD 178.2 million to investment scams during the year.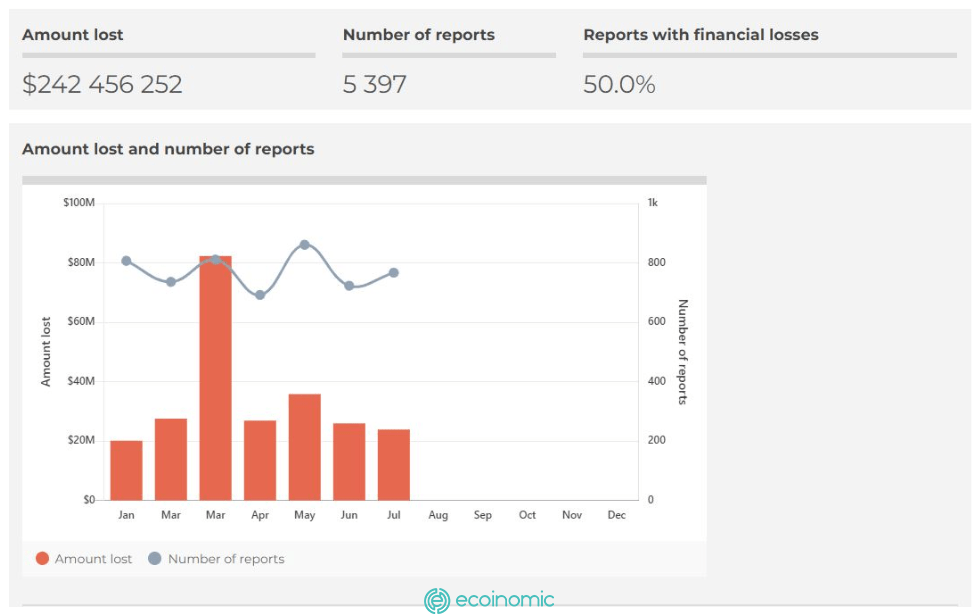 It is a threat and banks shoulder a lot of responsibility in reimbursement for scams to "promote more investment in fraud prevention."
According to a September 8 report from the Australian Broadcasting Corporation (ABC), advocacy groups are asking banks to check recipient names match account names when funds are transferred online.
Ceo Gerard Brody, executive director of the Consumer Action Law Center, said: "The key reform is to shift that responsibility from individual consumers to banks when fraud losses occur.
"They [the bank] ask you for your account name, but they don't really check."
However, banks want more customers to use the optional PayID technology, which allows customers to see the name tied to the BSB and account number.
Australian authorities have stepped up scrutiny of the crypto space amid an increase in cryptocurrency scams, hacking, and a general market downturn.
On 9/11, Australian Securities and Investments Commission (ASIC) commissioner Sean Hughes advised investors to understand that investing in crypto assets is a form of "high-risk tolerance."
"We want to be very clear in our messages to consumers when entering the market," ASIC commissioner Sean Hughes told an Institute of Management conference.
"We think crypto assets are highly volatile, inherently risky and complex."
In August, the Australian Federal Police set up a task force to monitor cryptocurrency-related transactions, after calling cryptocurrencies an "emerging threat" amid an increase in criminal activity surrounding the technology.
In August, the New Australian Labor government announced its stance on cryptocurrency regulation, while cryptocurrency exchange Binance Australia also announced in August it would tighten onboarding processes for new users to protect users.