Celsius Network platform is preparing for restructuring ahead of SEC warning of excessive cryptocurrency interest rates
Celsius prepares for restructuring process
On June 15, the Wall Street Journal reported that Celsius Network had hired law firm Akin Gump Strauss Hauer & Feld LLP to prepare for a "debt restructuring" process, finding solutions to financial problems.
The WSJ source said Celsius "is considering financial options from investors, but is not ignoring other possibilities such as restructuring the company."
Crypto lender Celsius hires restructuring lawyers after account freeze – WSJhttps://t.co/t3UXRJEWCF

— IGSquawk (@IGSquawk) June 15, 2022
Ever since the stoken started stETH – which represents ETH stacking on Lido – slipped against ETH on Curve – Celsius' problem has officially begun. This is because many people fear that the project will no longer have enough liquidity to check users and conduct massive withdrawals because the majority of Celsius' assets are in the form of stETH.
On the morning of June 13, Celsius' announcement of the suspension of transfers, swaps and withdrawals caused a stir in the crypto market. Celsius' move triggered a sharp sell-off, causing the total cryptocurrency Market Capitalization to drop below $1 trillion, the lowest level since the December 2020-January 2021 period.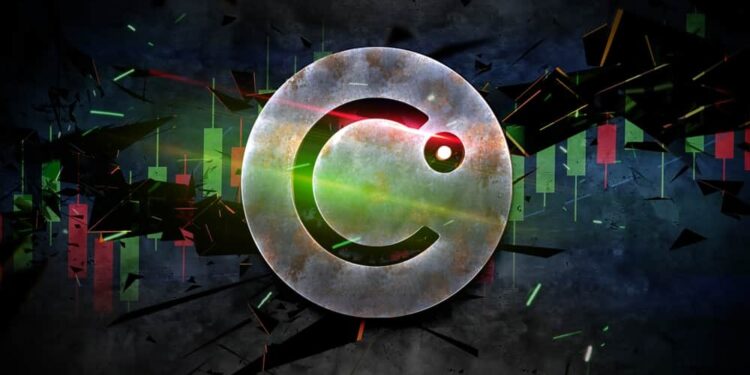 procedures
Many people have "dug back" Celsius' announcement on Twitter that in bad cases such as default, bankruptcy or incapacity of financial autonomy, the crypto assets of users in the Earn service or collateral in the Borrow service may not be recovered and users will have no rights to Celsius except that become a creditor of this platform in accordance with the applicable law.
Oof pic.twitter.com/vrQ8SQHwle

— icebergy ❄️ (@icebergy_) June 13, 2022
SEC warning
On June 15, the chairman of the U.S. Securities and Exchange Commission warned the public to be wary of cryptocurrency lending platforms that promise higher interest rates and exceed what regulated institutions offer.
Speaking at the Robert F. Investor Conference on Human Rights Protection. "Sometimes, if that seems too good, it can be too risky in terms of sites that talk about 7% or 17% returns," kennedy said.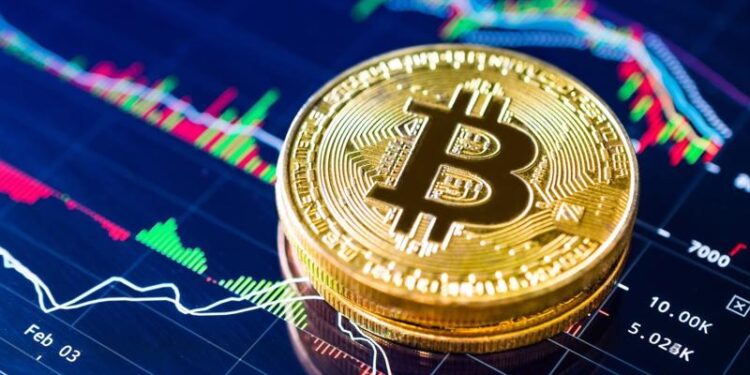 Celsius has not publicly commented on claims that it has hired restructuring lawyers. That leaves Celsius facing criticism for not providing regular updates to users.
Celsius strives to maintain liquidity
On June 14, Celsius said it was working hard for the community. "Celsius Network is operating as fast as possible and will share information as needed. Acting in the interests of the community remains our top priority."
.@CelsiusNetwork is working as quickly as possible and will share information as and when it becomes appropriate. Acting in the interest of our community remains our top priority.

— Celsius (@CelsiusNetwork) June 14, 2022
Some Twitter users no longer trust Celsius until withdrawal transfers are reactivated so that customers withdraw their accounts as quickly as possible.
Celsius is still actively mortgaged the remaining assets to maintain dai loan orders on Maker in order to meet liquidity. As of June 15, Celsius was spending 39,862 WBTC (worth more than half a billion USD) to borrow 231 million DAI – the largest DAI loan order on Maker at the moment. This loan order will be liquidated if the BTC price drops to the $14,000 mark.
The $304 million loan orders on Aave and $217 million on Celsius' Compound are also considered to be more stable than as of June 13, although the collateral for stablecoin loans is still the whole of StETH and WBTC.
1/10 Celsius on-chain positioning update🧵

TL;DR: Significantly healthier.

Celsius continue to find more shekels, adding to their collateral across the board for 3 main positions:

1) Maker wBTC Vault now has a liquidation price of $14k, having paid down more of their DAI debt pic.twitter.com/UWBB1BUgAC

— DeFiyst (@DeFiyst) June 14, 2022
CEL, the platform's original token, has been trading particularly erratic over the past 24 hours. On June 14, it went up from $0.33 to $1.17 in less than 90 minutes — a 254% increase. Just half an hour after reaching this peak, CEL fell back to $0.55. This unusual trading activity can be a "short kill" phase.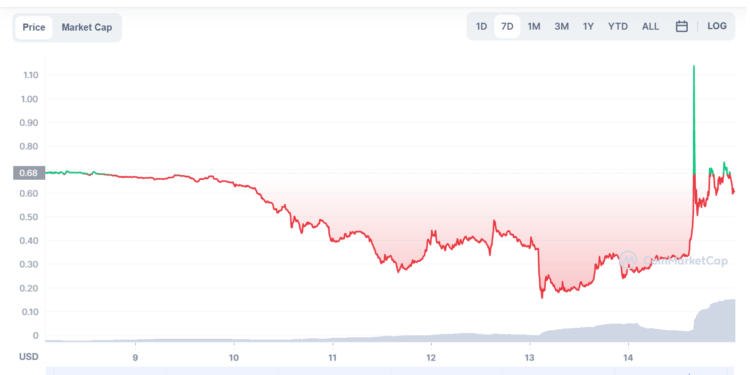 7 days
After the two days of June 13 and June 14 continuously collapsed to 0.92 and 0.93, the stETH/ETH exchange rate is gradually showing signs of recovery when it reaches 0.95. Major hedge funds, including Alameda Research and Three Arrows Capital, said it could be attributed to the mass discharge of stETH in recent days. With the market situation going down, Three Arrows Capital has sparked rumors that it is facing a lot of difficulties before the situation.