Cosmos' leading developers want to introduce new tokenomics, MEV marketplace on the chain, a system that streamlines economic coordination on cosmos blockchains, and a new governance structure for Cosmos Hub.
ATOM 2.0 revealed
Cosmos Hub is having a "makeover".
ATOM 2.0's Whitepaper was released today following a series of speeches by Cosmos co-founder Ethan Buchman, Osmosis co-founder Sunny Aggrawal and Iqlude co-founder Zaki Manian at Cosmoverse. The Cosmos event began this morning in Medellín, Colombia, and will run through September 28.
The 27-page document, simply titled 'The Cosmos Hub' was written by Buchman, Manian, and eight other leading figures of the Cosmos community. Although it outlines the new tokens of the Cosmos Hub token, ATOM, the most notable article is a proposal to implement many new features for the wider Cosmos ecosystem.
New ATOM Tokenomics
Cosmos is a decentralized network of independent blockchains. Not to be confused with the vast Cosmos ecosystem. Cosmos Hub is a specific blockchain designed to connect all other blockchains in the network. Currently, ATOM's main purpose is to provide security for Cosmos Hub through staking.
ATOM's crypto engine has received much criticism for its inflationary impact. ATOM releases currently vary between the lowest 20% and the best 7% depending on the percentage of total ATOM supply staked. While the total ATOM supply hovered at around 214 million in March 2019, data from CoinGecko indicates that more than 292.5 million ATOM tokens are currently in circulation – an increase of around 36.68%.
The whitepaper proposes a new monetary policy for ATOM in two steps. A 36-month transition period will be introduced for the first time, at the start of which 10 million ATOM will be issued per month (which quickly increases the Inflation rate to 41.03%). After that, the release rate will gradually decrease until it reaches emissions of 300,000 ATOM per month, effectively bringing the ATOM inflation rate down to 0.1%.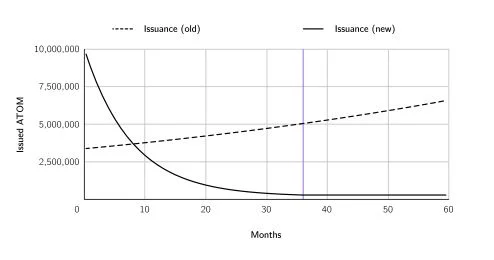 In the long term, the release of ATOM will therefore become linear instead of exponential.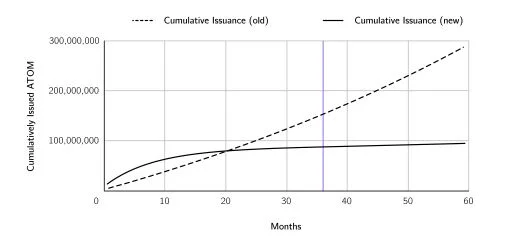 The main reason behind ATOM's current monetary policy is to subsidize Cosmos Hub authenticators to provide security services. Under the new model, validators will instead be rewarded with revenue generated by Interchain Security —a mechanism that allows Cosmos Hub to create blocks for other blockchains in the Cosmos ecosystem.
Interchain Security is expected to make the creation of a Cosmos blockchain a faster, cheaper, and easier process: it will also enable the creation of scaling solutions and increase overall IBC connectivity. A secure mechanism would allow the original ATOM release model to be gradually restored if Interchain Security's revenue is not sufficient as a replacement for validators.
Three new features of Cosmos Hub
The official report proposes to introduce three key features for Cosmos Hub: the Interchain Scheduler, the Interchain Allocator, and the Governance Stack.
The Interchain Scheduler
Interchain Scheduler will act as an MEV solution. MEV stands for "Maximum Extractable Value", referring to the profit that can be made by rearranging transactions in a block when it is being produced. Generally considered inevitable, this activity has extracted more than $675 million from Ethereum users since January 1, 2020. MEV mining is already streamlined on Ethereum through off-chain services like Flashbots. Extractors (known as "seekers") use these relays to negotiate with validators to implement their MEV strategies.
The Cosmos Center's Interchain Scheduler intends to bring these negotiations into the chain and the wider network that benefits from them. A ready-made Cosmos blockchain could sell part of its block space to the Interchain Scheduler; the second one will then release as NFTs representing the "reservation" block space. These tokens will be auctioned periodically and can even be traded on secondary markets. After that, the initial blockchain will receive a portion of the proceeds. According to the whitepaper, the Interchain Scheduler will add off-chain MEV relays, promoting competition and decentralization of operations.
The Interchain Allocator
The goal of Interchain Allocator will be to streamline economic coordination on the Cosmos network. By establishing multilateral agreements between IBCs and institutions, Allocator is expected to accelerate user collection and liquidity for Cosmos projects while securing ATOM's position as the network's reserve currency. Protocols can use Allocator to jointly contribute capital, expand ATOM's liquidity Staking market, rebalance reserves, or participate in the governance of another blockchain. It will also open up the possibility of providing liquidity as a service, secure under-collateral financing activities, and minimize the possibility of insolvency due to harsh market conditions.
According to the whitepaper, the liquidity unlocked by Scheduler and Allocator will result in Cosmos Hub having an "asymmetric advantage" over other liquidity providers in the Cosmos network: blockchain will benefit from funding; providing capital that will reduce its security risks; therefore it will be able to provide even more capital, etc.
The Governance Stack
Finally, the whitepaper advocates the creation of a governance superstructure for the entire Cosmos network, called The Governance Stack. Unlike Allocator, Govern Stack's mission will be to streamline governance across Cosmos by providing each blockchain with a shared infrastructure.
This may require the creation of a Cosmos Hub Assembly, which will work in tandem with DAO assemblies from the IBC network. The Assembly itself will include representatives from each of these councils, with their seats representing the weight of the project in the ecosystem—a system already adopted by political structures such as the U.S. Congress.
Conclusion
Ultimately, the development of Cosmos Hub will depend on ATOM owners, who can vote yes to or against any changes to the blockchain. Although the proposal has only been put on the Cosmos Hub admin forum for a few hours, the feedback has been mostly positive.
Manian expressed his optimism on stage, saying that the cosmos hub's new features will "make EIP-1559 look like a joke," referring to Ethereum's burn mechanism. He also titled his speech "$1K ATOM LFG." ATOM is currently trading at $13.91, up 7,089%.
If Cosmos Hub DAO implements the features proposed by the whitepaper of any kind, it will still take a minimum of three years for ATOM's emissions to drop to 0.1%. However, there is a suspicion that the new features of Cosmos Hub will increase the utility of the token and secure its place as the leading cryptocurrency of the Cosmos ecosystem.
For more: Why did ATOM Go Up?