The Ethereum Merge is approaching and there are many predictions surrounding the upgrade. This led to some unexpected developments in the cryptocurrency sector. It pushed the price of Ethereum to new highs despite the downtrend and held a better value than most of the market. Ethereum has now marked another new high ahead of The Merge. At the current stage, Ethereum has won over the largest cryptocurrency – Bitcoin.
ETHBTC hits new highs
Ethereum's competition with Bitcoin is a never-ending race, and the community of these two cryptocurrencies is always up against each other. Bitcoin has maintained its dominance over Ethereum and other cryptocurrencies, but the second largest cryptocurrency by market capitalization – Ethereum has gradually closed the gap in 2022.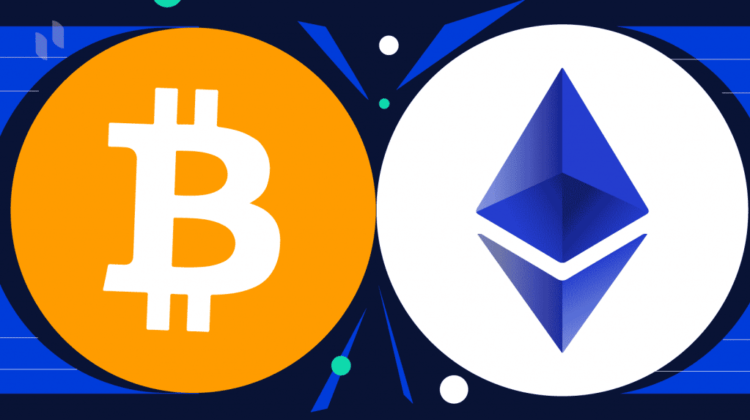 ETHBTC traded at its highest level in late 2021 before facing a slump and falling to an annual low. However, with The Merge lawsuit, it managed to close the gap significantly again and rise to an annual high.
ETHBTC is currently trading around 0.0847 BTC on Tuesday, its highest level in seven years. This happens despite the restraints on the basis of futures contracts created by hedging activity due to.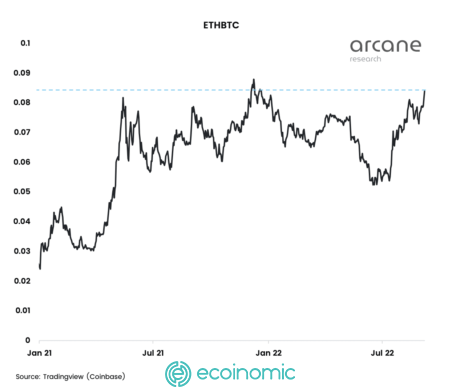 Ethereum continues to show strength against Bitcoin even in a downtrend. Since then, it has lost its position at 0.0847 BTC but has continued to hold steady above 0.08 BTC.
Ethereum merger creates "long shadow"
Recently, Ethereum founder Vitalik Buterin took to Twitter to announce that The Merge will happen sometime between September 13 and 15. This is desirable information as it has confirmed to the community that there will be no further delays, but the move to PoS has been unpopular with everyone in the community.
The most prominent of the disagreements that have occurred is that ETH tokens were forked in an attempt to keep the network running under the PoW mechanism. However, not all cryptocurrency platforms support these forked tokens. OpenSea, for example, has announced that it will only support tokens on Ethereum POS and will not accept any forked tokens.
However, these tokens will still be in circulation. It raises the question of which token would be best to invest in ahead of The Merge event. There are speculations that both ETHPOS and ETHPOW will rise in price as they try to dominate each other.