On September 21, the Federal Reserve raised interest rates by 75 basis points. This is the third time in a row in 2022 that the Fed has decided to raise interest rates, to between 3% and 3.25%, the highest level since the end of 2007.
This interest rate has been near zero for more than two years. Traders are now betting that interest rates will rise above 4.25% before central banks pause rate hikes.
Until the final rate — which remains a matter of disagreement among central banks — is announced, some economists predict rates will likely remain at that level until Inflation falls significantly — to a target of 2% (currently 8.3%).
Joe DiPasquale, CEO of crypto hedge fund BitBull Capital shared:
"If the Fed remains hawkish, we are likely to see markets test lower lows and remain muted until inflation figures appear to start improving."
Bitcoin (BTC) whipsawed in the hours hours after the announcement, but sold off later in the afternoon alongside U.S. stocks.
As of the time of writing, Bitcoin has traded below $19,000. Most recently last week, the largest cryptocurrency traded above $22,000.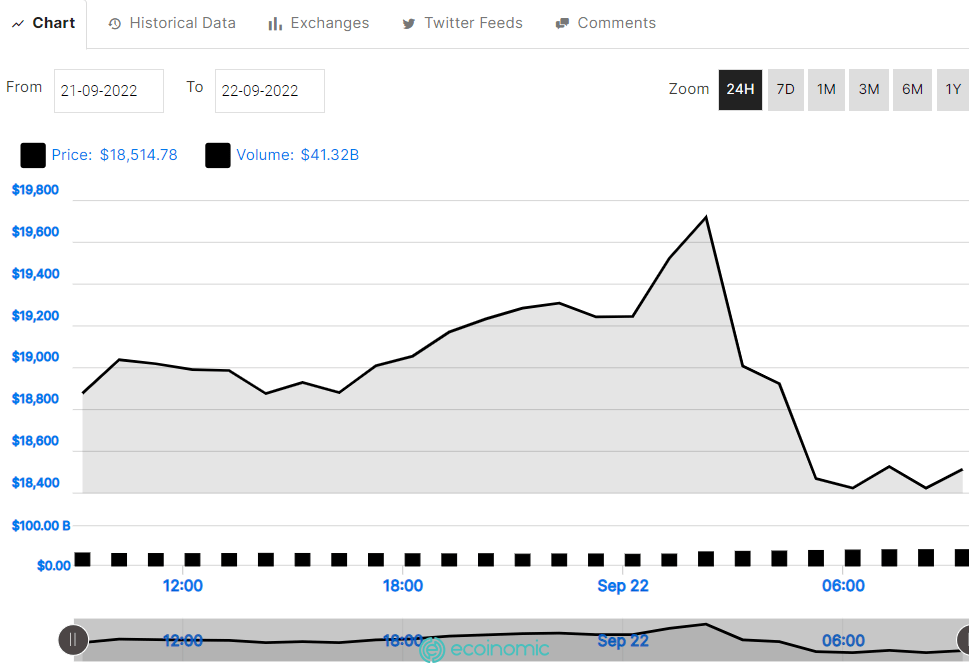 "Recent indicators point to modest growth in spending and production. Job gains have been robust in recent months, and the unemployment rate has remained low."
Board members and the chairman of the Federal Reserve have doubled down on rate hikes in their economic outlook, with no turnaround in sight in 2023.
"My main message has not changed at all" since the Fed's economic symposium last month in Jackson Hole. The FOMC is strongly resolved to bring inflation down to 2% and we will keep at it until the job is done," Powell said at a news conference after the interest rate decision.
By the end of 2022, the federal funds rate is expected to reach 4.4%, indicating that the Federal Reserve will continue to raise rates at the next FOMC meetings. The Federal Reserve does not expect a rate cut until 2024, dampening hopes of financial conditions easing soon.
"What we think we need to do and should do is to move our policy rate to a restrictive level," Powell said.

"Today, we've just moved probably into the very, the very lowest level of what might be restrictive," he added.
Why is the market shaking so violently?
Before the official announcement of the Fed, the market had forecast 2 scenarios: the Fed would increase interest rate points by 0.75% (82% probability) or by 1% interest rate points (18%).
And the 0.75% scenario happened, The crypto market has been volatile following the Federal Reserve's decision. Bitcoin quickly surged to $19,500, then slid to $18,900. Stocks also had big swings during Powell's press conference.
The price movement of shares & crypto co-phases increased and decreased before and after the Fed announced interest rates.
The negative lies in the fact that traders in traditional markets have bet that a rate hike of 75 basis points is an almost probable scenario at the next FOMC monetary policy meeting in November. Just a month ago, that increase seemed unlikely.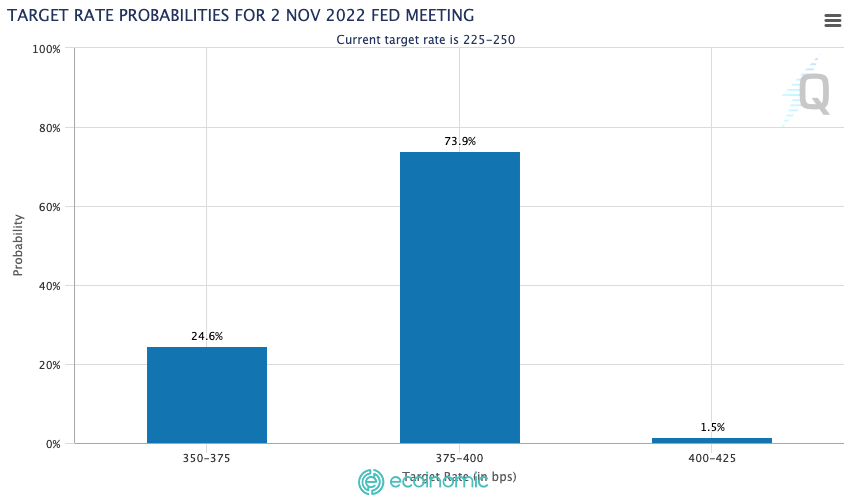 The impact of the Fed's policies on the cryptocurrency market
At the time of writing, the S&P 500 and Nasdaq are trading near their Opening on Sept. 21.
Alexandre Lores, director of blockchain market research at Quantum Economics, said:
"Markets are crazy in the short-term. Over a longer period I see this as a neutral or bearish move, and expect BTC and ETH to respond in a neutral or bearish fashion."
Riyad Carey, a research analyst at cryptocurrency data firm Kaiko said:
"This is yet another reminder that crypto moves at the whims of the Fed. We saw this just last week when there was a sharper price reaction to the CPI release than to the [Ethereum upgrade] Merge. I don't foresee crypto, especially BTC and ETH, bucking the Fed's influence any time soon."
Joshua Lim, an expert in cryptocurrency derivatives trading, said a 75 basis point increase would be well received, given the probability of a larger move also being priced in by traders.
"With Fed terminal rates in the mid-4% range, one thing we continue to hear is markets' interest in real-world yields on-chain. This is a growing area, with on-chain credit to electronic market makers being the bulk of it."
The total number of Derivative orders liquidated in the past 12 hours is more than $290 million, concentrated mainly in ETH and BTC.