TRX is attempting to bounce from a weekly low of $0.058. This level is around the same bottom range that the cryptocurrency found support for from February to April 2022. The chances of a bounce from the same level are very high, especially now that TRX is trading within the same zone.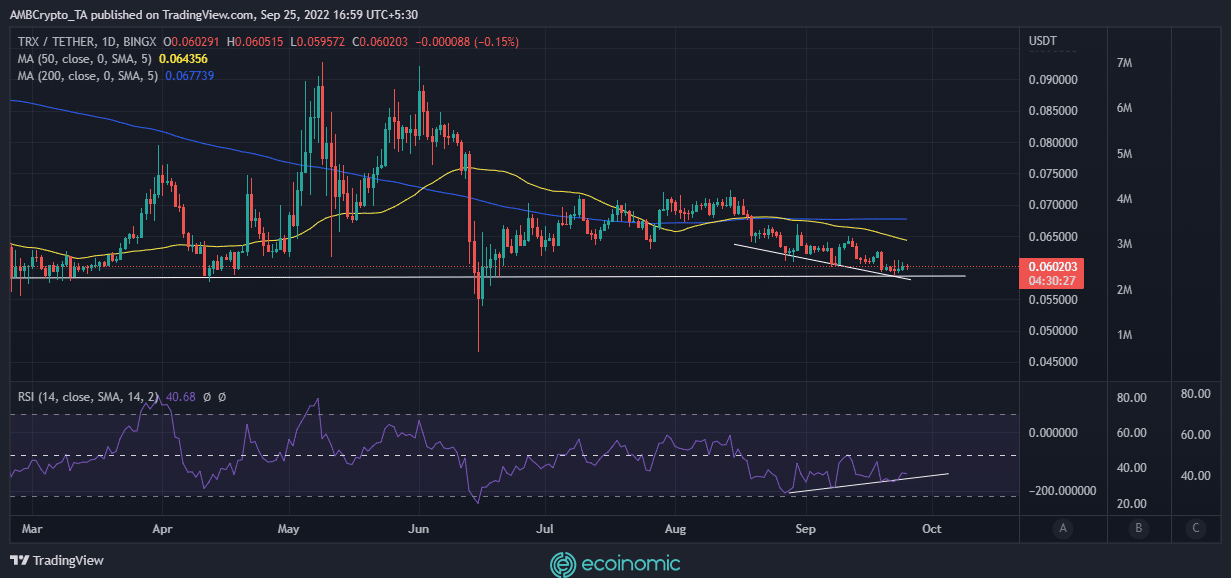 The ability to bounce from the support zone is further reinforced by the Price to RSI divergence. The RSI has shown relative strength, despite the price decline over the past few weeks. This divergence confirms that the price is forming buying pressure and is bound to pivot.
TRX bullish trend
Some of TRX's on-chain metrics came to a similar conclusion. For example, demand in the derivatives market has improved over the past few days.
Both Binance and FTX funding rates have also increased since mid-September.

The observation of funding rates is important, it confirms the change in the sentiment in the derivatives market. Such observations often accompany with demand in the spot market and complement previous observations.
Currently, the demand for TRX in the market is relatively low after cryptocurrencies are trying to pivot from a bearish trend, especially in the absence of a strong catalyst.
However, TRX's supply of stablecoins held by whales increased.

While whales have a significant amount of stablecoins to top up TRX, the price action suggests whale activity is still lacking. Healthy development activity could boost sentiment for investors this week.
According to the weighted sentiment metric, the prevailing market sentiment has so far not shifted. The latter remains in the lower monthly range and may explain why current bullish efforts have yielded little growth over the weekend.

Conclusion
TRX has shown many signs of a potential uptrend in the future. However, FUD (Fear, Uncertainty, Doubt) market sentiment has prevailed over the last few days.
This means that the TRX bulls are ready as the overall conditions of the cryptocurrency market improve.