Coinbase is one of the leading cryptocurrency trading platforms in the US, and the only cryptocurrency exchange to be listed on the Nasdaq stock exchange, US, with the stock token 2021. This article below helps you understand what Coinbase is and the easiest way to Coinbase sign up.
What is Coinbase?
Founded in June 2012, Coinbase is a cryptocurrency wallet and platform where users can trade with reputable coins such as Bitcoin (BTC), Ethereum (ETH), and Litecoin (LTC). Coinbase's vision is to bring more innovation, efficiency, and equal opportunities to the world by building an open financial system that makes cryptocurrency accessible and accessible to everyone. This exchange aims to be the most trusted company in the industry and build products that are user-focused, easier to use, and more intuitive.
Up to now, Coinbase has about 98 million users, cooperates with more than 13,000 institutions and 230,000 ecosystems in more than 100 countries, and 177 coins are traded on the exchange.
Who is Coinbase founder – Brian Armstrong?
Brian Armstrong, formerly a software engineer at Airbnb, is now the CEO of Coinbase. He co-founded Coinbase in San Francisco in 2012 with Fred Ehrsam. Brian Armstrong has always wanted to be a tech entrepreneur since he was in high school, but his first project, a tutorial website, was not successful. Around 2010, while looking for a job in Silicon Valley, he came across the idea of ​​a P2P currency called Bitcoin, which he quickly became passionate about.
Brian's prototype of a Bitcoin wallet got him accepted into the Y Combinator program, and he soon launched Coinbase. Many experts have warned that cryptocurrencies are not as trustworthy as fiat money, but his business has survived many fluctuations in the crypto market and built a solid foundation for users.
Coinbase launched its IPO on Nasdaq on April 14, 2021, quickly reaching a Market Capitalization of $100 billion. Armstrong owns about 19% of Coinbase, which also raked in 322 million profits on nearly $1.3 billion in revenue in 2020.
The exchange review before Coinbase sign up
Coinbase is a popular cryptocurrency exchange that makes buying, selling, and trading cryptocurrencies easy. However, this exchange has high transaction fees and poor customer service.
Advantages
Transparency
Coinbase shares have been listed on the US stock exchange, which means the company will be obligated to provide quarterly financial statements and be regulated by the US Securities and Exchange Commission (SEC). Therefore, users can always keep track of Coinbase's performance periodically.
Support multiple cryptocurrencies
Currently, Coinbase supports more than 150 cryptocurrencies and this number is growing regularly.
However, Coinbase censors cryptocurrencies quite strictly to protect users from fraudulent or shoddy projects.
Security
Coinbase claims that 98% of user funds are stored offline in multiple locations around the world, which provides high security for digital assets. Coinbase keeps your crypto in a free wallet service, however, you can also choose to keep your coins in a third-party wallet.
Users need to complete two-factor verification to log in to their accounts. The platform also supports fingerprint verification and AES-256 encryption on the private key.
Coinbase also has crime insurance that protects some of your digital assets from theft and cybercrime.
Encourage education
Through the Learn platform, Coinbase rewards crypto users for completing lessons. Each interactive lesson takes less than 10 minutes to complete, and the rewards are typical $1 to $5 according to the cryptocurrency that you're learning.
Bet Bonus
Users, who are holding certain coins in their Coinbase account, are eligible for rewards if they allow Coinbase to stake their coins, or use them as collateral to verify Proof-Of-Stake cryptocurrency transactions, like Ether. Coinbase takes 25% of Staking profits as a fee.
Coinbase Pro
If Coinbase is for newbies, the experienced traders can get used to Coinbase Pro. Users can use the same login information on both Coinbase and Coinbase Pro.
Coinbase Pro offers the full trading experience with advanced charting and more order types, from market order to stop-limit order.
Disadvantages
High transaction fees: Trading fees are expensive on the Coinbase platform.
Issues with customer service: Coinbase's customer service is often underestimated, including many incidents related to security issues.
Coinbase's Ecosystem
Coinbase offers a variety of products for both individual and institutional investors, as well as other crypto-related products.
Products for individual investors include:
Coinbase: application for buying, storing, and trading different cryptocurrencies like Bitcoin, Bitcoin Cash, Ether, and Litecoin.
Coinbase Pro: professional asset trading platform for trading digital assets.
Coinbase Wallet: an application that allows users to access decentralized cryptocurrency applications using a DApp browser.
Coinbase NFT: a marketplace where NFT collectors can buy and sell works to each other.
Products for institutional investors include:
Coinbase Prime: a trading platform for institutional users.
Coinbase Custody: Professional Storage services for institutions holding Bitcoin and other cryptocurrencies with Coinbase.
Other crypto-related products include:
USD Coin: a stablecoin that allows users to exchange US dollars and cryptocurrencies of equal value but can be traded more quickly.
Coinbase Card: Visa credit card that allows users to spend cryptocurrency.
Coinbase Commerce: payment service for merchants.
Coinbase Earn: a crypto learning platform that rewards users with a small number of altcoins after watching videos and answering questions about these coins.
The company also develops an application programming interface (API) for developers and merchants to build applications and accept cryptocurrency payments.
How to Coinbase sign up
Coinbase sign up
Access the Coinbase homepage from a computer browser.
Step 1: Click "Get started"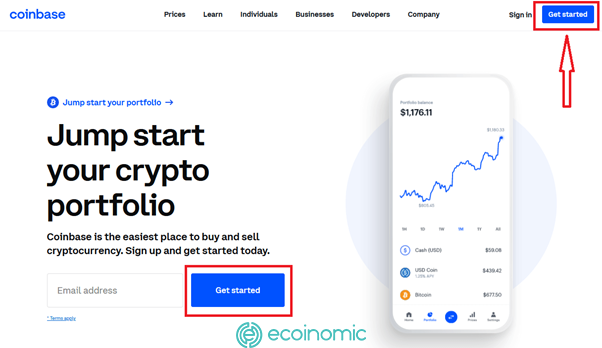 Step 2: Fill in the full information of first and last name, email address, and password
Step 3: Carefully read the User Agreement and Privacy Policy.
Step 4: Click on the box to confirm these pieces of information and click "Create account".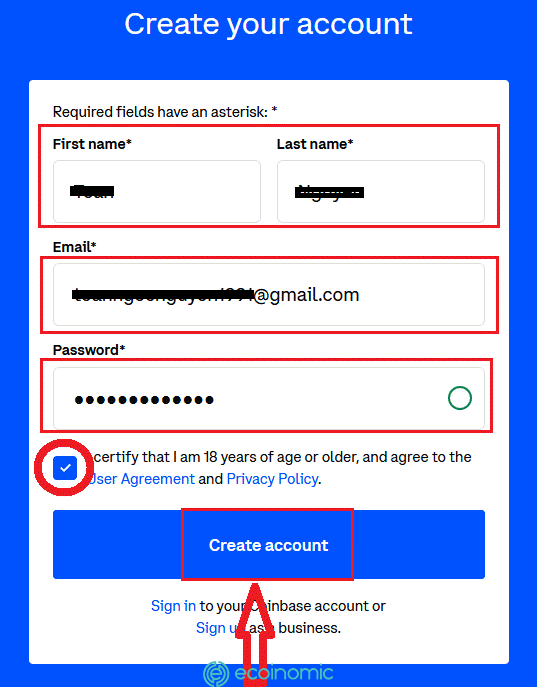 Step 5: Coinbase will send you a verification email to the email you registered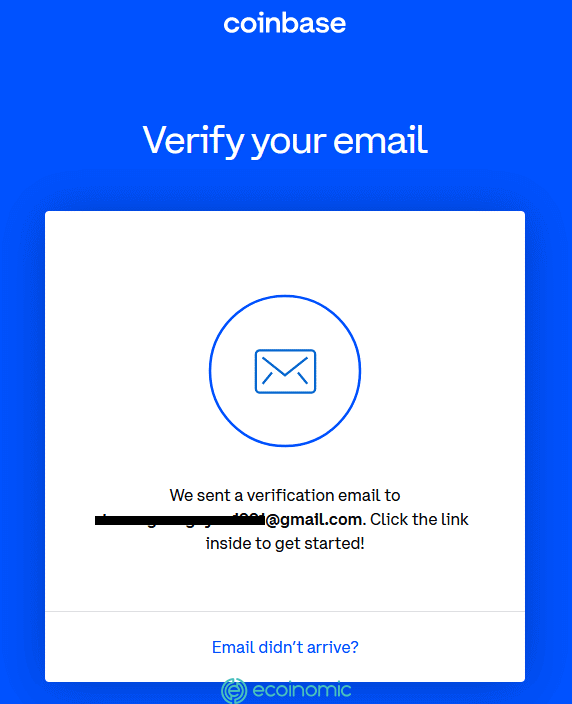 Verify your email when Coinbase sign up
Step 1: Click "Verify Email Address" in the email you received from Coinbase.com. This email will be sent from no-reply@coinbase.com.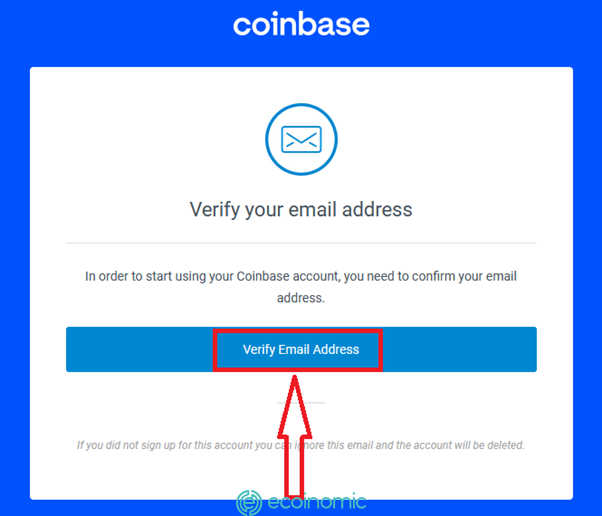 Step 2: Click on the link in the email, which will take you back to Coinbase.com.
Step 3: You need to log in again using the email and password you previously filled in to complete the verification process by email.
Phone number verification when Coinbase sign up
Step 1: Log in to Coinbase. A message prompting to add a phone number will appear on the screen.
Step 2: Select the country, enter the phone number and click "Send code".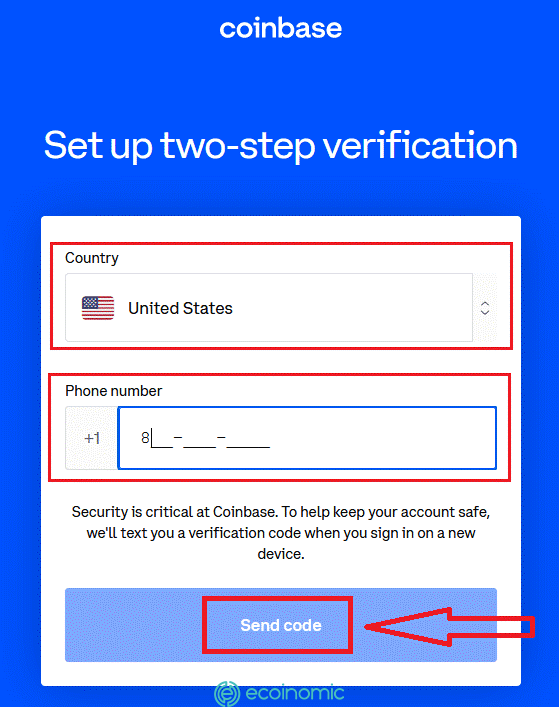 Step 3: Enter the Code Coinbase sends you via message and press "Submit".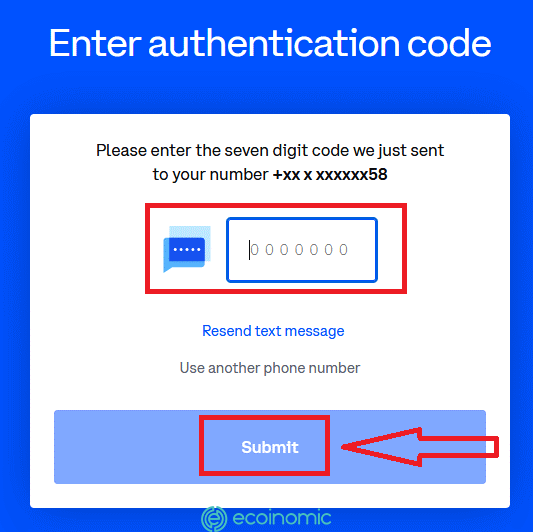 You have successfully registered a Coinbase account here.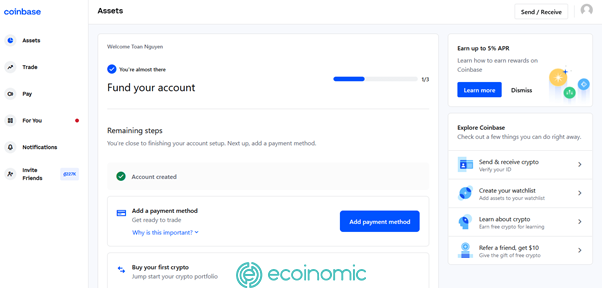 Account Security Guide When Coinbase sign up
Setting up 2FA security when Coinbase sign up
Security Key – The safest
Step 1: Log in to your Coinbase account from a web browser.
Step 2: Go to Setting ⇒ Security.
Step 3: Select "2-step verification", then select "Security Key".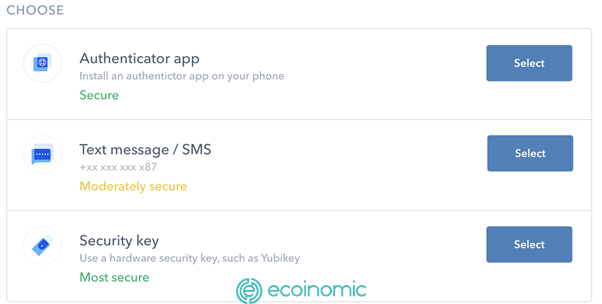 You can add up to 5 keys. When you add more than 1 key, you have more backup options in case you lose the main security key. If you turn off your security key, SMS messages will automatically be said to be a 2-step verification method.
Duo vs Google Authenticator (TOTP) – Safe
Step 1: Log in to your Coinbase account, and go to Setting ⇒ Security.
Step 2: In the "Other Options" section, click "Select" for the "Authenticator App" box.
Step 3: Follow the notifications that appear on the screen to complete the authenticator setup.
SMS Messages – The least safe
If you verify your phone number via text without installing any TOTP verification app, you will automatically receive a 2FA code via SMS.
Identity Verification Guide – KYC when Coinbase sign up
Personal Verification Profile
In the United States: A state-issued identity verification card such as a driver's license or identification card.
In other places: Passport, state-issued ID photo, identity card.
Verification documents not accepted: US passport, Green Card, student card, medical card, temporary identification, residence permit, public service card, military identification.
Verify identity by photo
Step 1: On the Coinbase exchange homepage, select Settings
Step 2: Select Account limits, click Verify photo ID at Level 3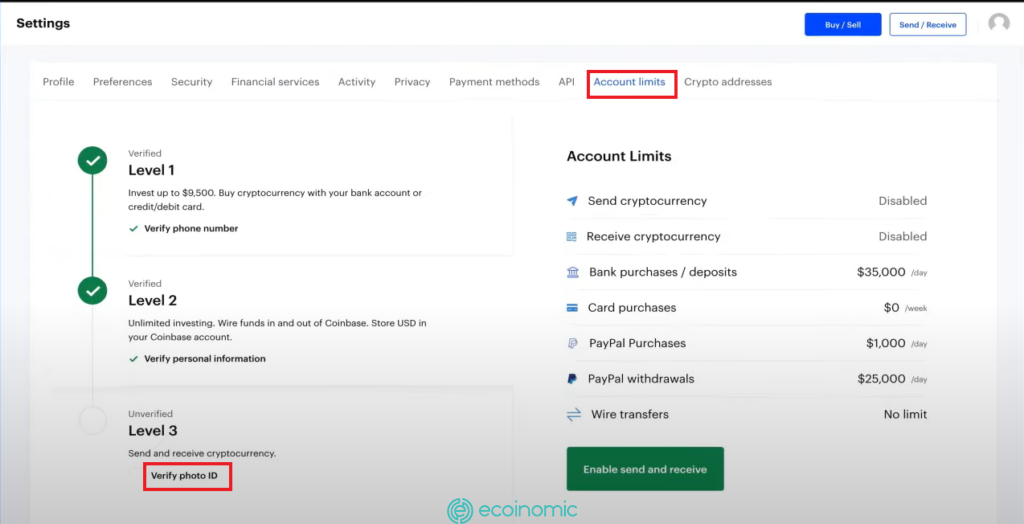 Step 3: Select documents to verify. You have 2 options: Driver's License and State Issued ID. At this step, Ecoinomic chooses to verify with an identity card.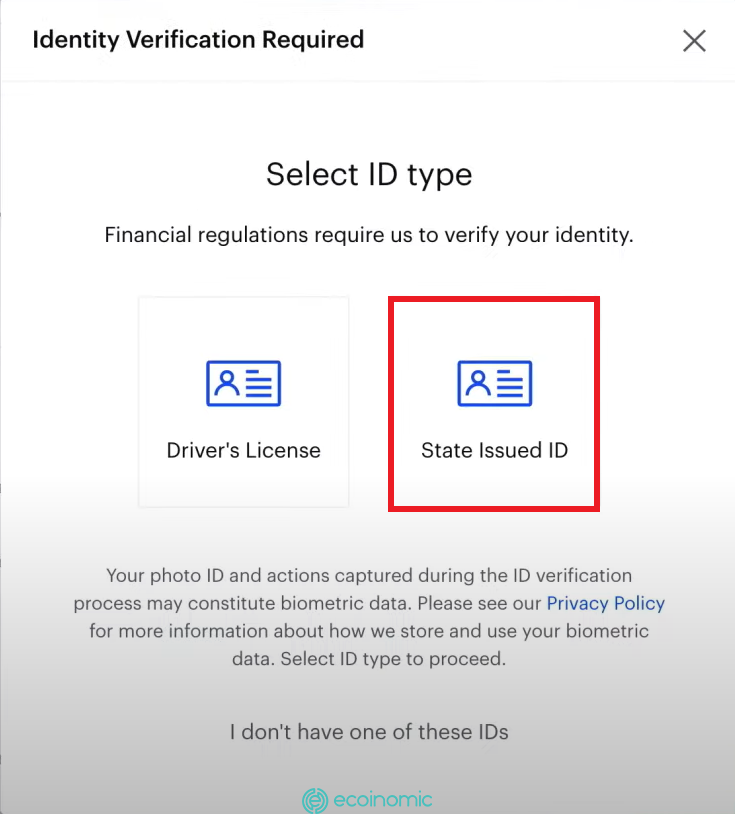 Step 4: Choose a method to start identity verification.
If you use a computer, select a webcam
If you use your phone, select Mobile Camera
Select File Upload if you have a photo of the document on the device used for KYC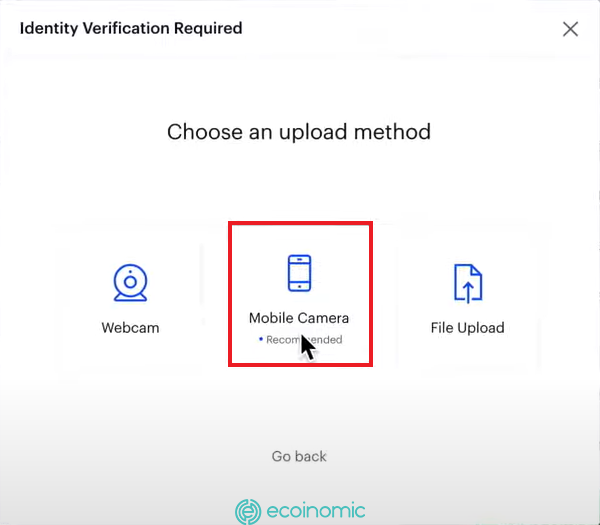 Step 5: You will receive a Coinbase message. Click on the link in the message to continue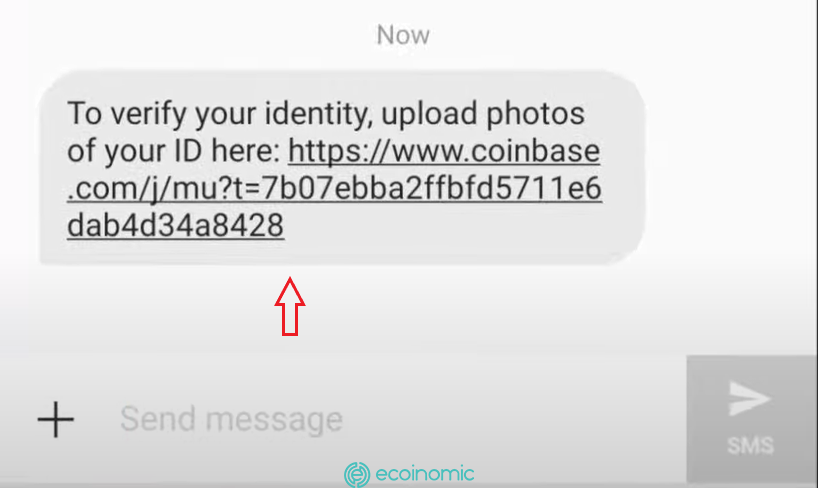 Step 6: Upload a photo of the front and back of your ID card. Then select Complete verification to complete the verification.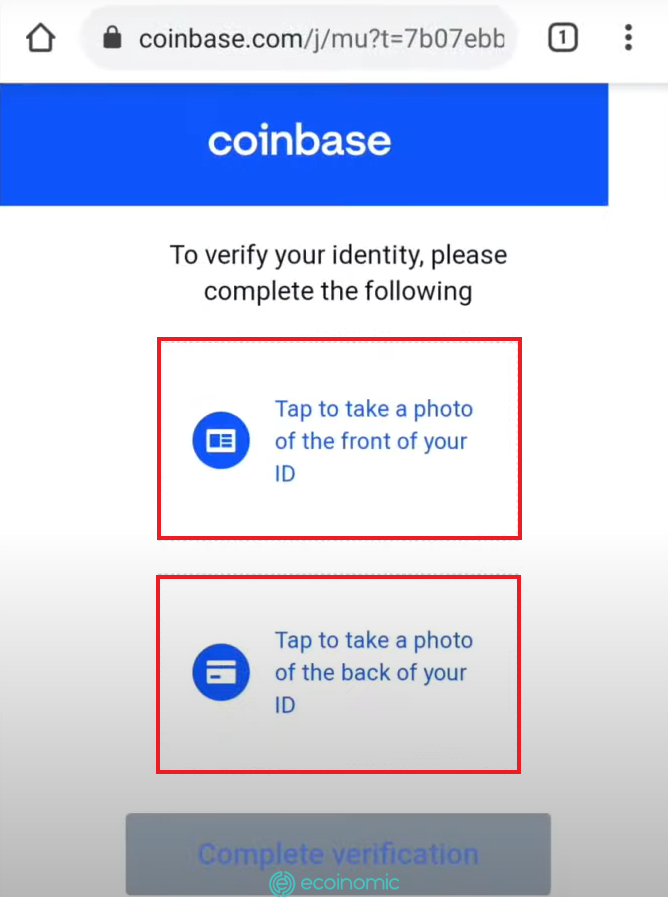 How to trade coins after Coinbase sign up
To start trading, you choose Trade, then choose a trading pair
Buy BTC with a Limit order on Coinbase
Step 1: Select Buy and place a Limit order
Step 2: Enter the amount of BTC
Step 3: Set the price you want to buy
Step 4: Click Place Buy Order to place a buy order. Successful orders will be pending execution and are located in the Open Order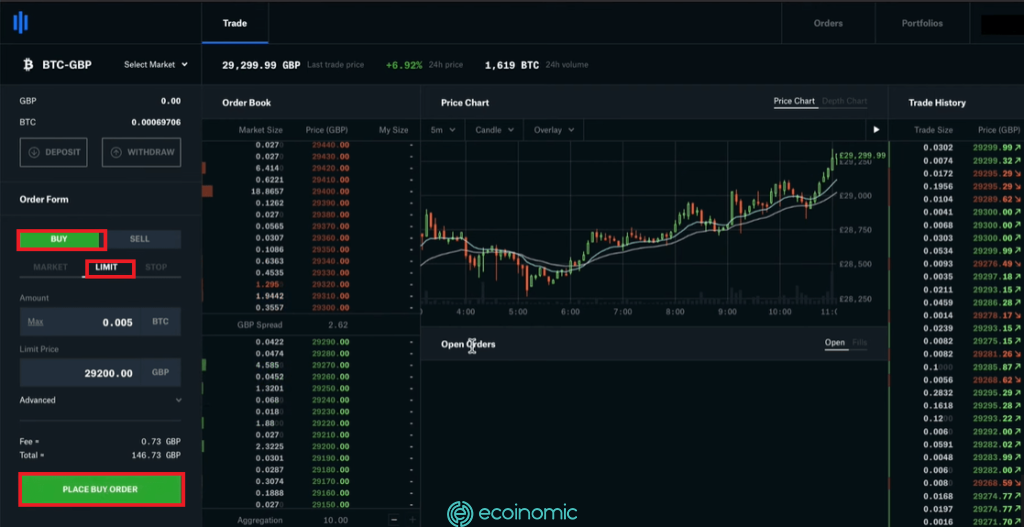 Sell ETH using Limit orders on Coinbase
Step 1: Select Sell and place a Limit order
Step 2: Enter the amount of ETH
Step 3: Set the price you want to sell
Step 4: Click Place Sell Order to place a sell order. Check the order execution in the Open Order section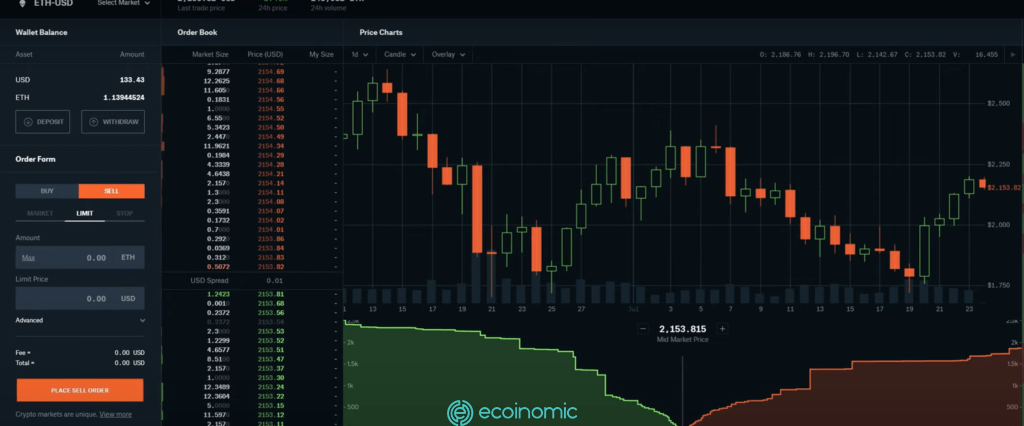 Instructions for depositing and withdrawing money after Coinbase sign up
Deposit money to your Coinbase wallet
Step 1: Log in to your Coinbase account. In the Portfolios section, select Deposit in Default Portfolio to deposit.

Step 2: Select the money to deposit, you can deposit coins or Fiat. In this step, Ecoinomic chooses to deposit BTC.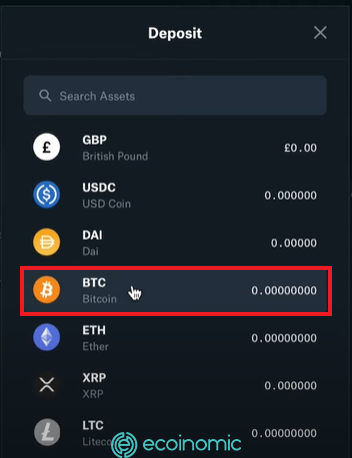 Step 3: Select Crypto Addresses, select I understand, and scan the QR code or copy the wallet address below

Withdraw money from Coinbase
Step 1: From Portfolio select Withdraw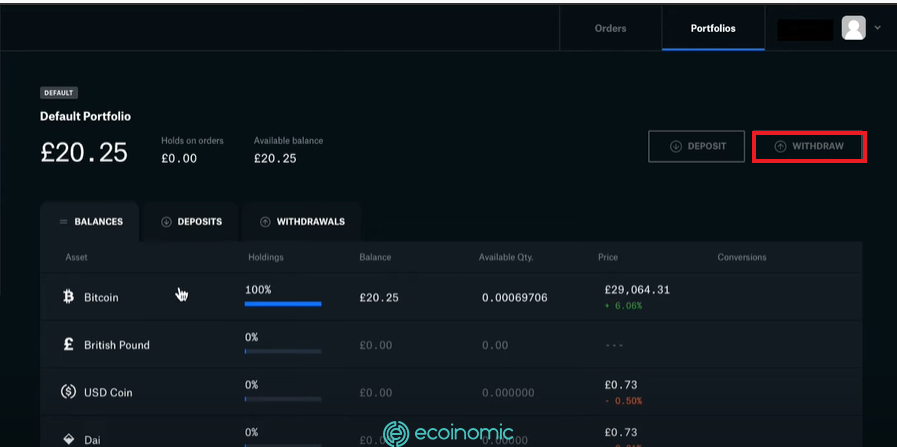 Step 2: Select BTC
Step 3: Select Crypto Address or Coinbase.com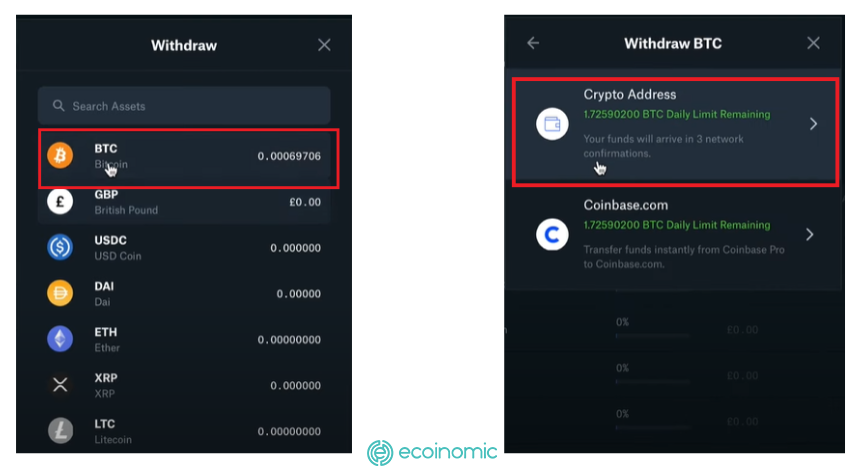 FAQs when Coinbase sign up
Is Coinbase a scam?
Up to now, there are very few exchanges that can avoid scams. Therefore, while Coinbase is working to protect users' accounts, you should know how to protect your accounts by verifying the identity of the third party receiving and transferring funds. Besides, never give support staff or others remote access to your device, 2FA security code, or password; always be suspicious of websites or services that advertise unrealistic investment opportunities; research carefully and only send money to reputable third parties, and report scams you see or come across.
Does Coinbase support Vietnam?
As of May 2022, Coinbase does not support users in Vietnam.
If you are Vietnamese and looking for a reputable cryptocurrency exchange, read What Is Binance? Binance Registration Guide
Is KYC required when withdrawing money on the Coinbase exchange?
According to Coinbase's User Terms, all users are required to verify their identity in order to continue using the services on the exchange.
What is the deposit and withdrawal limit when Coinbase sign up?
Deposit or withdrawal limits are based on many factors, including whether you have completed account verification, your purchase history, payment method, etc. Users can check their limits in the Account limits section at Settings. Usually, Coinbase does not limit the amount of crypto you can withdraw to fiat, depending on the payment method you use.
However, if you use Coinbase Pro, the withdrawal limit is $50,000/day.
What types of fees are there on Coinbase?
Coinbase applies a variety of fees to transactions – margin fees, spread fees, and Coinbase fees.
Margin Fees and Spreads: Margin fees (or spreads) are up to 2% service fees added to the exchange rate on Coinbase Pro, the exchange that handles all transactions.
Coinbase Fees: Coinbase fees depend on many factors, users can pay a flat price or part of a transaction, based on region, product, and payment method.
What is the Coinbase App on Android, and iOS?
Coinbase has mobile apps that support both Android and iOS. The Coinbase iOS app is available in the iPhone App Store. Coinbase's Android app is available at the Google Play store. The official name of the app is Coinbase: Buy Bitcoin & Ether released by Coinbase, Inc.
Conclusion
Coinbase is recognized as one of the world's most reputable cryptocurrency exchanges with the principle of safety and security for users. With its simple use and easy-to-understand interface, Coinbase makes cryptocurrency trading more accessible to users. Long-time financial investors in the US always believe in choosing Coinbase because this company is listed on the US stock exchange and fulfills tax obligations to the country.
However, users should also consider the disadvantages of this exchange such as high fees, and poor customer service, … before deciding to use it. Overall, Coinbase deserves to be the top-of-mind exchange for those just starting in the crypto market.
See also: Sign up for Binance & the simplest user guide for newbies