The launch of the "super currency" Bitcoin in 2009 ushered in a new era in the history of cryptocurrencies. With a huge market cap, BTC has dominated the entire cryptocurrency market.
Bitcoin dominance is the most accurate reflection of BTC's dominance. Let's find out BTC dominance in the following article!
What is Bitcoin dominance?
Bitcoin Dominance (BTC.D) is the ratio between the market capitalization of BTC and the Market Cap of the entire cryptocurrency market.
It's a measure that reflects the size of BTC relative to the entire market and altcoins.
Bitcoin dominance formula
Bitcoin dominance = BTC market cap/Total cryptocurrency market cap
For example, BTC market cap is $70 million and the market cap of altcoins is $30 million.
The total market cap is $100 million, BTC dominance is 70%.
Some traders use the Real Bitcoin Dominance, which reflects the dominance of BTC over other coins based on a PoW consensus mechanism that has the potential to be used as a decentralized method of exchange in the future. Since many altcoins like stablecoins are not intended to compete with Bitcoin, there is no impact on BTC's dominance.
Real Bitcoin Dominance = BTC market cap/ (BTC market cap + other PoW cryptocurrencies market cap)
The relationship among Bitcoin dominance, altcoins and market cap
BTC dominance and market cap
The correlation between BTC market cap, total cryptocurrency market cap, and BTC dominance is shown in the following chart: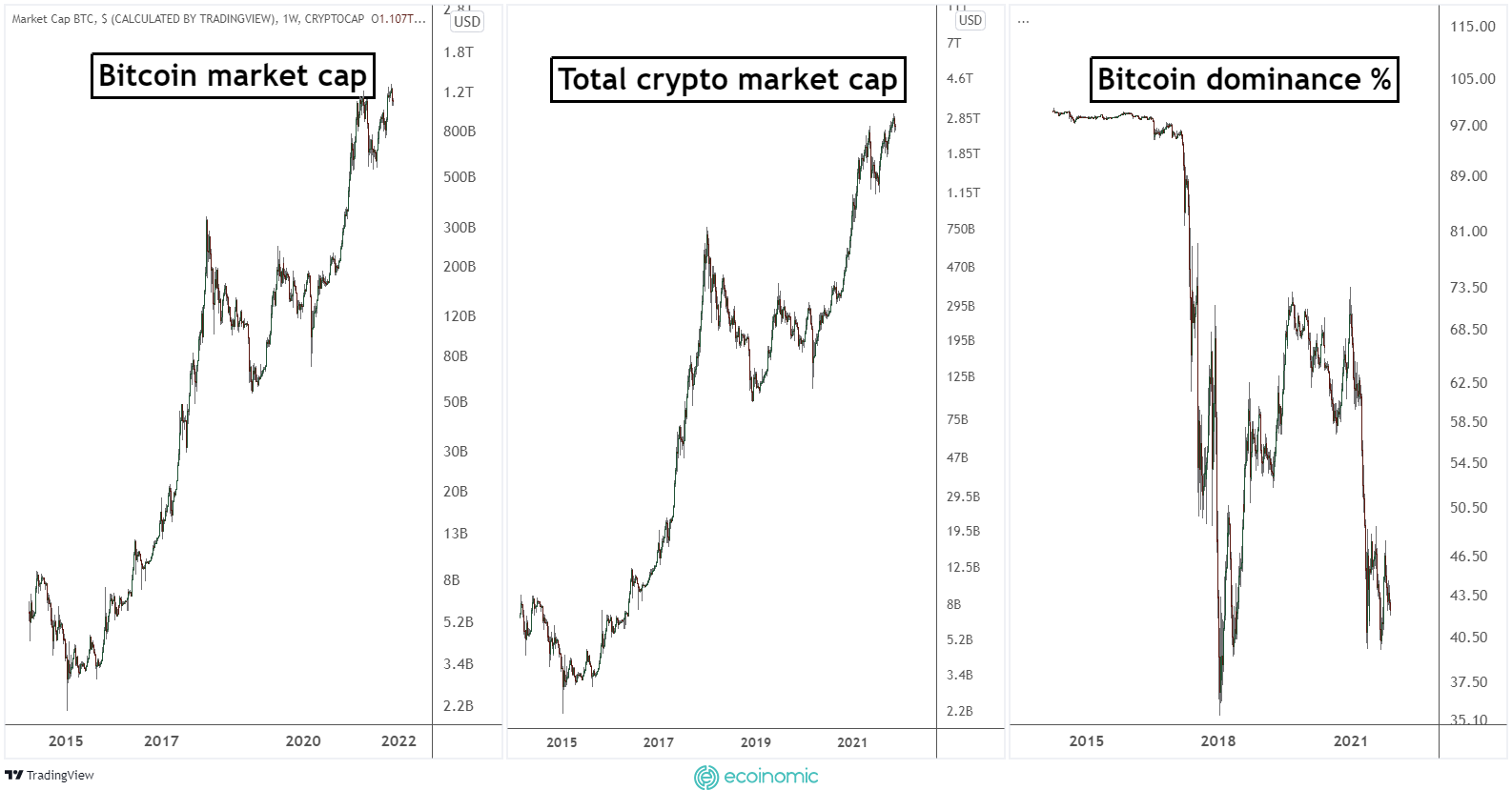 Overall, the growth of the market cap is directly proportional to the Market Capitalization of BTC.
BTC greatly influences the entire cryptocurrency market so it the first, largest, and most widely accepted cryptocurrency.
BTC dominance and altcoins
Bitcoin dominance reflects the up/down trend of altcoins against BTC.
In general, in a bear market, when BTC dominance increases, the demand for BTC is greater than the market average, alts lose value relative to BTC. Investors tend to look for and opt for safe, less volatile investments instead of holding risky positions with digital assets that have smaller market caps and are less liquid than BTC.
In the bull market, investors profit from holding BTC bought during the previous price drop and transfer their investment capital into altcoins, NFT projects, and riskier assets in hopes of making big profits. That increases the popularity of altcoins and reduces BTC dominance.
>>> Related: What is bear market and bull market?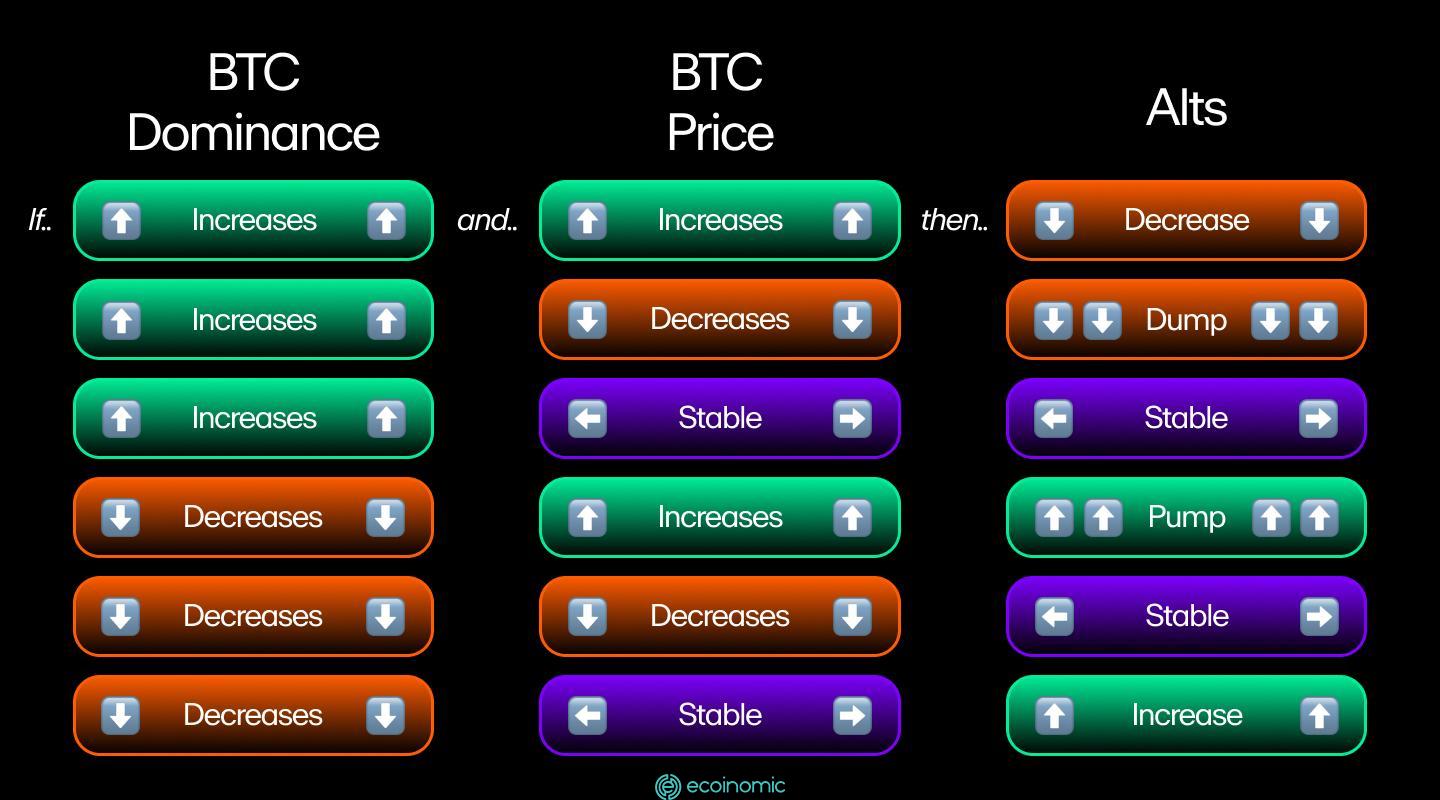 How to trade cryptocurrencies using BTC dominance
Use BTC dominance to identify investment trend
BTC dominance is a tool that helps traders strategize, identify trend to invest in BTC or other potential altcoins.
| | | |
| --- | --- | --- |
| BTC dominance | BTC trend | Action |
| Increase | Increase | Buy BTC |
| Increase | Falling | Sell altcoins |
| Falling | Increase | Buy altcoins |
| Falling | Falling | Sell BTC |
Trading strategy when BTC dominance is lowest, highest
From 2018 to 2021, Bitcoin's dominance has ranged from the lowest of 35% to the highest of 74%.
As the cryptocurrency market grows with the launch of many new altcoins, the possibility of BTC dominance rising above 74% is very difficult. Besides, when BTC dominance falls below 35% is a clear sign that the total value of altcoins is expanding rapidly compared to BTC.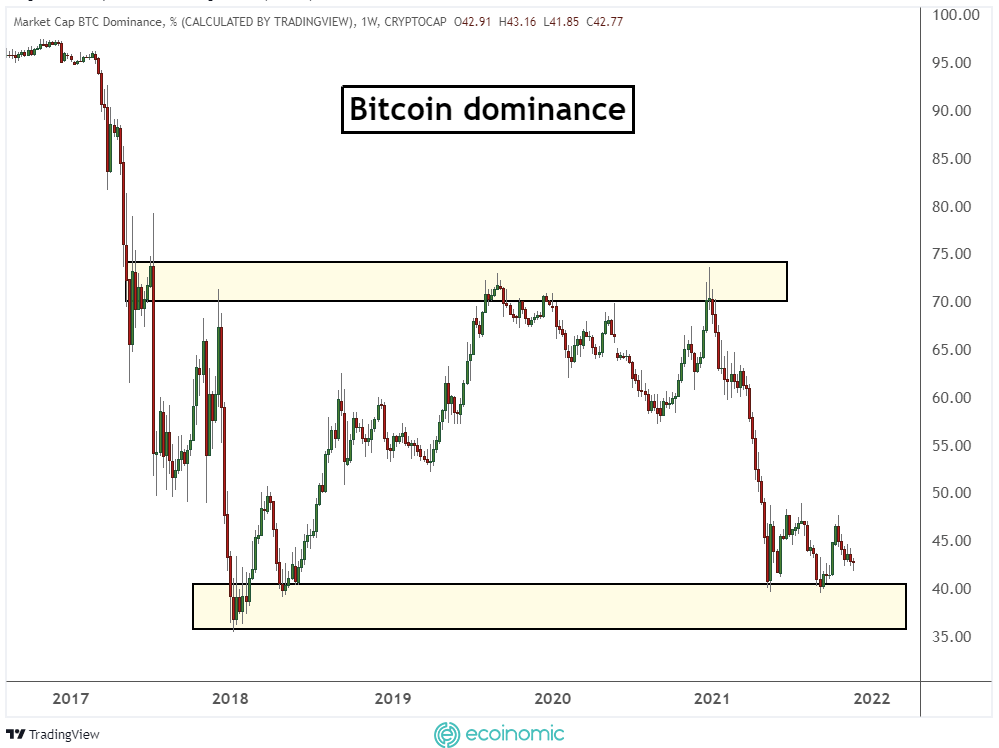 Traders can determine the market trend when Bitcoin dominance is at risk of reversal based on the following table:
| | | |
| --- | --- | --- |
| BTC dominance | BTC Trend | Action |
| Highest | Increase | Buy BTC |
| Highest | Falling | Sell altcoins |
| Lowest | Increase | Buy altcoins |
| Lowest | Falling | Sell BTC |
Conclusion
Bitcoin dominance is an effective tool that helps identify market trends. However, investors need to combine BTC dominance with other market indicators, fundamental analysis, technical analysis to adjust trading strategies and manage portfolios effectively.
Hopefully, through the above article, Ecoinomic.io has helped you get an overview of BTC dominance as well as the recommended trading strategies based on this indicator.