Just hours before Ethereum's The Merge took place, scammers launched an attempt to steal funds from users. Investors don't have to do anything with their ETH during The Merge, so it's not a good idea to click on any suspicious links or interact with fake accounts.
Scammers and impostors appeared alongside The Merge, on social media flooded with bad guys trying to take advantage of the event. Several types of scams are taking place on Twitter and other platforms, and users have been warned not to get them.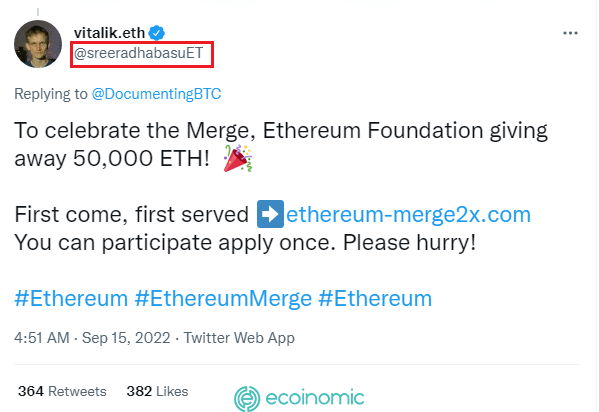 One of the most common types of scams, and has been around for years, involves bad guys impersonating Vitalik Buterin and providing links and ads that give away free ETH. These links deceive individuals into granting access to their cryptocurrency wallets.
They use Buterin's picture as a profile picture — but looking at the Twitter account name, it can be seen that these names are different. Buterin has only one account on Twitter — @VitalikButerin — and users should ignore the others. The Ethereum co-founder himself has repeatedly said that there are no gifts and warned users to avoid being scammed.
Another common type of scam is phishing, which attacks users by masquerading as a reputable entity/individual to win their trust. Many websites have popped up, targeting careless users, and PeckShield has warned users about these sites and scams. The security company has also warned users not to fall for these scams.
#PeckShieldAlert The Ethereum Merge is expected to take place within 4 hours. Beware of the ongoing scam campaigns capitalizing on the merge.
PeckShield has detected a batch of phishing sites targeting the Merge. pic.twitter.com/nu8jWcTUhP

— PeckShieldAlert (@PeckShieldAlert) September 15, 2022
Protect yourself against rampant social media scams
Bad actors have always existed in the crypto space, even as companies and projects try to control it. To protect yourself, you can do a few things:
First and foremost, users are advised not to click on spam links displayed by phishing accounts. Users should also not share the private key with anyone. They may also receive messages from fake accounts on social media and other communication channels but should ignore them.

ETH holders don't need to do anything to prepare for The Merge. The Ethereum documentation on The Merge clearly states that users don't need to do anything with their money when the event takes place.
The Merge event was a success
The Ethereum network finally successfully moved to PoS today, Thursday, September 15, 2022, marking the end of outdated PoW mining infrastructure. The transition ushered in a new era in the field of eco-friendly cryptocurrencies, with the Ethereum blockchain consuming 99.95% less energy than before. Ethereum founder Vitalik Buterin confirmed on Twitter that The Merge was a success.
And we finalized!

Happy merge all. This is a big moment for the Ethereum ecosystem. Everyone who helped make the merge happen should feel very proud today.

— vitalik.eth (@VitalikButerin) September 15, 2022
See also: The Merge Complete – Ethereum Moves To Proof-Of-Stake