With a model of paying users every time they walk, a group of startups convinces that they are not pyramid models.
"Everything looks like a multi-level game when you look at it from the outside," says an active user of "money-making jogging."
Overview of Stepn
In October 2021, Axie Infinity led the trend of money-making gaming in many countries around the world. The price of AXS has nearly doubled in a few days, reaching $138.
That same month, the play-to-make model was adopted at Solana blockchain's hackathon. The project was initiated by Australia-based Find Satoshi Lab with the Move-to-Earn (M2E) model. 
By walking to exercise, users will earn the project's token to collect into NFT Sneaker or switch to stablecoins. Find Satoshi hopes to attract millions of non-cryptocurrency users to the cryptocurrency sector.
Stepn has ushered in a new wave of Web3 games. In January 2022, the company raised $5 million in capital from investors including Sequoia Capital.
"STEPN is ushering in a new wave of Web3 games in the movement they call "Move 2 earn," which will make the gaming experience more positive and sustainable," Sequoia Capital said in a statement.
The keyword "sustainability" was also emphasized in the presentation. Between the time Stepn launched the product and raised funds, the landscape of the Play-to-earn industry changed dramatically. In it, Axie Infinity is struggling with accusations from players, criticizing that the game disguises ponzi schemes, and the price of 2 tokens of Axie also dropped dramatically.

See also: What Is A STEPN Token?
Now, more and more competitors in the crowded "move 2 earn" model, simply by its own appeal: "Make money by walking or jogging outdoors."
Stepn's competitor, Walk With Step (or Step), advertises on New York subways with the slogan: "What are you on the go? Why don't you get crypto when you do that?"
Talking on social media about making hundreds of dollars a day by moving 2 earns is nothing. Nat Eliason says he earns a six-figure salary just from walking. He suggested that Stepn could become the first cryptocurrency app to attract a large number of participants.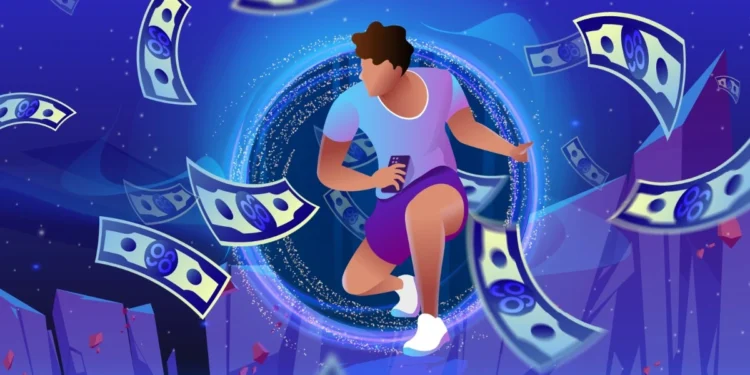 How Stepn works
The way move-to-earn works is similar to that of Axie Infinity. Users must purchase NFT, in-game accessories to start playing. With Stepn, sneakers will be a tool to help you move and make money. Every day you will have a certain amount of energy, corresponding to the distance that needs to be moved, thereby receiving Stepn's rewards of GST tokens.
Players can withdraw cash, but will likely earn more money if reinvested back into the system. For example, by paying to upgrade NFT shoes or buying more allows them to earn more minutes per day. These NFT shoes will become an investment that can be sold or leased. Stepn profited from the fees of these activities, including NFT transactions and mint leasing.
What is Ponzi scheme?
The U.S. government defines a Ponzi scheme as an investment scam that pays existing investors the proceeds from new investors.
"Ponzinomics" has become a popular term to describe the typicality of a cryptocurrency project on the basis of continuous reinvestment to push up token prices. If this pattern collapses, participants who then do not withdraw cash will take full risk when the token is dumped.
See also: What Is Ponzi Scheme? How To Avoid Ponzi Scheme Project?
Stepn suspected of being a Ponzi scheme in disguise
While Stepn's launch was a success, Axie Infinity's token price plummeted in the face of accusations from the player community that it was a disguised Ponzi scheme.
Later, similar allegations also hindered the Move-to-earn project. Critics argue that the ability to make money indefinitely from walking is impossible. Especially the problem of the high input cost of the game, the need to participate of new users and old users do not have to spend money in unison. 
In April, Stepn himself admitted that "most" of the games were essentially Ponzi schemes due to newer players constantly getting involved and potentially collapsing.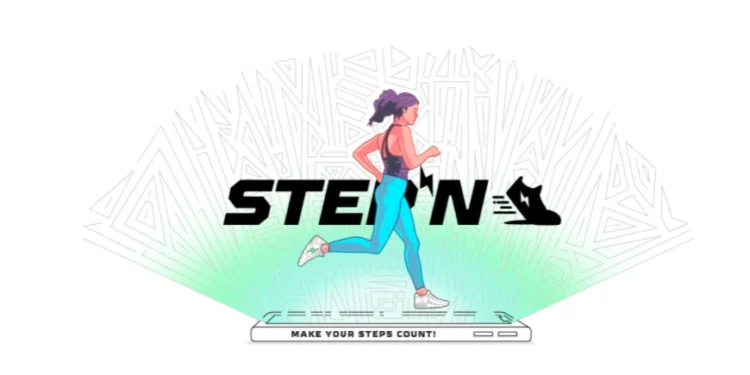 Stepn developers' comments on Ponzi allegations
In an April 2022 blog, the company acknowledged that the play-to-earn model was closely related to Ponzi schemes. However, Stepn can avoid this problem by actively managing tokens.
"The sustainability and stability of the game is a top priority by focusing on creating robust tokenomics. While it is impossible to fully commit to anti-fraud updates, this issue must be addressed." Stepn confirmed.
Besides, with Stepn's token price falling constantly, players and designers of the Move-to-Earn model wondered whether Stepn would prove transparent.
Jens Willemen said he saw Axie Infinity's vulnerability from the start, when he managed 120 gaming "scholars" a day from Nepal to make money for himself.
"No one plays games for fun. Axie Infinity players treat the game as a job. Especially in low-income countries like the Philippines and Venezuela where people need money to cover their lives," he said.
These workers often can't afford to buy NFT to start making money in the game. Instead they work for managers by hiring NFT and sharing a portion of the profits. 
Willemen is currently a Step App system design consultant based in Dubai. Willemen believes this game will have more sustainability in tokenomic. 
The community still trusts Stepn.
In the face of these allegations, Stepn still enjoys the enthusiastic support of the participants.
"Stepn is a ponzi that forces me to walk every day," DonCrypto says. 
Beautiful day for a ponzi run #STEPN pic.twitter.com/oFbgPZ5KIy

— Jalex (@Jalexxxxx) May 22, 2022
Another user joked, "A beautiful day to run ponzi."
DonCrypto said Stepn's model was "very addictive." He initially paid about $1,000 for his first pair of sneakers and from the outset earned $60 every 10 minutes of walking.
But he wanted to earn more and has since spent an additional $14,000. DonCrypto currently has nine pairs of digital shoes, allowing him to earn $400 per day for a 50-minute walk.
Ahmed, a software engineer based in Washington, D.C., says the game changed his life by giving him the motivation to make sedentary lifestyle changes. "This game has encouraged me financially to go out and run every day."
Some of the solutions Stepn has come up with to combat Ponzi schemes
Stepn is trying to find some solutions to the Ponzinomics problem. While developing an "exercise-to-earn" project called MetaGym, Eddie Lester began experimenting and figuring out how to make sure he didn't become a Ponzi scheme.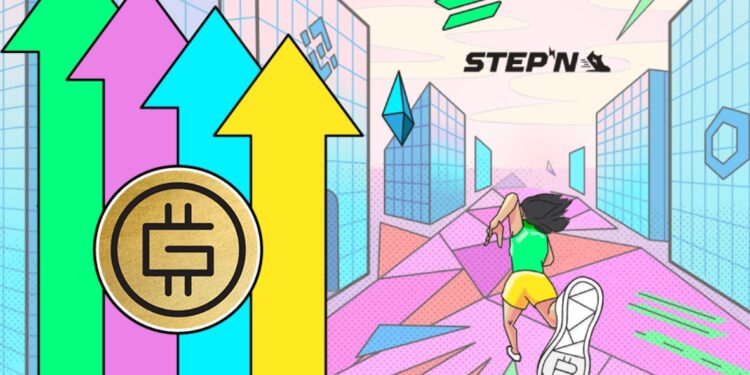 Balance two tokens
One of the main ideas for establishing a "sustainable income system" is to "balance" two tokens: tokens earned in the game and "governance" tokens that are entitled to vote in decisions affecting the project.
Stepn has an unlimited supply of GST earned from joining the game and a limited supply of GMT tokens. Stepn tries to maintain price stability using a variety of tactics. 
For example, when soaring GST prices made NFT sneakers expensive for new entrants, developers added the option of using administrative tokens to mint new sneakers and reduce the number of GST needed. This narrows the supply of GMT, makes tokens more valuable and at the same time reduces the "fire rate" of the GST, reducing upward pressure on prices.
New membership limits
To prevent the app from growing too fast, Stepn only allows people to get involved when they receive activation codes from active runners.
The company believes move-to-earn is more sustainable than Axie Infinity because people will enjoy the benefits of exercise rather than video games. 
"Users can monetize StepN in the early stages, but over time, they'll also get used to staying active, so they'll keep walking or running regardless of the financial rewards," said Stepn co-founder Jerry Huang.
Set up an anti-fraud system
The company acknowledged that some people had "forged" the data to make a profit. Some evidence suggests they deliberately figured out how to trick the app into thinking they were walking.
This is a "prominent" problem that has led developers to spend nearly half of their resources developing anti-fraud mechanisms. Stepn has built the best anti-fraud system.
Encourage users to keep money in the game
However, regulations on joining new members, stabilizing prices and tackling fraud are not enough. Move-to-earn also needs to figure out how to help users keep their money in the game.
The newly launched feature makes it possible for people to lock admin tokens for a chance to win "NFT loot boxes" and other perks. Willemen said more than 100,000 people chose to do so.
Stepn offers the prospect of being richer if people choose to spend the tokens in the game instead of pulling them out. People have to "fix" shoes to keep using them and can also make more money if upgraded to more desirable digital sneakers. 
Tokens used in the game will be "burned".  
"I could have made my money back a few weeks ago but chose the long path rather than building my account, getting more shoes."  
Ahmed hopes to buy enough Stepn shoes to be paid nearly $500 for 90 minutes of daily exercise.
Users expressed optimism that the games would find more sustainable income streams in the future. 
Implementing the "freemium" model
In the face of this concern, the game has implemented the "freemium" model. People have to pay for digital shoes from time to time or rent for free from other users to get started, which will then split the profits.  
Move-to-earn companies have created innovative, novel mechanisms to combat allegations of digital Ponzi schemes.
User J.    
  The model of taxing each side of the transaction should be whether buying or selling tokens is geared towards rewarding users. Sellers are taxed at 15% while buyers are taxed at 5%.
As a result, Tatti argues that Ponzi criticism is unreasonable because the system also makes money when people get out.
"While our biggest competitor relies solely on new users, we rely on those who have exited." 
Tatti said her long-term goal is to create a new cryptocurrency architecture in which human health performs a function similar to cryptocurrency mining, providing people with an additional salary while they continue their lives.