Blockchain is a new technology that stores and transmits data information through blocks. Blocks are linked together and expand over time. Blockchain is considered as a ledger operating in the digital field. The data is stored securely through an extremely complex encryption system.
How to read data on the blockchain? The following article will introduce block explorer tool (blockchain explorer). Let's find out.
Blockchain explorer (block explorer) is a blockchain search engine which allows you to search all the specific information on the blockchain. Transactions on a ledger or block are connected to each other into a blockchain. Blocks on the blockchain are a collection of transactions that have been processed and approved by a third party called miners (for networks using PoW mechanisms) and validators (for networks using PoS mechanisms).
To put it simply, block explorer is an online tool to view all transactions that have taken place on the blockchain, including hashrate of the current network, the speed of transaction validation as well as activity on blockchain addresses and other useful information. Block explorer allows you to observe what is happening on the blockchain.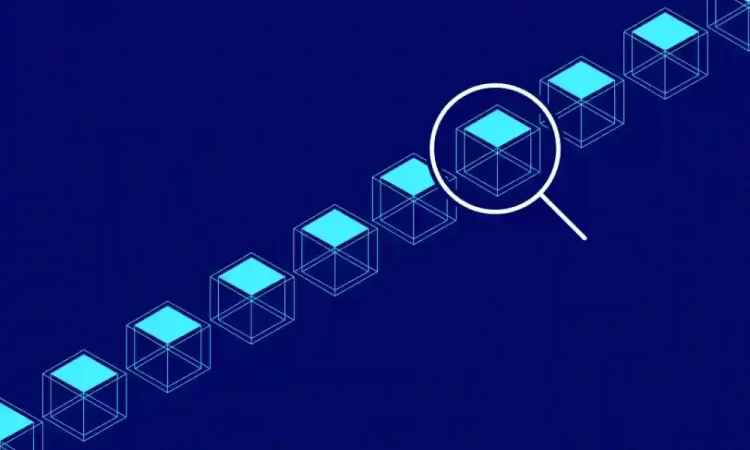 Advantages of blockchain explorer
Blockchain explorer is a useful tool that allows retrieving data stored on an open ledger with an intuitive, transparent interface.
For traders: Blockchain explorer works like a statement of crypto assets, allowing traders to check status, transaction history, gas fees, wallet balances, asset holdings. Therefore, they can find out what caused the transaction processing to take longer than expected or adjust gas fees more appropriately for future transactions.
For miners: Look up the activity of blocks, confirm the reward from successful block mining.
For market analysts: Blockchain explorer provides indicators of hashrate, daily trading volume, crypto whale activity or information about the first block mined on the chain, sifting through data to detect alleged fraud.
Who is the user of Blockchain explorer?
All traders and users who normally buy and sell cryptocurrencies will use Block explorer to check their trading status. When starting trading, users will receive an automatically generated transaction code. They can use it to look up details about the transaction and see if it succeeds.
Miners use Block explorer to validate important block operations, check if they have succeeded in creating a particular block. If the block is successfully created, the user will receive a block reward.
Crypto enthusiasts can track market activities such as the amount of Bitcoin in circulation, market cap, or the amount of energy required to mine Bitcoin. On the CMC block explorer, they can compare market data along with blockchain transactions.
What can you do with Blockchain explorer on CoinMarketCap?
Search bar
Search bar helps you look up something specific immediately. As a block explorer user, you can search for the following items:
1. Block height: The length of the chain, or the sequence number of block
2. Transaction: Transaction ID, hash
3. Wallet: wallet address
4. Ethereum Name Service (ENS)
This search bar defaults to searching for the Bitcoin blockchain, but you can also search for the Ethereum or Litecoin blockchain by clicking on the small arrow and selecting on the drop-down menu.
Blockchain Overview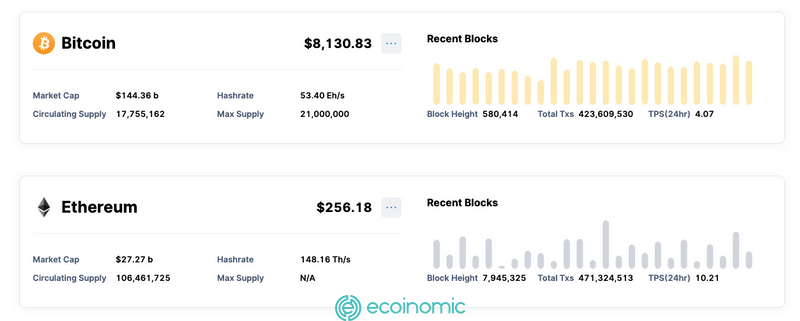 As you continue to scroll down the homepage, you will see an overview of Bitcoin, Ethereum and Litecoin blocks. The current prices of Bitcoin, Ethereum and Litecoin are displayed in US dollars, along with their most recent market information. These numbers are constantly changing as transactions occur.
Market Data

Four market data elements are listed below each cryptocurrency to provide an overview of the value and performance of that cryptocurrency. They help investors and analysts understand the current performance of that coin.
The Market Capitalization of a cryptocurrency is used to measure the relative value of one cryptocurrency compared to others. They are calculated by multiplying the current price of the cryptocurrency by the circulating supply. The Circulating Supply is the total number of coins or tokens that are being traded on exchanges and held by users.
Recent blocks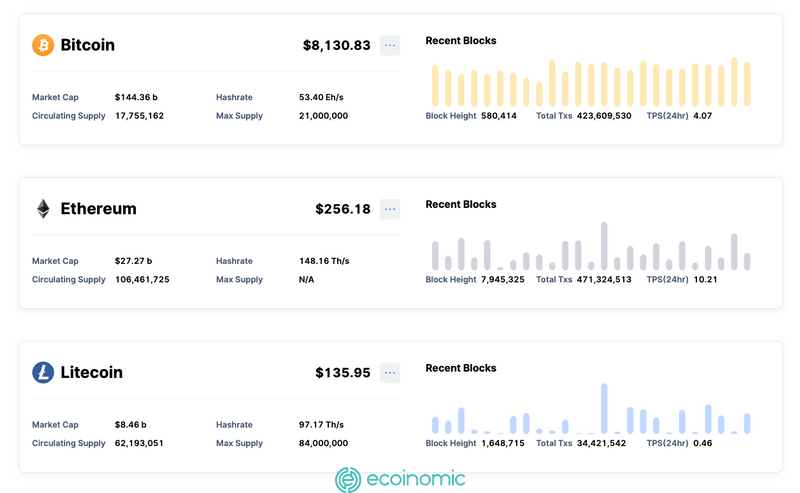 On the right of the market and blockchain data, the yellow and blue bars represent the most recent blocks or groups of recently validated transactions. Blocks are linked together in the order they were created and always contain the hash number of the previous block.
View blocks

For more information about a specific block, move the cursor over the three dots and click "View ". The interface of the list of recent Bitcoin blocks, you can click on the block height to see the transactions included in the block.
View transactions

To take a closer look at the block data, select the "Transactions" tab to see the individual transactions in the linked block. Each transaction ID (also known as Hash ID, TxHash, or TxID) is generated by an algorithm that hashes according to the information of that particular transaction. This hash ID can be used as a digital proof of payment. Changing information will cause the hash ID to change and alert the user that the data has been tampered with. Recipients of cryptocurrency payments can also look up the transaction using its hash ID to see its status and confirm if the token or coin has reached their wallet.
Block rewards
Block rewards are given to miners and validators who play a fundamental role in the blockchain ecosystem. Using mining hardware and software, miners compete with each other to be the first to solve cryptographic puzzles and validate Proof-of-work transactions. In the process, they verify transactions to ensure that BTC has not been spent elsewhere. Miners who correct the first equation will receive a block reward, along with transaction fees. Other miners must then validate the solution created by the first miner so that they reach a general consensus on the data on the blockchain.
Introduction of Blockchain Explorer of different networks
In addition to CoinMarketCap, cryptocurrency market participants can research the blockchains of different networks using their Blockchain Explorer tool directly. Here are some examples:
Conclusion
In short, block explorer (blockchain explorer) provides users with the ability to observe data on the blockchain such as market data, blocks, transactions, block rewards,… Miners, crypto traders, and those who are learning about blockchain can use this tool to update the status of their blockchain and cryptocurrency payments. Besides, this tool also allows adjusting search results based on data requirements and provides flexibility for retrieving the information.