On Tuesday (August 23), the Polygon team ($MATIC) talked about how their project will be affected by Ethereum's upcoming "Consolidation" upgrade, which marks the Ethereum network's transition from PoW to PoS.
Polygon is a decentralized Ethereum scaling platform that allows developers to build scalable user-friendly DApps with low transaction fees without ever sacrificing security. Polygon Lightpaper describes Polygon as a protocol and framework for building connections to Ethereum-compatible blockchain networks.
On May 18, 2021, Independent Ethereum educator, investor, and advisor Anthony Sassano took to Twitter to address some of the confusion surrounding Polygon (for example, some call Polygon a Sidechain of Ethereum, while others call it the L2 blockchain).
How Polygon was affected by the Ethereum merger
In a blog post yesterday, Polygon explained why the merger is just good news for Polygon.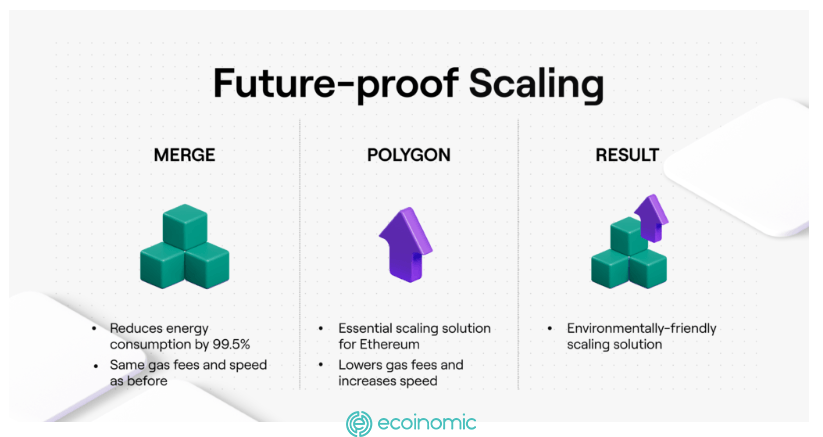 Polygon has the following statements:
The merger means Ethereum will be more environmentally friendly, just like us. But it won't reduce Ethereum's gas fees or increase its speed. In fact, the network depends on Polygon and other Layer-2 solutions to solve this problem.
Quote from the Ethereum Foundation: The Ethereum ecosystem is firmly linked that Layer-2 scaling is the only way to solve the scalability dilemma while remaining decentralized and secure.
The consolidation prepares Ethereum for future upgrades, like sharding, which will help it grow and scale. But as Ethereum grew, so did Polygon. Any improvements made to Ethereum, as a fixed layer will magnify the power of Polygon.
The consolidation overcomes Ethereum's huge carbon footprint, which is said to enhance Ethereum's security and reduce ETH inflation. Polygon benefits from Ethereum's improved security and overall growth for the ecosystem even as Ethereum gains en masse from Polygon's suite of scaling solutions, such as the recently announced Polygon zkEVM.
So PoS changes the story: Ethereum is now like Polygon, a significantly more environmentally friendly network.