Sui Blockchain is one of the newest and most prominent blockchains at the moment. Products in this ecosystem are receiving special attention from the community and developers in the cryptocurrency sector. Among them, it is impossible not to mention Sui Wallet  – The most important product in this ecosystem. Let's Ecoinomic.io learn more about it through the article below.
What is Sui?
Sui is a layer 1 Blockchain project built in the Web3 space based on the Move programming language by Mysten Labs developers. This is a product that marks a leap in scalability through parallel transactions in independent transactions. Along with that, the network is also capable of processing transactions at high speed with low transaction costs.
Sui blockchain also strives to increase the experience of web3 users by maximizing support for developers with tools to leverage the power of this blockchain. One of those tools is the Sui Development Kit (SDK), where developers can operate without any interference from the network.
See also: What Is Sui Blockchain? – New elements in the Web3 ecosystem
What is the Sui wallet?
The Sui wallet is one of the products of the Sui Blockchain ecosystem, which stores cryptocurrencies on the network. Users on the Sui blockchain can use this wallet to interact, receive SUI and participate in the devnet and Testnet of this potential network. Besides, Sui Wallet also supports users to transfer their cryptocurrency or interact with DApps.
Important information about Sui wallet
Wallet address: A Sui wallet address is a sequence of characters consisting of numbers and letters. Users can receive cryptocurrency through their wallet address, similar to a bank account number.
Passphrase: This is the wallet's security key consisting of any 12 English keywords, allowing the user to recover the wallet. To perform a Sui wallet recovery operation, users are required to complete the Passphrase login step.
Private Key: This is a character string format to connect to an account, similar to a bank account password.
After creating the Sui wallet, users will receive the wallet address, passphrase, and Private Key in the following format (for example):
Wallet address: 0xdabE3D912A14E6AD2Ad4F5Cb3026aC866133cA2
Passphrase: become toe armor elephant prison bar else rack snow achieve develop flag.
Private Key: 8HRwXM3i6mkmEH8HJPaMpdGEqvPEoXGwXtwDgTpxjA9aCcqgSHYXhL1WEkGTpz2kRagp5YG8fY1jpz7DGx9PVKj
Note: You should store your Passphrase and Private Key carefully, as this is the key to opening and using the assets in the wallet.
In short, the information in Sui wallet is similar to the information in a bank account. The difference here is that the bank will know the user's personal information, while with Sui wallet, users operate in an anonymous manner, no one knows the user's personal information but only transacts through wallet addresses encrypted into numbers and characters.
See also: What is a cryptocurrency wallet?
How to Create a Sui Wallet
Step 1: Add your wallet to your Chrome extension by following this link.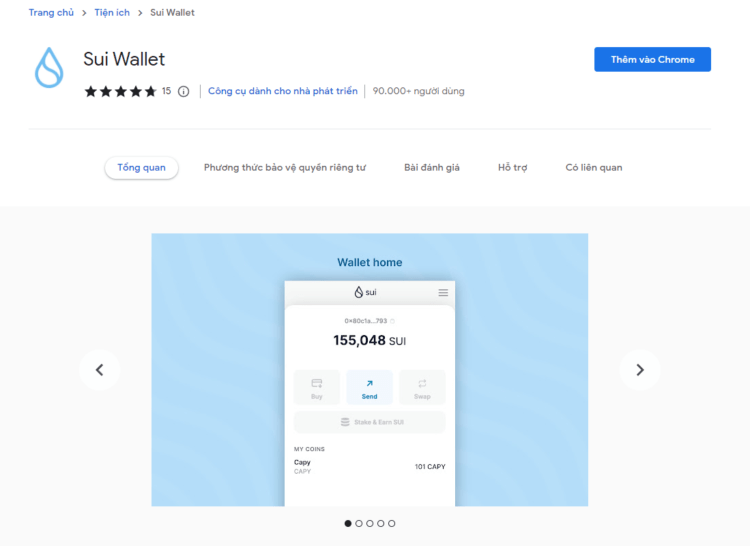 Step 2: Select Get Started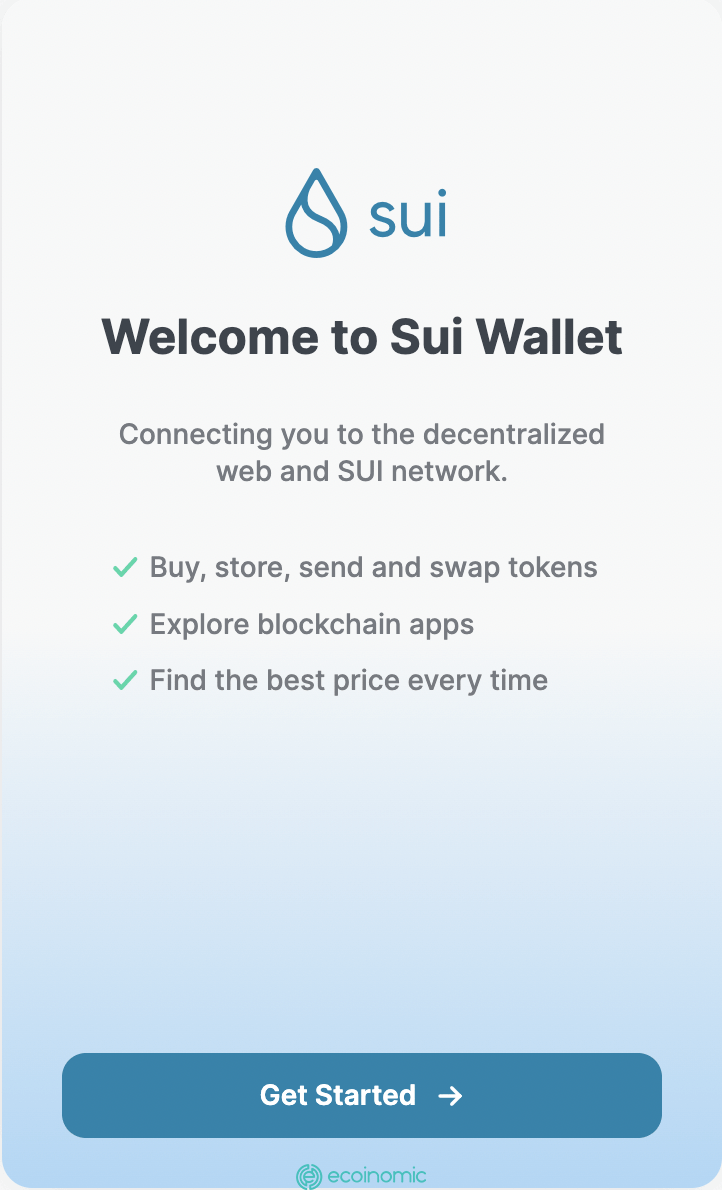 Step 3: Select Create New Wallet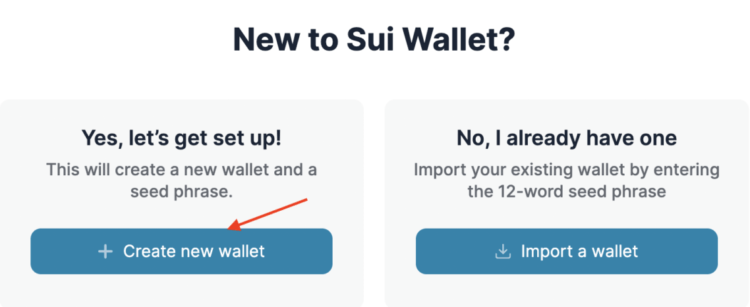 Step 4: Read the terms of service carefully, confirm and select Create Wallet Now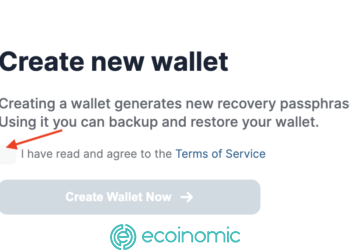 Step 5: The passphrase will now appear, save it to select Done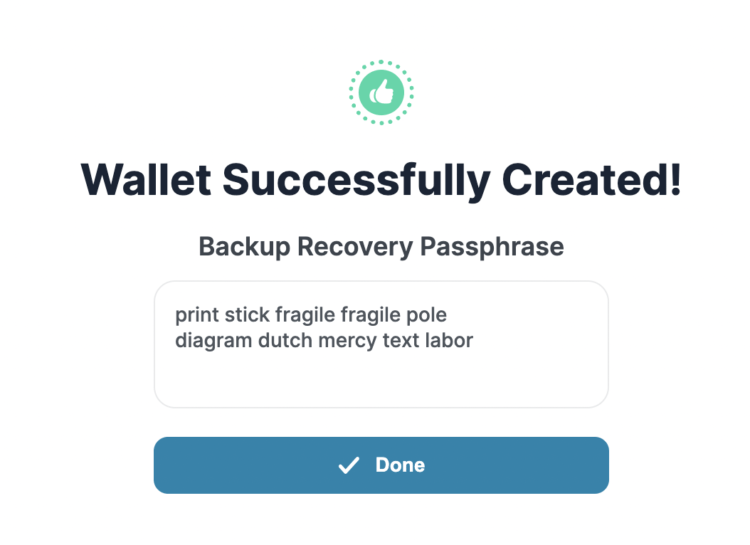 How to get SUI from testnet
Step 1: Join the Sui community via the following link.
Step 2: Select Complete
Step 3: Read the rules carefully and choose Submit.
Step 4: Click on the Icon as shown below
Step 5: Select 2nd-step-verifi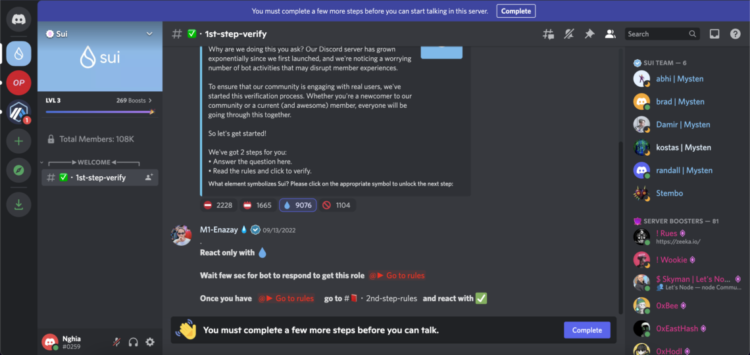 Step 6: Select devnet faucet
Step 7: Comment !faucet Address to receive SUI tokens to the wallet.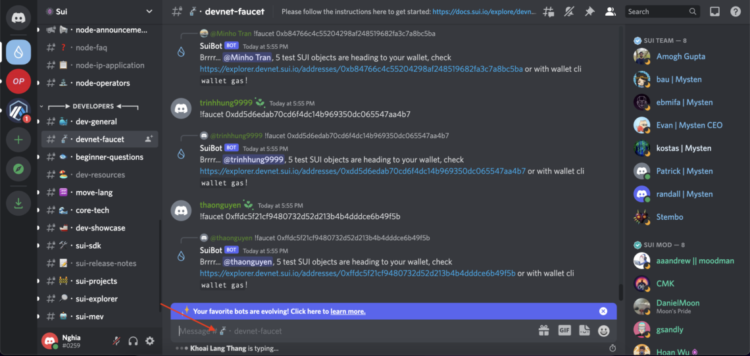 Other wallets in Sui Blockchain
In addition to Sui Wallet, you can use the following wallets on the Sui ecosystem to experience as well as increase your chances of receiving airdrops if any. Some other cryptocurrency wallets supported on the Sui blockchain can be mentioned as Suiet, Wave Wallet, Hydro Wallet, Morphis Wallet or Ethos Wallet.
Suiet
As part of the Sui ecosystem, Suiet developers aim to reach billions of web3 users.
1/7 📢 Big day for Suiet wallet. Email address is no longer needed to join the public beta.

JUST TRY IT NOW! 👇https://t.co/o9Vy2pjiMi

As a part of the Sui ecosystem @Mysten_Labs, we aim to build a wallet for everyone and onboard the next billion Web3 users. pic.twitter.com/UT8VEImEGN

— Suiet | Sui Wallet (@suiet_wallet) September 30, 2022
The developers launched an Airdrop on 30/09/2022 on devnet and testnet, users can set up multi-wallets in Suiet for convenience in sending and receiving tokens.
Suiet was announced to be the first wallet to support NFTs on the Sui blockchain. Users can mint NFTs for free on the platform.
The platform also claims to always put privacy and security first through personalization, open source, and other features. Suiet does not track any user information and is working to improve the experience and make every user action on web3 easier and safer.
To support developers, Suiet has released the Wallet-kit for developers, which is essentially a line of code that connects to all wallets. This is seen as a solution to minimize workload as well as working time for developers.
Besides, Suiet has established partnerships with Clutchy, OriginByte, myNFT, MovEX, Suiswap, and many other projects to accelerate the development and provide a variety of services to users.
Currently, with the help of the core developer team from Sui, Suiet has collaborated with partners to establish Sui dev Standards and activities related to NFT/FT. This supports new projects to join the Sui ecosystem quickly.
In terms of community building, Suiet has received more than 5K private beta requests, and 5K users have joined the community with hundreds of positive reviews.
Wave Wallet
Wave Wallet is built with the principles of prioritizing security for the Sui blockchain.
On October 5, Wave Wallet announced on Twitter that it was partnering with Sui Whale, a company that provides tools for developers in the web3 space. Then, on October 11, Wave Wallet also announced a partnership with Starspace, in which users can use Wave Wallet on this platform. After only 2 days (October 13), this unit also officially cooperated with Clutchy on a business trip in Palo Alto. It is known that Clutchy has supported the DApps array for Wave and is continuing to work on more extensive integrations in the future.
Besides trying to find partnerships, Wave Wallet announced on 09/27 that they will soon launch the official Wallet. In preparation for this event, the platform has released the first premium SUI Faucet that allows users to top up their wallets in the easiest way.
Gm all ☕️. Wallet release will be coming soon.

In the meantime, we've launched the first ever premium #SUI faucet 🚰! https://t.co/2ZoS5L9sDC
Fund your wallet easily with just one click 🙂

Join our discord and twitter for more updates! pic.twitter.com/Dr3GDipkml

— Wave Wallet 🌊 (@WaveWalletApp) September 27, 2022
Conclusion
It can be commented that Sui Blockchain is a new element in the Web3 ecosystem and is still in the process of construction and development. Wallet applications on Sui Blockchain are among the important products, acting as a door to bring users into this ecosystem.
Through this article, Ecoinomic.io has introduced to you the most detailed information about Sui wallet, and how to set up and use the wallet. We hope this information was useful to you, wishing you the best experience with this product.
See also: Understanding Aptos Wallet – The gateway to the ecosystem